Show User Social Media
Hide User Social Media
Joined

Sep 8, 2006
Messages

13,210
After doing
one last classic leadup with Toradora
it's time to do the final leadup...
With Adventure: beginning in under a week it seems like a good time to finish. Hopefully we get an official simulcast when the new show starts. But it is indeed time to end.
Hopefully those of you who were following along enjoyed the weekly suggestions (a number of people mentioned thigns to me about them
on our Discord
or in private, on top of a handful of posts on the forum.)
One of the reward levels on our Patreon
is to make something akin to the Leadup permanent (perhaps expanding the suggestions, etc.) and if/when we hit that we will figure out the best way to do it...
Based on interest, I might do a handful of extra ones in the short term since many people are stuck in at the moment, but that's up to if people want it done or not. But this is officially the last one for Kizuna & :.
The final show is something a bit fun since it feels like most people need a bit of a boost...
Konosuba!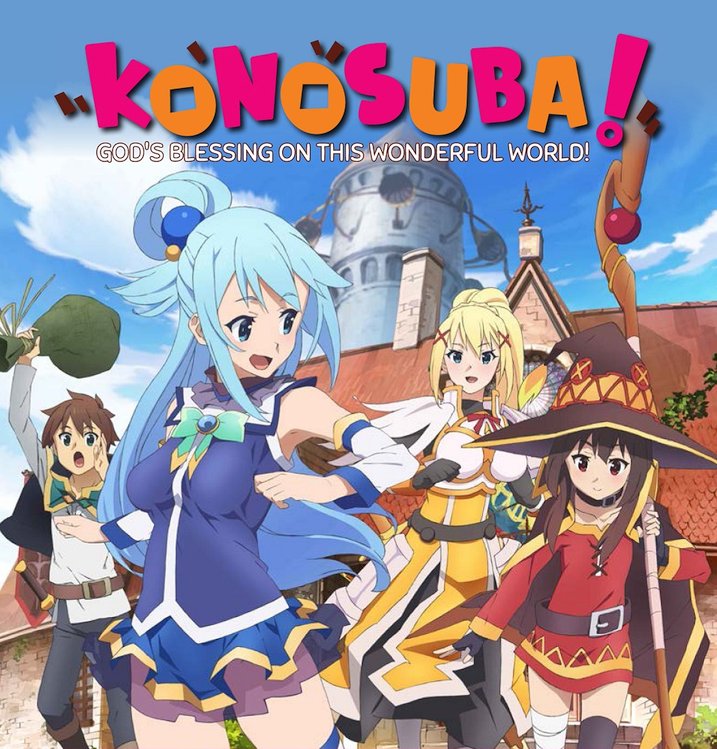 Quite a bit of fanservice, with some violence and language.
The series can be watched on the following officially:
Subbed and dubbed on Crunchyroll
We'll do all of season 1 plus the season 1 OVA (11 episode total.) Crunchyroll also has Season 2 up dubbed and subbed, plus the movie subbed (movie dub is coming in April.)
Also, general disclosure that I worked on this one quite a bit. I don't believe my work is on the streaming version, but will be on the Blu-ray, which is scheduled for May: (affiliate link)
Konosuba Season 1 Blu-ray
Konosuba is just a fun comedy. It takes any number of things you'd expect to see in an isekai, and is generally more concerned with mocking them, and just having fun with expectations.
Kazuma Sato meets an untimely and unexpected end when he tries to save a girl (who was in no danger, but I'll let you discover what that is about.) The goddess Aqua tells him about how he can be reincarnated in another world that is in danger. She mocks him so much while doing this, he requests the 'any one thing' he can bring with him not be a special item or power, but her, just to spite her.
This unfortunately means he is now stuck taking care of a goddess in another world, in the town meant for beginners. So begins Kazuma's adventure, along with his team of screwups and degenerates and their general nonsense they do in a town of beginners.
Although there is an adventure in there somewhere, right?
The show has a number of Digimon connections, so just including a large handful:
Japanese
Yue Horie plays Wiz in Konosuba. In Appmon she was Izumi, the top idol who helped inspire Eri.
Tomoko Kaneda plays... cabbage(s) in Konosuba. In Digimon she is best known for playing Culumon in Tamers (also playing the part in the Savers 3d ride footage and short, and Ruka in Fusion.)
Rie Takahashi plays Megumin in Konosuba, along with being one of the singers for the end theme. In Appmon she played a number of characters including the idol Elena, Tutomon, and Pipomon, along with playing Michi in ReArise.
Hiroki Yasumoto plays the Dullahan in Konosuba. In Savers he played Franz Norstein and Belphemon.
English
Cristina Vee plays Darkness in Konosuba. In tri. she played Meiko and in Next Order she played Himari.
Patrick Seitz plays the Dulluhan in Konosuba. In Fusion he was Starmon, MailBirdramon, Olegmon, and many others.
I've embedded the intro to the show as a preview:
Feel free to post as you wish in this thread. You can post as you are watching, episode by episode, when you finish. Whatever you want. Try and give it a couple days for later spoilers so people have time to try and view stuff without spoilers, while still interacting in the thread (especially if you decide to keep watching past the episode listed as the last one for the leadup.) If you watch one episode and it isn't for you, pop in to explain why. Have fun with it!
A new show/movie will go up each Sunday night (or early on Monday), but feel free to keep talking about older shows in their threads, or even watching past the listed episode.
If you want to
chat in the Discord you can
.
Hopefully you enjoy. Feel free to make any suggestions or ask an questions regarding the threads or the shows also.
Prior Leadups:
Final Leadup to tri.- Gundam Unicorn
(with index of tri. Leadup)
Leadup to Kizuna Week 1- Gundam Build Fighters
Week 2- Kimagure Orange Road
Week 3 (and 4)- Lupin the 3rd Part 4
Week 4 Movie- Redline
Week 5- Love, Chunibyo & Other Delusions
Week 6- Voltron
Week 7 (Devkyu Guest Slot!)- That Time I Got Reincarnated as a Slime
Week 8- Laid-Back Camp
Week 9- Rascal Does Not Dream of Bunny Girl Senpai
Week 10- Yowamushi Pedal
Week 11- Demon King Daimao
Week 12 (onkei Guest Slot!)- Aggretsuko
Week 13- Kill la Kill
Week 14- Super Gals
Week 15 (and 16)- Yu Yu Hakusho
Week 16 Short Series- Please Tell Me! Galko-chan
Week 17 (Classic Leadup)- Tenchi Muyo
Week 18 (Devkyu Guest Slot 2!)- Dragon Pilot: Hisone & Masotan
Week 19- The Irresponsible Captain Tylor
Week 20 (Logan Guest Slot)- The Legend of Black Heaven
Week 21 (Classic Leadup)- Haganai
Week 22- Ultraman
Week 23- SSSS.Gridman
Week 24- Haruka Nogizaka's Secret
Week 25 (Classic Leadup)- Tenchi Universe
Week 26- Samurai Troopers/Ronin Warriors
Week 27- Gundam NT
Week 28- Interviews with Monster Girls
Week 29- Dragon Quest: Your Story & Ni no Kuni
Week 30 (Classic Leadup)- Soul Eater
Week 31- Kamen no Maid Guy
Week 32- Gundam Thunderbolt
Week 33- Heroman
Week 34 (Classic Leadup)- Toradora