Show User Social Media
Hide User Social Media
Joined

Sep 8, 2006
Messages

13,211
After doing a guest slot with Elaine recommending
Advent Children
it's time to do the final leadup...
With Adventure: coming back with episode 4 this weekend this bonus leadup it was the time to end this one.
Hopefully those of you who were following along enjoyed the weekly suggestions (a number of people mentioned things to me about them
on our Discord
or in private, on top of a handful of posts on the forum.)
One of the reward levels on our Patreon
is to make something akin to the Leadup permanent (perhaps expanding the suggestions, etc.) and if/when we hit that we will figure out the best way to do it...
The final show is something that has generally skewed hard to Digimon fans enjoying, and one I've held off on doing for a beginning or end of a leadup at the right time...
Eureka Seven!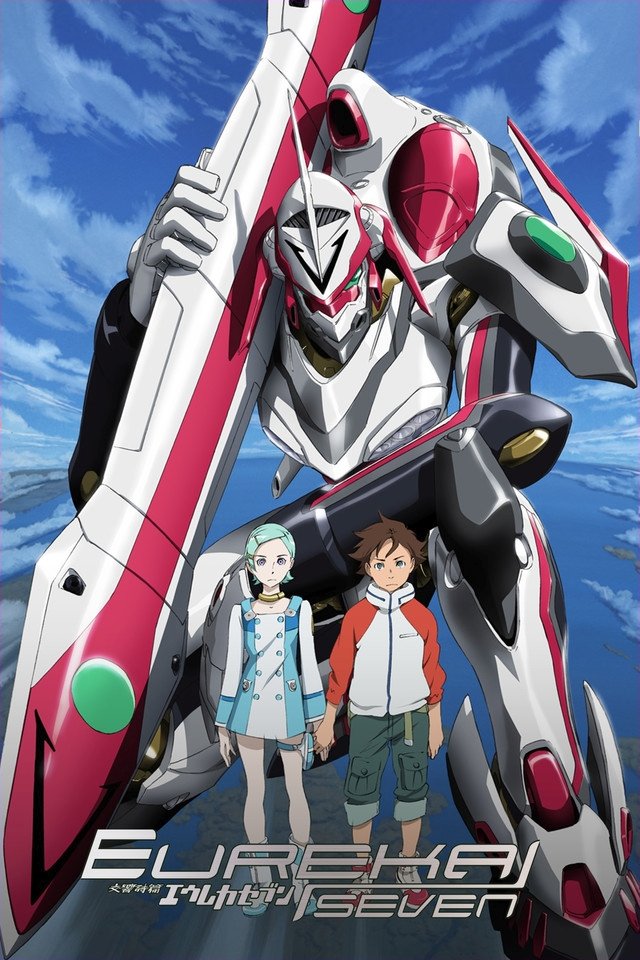 A bit of nudity, with some milder fanservice and violence thrown in.
The movie can be watched on the following officially:
Subbed and dubbed on Funimation
Lets go with episodes 1 thru 13, when there is something akin to an arc break.
Eureka Seven is a fun adventure series. It's kind of joyful to watch because it covers so many different types of material from heavy comedy, to reasonable drama, science fiction, mecha, etc. It's a great example of a series that just seems to hit a lot of people just right from beginning to end.
Renton lives a normal life in a normal place. But that's very often how things start don't they? And then a robot and a girl shows up, as they often will, and then adventure is afoot.
I won't say much more than that, but it's a show that does an exceptionally good job of making the characters feel interesting and real, and is willing to change the status quo and elements in interesting ways.
On top of the show there has been games, manga, an AU movie with it's own unique twists, and a sequel series to the original anime. A few years ago a trilogy of remake/reboot films began, with the last film scheduled for 2021.
Eureka Seven has a near endless list of people associated with Digimon, many animated and other behind the scenes staff also, so limiting to just a handful for both languages, as these could go on a very long time...:
Japanese
Yuko Sanpei plays Renton in Eureka Seven. In Adventure: she's Taichi.
Yuuichi Nomura wrote a good chunk of Eureka Seven. They did the same for Appmon.
Chiaka Konaka wrote a few episodes of Eureka Seven (seemingly as a guest writer.) He was a guest writer in 02, and he was the series composer and one of the main writers for Tamers.
English
Johnny Young Bosch is Renton in Eureka Seven. In tri. he was TK, and in Fusion he was Dracomon and a few other Digimon.
Stephanie Sheh was Eureka in Eureka Seven. In the 1st Tamers movie she was Minami, and in Data Squad she was Megumi.
Crispin Freeman plays Holland in Eureka Seven. In Frontier he was Kouichi and his various Digimon forms (along with a few other Digimon) and in Data Squad he was Thomas.
Kate Higgins is Talho in Eureka Seven. In Digimon she was Miki in Data Squad, and Gatomon, Meicoomon, and their various forms in tri.
I've embedded the first openingbelow as a preview:
Feel free to post as you wish in this thread. You can post as you are watching, episode by episode, when you finish. Whatever you want. Try and give it a couple days for later spoilers so people have time to try and view stuff without spoilers, while still interacting in the thread (especially if you decide to keep watching past the episode listed as the last one for the leadup.) If you watch one episode and it isn't for you, pop in to explain why. Have fun with it!
A new show/movie will go up each Sunday night (or early on Monday), but feel free to keep talking about older shows in their threads, or even watching past the listed episode.
If you want to
chat in the Discord you can
.
Hopefully you enjoy. Feel free to make any suggestions or ask an questions regarding the threads or the shows also.
Week 1- NG Knight Lamune & 40
Week 2- Street Fighter 2 the Animated Movie
Week 3- City Hunter
Week 4- Little Nemo
Week 5- Project A-ko
Week 6- Space Pirate Captain Harlock & City Hunter: Shinjuku Private Eyes
Week 7- Lucky Star
Week 8 (Elaine Guest Slot)- Final Fantasy 7 Advent Children Complete
Prior Leadups
Second Leadup, To Kizuna (and Adventure:)
First Leadup, To tri.