Show User Social Media
Hide User Social Media
Joined

Sep 8, 2006
Messages

16,654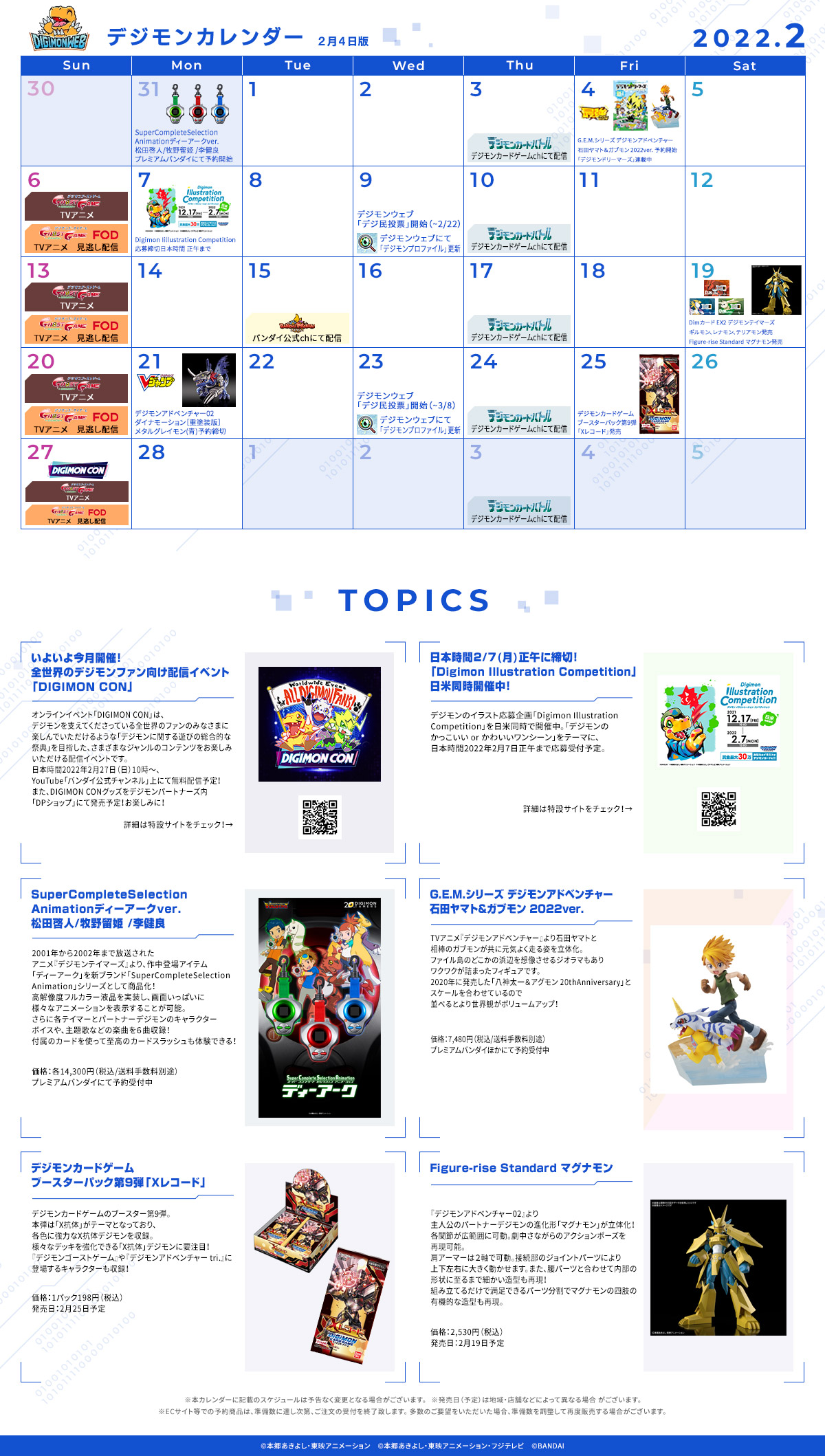 The February Digimon Calendar
has been uploaded!
'Digimon Calendar' will be delivered at the beginning of each month to allow easy 'at a glance' Digimon updates for what is coming up.
Recently they've begun to add things to the calendar later in the month as new things pop up. We may or may not do this in the future, as time allows, as most updates we end up covering on our own, often before they are in the calendar.
Digimon Calendar contains 2 sections...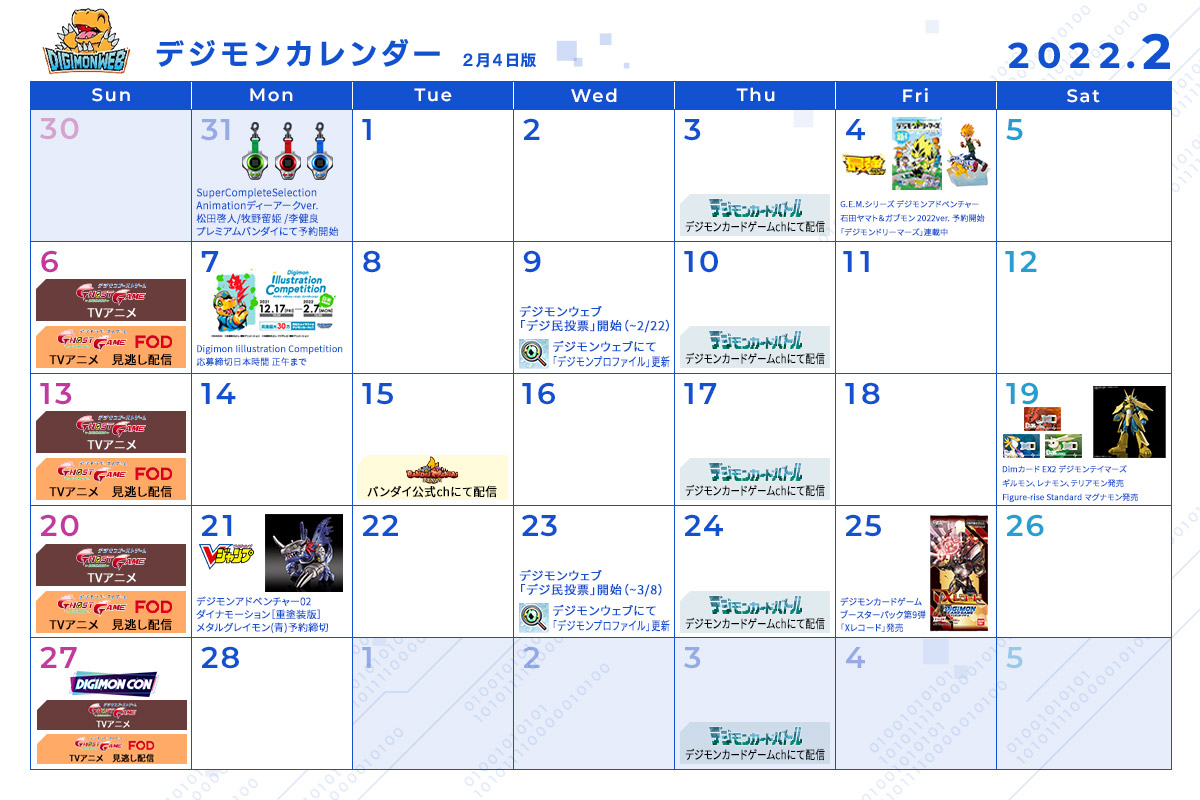 The actual calendar, which is quick at a glance details. (Dates/days are for Japan, based on on where you live it might be off slightly.)
It should be noted, the info, while decently wide, is not comprehensive. For example, they aren't showing Fun Digica and various other things which might be released as a surprise, along with some things that they just aren't announcing specific dates for (and some things that they've just chosen not to list.)
If there is a symbol in the top right, that means there is a magazine with planned Digimon content. For example- V-Jump is normally on the 21st. Saikyo Jump also includes new chapters of the manga 'Digimon Dreamers'
The brownish box on Sundays is for episodes of Digimon Ghost Game (with the orange box the same day being on demand repeats going up.)
Yellow boxes are for videos delivered via Bandai (the ones with the logo are delivered by Bandai Mania, which has been Digimon Classroom, Road to Digimon Card Master, etc.).
The slightly greyish boxes on Thursday are for Digimon Card Battle episodes.
Digimon Profile is the 2nd and 4th Wednesday of the month with the magnifying glass icon (as space allows.) Every other Wednesday is also a new fan poll.
There are also various additional things for January: (this isn't comprehensive, some smaller bits aren't translated)
February 4th-
GEM Yamato & Gabumon 2022 Version
Pre-orders Open
February 7th-
Digimon Illustration Competition
application deadline (Check your local time)
February 19th-
Dim Card EX2 Digimon Tamers
released,
Figure-Rise Standard Magnamon
model kit released
February 21st- Pre-orders close for
Dynamotion MetalGreymon (Blue) Heavy Paint Version
February 25th-
Card Game Booster Set 9 X Record
released
February 27th-
Digimon Con
On top of the calendar itself...
'Topics' covers a few specific items of note. These aren't 'always' related to the month, but are things they want you to know about:
A section for Digimon Con to explain the upcoming event.
One for the Digmon Illustration Competition.
Super CSA D-Ark
gets a section
GEM Yamato & Gabumon 2022 Version is detailed a bit.
Booster Set 9 X Record is detailed, explaining it being based on X-Antibody Digimon, Ghost Game, & Adventure tri.
Figure-Rise Standard Magnamon is the last one detailed.
February is a bit more amped up, and pretty specific to a few big items.