Show User Social Media
Hide User Social Media
Joined

Sep 8, 2006
Messages

14,314
A bunch of English card game updates!
Various details we already knew already are being included when relevant.
First up...
Booster Set 4 Great Legend
will be out June 11th.
It contains the same 115 cards as the Japanese release
.
Booster packs will have 12 cards and be $4.
Various purchase bonuses include...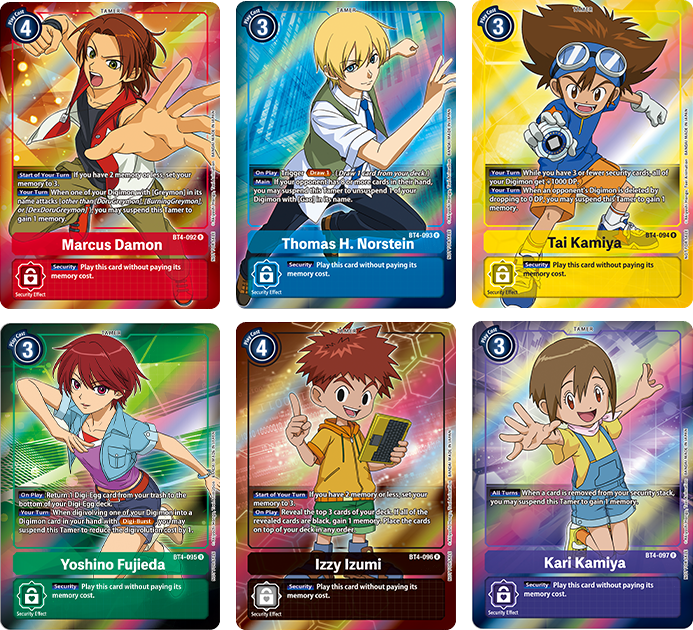 The 6 alternate art cards of Tamer cards in the set. These will be included as box toppers, 1 each per booster box.
And then, in a bit of a quick release surprise...
Each Great Legend booster box includes a "Great Legends Power Up Pack". Each Power Up Pack includes 2 (of 6) of the newly revealed English versions of the 1 year anniversary cards.
And last up for Booster Set 4...
The Great Dash pack will be included for every 12 packs of Great Legend purchased. Each contains 1 (of 3) of the 'dark' Digimon promo cards.
Next up is the Starter Decks...
​
All 3 starter decks contain the same 54 cards and 2 memory gauges as
their Japanese equivalents
, minus that the English version includes a single Great Legend booster pack in each box as a bonus.
All 3 are out on June 11th for $10.
Starter Deck 5 Giga Green
Starter Deck 5 Machine Black
Starter Deck 6 Venomous Violet
These also get a purchase bonus, one we saw above in fact...
The Great Dash pack will be included for every 2 Starter Decks purchased (only 4, 5, and 6 count for the promotion). Each contains 1 (of 3) of the 'dark' Digimon promo cards.
Next up, tournament events and promo cards...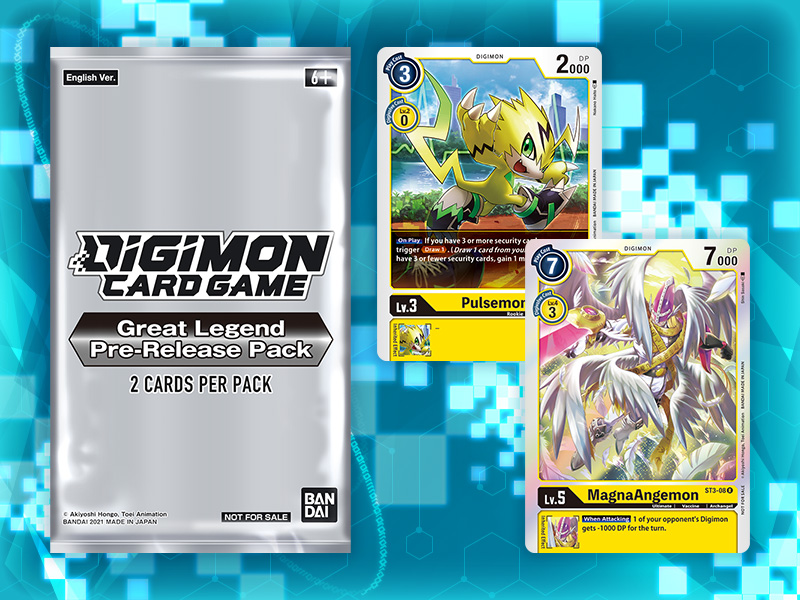 The week before Great Legend comes out there will be
Great Legends Pre-Release Tournament events
in stores.
If a store can't safely or legally have events these can be given out as purchase promotions.
​
When the events are held, there will be 2 participation prizes/gifts...
The first is the first version of the Pulsemon promo card.
The second is a Great Legend Pre-Release Pack. This includes 2 (of 56 possible) pre-release cards for Great Legend. These are cards from Great Legends, stamped and identified as pre-release cards.
And then a Winner's Prize...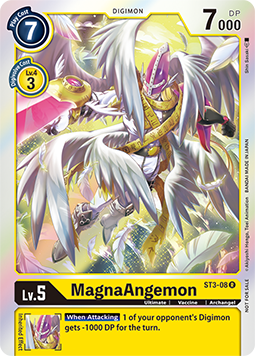 A silver foil parallel card of MagnaAngemon. This is an English equivalent of the HolyAngemon card from Tamer Battle Pack 2, with some extra holoeffects it appears.
A bunch of updates on stuff coming out soon, with quite a few promo and parallel/alternate cards...
We also get a small additional group of rule updates for the English version of the card game
...
A small set of rules is being added regarding character names that don't match between versions.
In these cases there will be rule additions specifically noting times that a character does not count when card text mentions a Digimon name.
The first ones are given are...
Does not count as 'Greymon':
DexDoruGreymon
DoruGreymon
BurningGreymon
Does not count as 'Garurumon':
KendoGarurumon
A ton of card updates before the weekend starts!