Show User Social Media
Hide User Social Media
Joined

Sep 8, 2006
Messages

16,109
Some new English event cards to go over!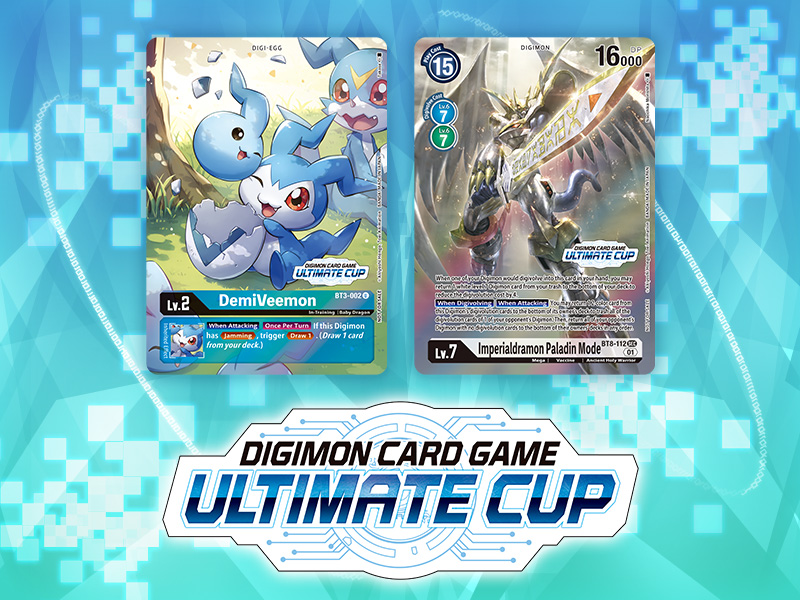 First up,
the Ultimate Cup
, sequel to last years Evolution Cup, will have events in April, July, and November.
Sign up and more details can be found at the link above, as we're just going over the cards.
First up, for participants...
​
All participants get a DemiVeemon alternate art card along with 2 copies of Event Pack 2.
Event Pack 2 contains any number of alternate art cards, 1 per pack...
The 18 alternate art cards that are possible to get in the pack are parallel cards that are 'mostly' prior art with a stylized background, but a few of them do feature new artwork.
And then a selection of cards based on placement in the events:
Alternate art cards featuring (mostly), new art, with a number of them being drawn by well known Digimon artists.
Top 128 at events get Veemon
Top 64 get ExVeemon
Top 32 get Paildramon
Top 8 get Imperialdramon: Fighter mode
Top 2 get Omnimon
The Champion gets Imperialdramon: Paladin Mode, plus a booster box
Then, for
the World Championship
, some new framed trophy cards.
​
Each framed card features artwork by Nakano Haito of various evolutions of Agumon from Digimon Adventure. He's been doing Digimon art and designs for a decent chunk of time at this point, and his work is always popular. MetalGreymon and WarGreymon were previously used inverted on prior trophy cards, while Omnimon is new art.
MetalGreymon will go to third place, WarGreymon to second, and Omnimon to first place, along with an actual trophy.
Lots of new promo cards for these events, and a lot of nice ones with new art!
Last edited: