Show User Social Media
Hide User Social Media
Joined

Sep 8, 2006
Messages

17,385
We got our first info for a stack of Digimon Card Game stuff recently, and
then the first images yesterday
.
Easy pre-orders for these various new Card Game items are already up at HLJ: (all the HLJ links in this article helps the site)
Booster Pack 6 Double Diamond Pre-orders at HLJ
Pre-orders are for a retail box containing 24 packs for $37.31.
The set will be out May 28th and has 113 cards total with distribution as such:
Common, 44 cards
Uncommon, 30 cards
Rare, 26 cards
Super Rare, 11 cards
Secret Rare, 2 cards
The early artwork we've seen is for Agumon Bonds of Courage and Gabumon Bonds of Friendship.
Then we have the new starter decks:
ST-7 Dukemon Starter Deck Pre-orders at HLJ
ST-8 ULForceV-dramon Starter Deck Pre-orders at HLJ
Each starter deck is up for $10.36, will be released on April 23rd, and comes with 2 memory gauges and a play mat.
Each deck will be 54 cards, plus 6. The 54 cards will be made up of multiple cards from 16 cards of the following distribution:
Common, 5 cards
Uncommon, 6 cards
Rare, 3 cards
Super Rare, 2 cards
The 6 extra cards will be of a new rarity labeled 'CP'. Based on prior (although not 100% sure), it appears these are Super Rares, possibly updated reprints, with new text effects (but like I said, not sure, they mentioned the decks coming with 6 Super Rares in the stream, which seems to line up with this new rarity.)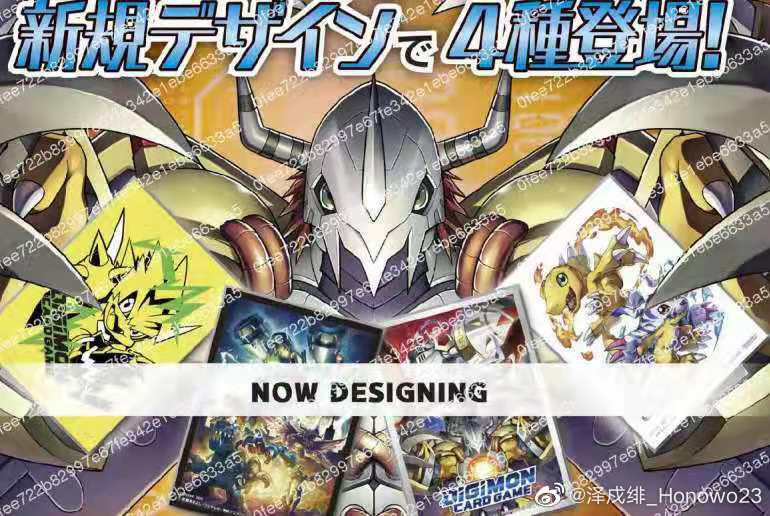 Also on April 23rd will be 4 more types of Digimon Card Game sleeves:
2021 Card Sleeve A Pre-orders at HLJ
2021 Card Sleeve B Pre-orders at HLJ
2021 Card Sleeve C Pre-orders at HLJ
2021 Card Sleeve D Pre-orders at HLJ
Each sleeve pack is $5.61. Prior packs included 60 of a single type of sleeve and we expect that to continue here.
Based on the image, the 4 sleeves will be:
Pulsemon
A few different villainous Digimon including Mugendramon and MetalTyranomon, among others.
Ultimate level hero Digimon including WarGreymon and Dukemon (can't make out for sure if anyone else is there.)
Agumon and Gabumon.
We do not know if the order in the promo image above lines up with the 4 'lettered' types at the moment, so until we get confirmation of which is which, ordering them is random (although they have often become harder to find later, so up to you...)
We have clean card images for Booster Set 4 Great Legend.
We also have begun to get
details about Booster Set 5 Battle of Omega
, including
our first look at art via DigiNavi!
We also just got our first details & images for
Booster Set 6 Double Diamond & the Dukemon & ULForceV-dramon starter decks
!
Plus we have the first details
for the 1 year anniversary of the card game, including a number of fun things!
And images from previous Digimon Card Game releases:
Starter Decks 1, 2, and 3, and first 10 promo cards
Booster Set 1 New Evolution
Booster Set 2 Ultimate Power
V-Tamer Promo Cards
Purple/Black Promo Set
Tamer Battle Pack 1 and Tamer Battle Winner's Card
Booster Set 3 Union Impact
Starter Decks 4, 5, & 6, plus Tamer Battle Pack 2 & winner's Card 2, & 1st 2 scene vote cards