Show User Social Media
Hide User Social Media
Joined

Sep 8, 2006
Messages

13,184
Early Info from April V-Jump- Adventure 20th & Survive Updates, More Images & Info
A bit of early info...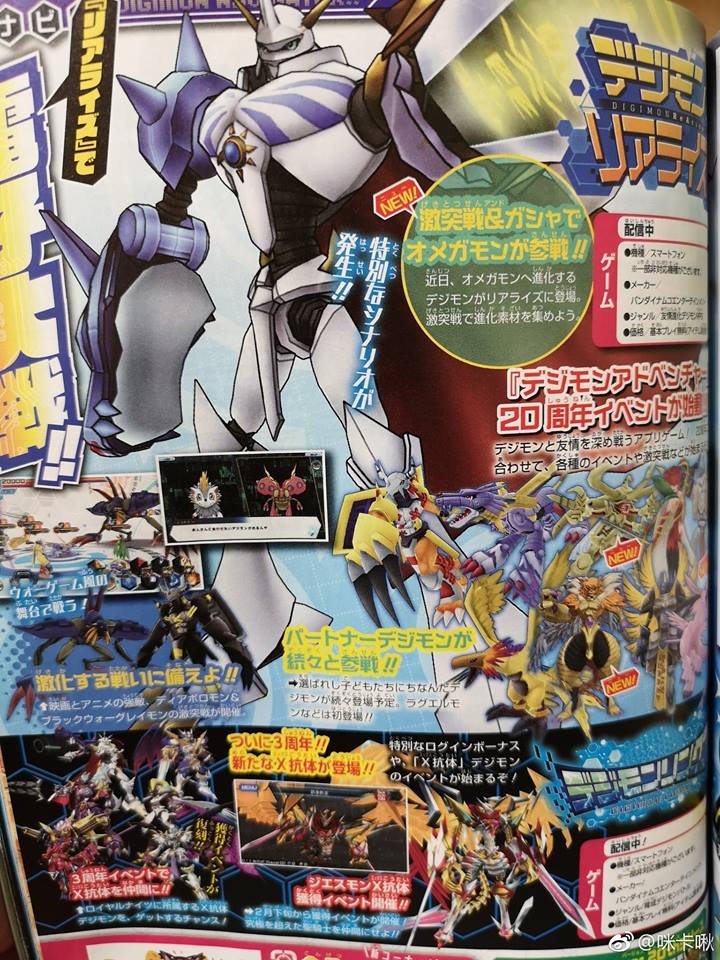 Not much in the way of images yet, but we have a decent bit of information from the upcoming issue of V-Jump!
First up, since we have the image. ReArise will have an Omegamon event along with bringing in various Adventure Digimon for the upcoming 20th anniversary. The 20th Anniversary content will include movie, 02, and tri. Digimon.
And Linkz is also showing off various X-Antibody Royal Knights, including Jesmon X.
As for what we don't have images of...
First up is Digimon Adventure 20th related stuff.
Beginning March 6th (the release date of the original Adventure film), the Digimon Adventure 20th Anniversary Project will officially begin.
It appears the new V-Jump also has a new memorial image for the 20th Anniversary project, which we hope to have soon. (Assuming this isn't a mistranslation for something to be released on the 6th. It's also possible it's in V-Jump as a preview with the image being released elsewhere on the 6th.)
Also on March 6th, Village Vanguard will begin a collaboration event.
They previously
have had a number of exclusive Digimon items.
A collaboration with GraffArt is beginning on March 20th. GraffArts is a hobby store and cafe, so what form the collaboration might take will be interesting to see, but it's mentioned that there will be many limited edition products.
Plus yet another collaboration has been announced, this time with Tower Records Cafe.
So plenty of Adventure 20th stuff is coming soon!
On top of the Adventure 20th info, we get an update on Digimon Survive.
Survive is still in the midst of development and a number of system changes have been made to improve gameplay. No further information is available for now.
Interestingly there is no specific information (as of yet) if this equates to a delay, or just an explanation for the long run of silence regarding Survive lately.
More V-Jump info and images soon hopefully.
Thanks to ayushi for the translation, a Weibo user for the image, and
ryokutya2089
for the other info.
Update- More from a new V-Jump issue thanks to
akatuki_d30
.
The ReArise and Linkz portion we previously had.
At the bottom left they show the previous social media art of various Digimon cats. They will be having an image corner with Digimon in V-Jump in the future with relevant images. They chose this one because February 22nd in Japan is Cat Day!
We also get the passcode for NEO's Copymon in the 20th Pendulum... It's 382594.
The 20th Anniversary stuff on the other side we've detailed earlier tonight:
Adventure 20th Memorial Image
Exclusive Digimon Adventure 20th Products at Village Vanguard, More Teased
Exclusive Digimon Adventure 20th Products at GraffArt, Plus Key Art!
They also list at the top right previous notable years for Adventure. 1999 is when Adventure began, 2000 is when 02 began, 2014 is when the 15th Anniversary happened and tri. was announced, and 2015 was when tri. began.
While it isn't detailed further, we can also see in the image the mention of the upcoming Tower Records Cafe event, which we have no further details of for now.