Show User Social Media
Hide User Social Media
Joined

Sep 8, 2006
Messages

12,266
Frontier art time!
This time we
get art
for
a number
of
Frontier characters
, plus
a few oddities
...
Let's start with Arbormon.
The artwork for Arbormon has nothing 'super' interesting as it's his final design, but seeing it a bit rougher than the finalized artwork we are used to is nice.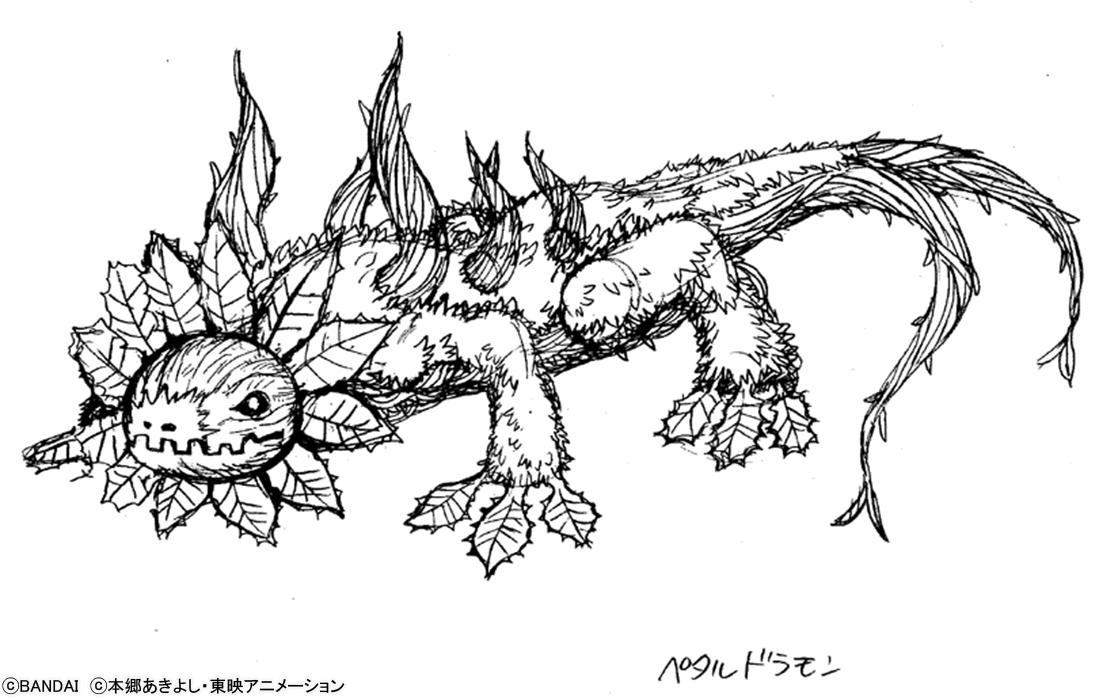 Then we get to see Arbormon's beast spirit form, Petaldramon. The artwork itself is rough linework for Petaldramon's profile artwork.
Movie on to another of the Frontier baddies...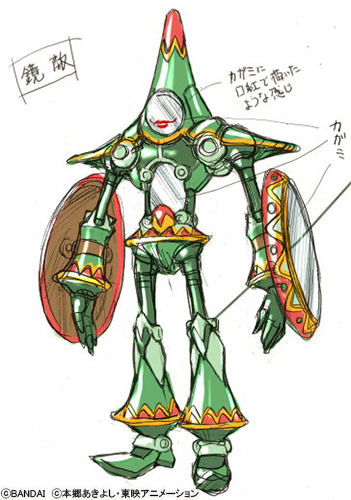 Mercuremon! Again, nearly finished art. This sketch appears to have been used to make 2 Mercuremon cards later- as a CGI render with
ST-704
and as finished art with
BO-108t.
Then we get his beast spirit, Sephirothmon. This is mostly finished linework, although the actual pose doesn't seem to have been used anywhere (although it's very similiar to a number of images of him.)
This rough drawing of Ranamon appeared to have been the inspiration for the CGI render used on card
ST-706
.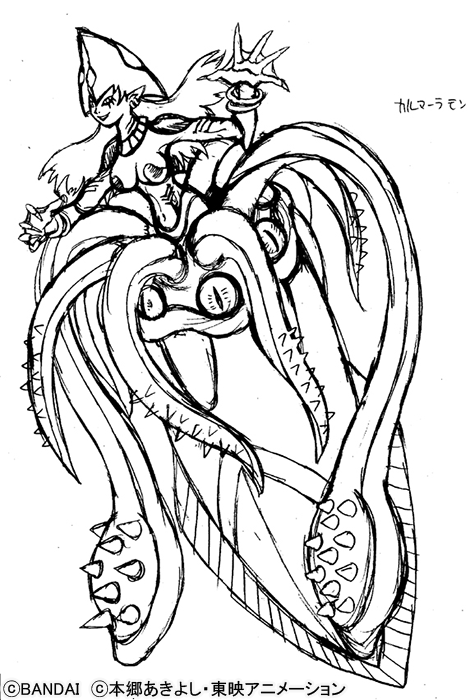 This rough linework of her beast spirit, Calamaramon, was eventually finished and used on her first card,
BO-735
.
Break for a hero!
This rough artwork of Fairymon appears to have not been used, but based on the general appearance, likely was a rough, or an inspiration, for the artwork that ended up being her profile art.
It also mentions that early potential names for Fairymon were Elfmon and Sylphmon.
A bit more of a break with a bit of an oddity...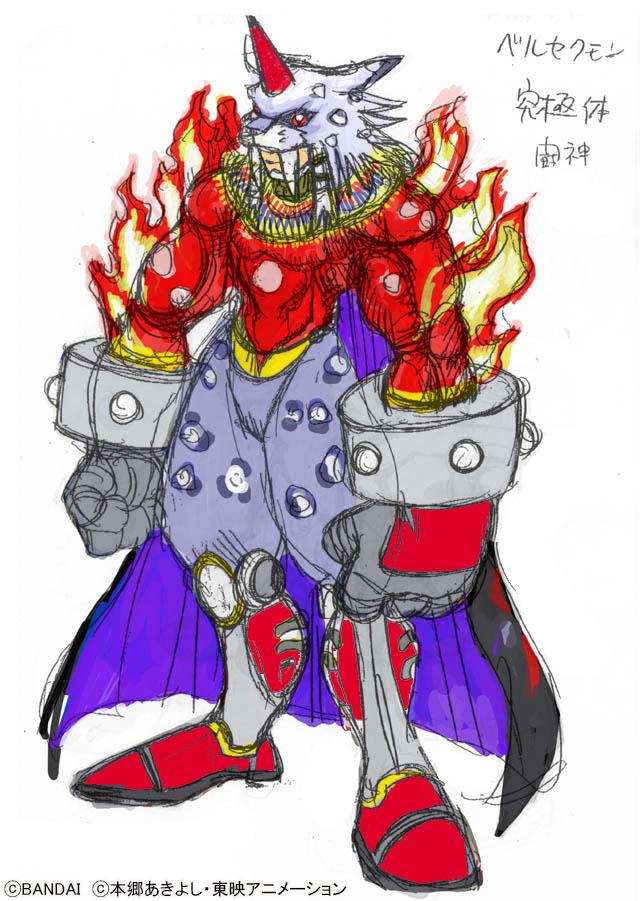 Marsmon! Who isn't in Frontier itself... but was part of that generation of Digimon and he was in the D-Scanner, so I guess they are including him with an asterisk. This image is a rough of what later became his profile artwork.
Plus we get to find out an early potential name they had for him was Berserkmon.
One more villain today, who they include a few extra images of...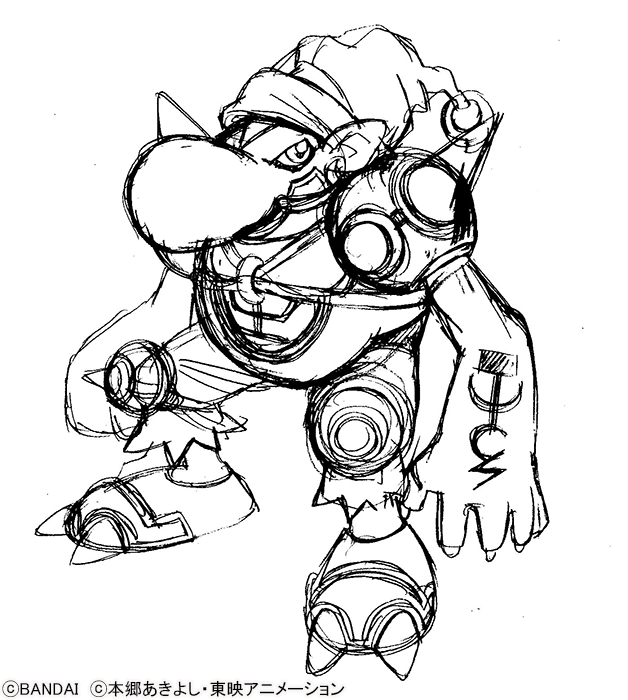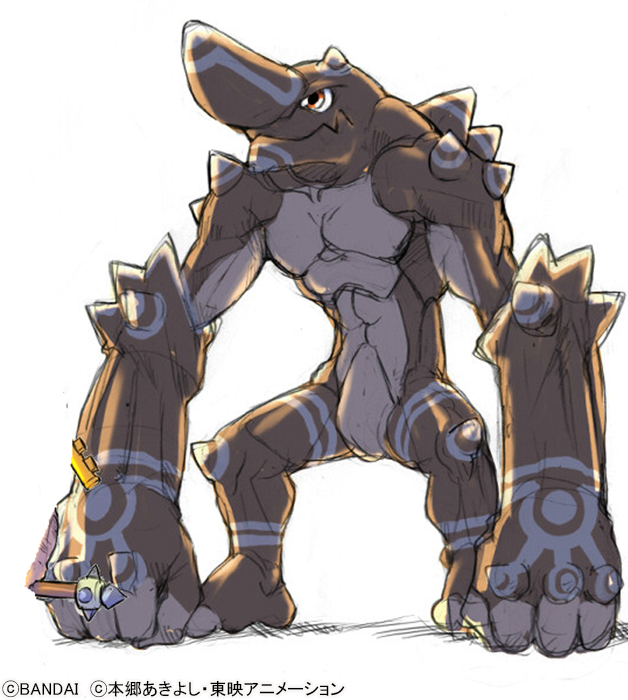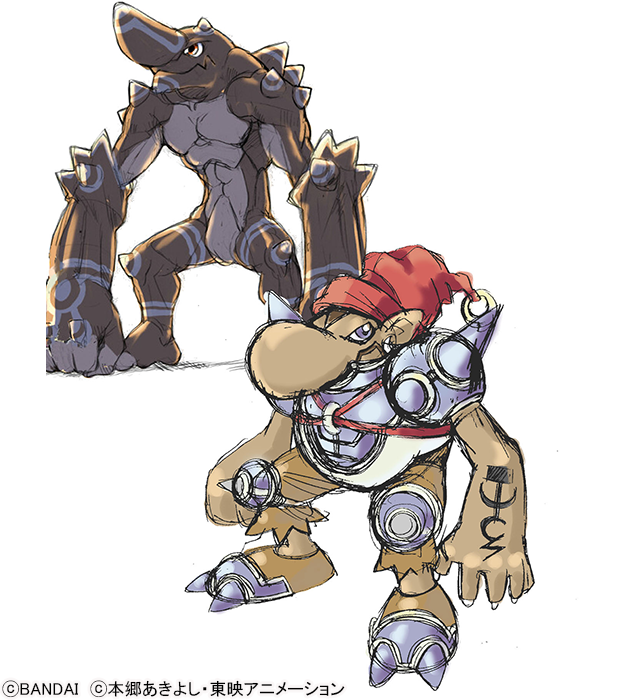 It's Grottemon and his beast spirit form, Gigasmon! He possesses power over Earth from one of the legendary Ten Warriors.
Both roughly have the same design in their drafts as their final design. The primary change they note was that they changed the design of the mark on Grottemon's arm.
We end with a bit of oddity...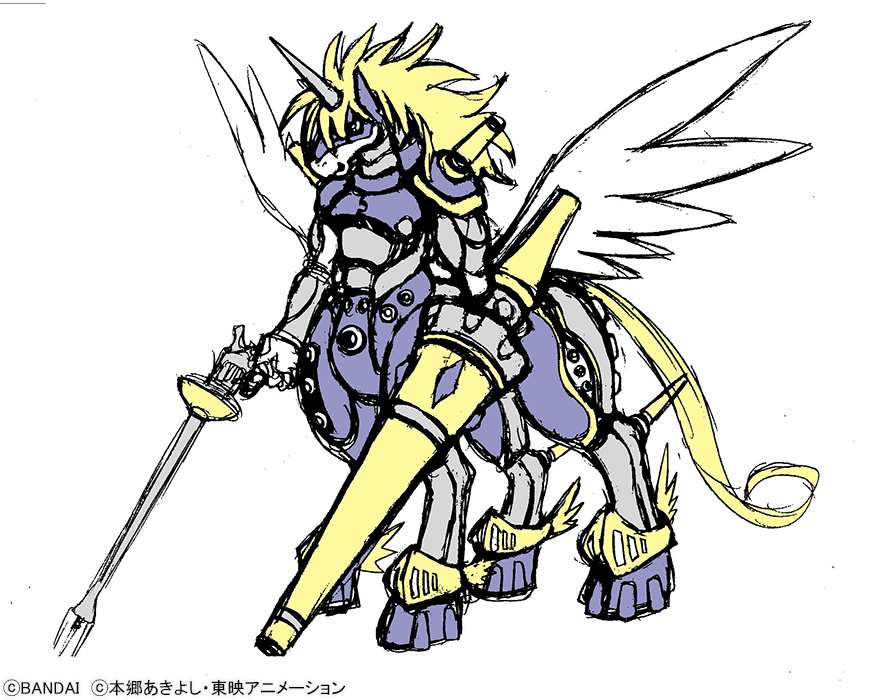 It's a rough design they pulled up of a 'dead' (unused) character. They think this rough looks cool, and they comment that they think it's a waste that this wasn't used.
The character is visually a type of centaur with a horse (unicorn) head. On top of that he various pieces of armor, wings, a lance that appears to be a cannon or laser (and looks like it may be part of his arm rather than him holding it?), along with a revolver that ends with a sword or spear on it (or perhaps another lance.)
They comment that they look forward to digging up more illustrations 'next time' (whether we are supposed to take this as a hint of something, or it's given as a pleasantry we'll have to guess.)
Just a week until the Frontier Blu-ray box is out!
Pre-orders are available for the Digimon Frontier Blu-ray box. It will be available April 2nd, 2019 for 53,800 yen. Early versions of the box will include the
new Frontier audio drama
: (Affiliate link)
Digimon Frontier Blu-ray Box
We hope to do a breakdown of this release like we do for many media releases, including last year's
Digimon Tamers Blu-ray Box
. If you are able to,
donating
or joining our
Patreon
can be a big help.
Previous news for the Frontier Blu-ray box:
Title and Staff for Frontier Audio Drama
Frontier Audio Drama Cast
Preview of Cover Art and Store Exclusives
Cover Art, plus Fan Vote
Internal Art 1

Internal Art 2 plus Store Exclusive info
Preview of Amazon Japan Exclusive Keychains
Result of Frontier Favorite Episode Fan Vote!
Packaging Preview, Plus New Details
Early Agnimon Designs
Early Wolfmon Art
Duskmon Images
Chakmon Art
, Including Early unnamed designs
Neemon Art
, Including Facial expressions
Blu-ray Box and Booklet Preview Images
, Plus New Interviews Teased
Preview of Frontier Blu-ray Box Store Exclusives
Early Blitzmon and Bolgmon Frontier Artwork and Designs