Show User Social Media
Hide User Social Media
Joined

Sep 8, 2006
Messages

17,404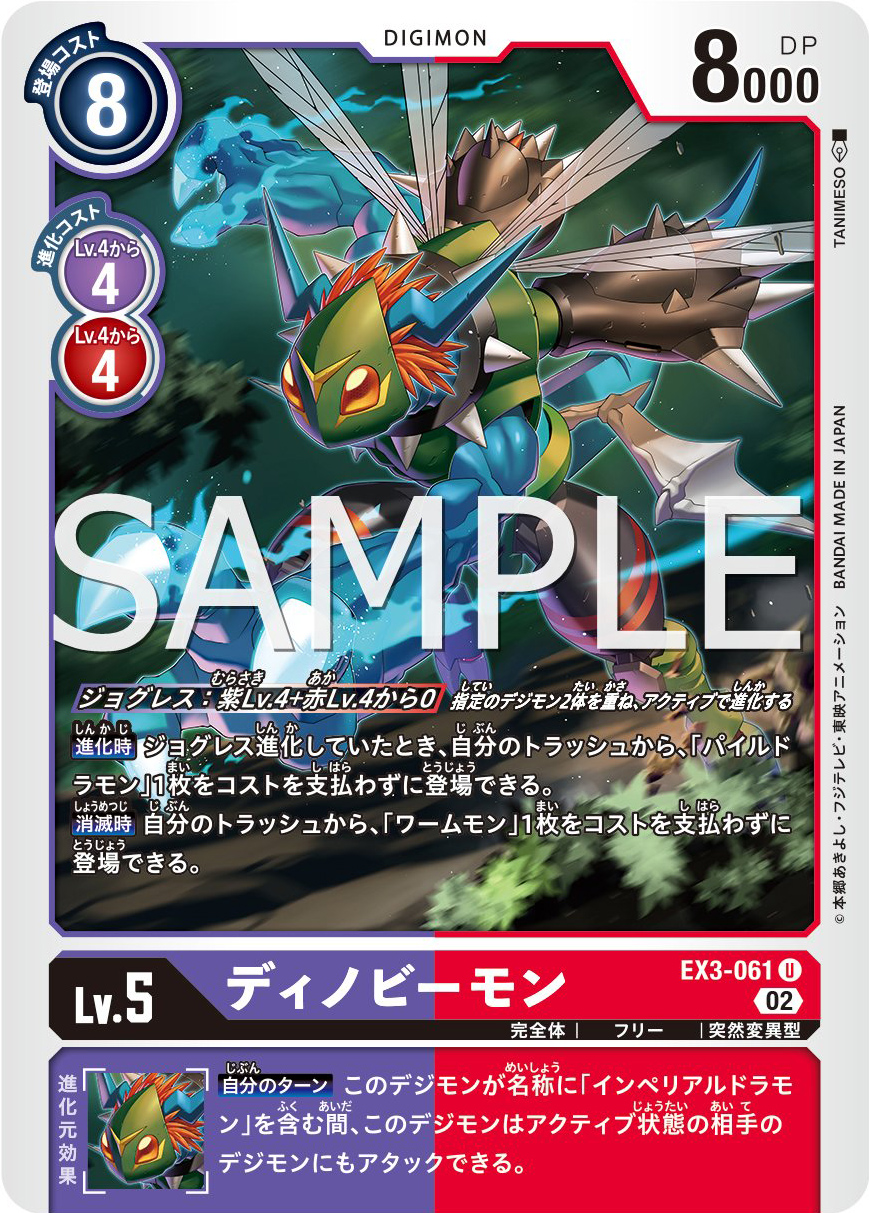 The Digimon Card Game Twitter
has updated with a card preview from Booster Set EX-03 Dragon's Roar. This time it's Dinobeemon.
Dinobeemon gets some actiony cartoony art of him jumping on tree branches looking like he's in the midst of a fight.
Previous previews for Booster Set EX-03 Dragon's Roar:
Packaging Cyberdramon Chaosdramon Hyper Mugen Cannon Qinglongmon Sourai ExTyranomon DarkTyranomon Megidramon & Megiddo Flame V-Jump Previews- Agumon, Sealsdramon, Tankdramon, Goddramon, Holydramon, Trial of the Four Great Dragons, Promo Teaser Goddramon God Flame Holydramon Trial of the Four Great Dragons V-Jump Again Missimon Sealsdramon & Tankdramon Pomumon Parasaurmon Hydramon Agumon V-dramon, AeroV-dramon, & Promo Poster Guilmon Growmon & MegaloGrowmon Babydmon & Dracomon Commandramon Darkdramon MegaSeadramon Plesiomon V-mon & Fladramon Paildramon Imperialdramon: Dragon Mode (Black) Toropiamon Entmon Ganimon Ebidramon Aegisdramon Patamon Airdramon Paledramon CrysPaledramon Coredramon (Green) Groundramon Breakdramon Volcdramon Dorbickmon YukiAgumon Majiramon Hina, Metallicdramon, & Laser Cannon Vorvomon Jazamon Wormmon & Shadramon
Booster Set EX-03 Dragon's Roar is out July 29th, 2022.
We have
early details for Booster Set 11 Dimensional Phase
.
We have clean card images from
Booster Set 10 Xros Encounter, plus Battle Pack 12, Special Promo Pack 2022 v2, & Evolution Cup Cards
.
And images from previous Digimon Card Game releases:
Starter Decks 1, 2, and 3, and first 10 promo cards
Booster Set 1 New Evolution
Booster Set 2 Ultimate Power
V-Tamer Promo Cards
Purple/Black Promo Set
Tamer Battle Pack 1 and Tamer Battle Winner's Card
Booster Set 3 Union Impact
Starter Decks 4, 5, & 6, plus Tamer Battle Pack 2 & winner's Card 2, & 1st 2 scene vote cards
Booster Set 4 Great Legend, Tamer Battle Pack 3, 3rd Scene Vote, Dark Digimon Promo Pack, & Apparel Cards
Booster Set 5 Battle of Omega, plus Tamer Battle Pack 4, 4th Scene Vote, & Vital Bracelet Pack-In Cards
Starter Decks 7 & 8, plus Delay Promos, Tamers Battle Pack 5, 1st Anniversary Promos, & Pulsemon
Booster Set 6 Double Diamond Cards, the 1st Anniversary Adventure Pack, and more
Booster Set EX-01 Classic Collection, plus Tamer Battle Pack 6 & 7, Tyranomon & dual Zeromaru Promo Cards
Booster Set 7 Next Adventure, Campaign Cards, & Tamers 20th Promo Cards
Starter Decks 9 & 10, plus Tamers Battle Pack 8, Ghost Game Promos, Online Promos, Tamers Evolution Box 1, & Amazon Starter Promos
Booster Set 8 New Hero, Starter Deck 11, plus Tamer Battle Pack 9 & Event Cards
Booster Set 9 X Record, plus Battle Pack 10, Special Promo Pack 2022, Update Pack, & Evolution Box 2
Starter Decks 12 & 13, Luxury Finished Tamers, plus Battle Pack 11