Show User Social Media
Hide User Social Media
Joined

Sep 8, 2006
Messages

16,666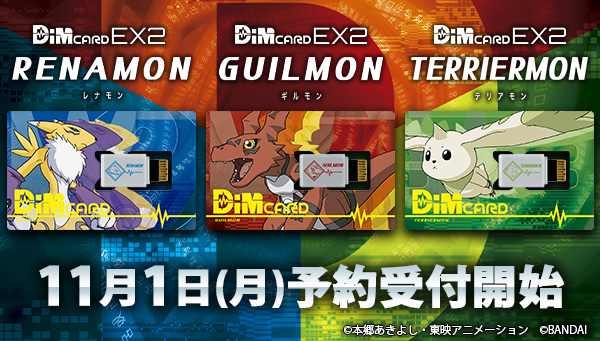 After the announcemen
t,
and then delay
of the EX2 Digimon Tamers Dims it's been a bit of a wait for an update.
We have all the new details though
, including what has changed, and what is staying the same.
First up...
EX2 Digimon Tamers will still be
Guilmon
,
Terriermon
, and
Renamon
.
Each has their own product page, as now EX2 will not be sold as a set, but rather as single Dims.
Each Dim is 1,100 yen, and will go up for pre-orders on November 1st.
They will also now be a general release instead of Premium Bandai.
The design of the Dim themselves are the same, while the plastic frame/holder has been changed a bit.
On top of that, we have the full lineup...
The lineups are pretty close to
what was initially announced
, but there is a few changes.
Guilmon has Dukemon X instead of the originally announced MedievalDukemon.
Renamon has Parisamon instead of the originally announced Kuzuhamon.
We also know the final Digimon for each:
Guilmon is Dukemon Crimson Mode
Terriermon is Rapidmon Armor
Renamon is Sakuyamon X
The star next to the Digimon means they appeared in a Dim Card GP, so you can see exactly what is 'new'
The main functional difference over what was originally announces is these will be much easier, and cheaper, for people to get, without having to use an intermediary (or wait for Premium Bandai USA to sell them.)
So, to recap...
A handful of Digimon changes.
The last slot on each Dim is now known.
1,100 yen each, general single release.
Pre-orders open November 1st, 2 weeks from now.
They will be released on February 19th, 2022.
Nothing really negative minus the extra wait, or if one of the Digimon that got swapped were ones you wanted.
Last edited: