Show User Social Media
Hide User Social Media
Joined

Sep 8, 2006
Messages

13,749
A new one of these tonight isn't a surprise!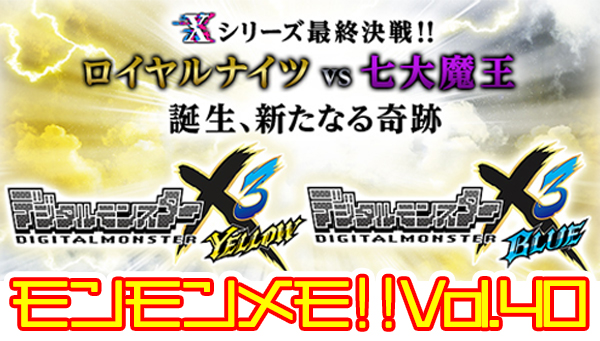 It's time for MonMon Memo 40
! They call this one the "Digital Monster X Series Super Special Information", but really it's a basic introduction to
the Digimon X3
.
Pre-orders for the Digimon X2 Red and Purple end at 11pm today!
[Japanese time]
The Seven Great Demon Lord Digimon that stand at the top of demon and dark Digimon, have completed X-Evolution and are in full swing. The Digimon X2 has an unusual selection compared to past series'.
If you aren't sure if you want it, don't miss out, today is the last chance!
And here is special news...
Thanks to the popular pre-orders of the X2...
Info on the Digital Monster X Version 3 Yellow and Blue has been released!
Many people have already seen the teaser banner! [They are referring to that they put the banner up hours ago without saying anything initially]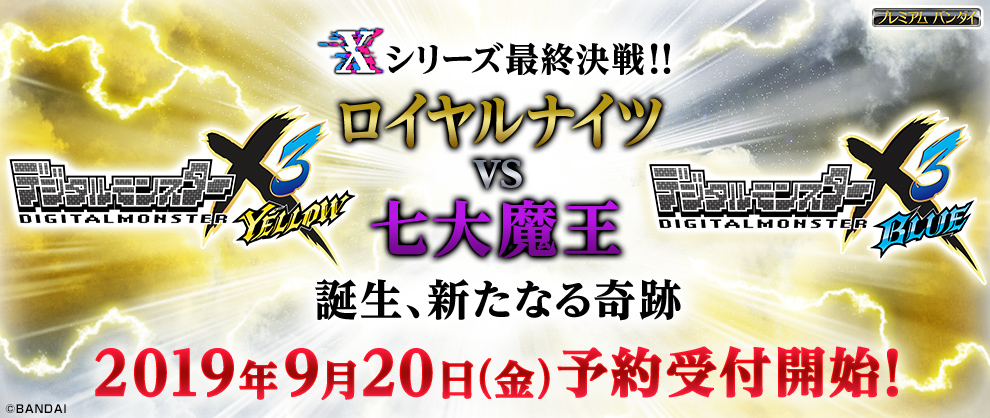 From the story told in Digimon Chronicle X so far featuring the Royal Knights and the Seven Great Demon Lords.... the two great powers will appear in the X3 with a mighty clash!
New X-Evolution Digimon, the climax of the story... there are many things I want to tell everyone...
Details will be announced on September 20th!
And on that same day there are other important announcements...!
Until the follow-up to this announcement (on September 20th),
let's look over the story of Digimon Chronicle X.
.. (There will also be progress here...) [The link goes to the translated version we've been posting, along with an index.]
Please look forward to information updates about the Digital Monster X Version 3 Yellow and Blue!
They finish by saying see you in the next update!
Previous MonMon Memos have included:
Cold Mode
Copymon
New Virus Busters
New Nightmare Soldiers
Silver Blue Special Digi-Eggs
Silver Black Special Digi-Eggs, Plus ones in both!
Jogress Digimon
Password Digimon
Overview of the 20th Pendulum, Plus Enemies in Battle Mode
Kenji Watanabe Pendulum Interview
CSA Digivice tri. Memorial
Additional Digimon showing up in the Pendulum 20th 2nd Wave
RagnaLordmon, Jogress of the 20th Anniversary Legend Arms
Pendulum Art Book Sample Pages, Teasers, and Interview Details
Pendulum Art Book Update- Digimon Designer Round Table! Plus Shikishi Artwork
Introductions for the CSA Digivice 1999 and Terriermon Plush, plus X-Antibody Updates
CSA Digivice 1999 Details
RagnaLordmon and Finalized Wave 2 20th Pendulum Packaging
Pendulum Art Book Preview- Twitter, Armor Evos, Omegamon, Chronicle
Digimon in 2nd Wave of 20th Anniversary Pendulums & Art Book Preview
Digital Monster X and X-Antibody Teasers
Digital Monster X Booklet Details
Digital Monster X Digimon Info & CSA Digivice 1999 Booklet Details
Digital Monster X Map System Info
Digital Monster X Battle System Info
New X-Antibody (Finalized Diablomon X & Sakuyamon X) Digimon Artwork
Digital Monster X Training & Raising Features
The Digimon Lineup for the Digital Monster X & More Reveals
Digital Monster X Summary & Preview from MonMon Memo, plus more Digimon intros!
Digital Monster X Evolution Conditions from MonMon Memo!
The Movements of the Seven Great Demon Lords from MonMon Memo
Data from announcement of Digital Monster X Version 2!
Main Theme of Digimon X2 from MonMon Memo, plus Video Preview
Digimon X2 Lineup Introduction and Character Tease
Raising Information, Road to the Devil
Secret Digimon in Digimon X2 Revealed
The Not Yet Shown X-Antibody Digimon
Last Evolution Kizuna & Digimon X2 at DigiFes
Digimon X2 Booklet Preview