Show User Social Media
Hide User Social Media
Joined

Sep 8, 2006
Messages

15,796
Almost time!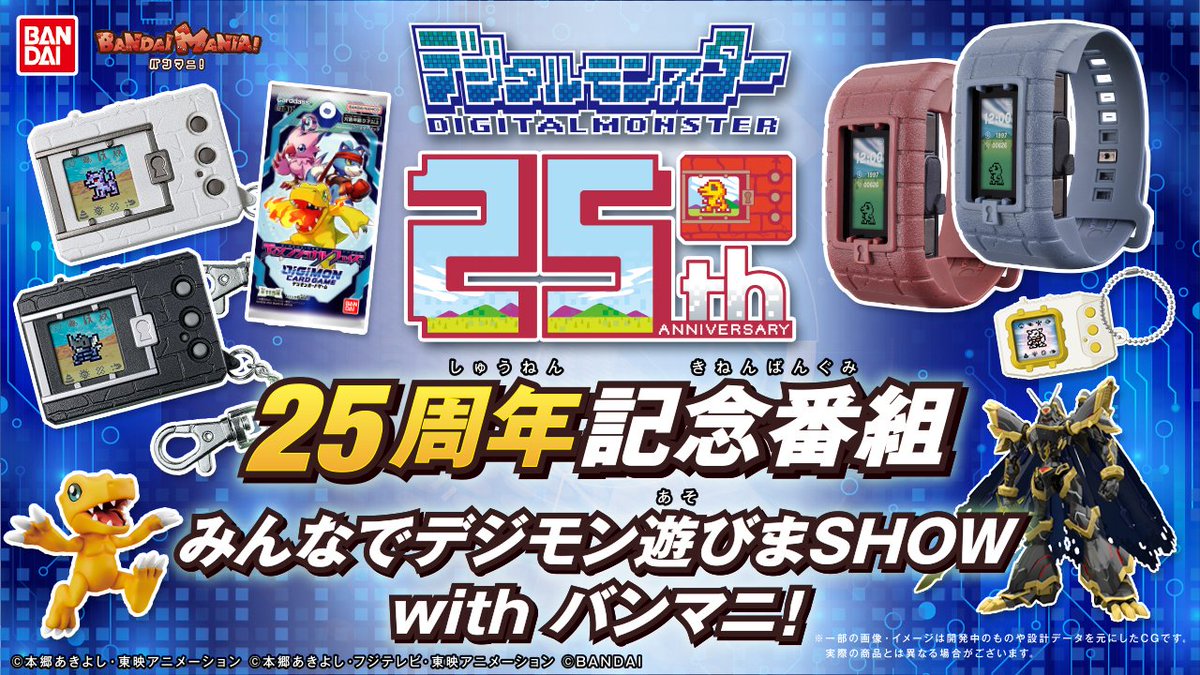 The video special 'Digital Monster 25th Anniversary Program [Night 1]' begins roughly 90 minutes from the time of this post. (The embed below will have a countdown.)
Digital Monster 25th Anniversary Program [Night 1] will focus on various 25th anniversary products along with behind the scenes of product development, and more.
A main feature will be showing off the newly announced Digimon Color V-pets. The promo image also shows the Vital Bracelet BE, Card Game Booster Set 11, figures & model kits, and the Gacha Pendulum keychains.
The livestream will be on
Youtube
. It isn't known if it'll be subbed like DigiNavis have been
It appears it will be hosted by the Bandai Mania Digimon Classroom crew.
We won't be following along live, tired and heading off to bed. Will catch up and put up news in the morning, but feel free to comment on anything fun that appears if you want.
Hopefully the video is just left up and it isn't a case of waiting for an archival stream later.
Update- Images and some details from the stream...
It was largely just going over products and various things we knew about, as expected.
From a skim, the only 'new' detail is the obvious 'wink wink' that if the new Digimon Color v1 and v2 does well, they'll try and continue the color series.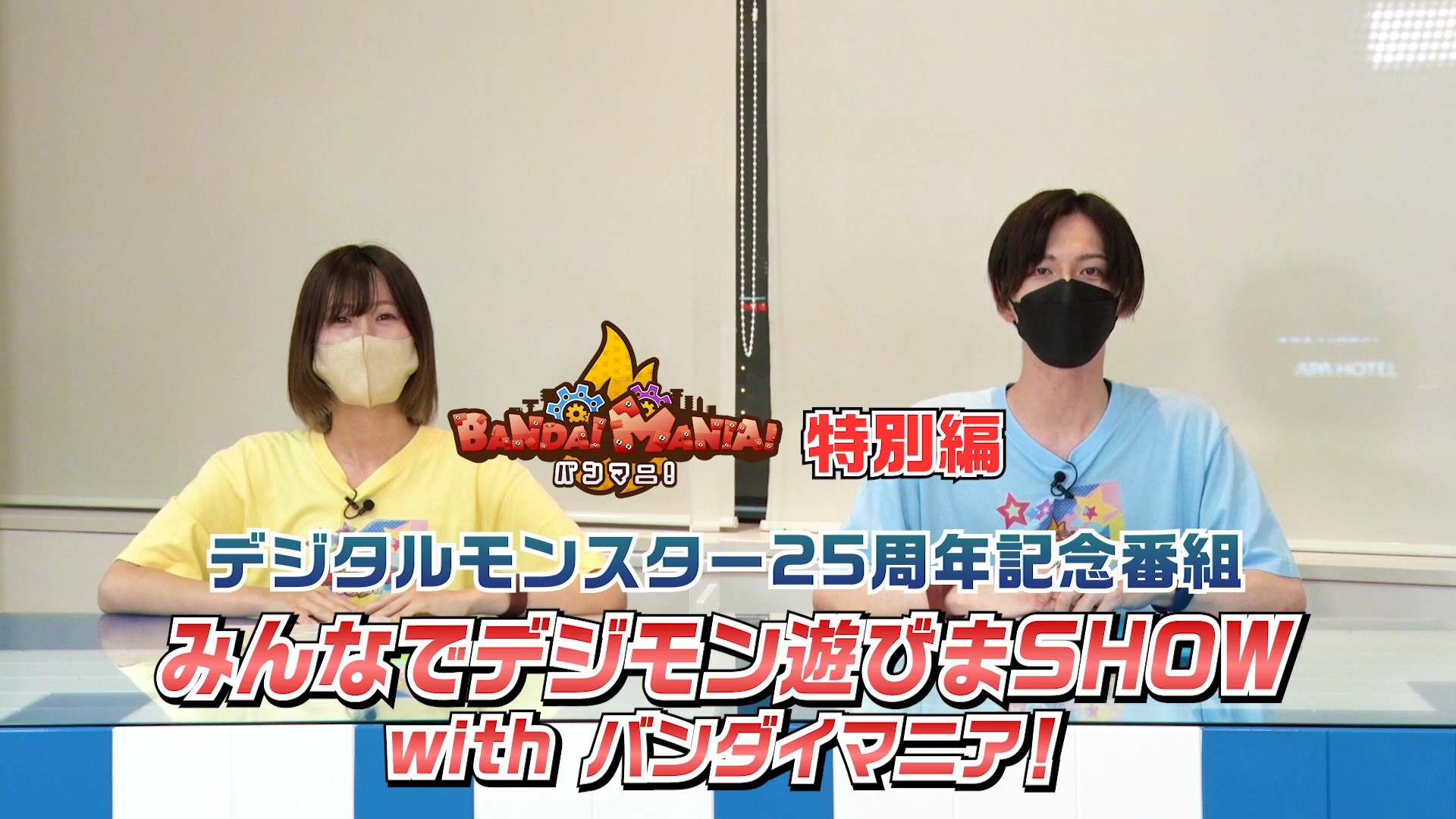 The video was hosted by the Mania/Classroom crew as we expected.
A few things looked at include...
The Digimon Color V-Pets
The Vital Bracelet BE Digimon 25th Anniversary Set
The Pendulum keychains (in case anyone forgot, these are decorative keychains, they are not V-Pets)
A few images include...
The Color V-Pets in person, rather than press images.
Explaining how it recreates aspects of the original V-Pets, while also making them easier and more friendly to use.
Showing off the V-Pet
Showing off the 25th anniversary set, along with the Vital Bracelet Arena battle app.
The first all new raid begins September 15th.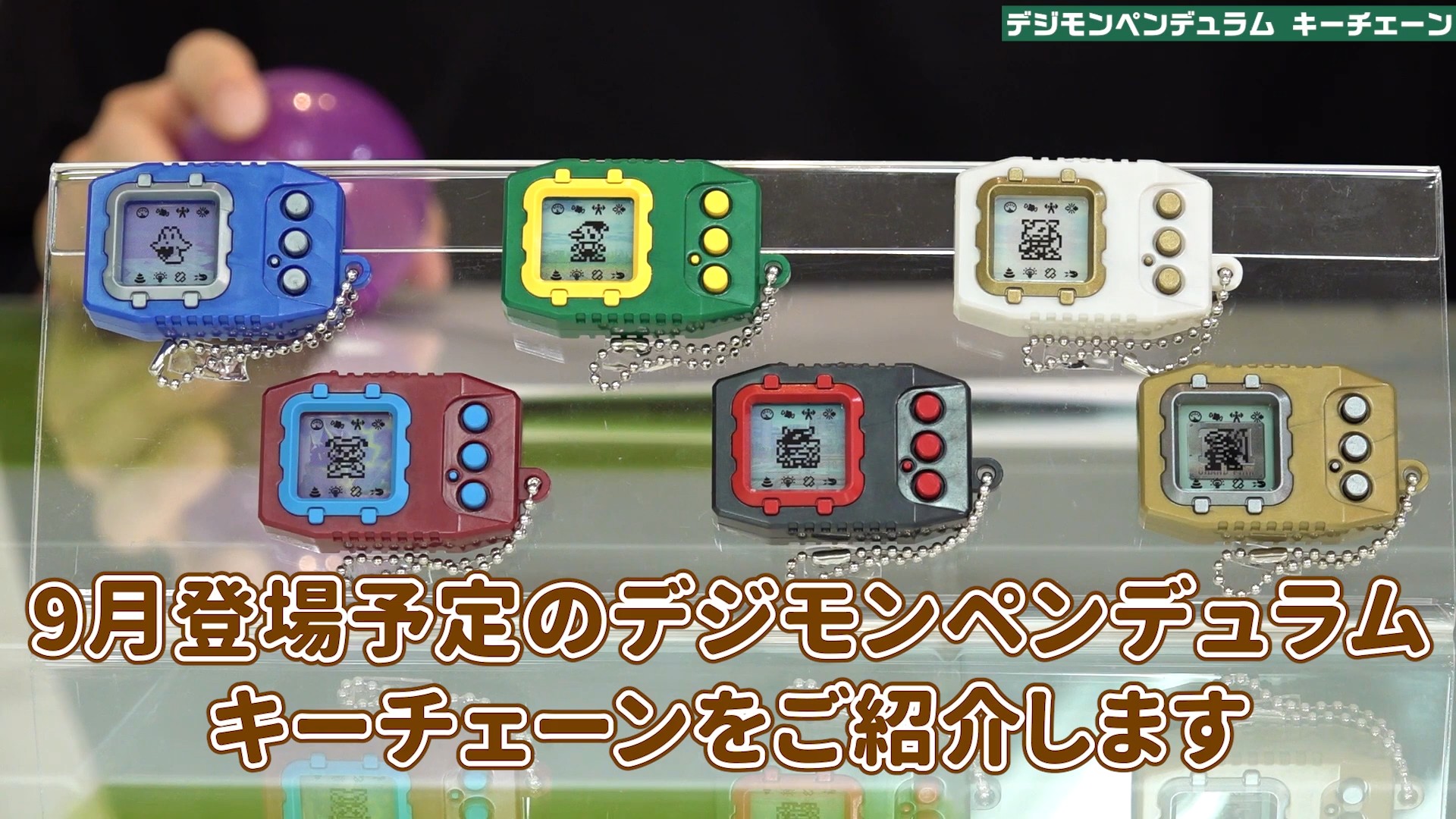 Another look at the Pendulum keychains, which are out next month.
Various current and upcoming Digimon figures:
The Adventure DXF figures, getting a general release in the US and being crane game prizes in Japan.
The Sofvimates Agumon figure
The Alphamon Figure-rise Standard Amplified model kit
A basic product overview, but very nice since a lot of stuff is coming soon.
And they called it part 1...
Last edited: