Show User Social Media
Hide User Social Media
Joined

Sep 8, 2006
Messages

16,925
We first found out about it awhile ago, but it's time
for a bunch of details for The Digital Monster 25th Anniversary Exhibition
(Digimon Museum)
The event is described as:
Digital Monster, which was born as an LCD toy in 1997, has since spread to various products and content that transcend genres such as games, animations, cards, and has been supported by fans around the world.
In July 2022, which marks the 25th anniversary of its beginning, we will hold an exhibition event where you can enjoy the charm of the world of Digital Monster, while looking back on illustrations.
We look forward to seeing you at the Digimon Museum, an event where you can enjoy the world and charm of Digimon, whether you are a fan who has supposed it from the beginning to now, or fans who have come to be fond of it with the TV anime Digimon Ghost Game.
Digimon Museum will be at
the Belle Salle Akihabara
on Friday, July 29th through Sunday, July 31st.
The Opening Hours for each day: (last admission planned for 30 minutes before closing)
July 29th- 2pm through 8pm
July 30th- 10am through 8pm
July 31st- 10am though 6pm
Admission will be free.
A trailer going over various elements quickly...
We will be detailing these a bit more...
The Digital Monster 25th Anniversary Exhibition Digimon Museum is an event that looks back on the history of the Digital Monster series of portable LCD toys, video games, and anime released since 1997, the beginning of the Digimon franchise. The exhibition will look back on the history of the Digimon series and explore the world of Digimon and its charms, via product displays and over 140 illustrations, along with an introduction to the animation.
At the entrance of the exhibition hall, visitors will be greeted by a giant Greymon and illustrations created by Digimon designer Kenji Watanabe for this exhibition.
Chapter 1: The Birth and Growth of Digital Monster
The exhibition will touch on the history of LCD toys and video games, the beginnings of Digimon, there will be illustrations of Digimon born from the products.
A Digital Monster (prototype device) will be unveiled for hte first time at this exhibition, will also be on display.
In the latter half of this section, while showing off the TV anime, illustrations of the Digimon that played an active role in teh story will be displayed, along with the products.
Chapter 2: The World of Digital Monsters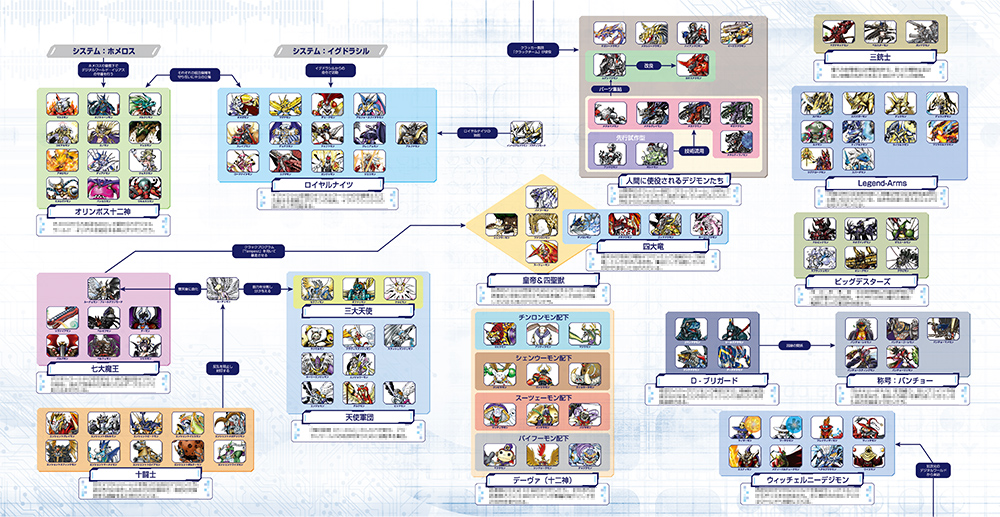 The various forces & organizations of the Digital World, inhabited by the Digimon, are introduced.
Enjoy illustrations of Royal Knights, X-Evolved Digimon, & more.
This section takes you deeper into the world of the Digital Monsters.
Chapter 3: Digimon Now
At the theater booth of the exhibition, the latest video of the 'Digimon Project' series will be screened, which is being shown for the first time. Also on display will be materials from the currently running Digimon Ghost Game TV series, the new Digimon Adventure 02 movie, and Digimon Dreamers (currently serialized in Saikyo Jump).
Also introduced will be works & products in development such as the game Digimon Survive (coming out the prior Thursday), the Vital Bracelet, and the exhibition of Digimon Card Games.
Chapter 4: 25th Anniversary Memorial Corner
A total of 12 newly drawn works to commemorating the 25th anniversary will be on display, drawn by six designers, including Digimon designer Kenji Watanabe.
Also on display will be the 8 winning works from the Digimon Illustration Competition, which were selected for the Digimon Card Promotion Pack, a special prize for visitors to this exhibition.
A special audio guide has been prepared, which you can enjoy on your smartphone so that you take a step further into the world of Digimon. Please see the lively illustrations along with the auto information on the background of the beginnings of Digimon. It's noted to bring earphones with you.
Digimon Greeting

Agumon, V-mon, Guilmon, & Gammamon, along with others, will appear for a meet & greet along with Digimon Music. Please join us.
Times: (About 10 minutes every hour)
Friday, July 29th- 2pm to 7pm
Saturday, July 30th- 10am to 7pm
Sunday- 10am to 5pm
Visitor Benefits
​
Digimon Card Game Promotion Pack- Digimon cards that use the illustrations of the eight award-winning works of the Digimon Illustration Competition held in the Japan and the United States in 2021.
Digimon 2022 Guide Book- A V-Jump edited together guidebook. 16 pages with lots of information on Digimon anime, manga, toys, and games.
These items are limited to 1 per person, and the amount to be distributed is limited.
These items will be distributed at other stores and card shop events in the future.
Bonus Benefits
Digimon Partners Member Bonus- Presenting the membership card screen from the Digimon Partners site to staff at the venue will get you a Digimon Frontier/Partners Anniversary postcard.
Digimon Web Twitter Follow/RT Campaign- Those who follow Digimon Web & RT a campaign tweet will get a special sticker of the museum art of Agumon and Gammamon. The staff will ask to see the tweet RT and that the account follows Digimon Web.
Then there will be a number of products,
which also get a featured page
.
First are various Digimon Con goods, many featuring Digimon Tamers. These have been seen before, so we won't be going over them again.
Then is a number of 25th anniversary products. These will all also go up to order on Premium Bandai on July 29th.
The 25th anniversary hoodie is 8,250 yen.
25th Anniversary shirts featuring MetalGreymon art by Kenji Watanabe, in both white and black, are 3,850 yen.
25th Anniversary shirts featuring Tyranomon art by Kenji Watanabe, in both white and black, are 3,850 yen.
These are all available in M, L, and XL.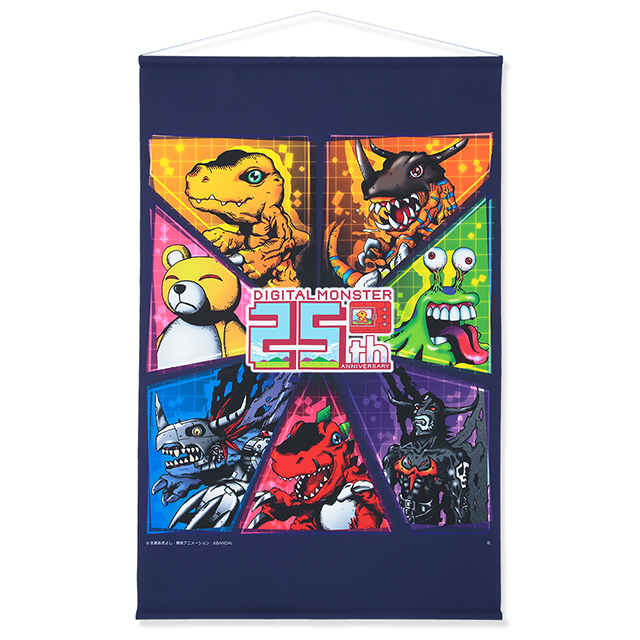 A 25th anniversary wall scroll is 3,300 yen. It features Agumon, Greymon, Monzaemon, Numemon, MetalGreymon, Tyranomon, and Devimon.
25th anniversary acrylic boards are 3,850 yen each. Each features the profile art of the Digimon, sprites of them, their name in English, and the 25th anniversary logo.
Dramatic Acrylic Dimension also makes a return, featuring 3d multipiece acrylic displays are 1,760 yen each. Each features the Digimon along with attack display pieces.
And last up...
Dim Card set V3 Espimon and Ryudamon will be available to purchase early at the museum. This will be 1,980 yen and be limited to 1 per person.
Overall the exhibition looks like a really nice and fun event. Hopefully they'll find a wasy to do the display elsewhere so it isn't just 3 days.
Hopefully we get some good photos of this stuff also.
More updates on the products once they go up at Premium Bandai.