Show User Social Media
Hide User Social Media
Joined

Sep 8, 2006
Messages

16,445
Almost time!
Digimon News Navigation begins in roughly 30 minutes from the time of this post.
This DigiNavi is subtitled the "Vital Bracelet 'Just Before Release' Special", since the Vital Bracelet is out tomorrow!
Much of it will be dedicated to the Vital Bracelet, but we also know there will be things shown for Adventure:, various upcoming Digimon products, and with multiple people from Card Battle there, card game stuff is certainly likely, especially with the 1 year anniversary stuff beginning to be shown off.
The livestream will be on
Youtube
(with optional/soft English subtitles),
niconico
, and
Line Live
if you want to watch. It will also be on Periscope
via the Digimon Web Twitter
.
It will be hosted by Yuki Iwai (a comedian, actor, writer, radio host, and manga/anime fan), who hosts Digimon Card Battle.
Chiaki Matsuzawa, host of various Digimon events including some DigiFes and DigiNavi events, and also cameoed in tri. will also be there to introduce content.
Also on hand will be comedian duo Cocolo, well known to Digimon fans from Digimon Card Battle and various other Digimon streams (including a few different prior DigiNavis) and Sekido, from the development of the Vital Bracelet, among a few others (including the promotional Herissmon that we haven't seen in awhile.)
We'll update with details as we get them, with big announcements also getting their own threads.
Much of this stream will be informational, and subtitled in English, so we aren't sure how heavy we will go with various bits, and it's likely worth it to watch that content yourself.
Prior DigiNavi streams are still available, so if you aren't able to watch it when it goes up, it should be available to view later.
Stuff below here are updates from the stream. Various bits below will be cleaned up later.
The hosts all announce themselves as Chiaki. Jokes are also made if Cocolo looks more like assistants or bouncers.
Update- Second short on Youtube.
The 2nd short.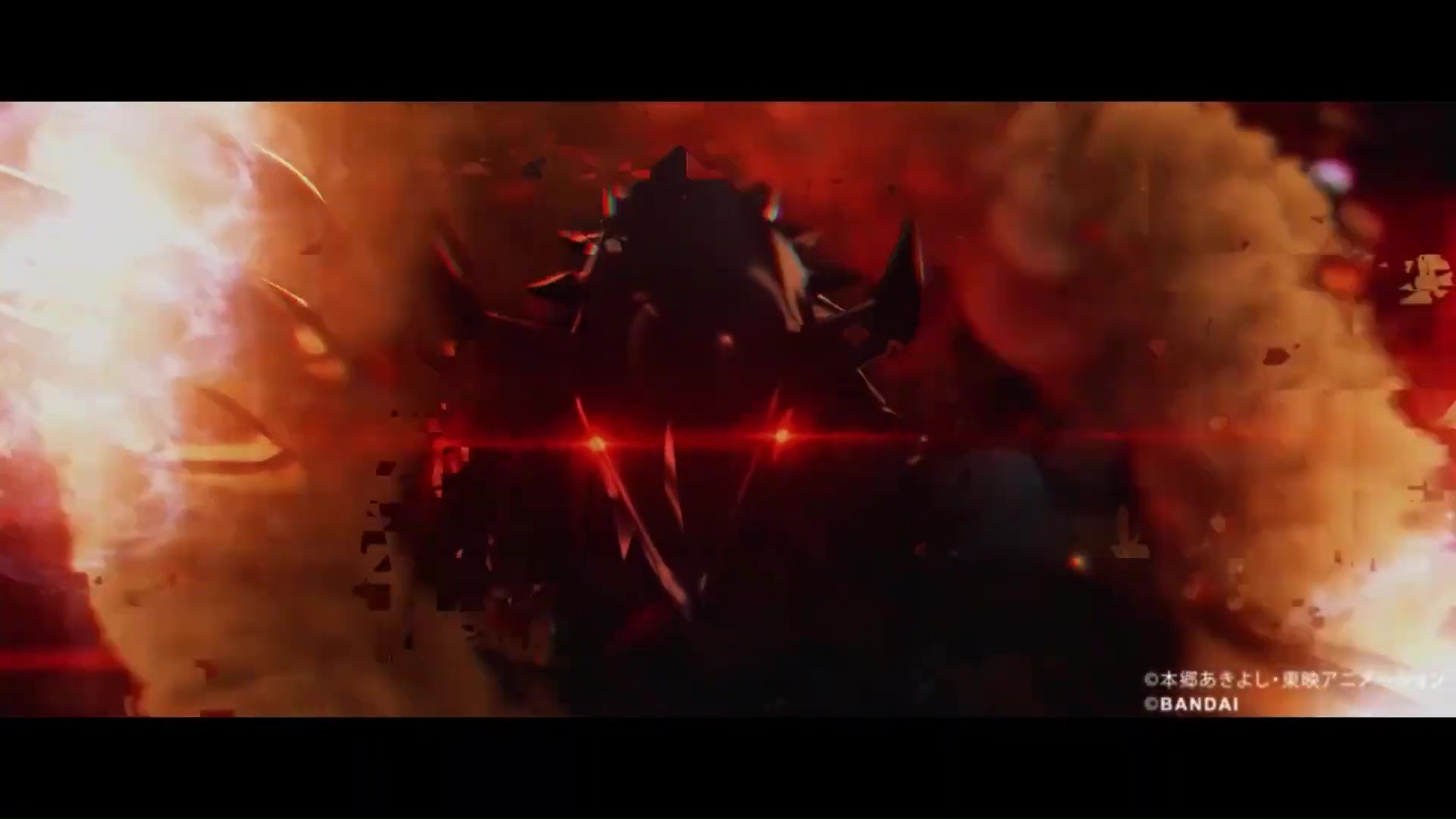 Teaser, presumably for the 3rd short.
Sekido is out to talk about the Vital Bracelet. This is the sort of thing that is details how to use it, and tips, etc. You really need to watch this part yourself to learn details about the Vital Bracelet.
He mentions how the 'Adventure missions' have to do with the shorts.
It appears the Ultimate Digimon marked as ????? in evolution paths for Dim Cards you unlock by finishing the final level of the missions.
Araaki is doing a hard mission to try and train Pulsemon.
Yamadeya is out to do battle mode.
It is joked he is the brains of Cocolo.
Iwai points out being smarter than Araki doesn't mean much.
He wins!
They gave each of them a Vital Bracelet and a Dim Card 2 weeks ago, to train, so they could battle now after playing seriously for a few weeks.
The 3 of them argued over who would get which bracelet.
It went well... for some of them...
Eventually Araki got Runnermon.
Iwai got a pass for round 1 of the 3 man tournament, likely because he took it more seriously.
Araki loses as they use the VS Memory to battle.
Before the 'finals', Iwai starts to shake his wrist to try and bolster numbers quickly.
Guess who win based on the screenshots.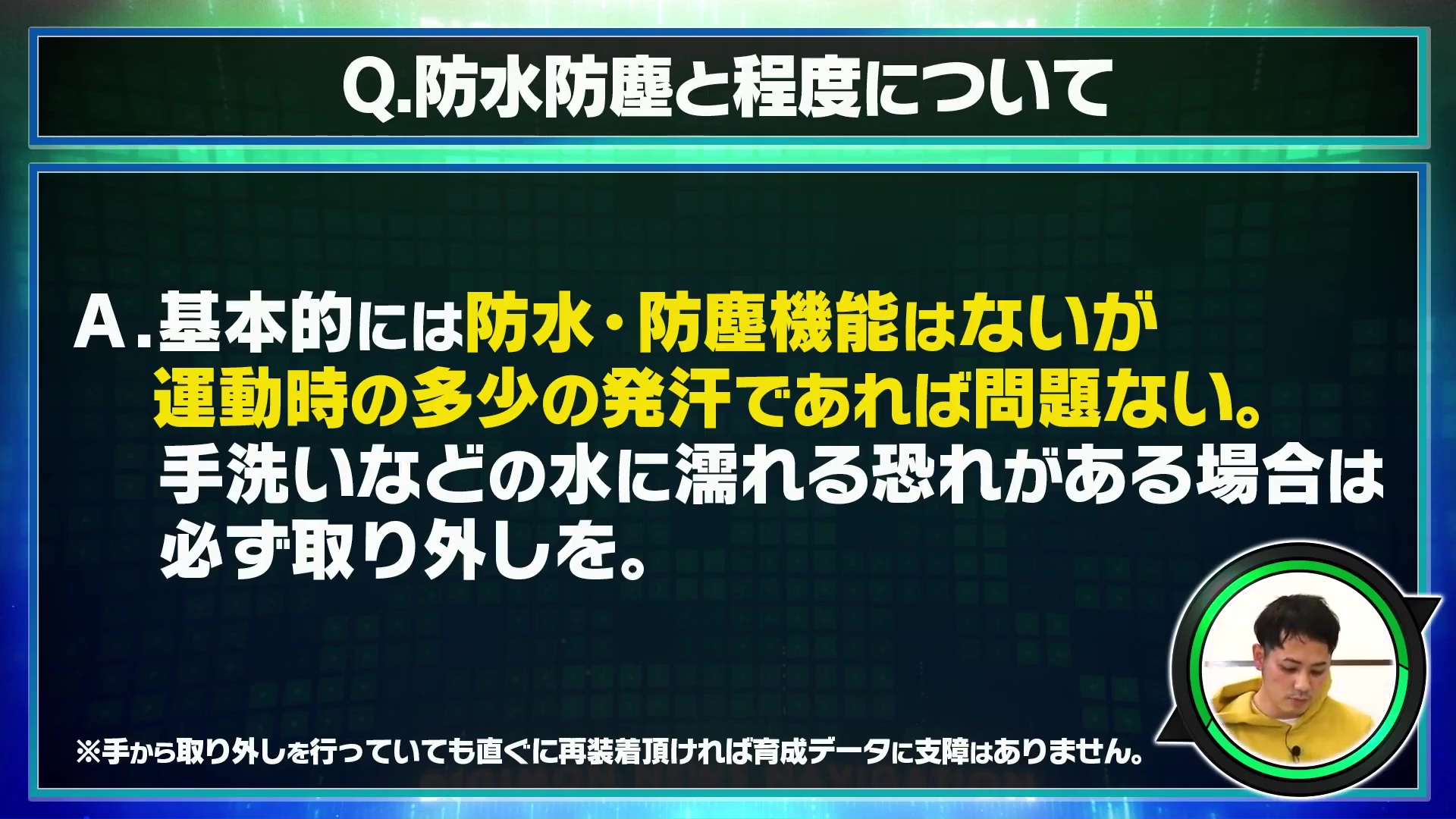 They're answering questions right now.
These look to be the ones that we got the answers to right before the stream
, as expected.
They finished the VB section showing off the vintage style commercial and moved to Adventure:.
One of the Cocolo duo yelled 'finally' when they announced they were talking about Adventure:.
They're going over recent story and episodes.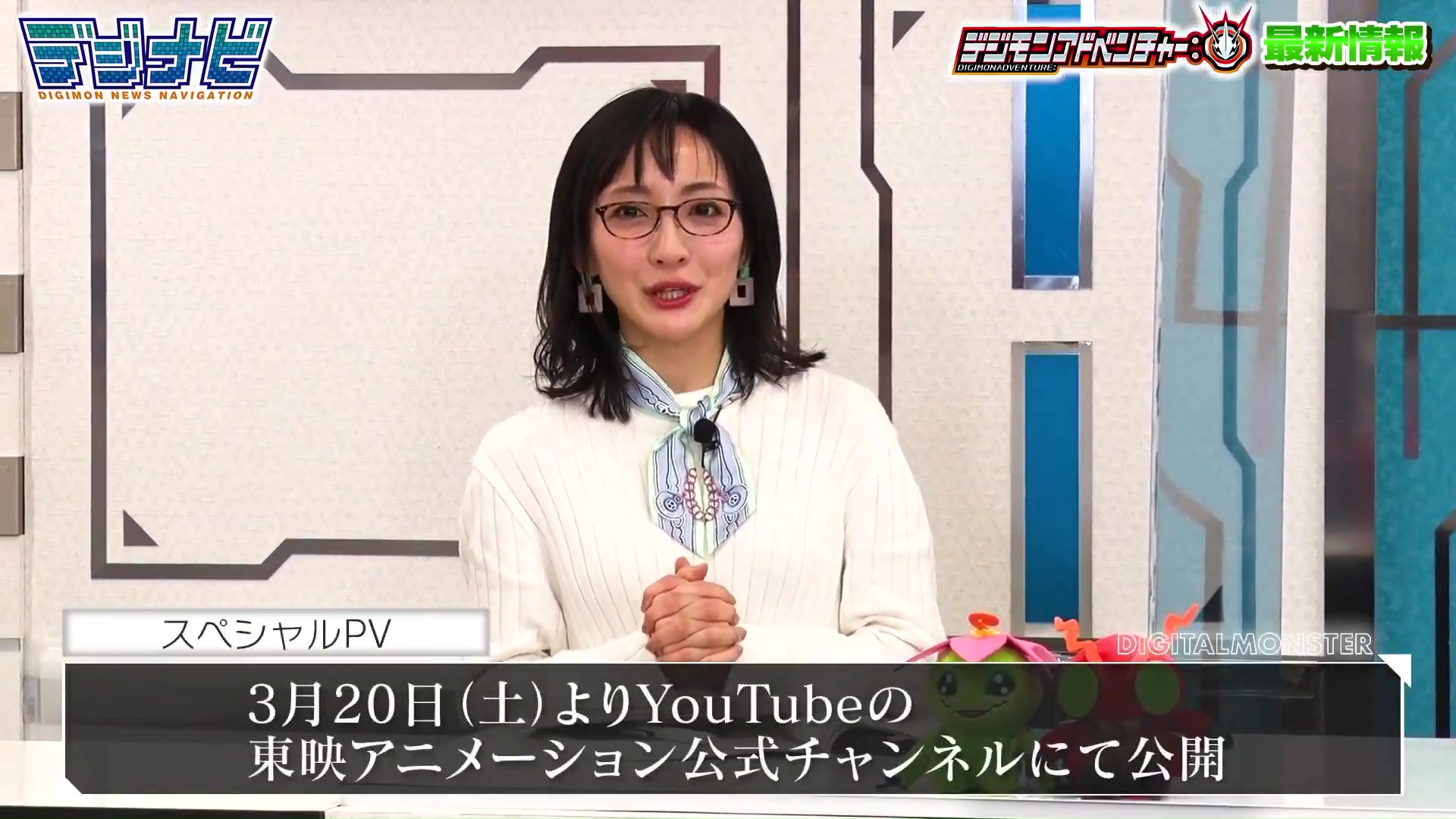 Jump Fest PV was so well recieved they've 'upgraded' it and will release it next week on Youtube.
The new promo image. They're discussing all the serious faces and Ultimates. Araka is a big fan of Holydramon it seems, so he's very happy.
News for outside of Japan.
Showing off the V-Pets for the US and international market. Formally announcing the Digimon X.
Digimon X this summer.
Vital Bracelet in the US 'will' be exclusive to Premium Bandai US and won't be stocked in stores. QR Code for more details.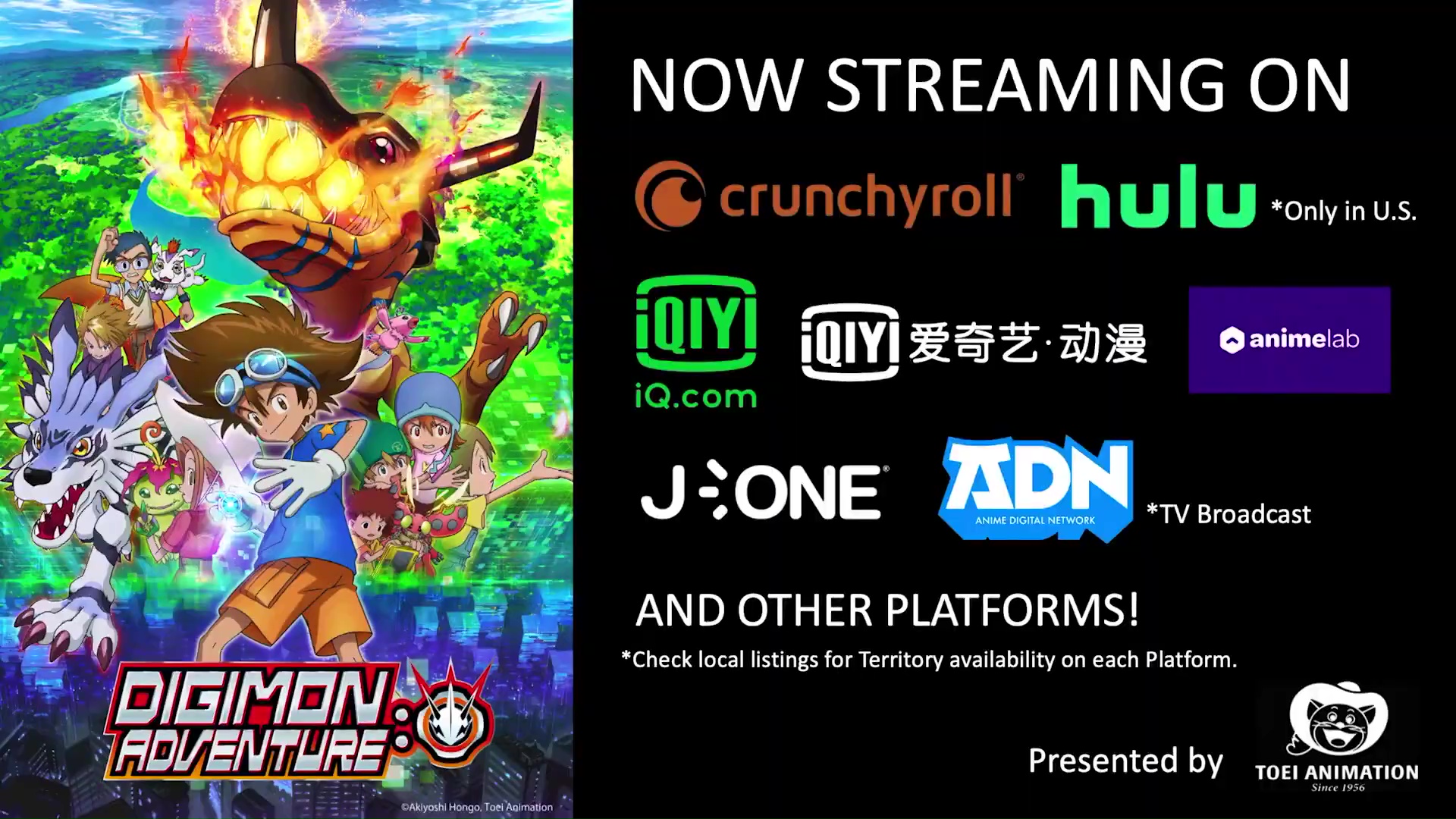 Talking about how many fans watch Digimon Adventure: around the world on so many platforms.
Goto P out to talk about the card game. Iwai and Cocolo are especially happy about this.
New effect called 'delay' starting in cards in April. Showing off a promo card with the effect.
There will be six special cards with delay, released around the same time as the new Starter Decks.
Hiromi is here with assistant Herissmon to talk about Digimon ReArise.
Omegamon will be featured heavily in some upcoming ReArise stuff. They are showing Omegamon clips.
Digimon ReArise is starting a 1000th day since release plans with various updates and more.
Mugendramon kit, plus a quick mention of Dukemon.
SH Figuarts Alphamon Ouryuken Premium Color goes up to pre-order today for over $100. Looks quite nice.
Shodo figures. They tease series 4 again.
New crane game plushies from earlier.
The hugcot cable holders we've seen before.
The pajamas once again.
Recent Digimon Blu-rays include Adventure: BD-BOX 2 and the 1999-2001 box containing Adventure and 02.
Iwai is confused at Coelamon beating him.
Saying goodbye as they end.
Ending with a mention of the Digimon Partners community site and DIgiNavi.
Last edited: