Show User Social Media
Hide User Social Media
Joined

Sep 8, 2006
Messages

16,401
Almost time!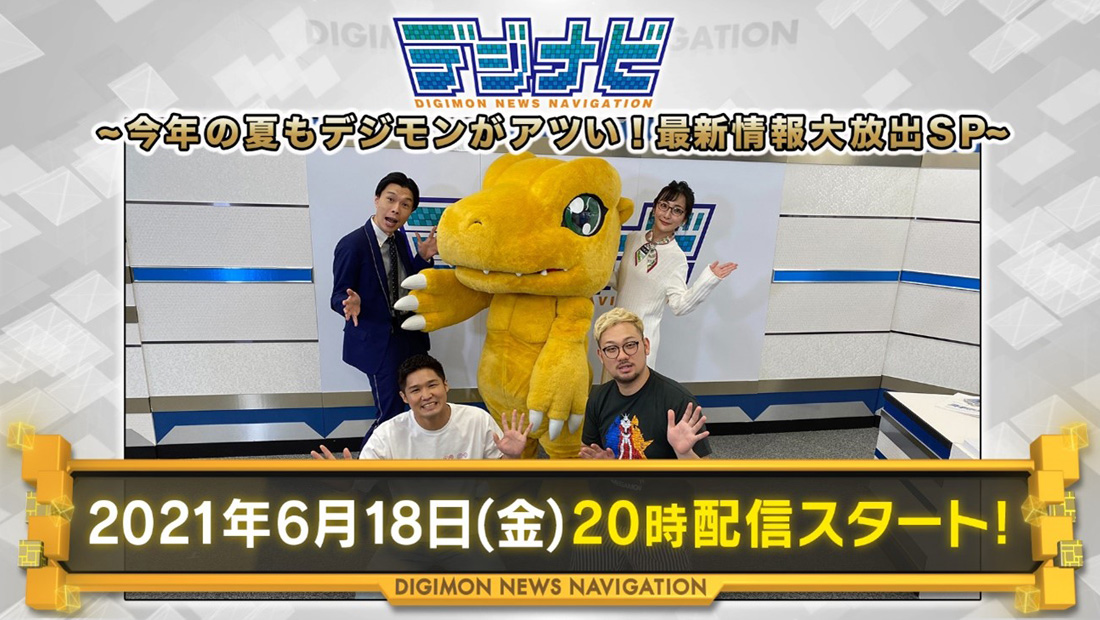 Digimon News Navigation begins in roughly 30 minutes from the time of this post.
This DigiNavi is subtitled the "Digimon is Hot Again This Summer! Latest Information Special!"
This new DigiNavi will feature the premiere of the 4th Vital Bracelet short, titled "Be Strong With You". It will also feature new information on the Vital Bracelet, the special project "Enjoy, Digimon Partners!", DigiFes 2021 related updates, along with information on a number of products, and they say there will be "a lot of content!"
The livestream will be on
Youtube
(with optional/soft English subtitles),
niconico
, and
Line Live
if you want to watch. It will also be streamed
via the Digimon Web Twitter
.
It will once again be hosted by Yuki Iwai (a comedian, actor, writer, radio host, and manga/anime fan), who hosts Digimon Card Battle.
Also on hand, as expected, will be Chiaki Matsuzawa, host of various Digimon events including some DigiFes and DigiNavi events, and also cameoed in tri. will also be there to introduce content.
As they often are, comedy duo Cocolo will be there. That should give card game fans hope, as with 3 members of the Card Battle cast on hand, there's always good hope for some fun card game news.
Also announced as a guest is Producer Yosuke Kinoshita from Toei Animation. On top of producing Kizuna, the Memorial Shorts, and the later part of tri., he was the host of the first DigiNavi & DigiFes 2020 Online. The trio of the Digimon Teacher, Moni-chan, and Gachos from Digimon Classroom will also be there.
We'll update with details as we get them, with big announcements also getting their own threads.
Much of this stream will be informational, and subtitled in English, so we aren't sure how heavy we will go with various bits, and it's likely worth it to watch that content yourself.
Prior DigiNavi streams are still available, so if you aren't able to watch it when it goes up, it should be available to view later.
Stuff below here are updates from the stream. Various bits below will be cleaned up later.
Our normal lineup of DigiNavi hosts and 'special guests'.
Short will be up soon, a few screenshots for now.
Update-
The short can be found in a dedicated thread.
Murata is here to talk about the VItal Bracelet.
Everyone comments how youthful his new look is.
He goes over raid and arena battles.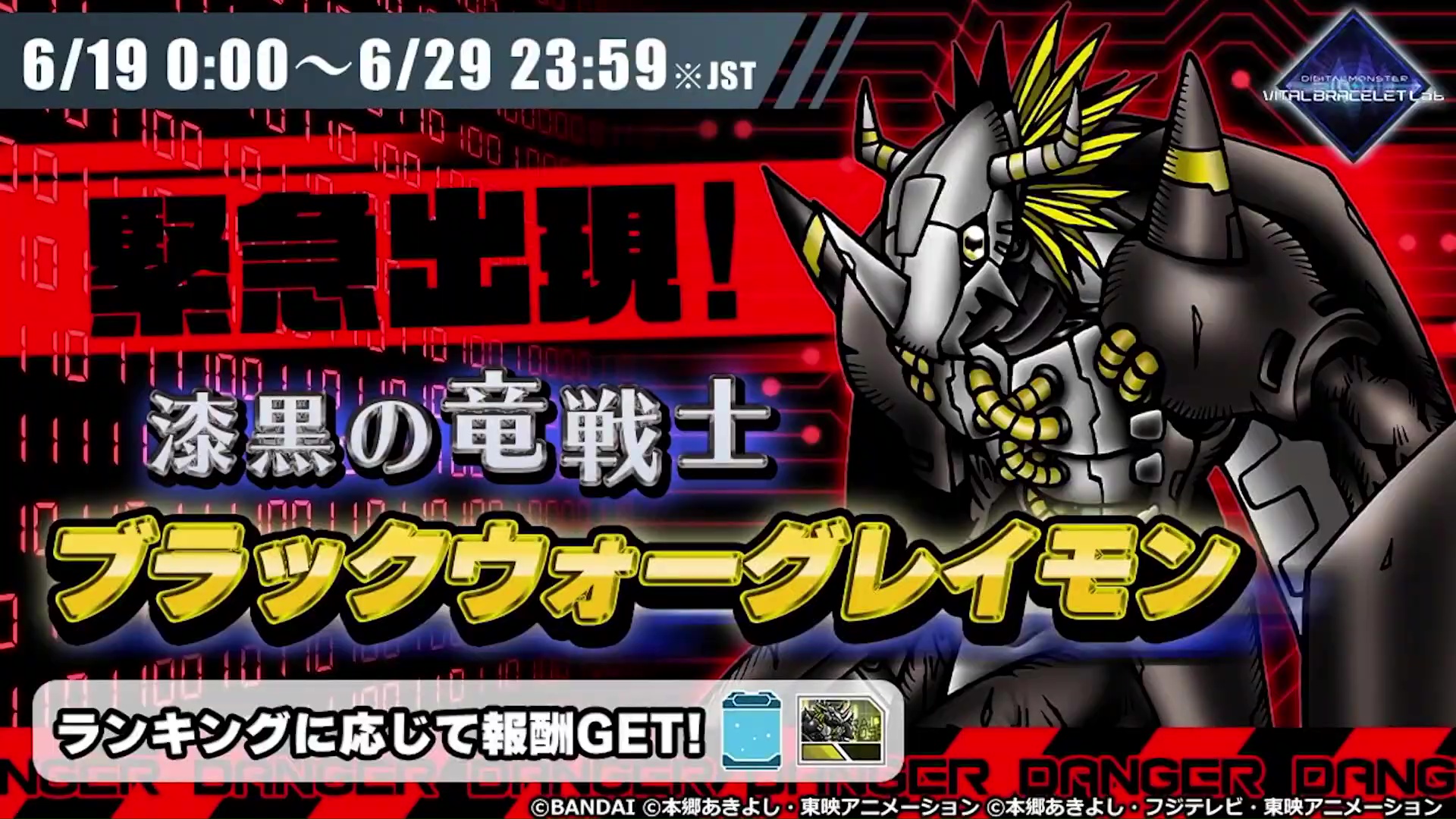 Starting tomorrow, and only for June, BlackWarGreymon will appear as a raid boss.
The new Dim cards are out tomorrow.
They also show off the new folder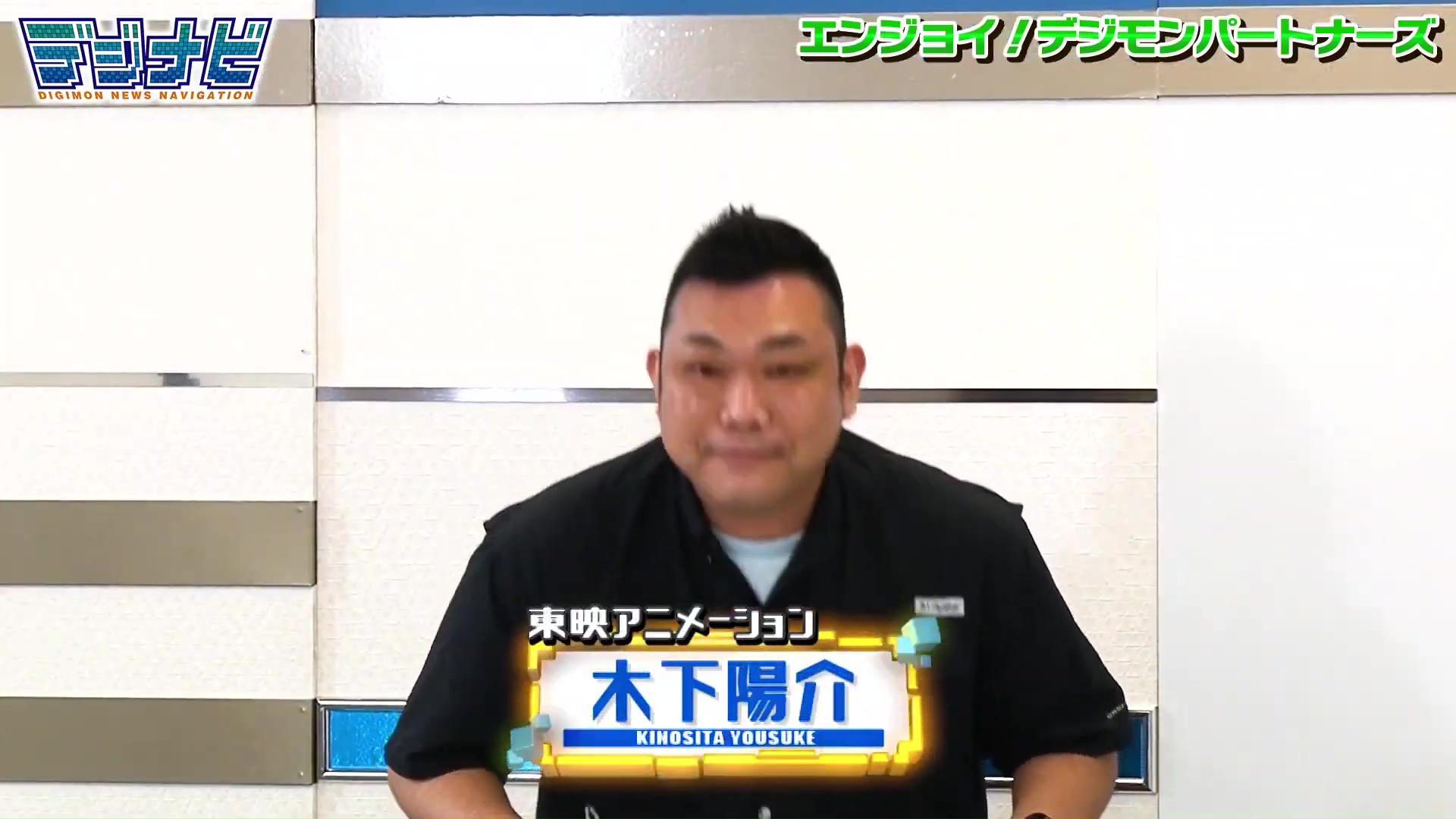 Producer Kinoshita is here to talk about Digimon Partners and DigiFes.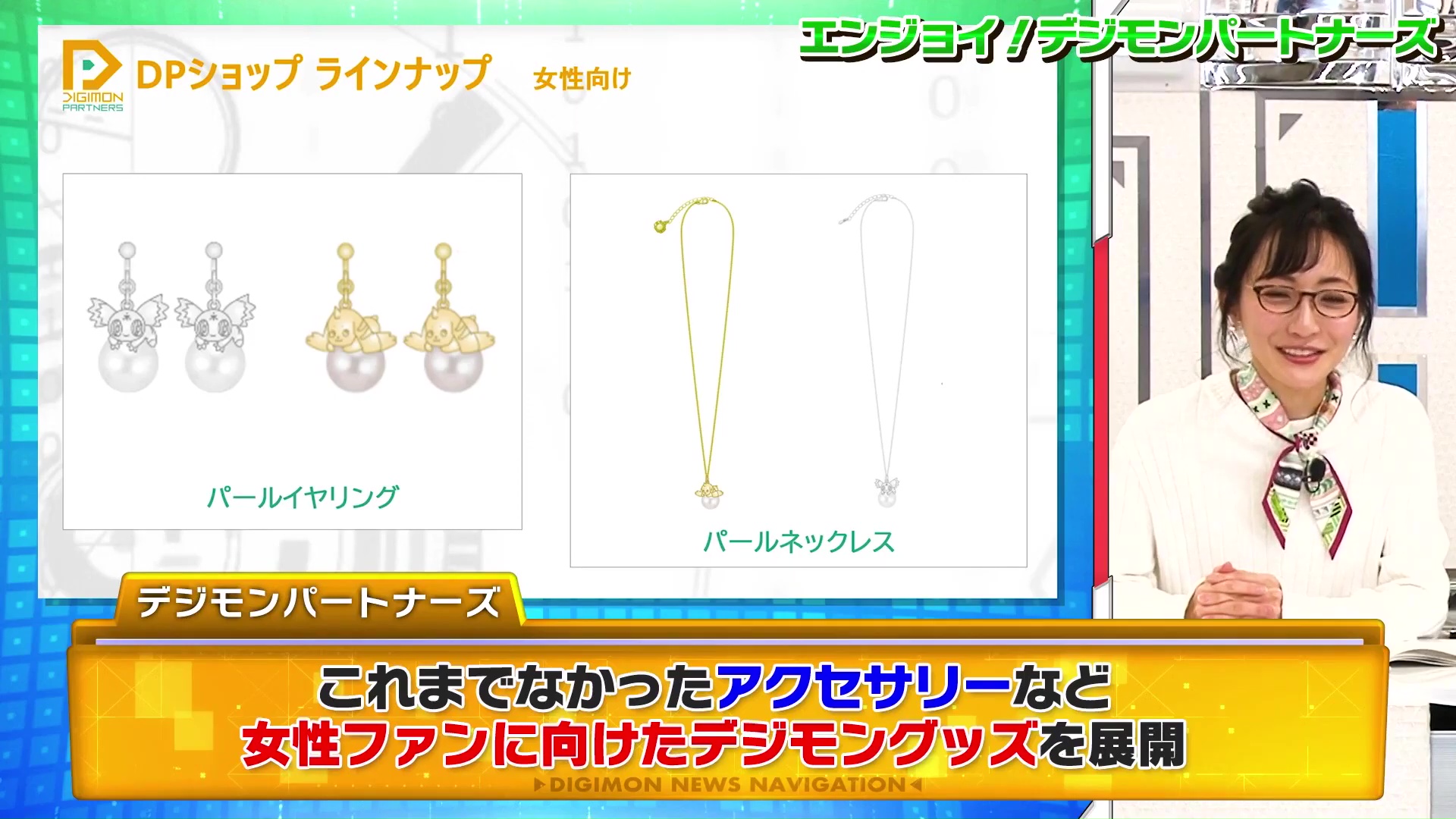 They'll be making Culumon and Terriermon jewelry. A staff member who is a fan was a big fan about how good they had to be. She was very specific.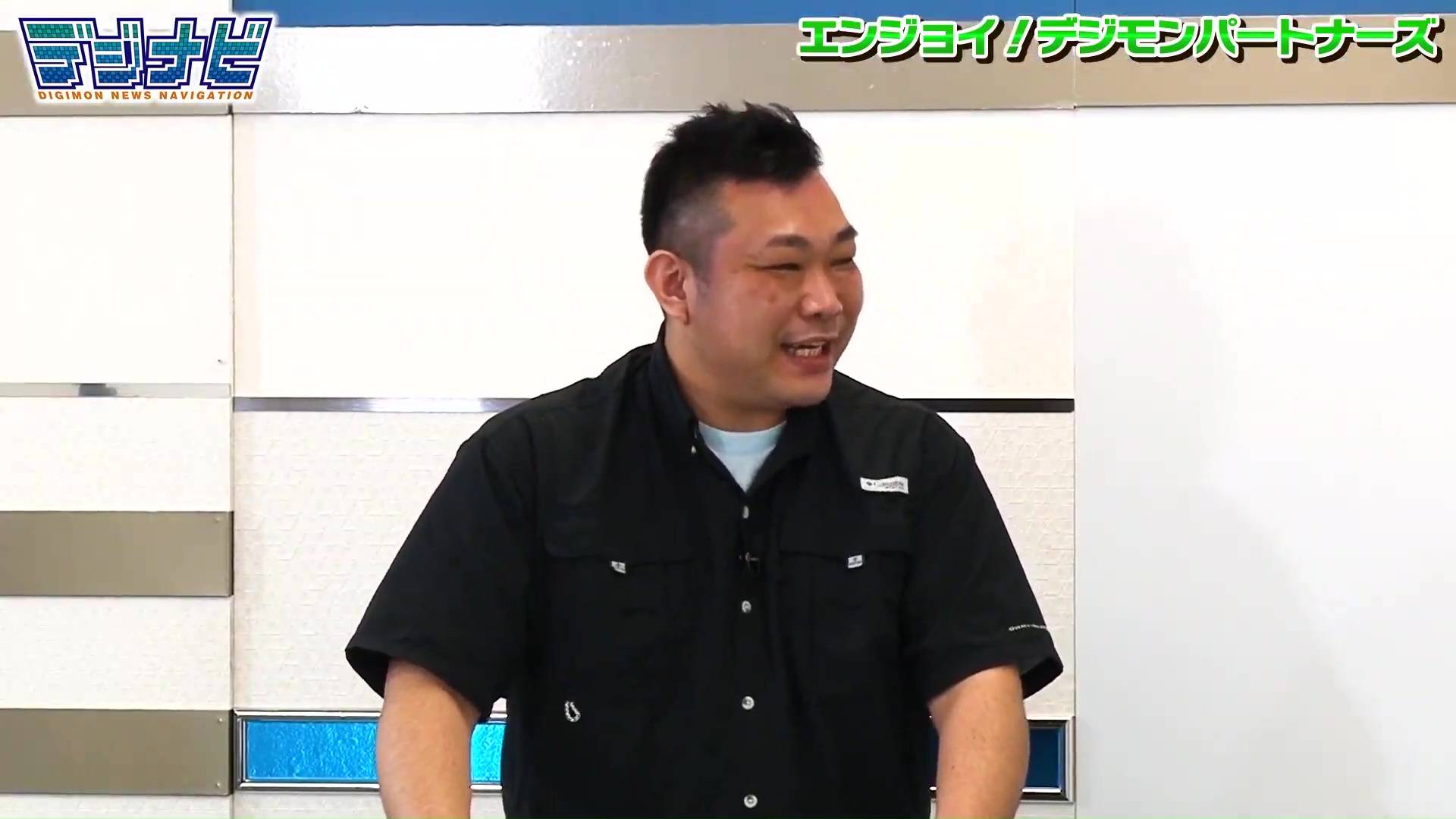 They are working on a way for fans to suggest products to be made and sold for Digimon Partners.
They are also working on drawing contests, etc.
They hope to make an announcement about Digimon Partners opening to international fans soon.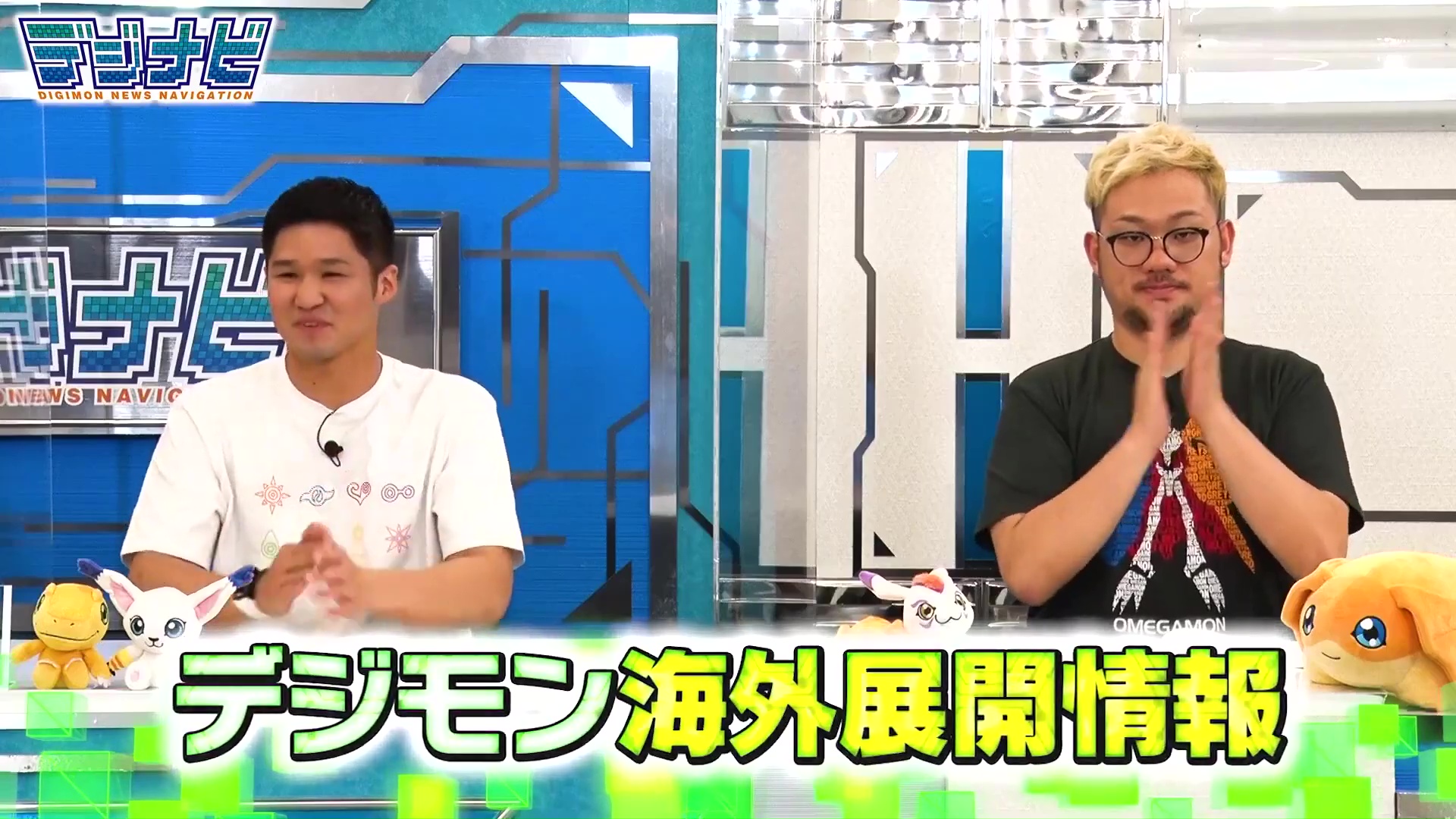 A quick talk about the various upgrades Digimon Web has gotten recently.
Card game stuff in the international corner.
And Vital Bracelet.
Classic collection stuff for the card game.
Agumon on the left, parallel card on the right featuring a more retro design that people will recognize.
This set will have more parallel cards than any other.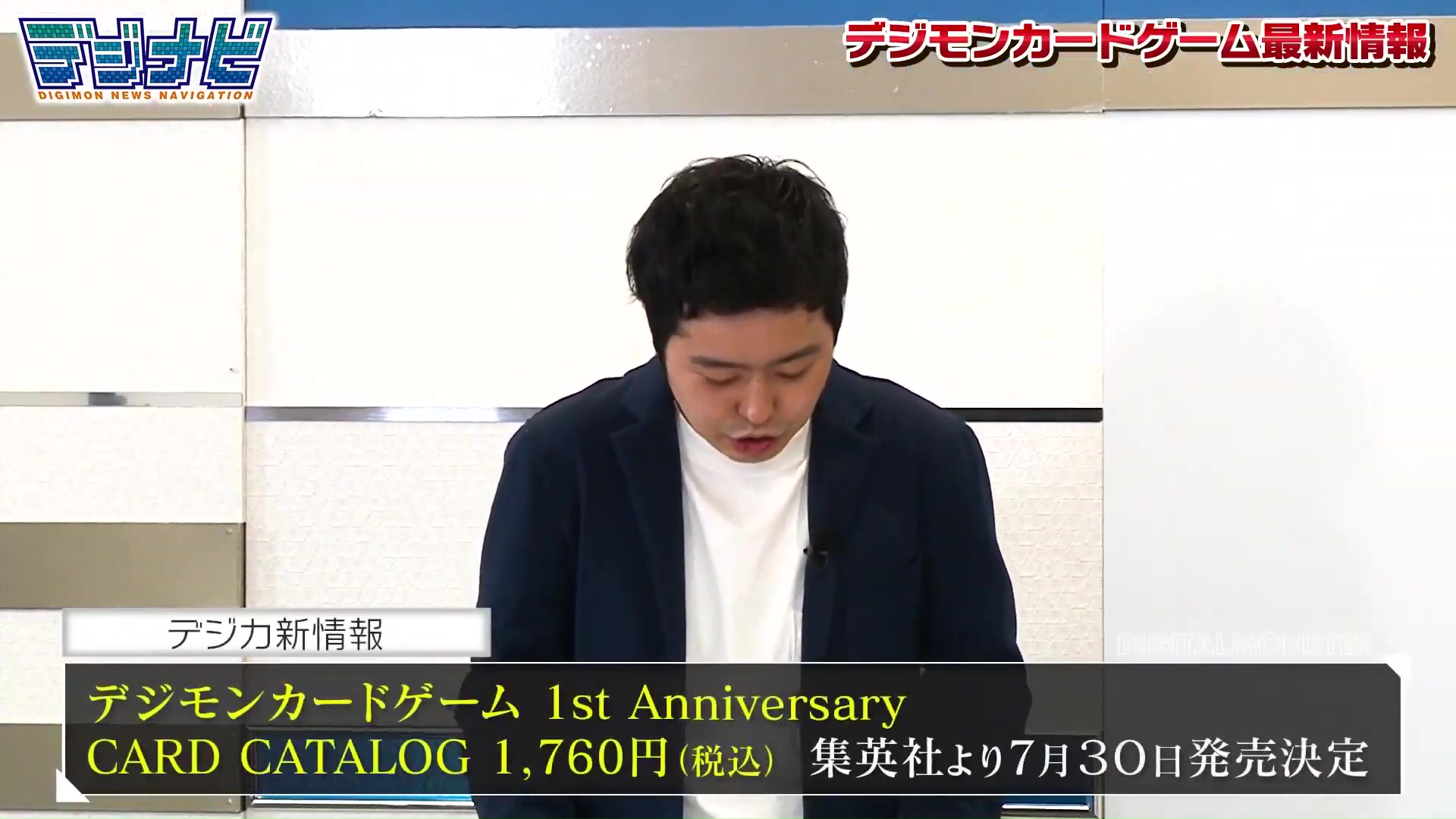 A card catalog book will be released to show off the card game in July.
Anniversary of Digimon ReArise is coming up soon, and they start to talk about their plans.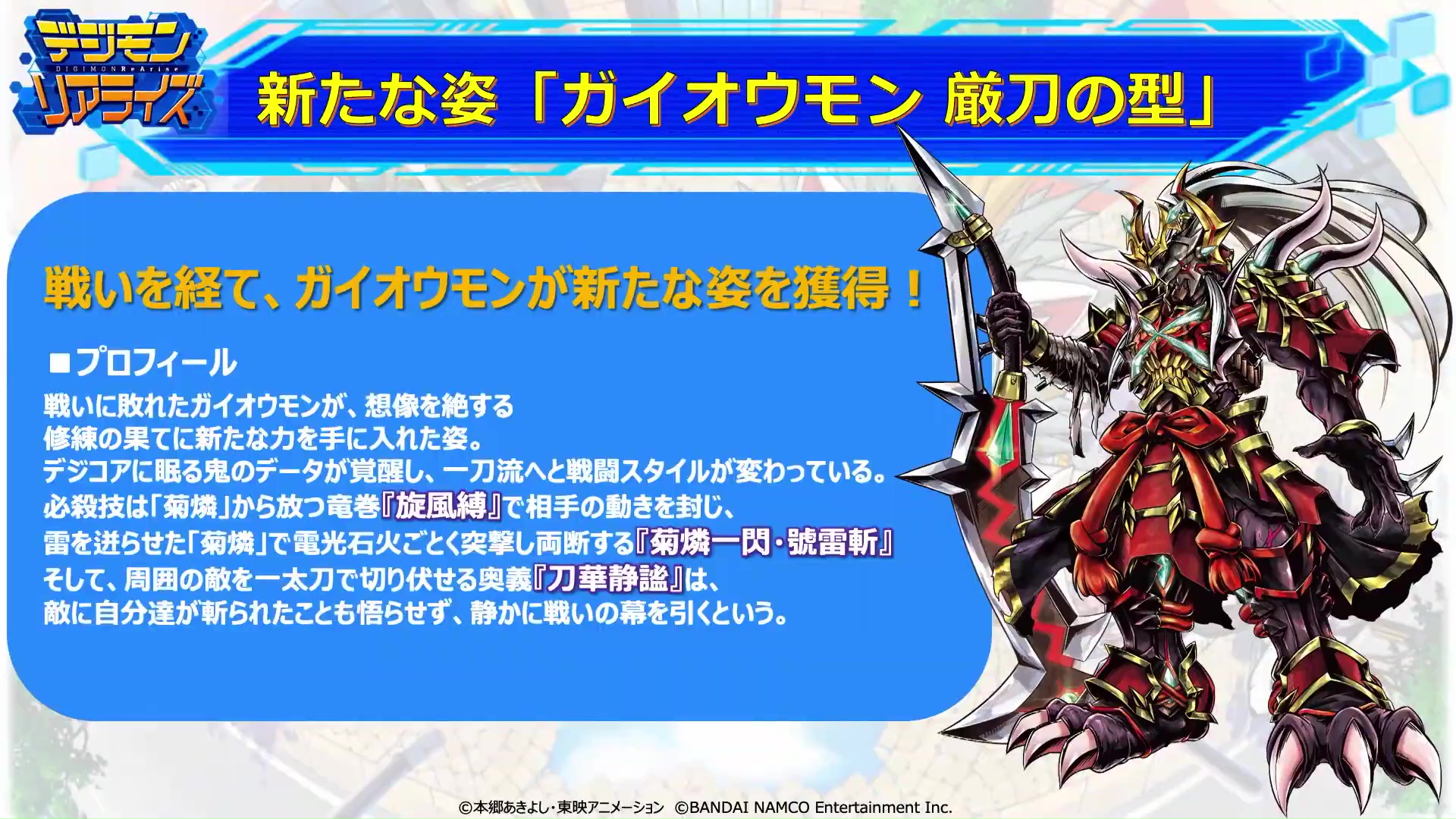 A new version of Gaioumon will appear in ReArise.
It appears the name is "Gaioumon Sword Type"
MetalGreymon event and a special color Jesmon.
Discussing the Dukemon kit, and how the design is based on art from As'Maria.
Wizardmon & Tailmon GEM Figure is indeed getting a new release. If you missed it half a decade ago, this is your chance.
Everyone is happy about the plush toys. Especially the new jumbo Agumons.
Iwai wants the new jumbo Agumons. He says he has the last one, from when Kizuna came out.
Handkerchief set that will come with a previously seen Angemon promo card.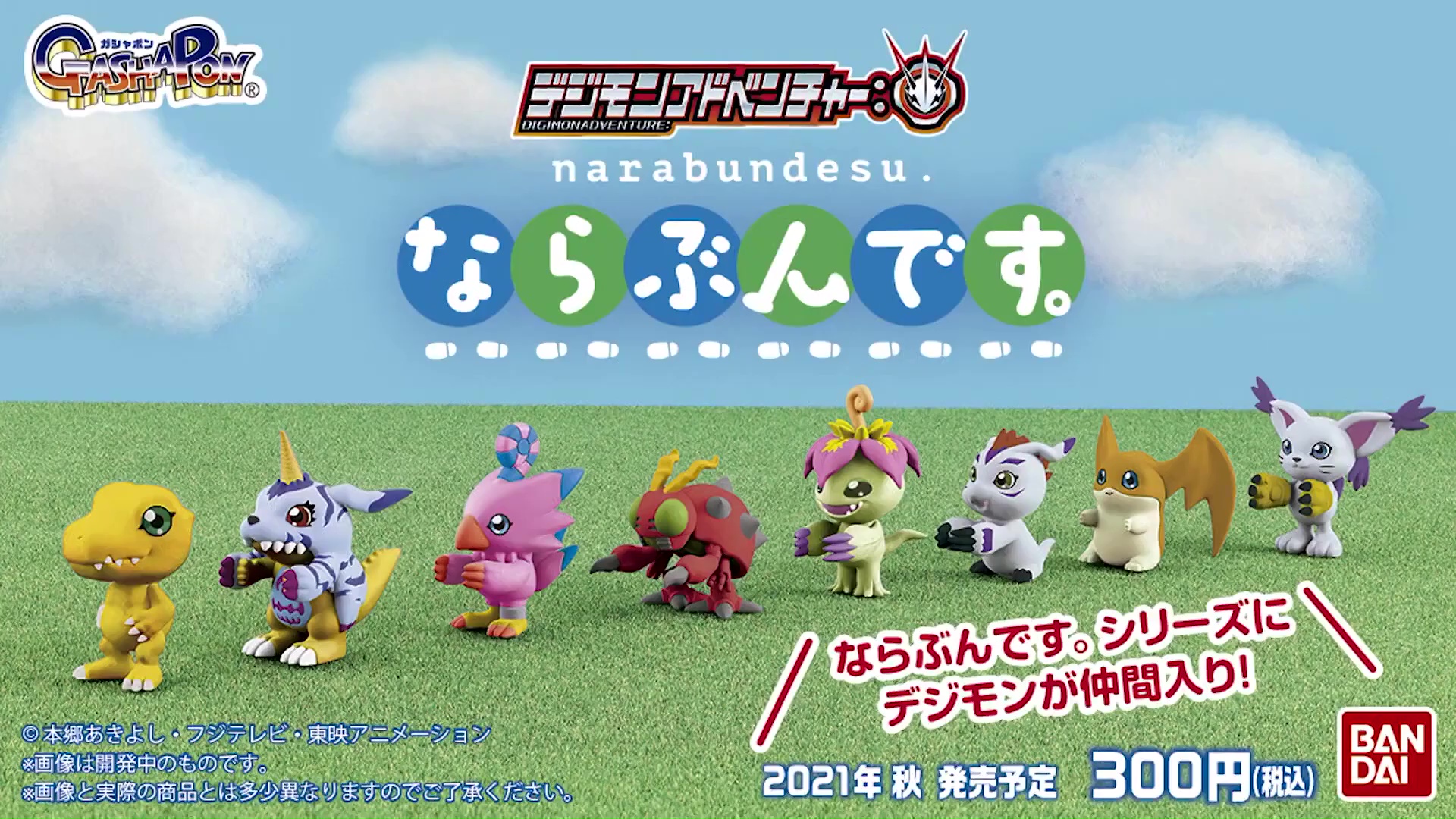 The Narabandesu figures that we previously saw in monochrome.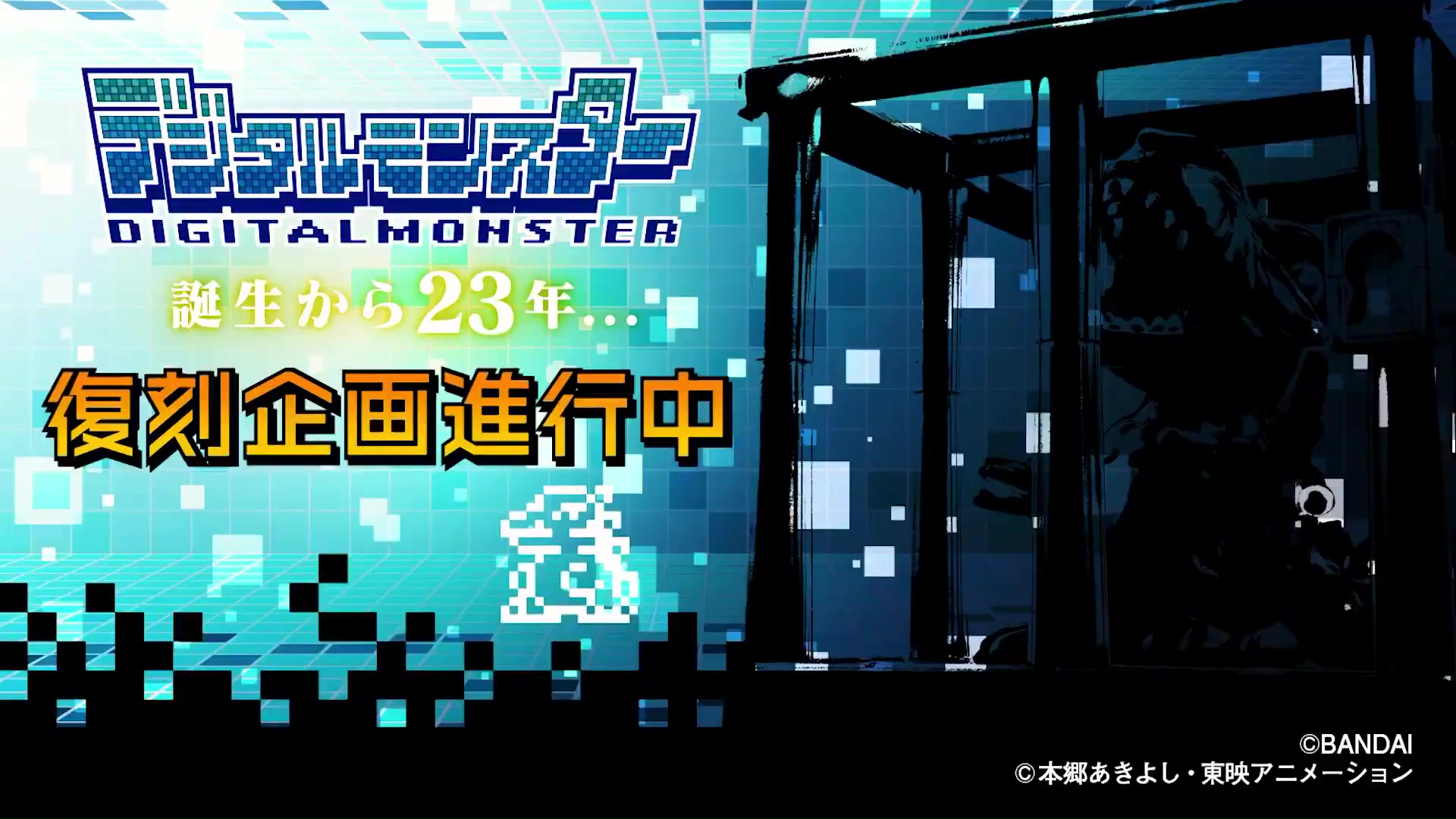 As they've been teasing, 'The Digimon' figures will return, more to be announced in July.
We've made a thread for this news here.
As they say goodbye Iwai reveals he did the Digimon Partners quiz and got Kamemon.
Last edited: