Show User Social Media
Hide User Social Media
Joined

Sep 8, 2006
Messages

17,401
It's time for the January edition of DigiNavi Headline News!
DigiNavi Headline News is a monthly short video that updates on things happening that month in Digimon (it was off last month since there was a full/main DigiNavi.) It will includes looks at products, interviews with product developers, a calendar of upcoming events and releases, along with anime previews.
The video has an English translation that isn't machine translated. It isn't perfect, but it's more than sufficient for basic news.
Won't be going over everything from it in detail, as the video is short and easy to watch, but the main headlines this month are...
They show off the stickers that came out recently, along with the Imperialdramon model kit, which is out this month.
They also tease the Mugendramon one that is out in March.
Sekido, who does Vital Bracelet development for the Network Toy Product Development Unit comes on to talk about the Vital Bracelet.
While most of it is stuff we know, he does clarify one detail that had seemed consistent, but I don't think they had actually officially stated. Standard release Dim Cards include 17 Digimon, featuring 1 Digimon as the 'main' Digimon for the Dim.
In addition, they announced another way to get a Shadow Howl Dim (in addition to the previous V-Jump contest.) On February 1st they will announce details on how to get it from the Vital Bracelet Website.
The anime section is narrated by Mimi once again, who goes over recent happenings in the anime, including a tease or two for what is coming up.
Gokumon and Anomalocarimon are shown off, and the Data File goes over Crossmon.
The calendar section goes over current and upcoming events. Nothing that exciting this month that we didn't know about (and which wasn't gone over), although they do mention the Meeting Cafe being open.
They also announce the next DigiNavi Headline News will will be in late February.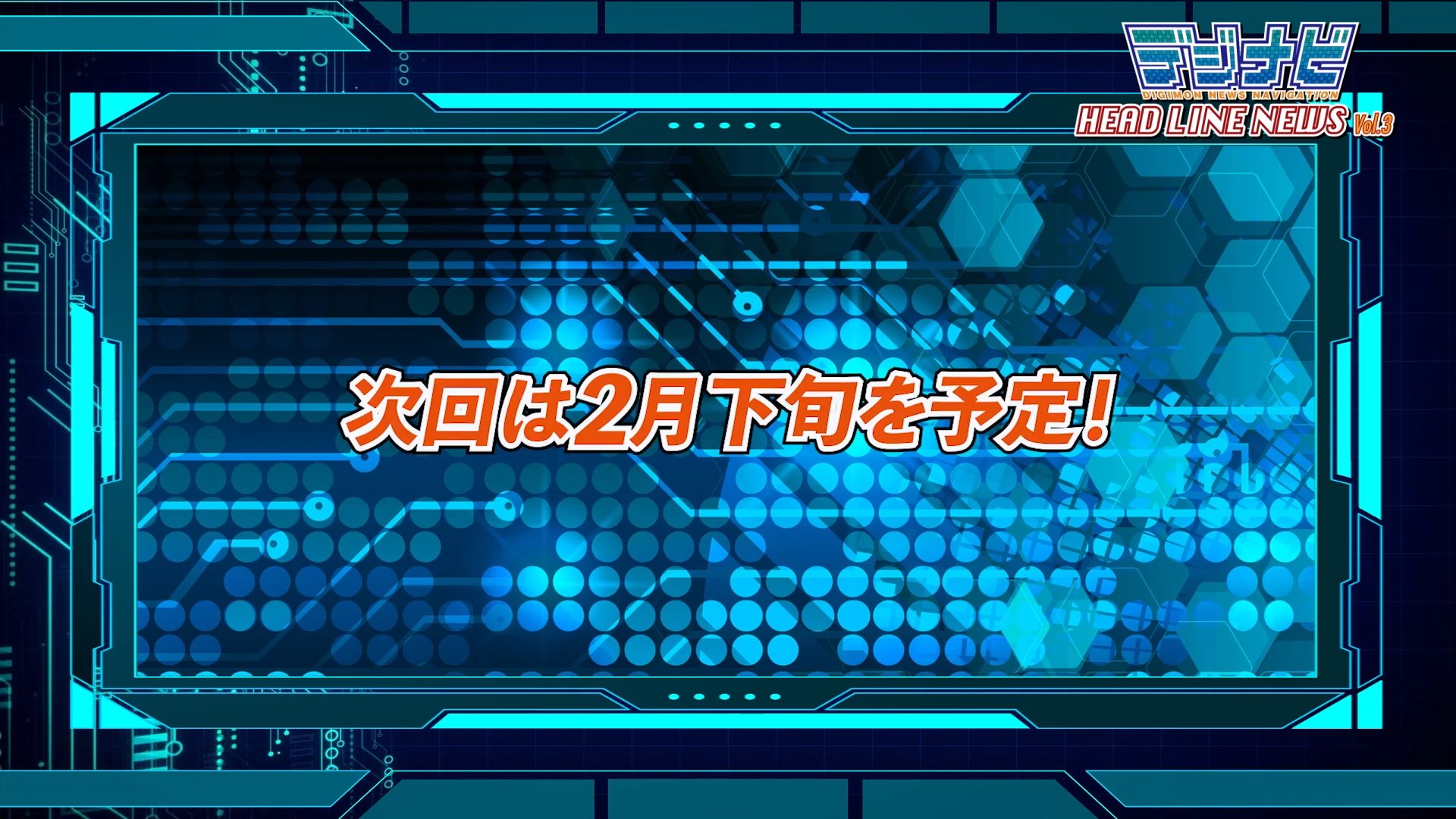 As always, nice to have it officially translated, even if it isn't perfect, makes it super easy to watch. A few Vital Bracelet clarifications will make people happy (especially another way to get Shadow Howl.)
Update- Fixed a typo.
Last edited: