Show User Social Media
Hide User Social Media
Joined

Sep 8, 2006
Messages

16,155
Almost time!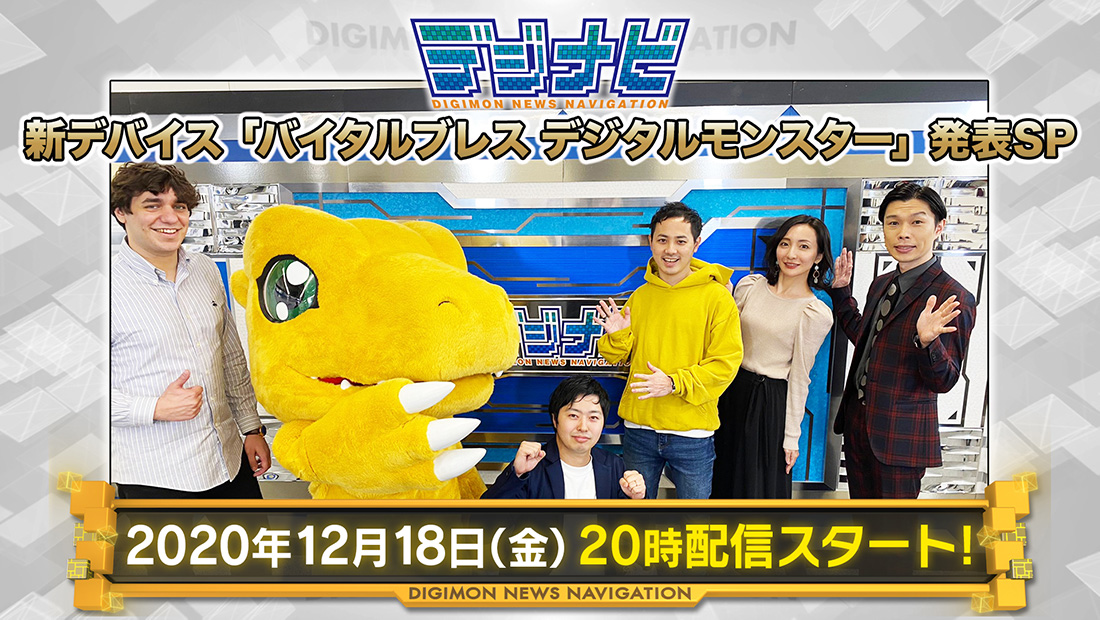 Digimon News Navigation begins in roughly 30 minutes from the time of this post.
This DigiNavi is subtitled the "New Device 'Vital Bracelet Digital Monster' Announcement Special".
The first half will be dedicated to the Vital Bracelet V-Pet/Fitness Tracker, including developer interviews.
Pre-orders just opened
, so there is heavy interest in what they may go over.
The second half will include the anime, other Digimon products, etc.
The livestream will be on
Youtube
(with optional/soft English subtitles),
niconico
, and
Line Live
if you want to watch. It will also be on Periscope
via the Digimon Web Twitter
. DigiNavi will be made available on the
Jump Festa 2021 Online site
that weekend as a featured video while Jump Festa is running.
It will be hosted by Yuki Iwai (a comedian, actor, writer, radio host, and manga/anime fan), who hosts Digimon Card Battle..
Chiaki Matsuzawa, host of various Digimon events including some DigiFes and DigiNavi events, and also cameoed in tri. will also be there to introduce content.
We'll update with details as we get them, with big announcements also getting their own threads.
Much of this stream will be informational, and subtitled in English, so we expect we won't go very heavy with that, and it's likely worth it to watch that content yourself.
Prior DigiNavi streams are still available, so if you aren't able to watch it when it goes up, it should be available to view later.
Various bits below will be cleaned up later.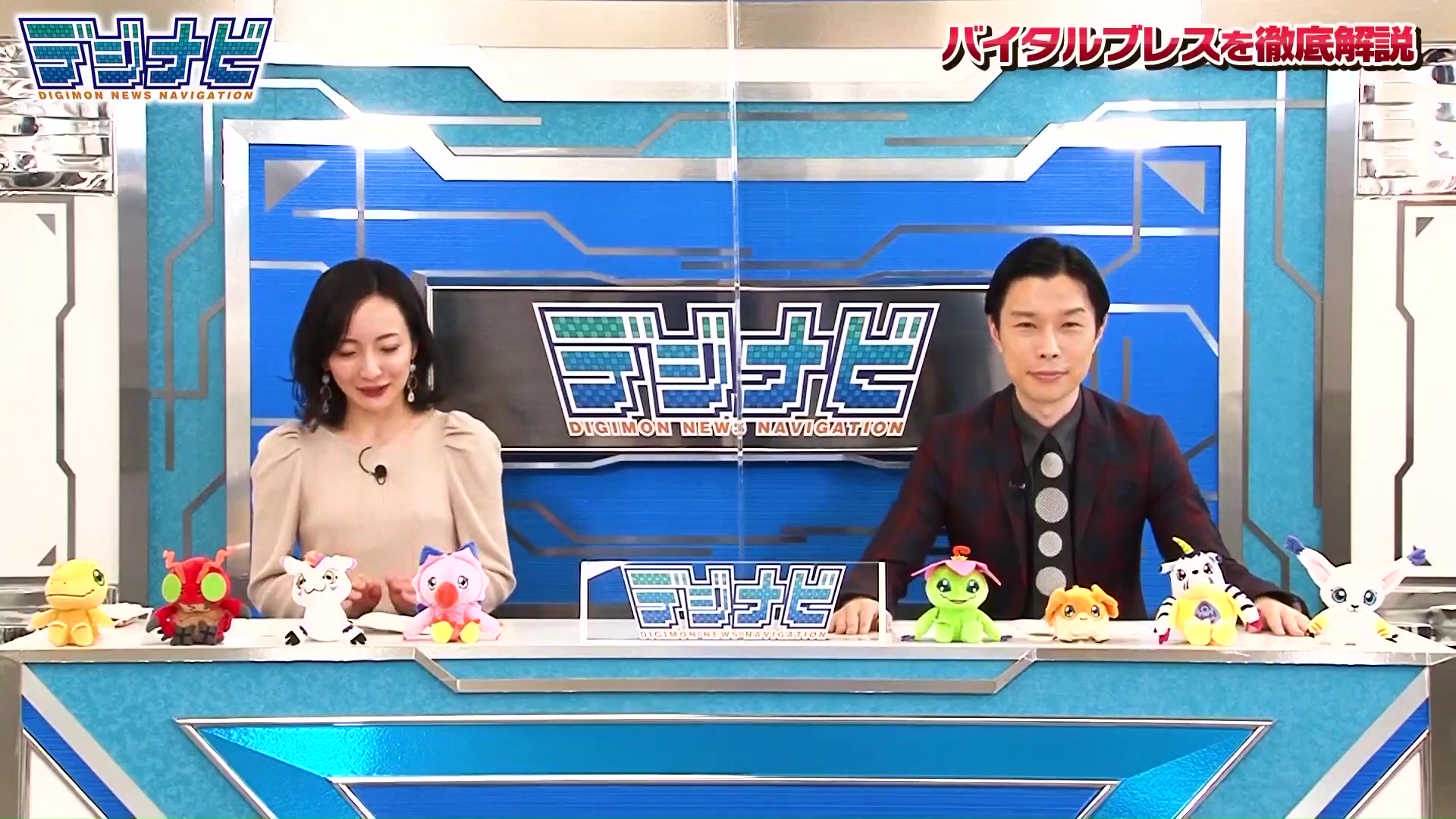 Our hosts.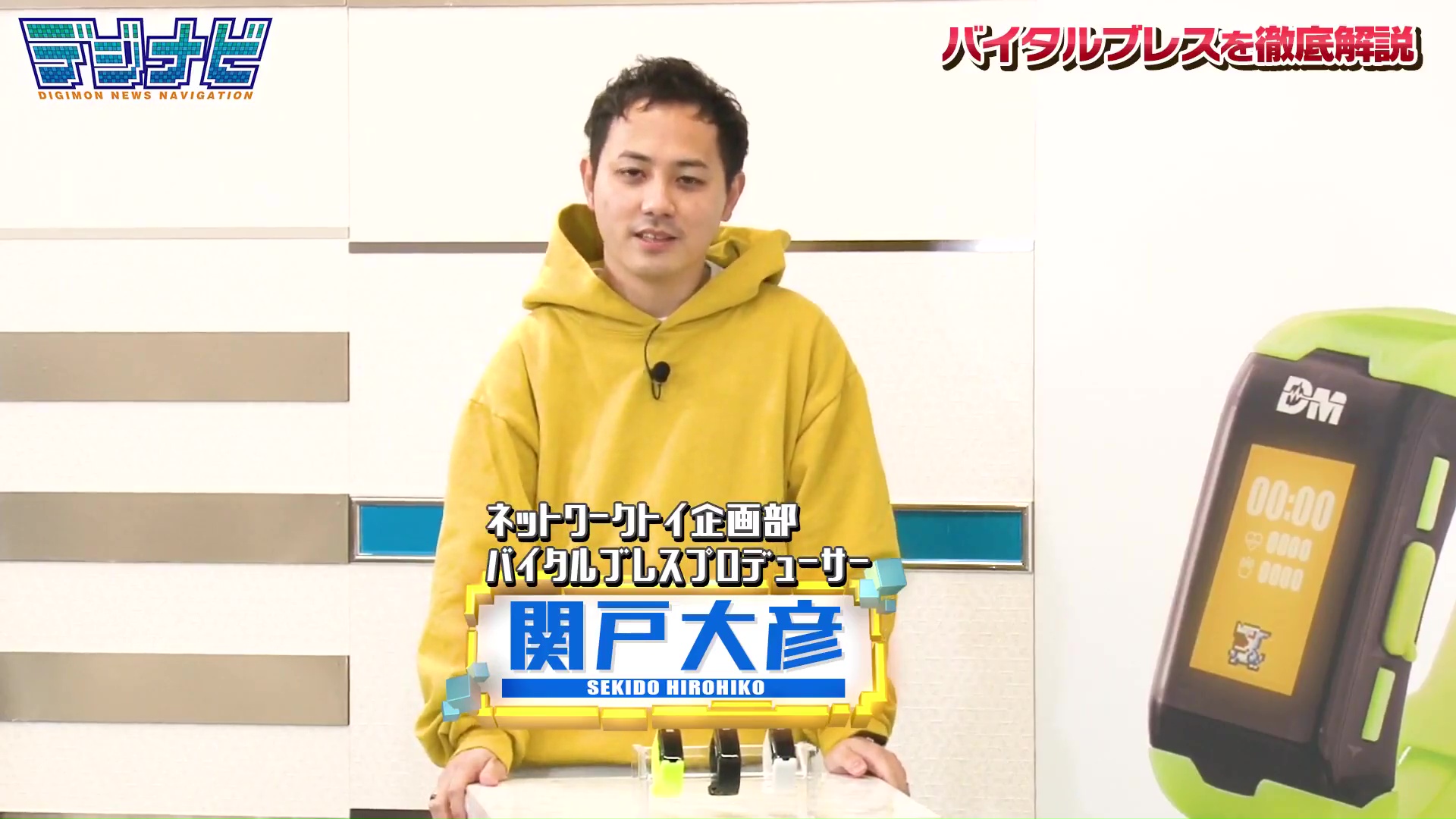 Bandai Toys staff jokes he wore an Agumon colored hoodie on purpose for the event.
The promo we've seen before.
The inspiration for the Vital Bracelet was the idea that you could have your Digimon with you in your daily life and activities.
The promo video from earlier today is being shown now.
The subtitles clarify that this is all information we've gotten before, just shown fancier.
A video going over making of elements with staff.
Planning for this began a year or two ago.
One goal was to make various elements similar to the original V-Pets, since they didn't have to connect to the ongoing anime, which has it's own products.
The person being interviewed was involved with the X and Pendulum revivals.
Character design is being discussed.
It appears they planned originally to 'only' use new Digimon, and decided that would be a horrible waste considering they had 1000+.
Pulsemon was designed as a flagship character to represent the Bracelet.
Certain design elements were chosen to make you think about exercise and how evolution may occur for that Digimon.
They also purposely put in elements to remind you of pre-existing Digimon.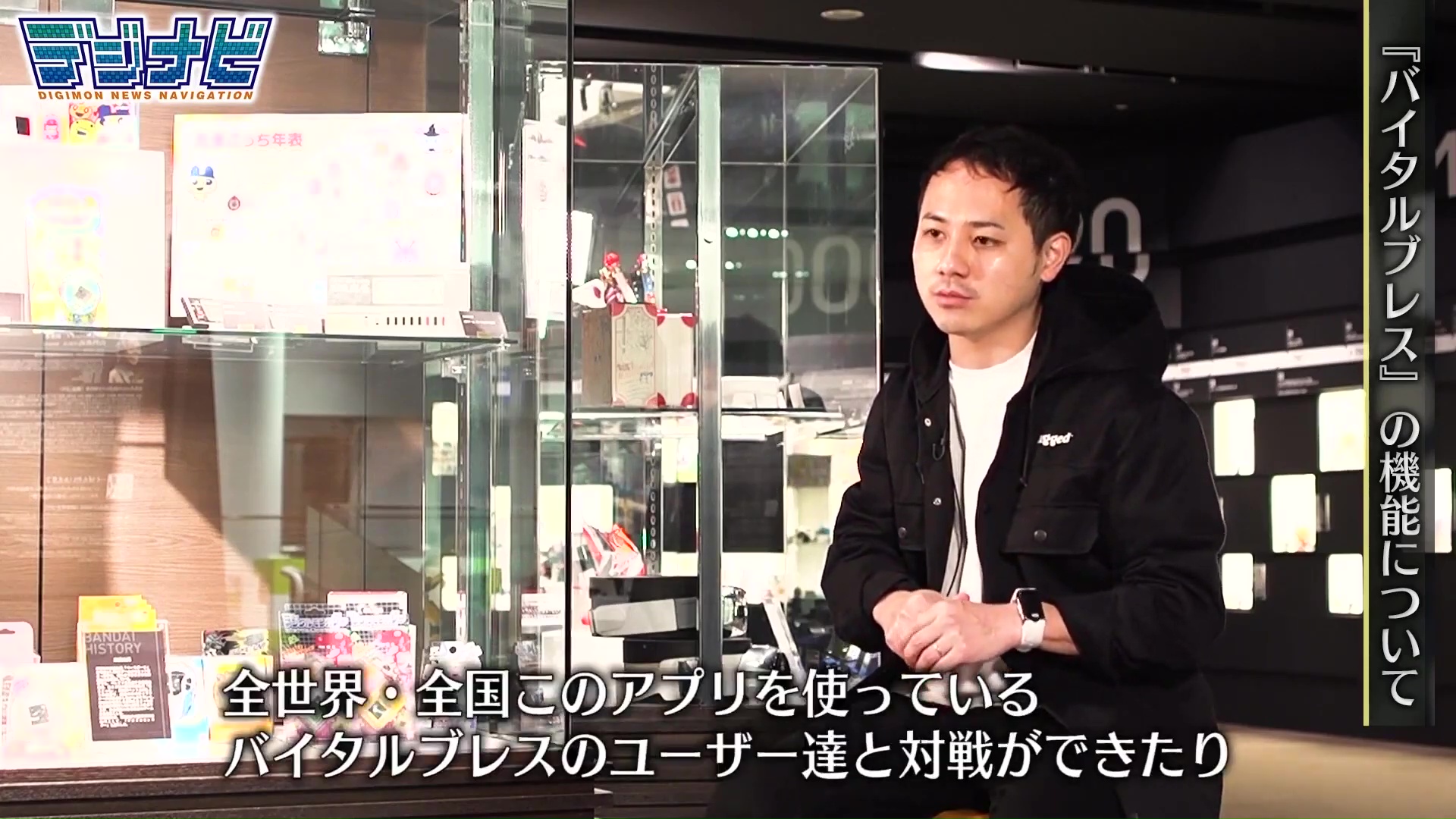 Previously they only mentioned Japan, but just now he mentioned interacting with others around the world.
The 'Welcome to Digimon World' video earlier this year was partially helpful in inspiring the Vital Bracelet, as it is how they imagined things to be.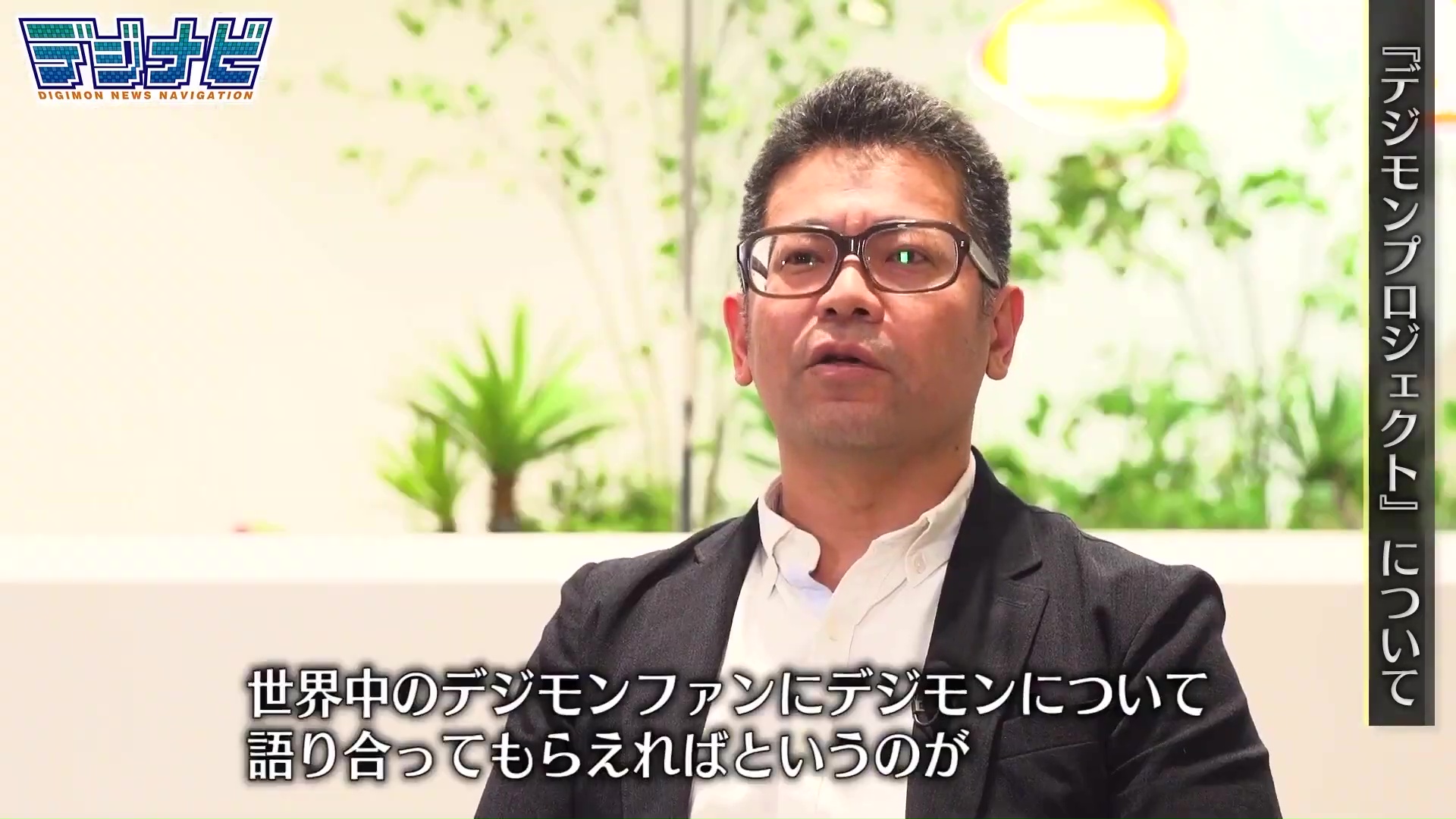 Making sure Digimon Web was updated, and could be read around the world, even if it's just machine translated at the moment, was a specific focus.
Just a quick explanation that the yellow premium Bandai once comes with V-mon.
They joke you can wear two of them (they name a famous Japanese soccer player, I believe, as an example of someone who does this with fitness trackers.)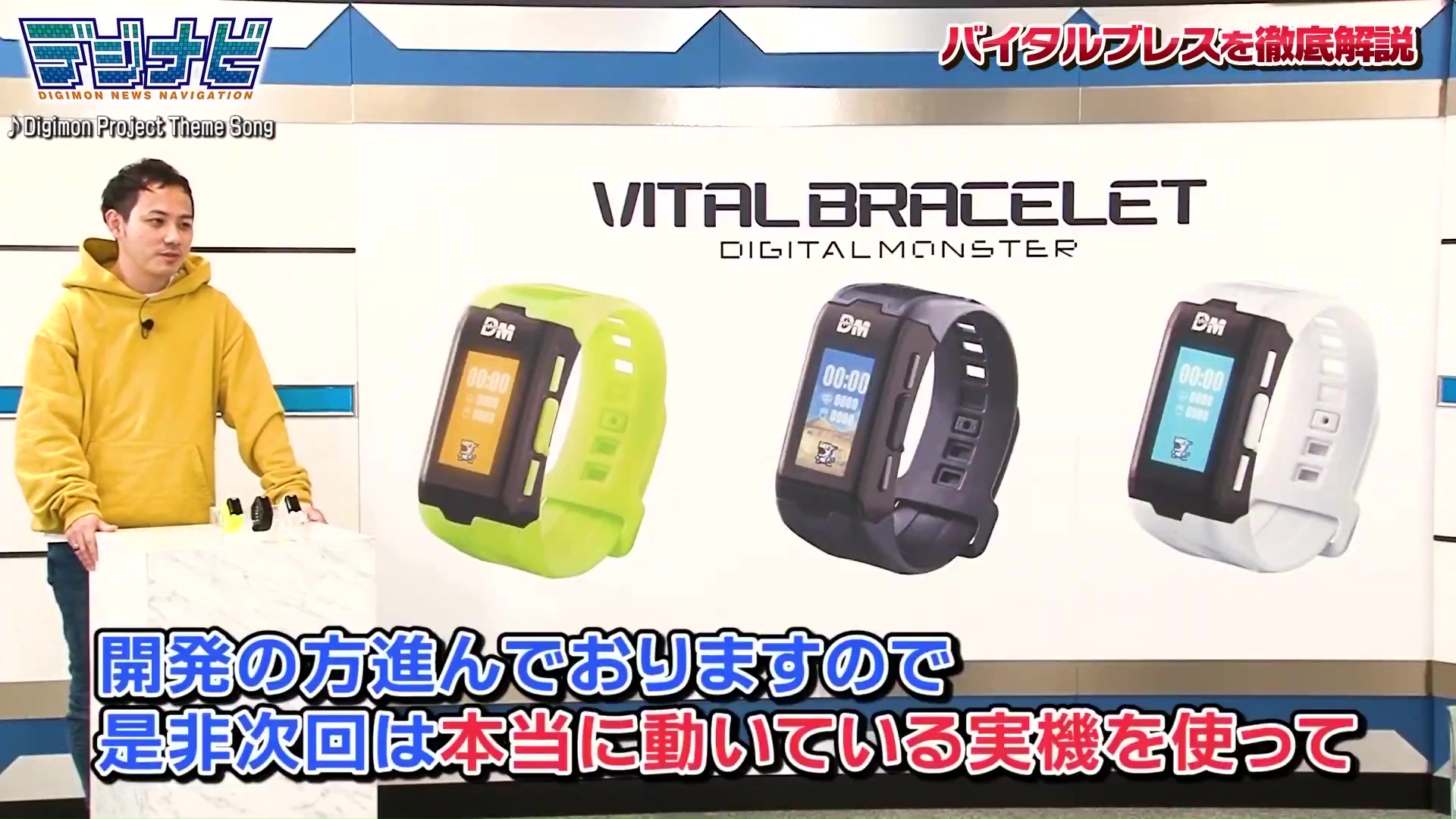 They are discussing the Digimon lifespan. Battles can tire them out, they need rest, etc.
They don't specify the 'actual' lifespan though.
Two Digimon can be stored on the Bracelet. The app can store more for you, so you can swap and work on different Digimon.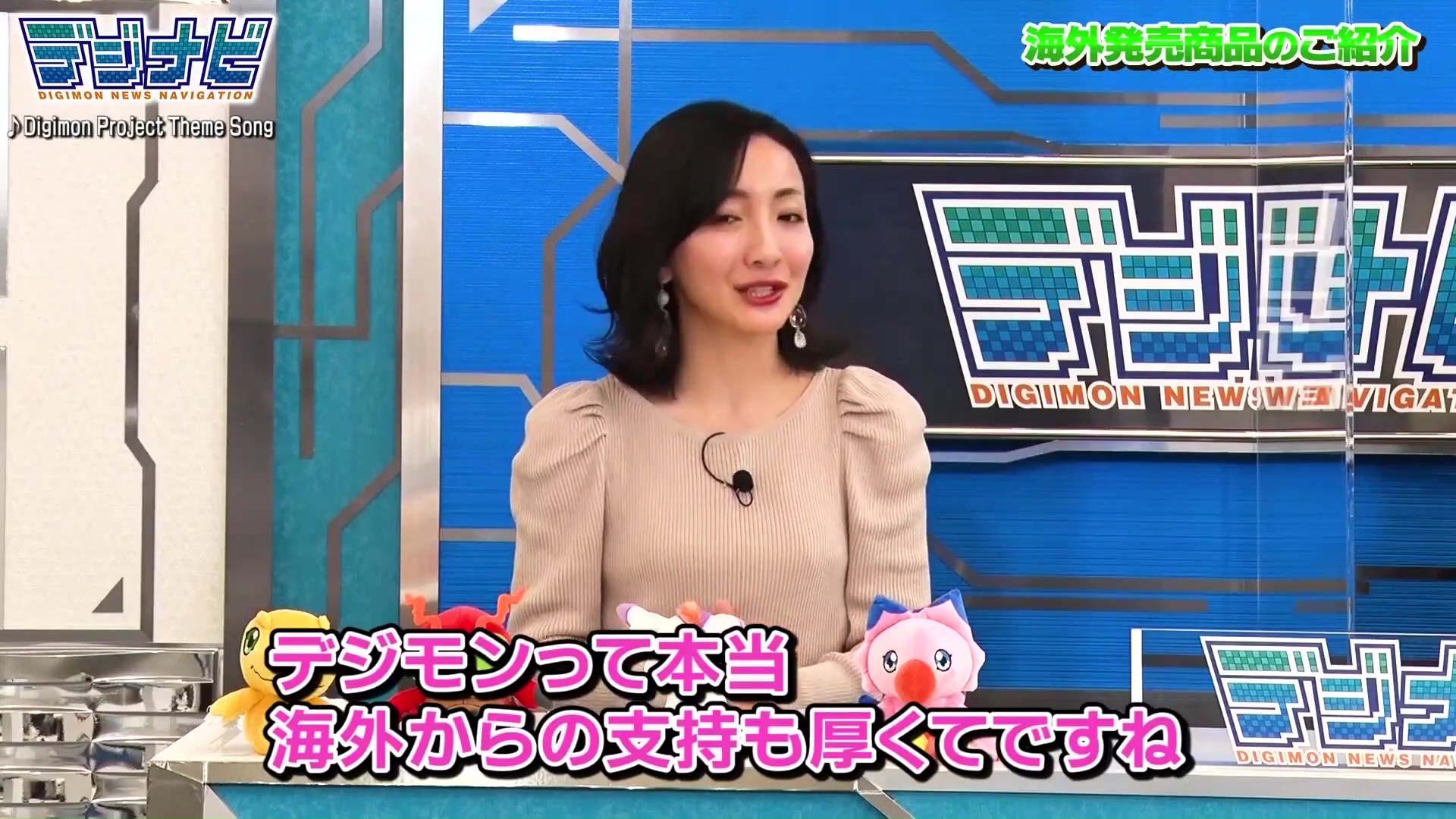 They are discussing how popular Digimon is overseas.
They estimate 30 to 40% of the audience of the show is from outside of Japan (I don't think they clarify if they mean Adventure:, or these streams. They begin to comment on the stream, so maybe that.)
They are discussing their US and international strategy for Digimon with US staff.
He mentions the Digimon Shodo figures.
He also refers to the 'Vital Brace'. So perhaps a slightly different name for an eventual English release of the Bracelet, or just a slight mispronunciation.
They did 'not' announce a US release of the Vital Bracelet.
They certainly 'at least' hinted that they are aware of it and looking at it though.
They are now talking about Iwa's great love, the Digimon Card Game.
Kyle Serra is here to help talk about the English version of the card game.
After they struggled with him speaking English he reveals he can speak Japanese and they jokingly get upset at the trouble it caused.
They're talking about the wide international distribution of Digimon Adventure:.
They're showing off (every?) Digimon that has shown up in Digimon Adventure: so far, not including the partner Digimon.
64 Digimon so far. They mentioned ones they like.
They're talking about various products. Plushes, the model kits. They mention more model kits will be announced soon in the Figure-rise Amplified line.
I was chucking stuff up on Twitter as it went. I recommend checking it for now
as towards the end there were a lot of little things.
I'll add the rest here after I sleep, along with cleaning the news post up.
Update- The rest of what I wrote last night while the stream was going.
Iwai loves plushies.
Going over the wafer treats that come with stickers.
The upcoming waves of Shodo figures and apparel.
Showing off more, plus some of the cards that come with some of them.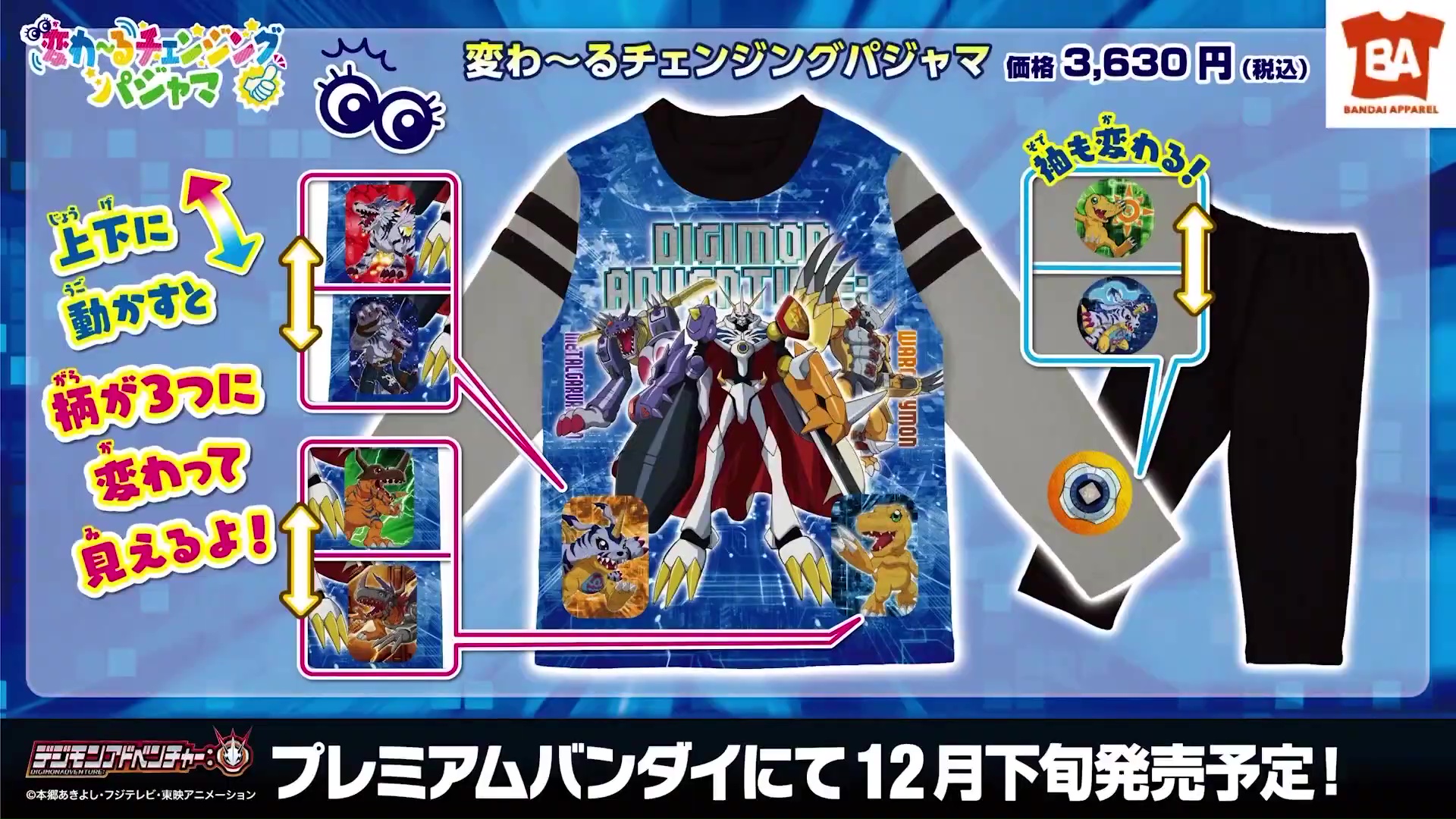 The changing pajamas we found out about earlier.
iPhone 12 accessories, some of which will work with any phone.
Also Airpod cases.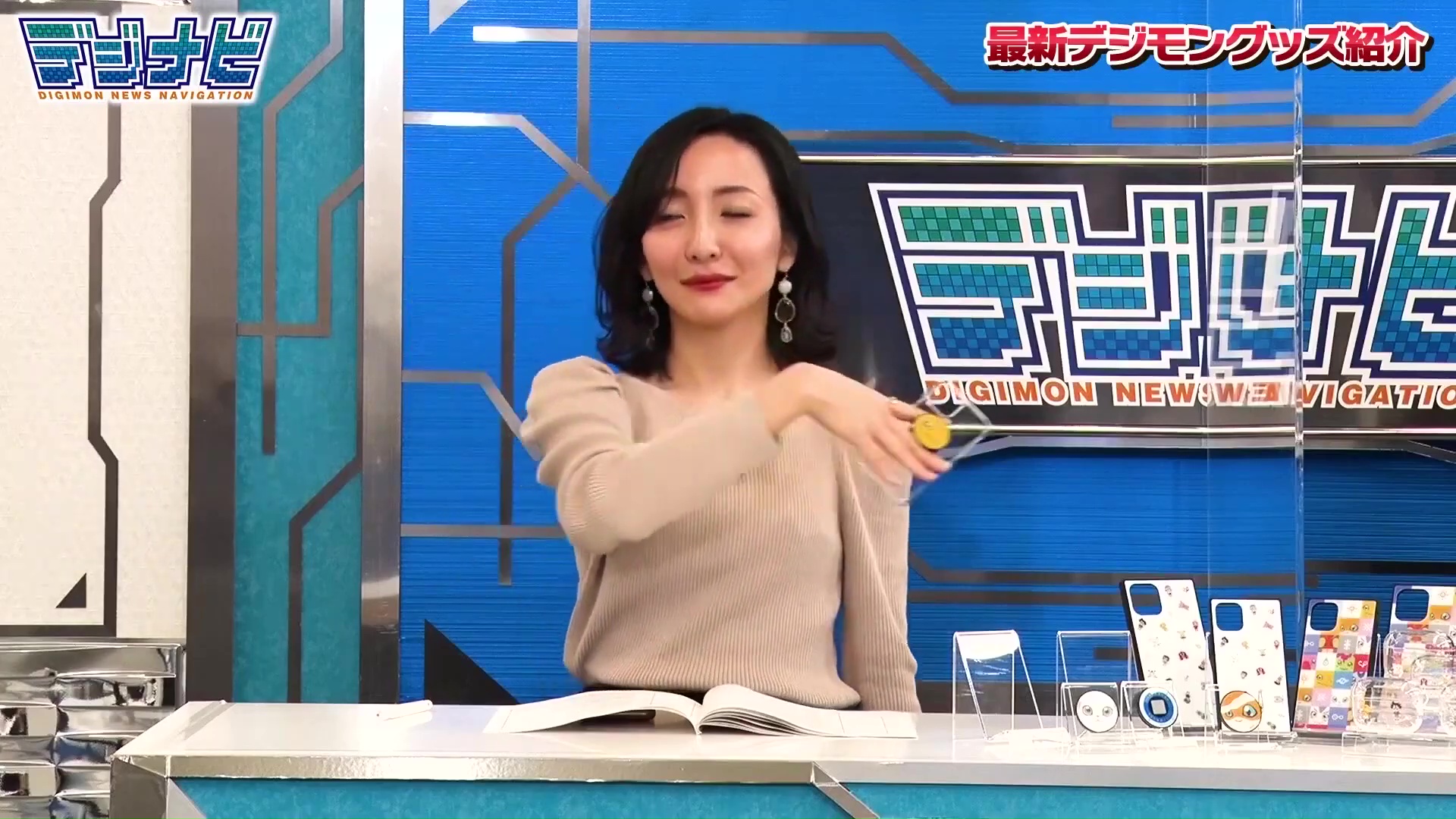 Showing off the phone stuff more.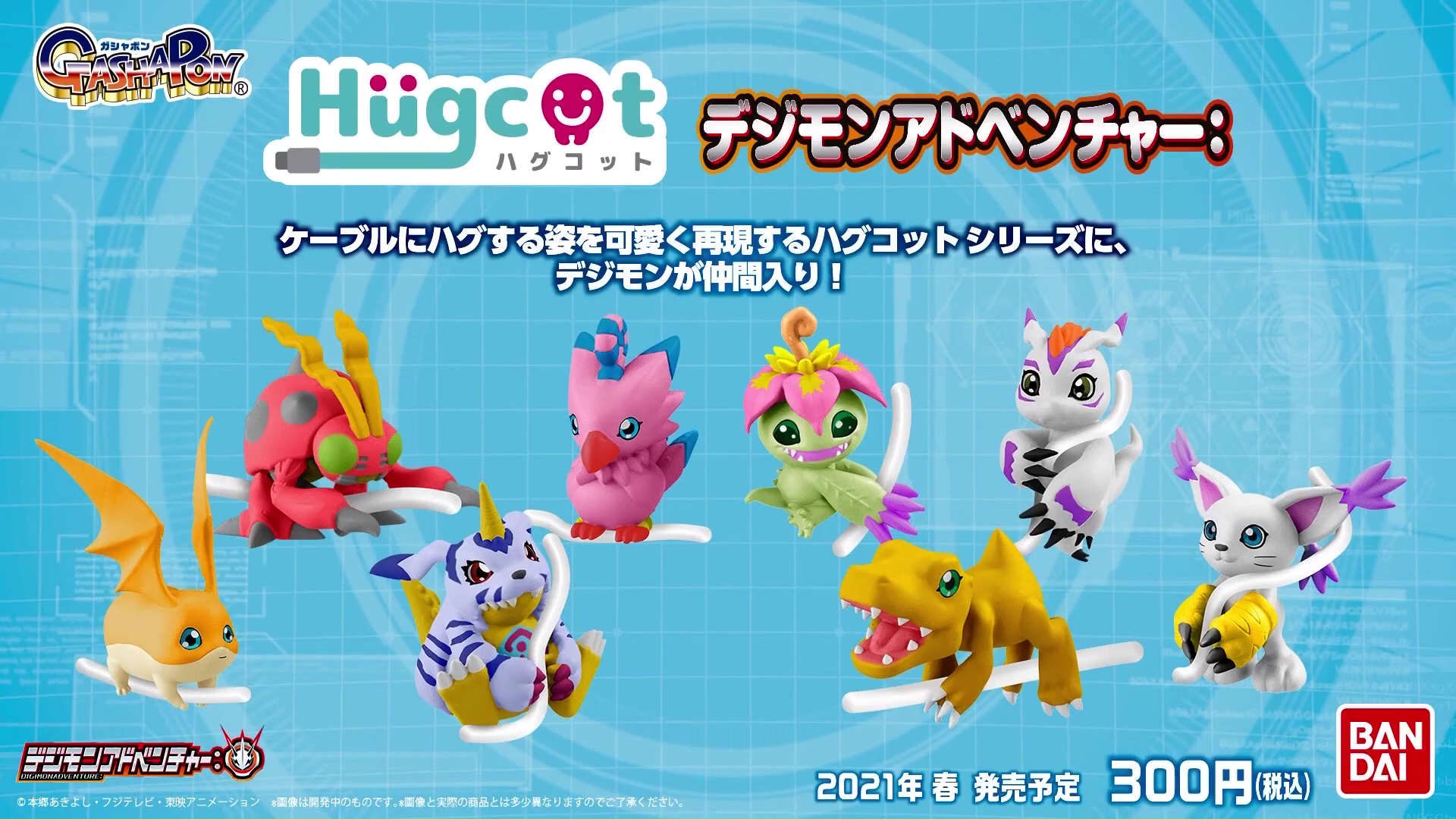 Digimon Hugcot. 300 yen in gashapon machines (now I believe). It connects to cables for fun and to have something to grab the cables easier.
Agumon PC Buddy that was announced earlier today.
Iwai and his love of plushies. He believes it was made to his perfect size.
They focus on the eyes, as that was a more obvious change from the original tri. version of the buddy.
They moved on to the card game.
This was recorded ahead of time. Iwai jokes that for this they had to give him cards that weren't out yet (at the time), and he will bring them back to Digimon Card Battle to beat the others in matches.
Parallel cards that have a gold design added to them.
DoneDevimon and Nidhoggmon were added on purpose to have strong recent enemies from the anime in the card game.
They showed off key art for Booster Set 5 Battle of Omega and announced a few things about it, which we
wrote about here
.
They joke that with the new elements of Booster Set 5, Iwai will be able to defeat Cocolo.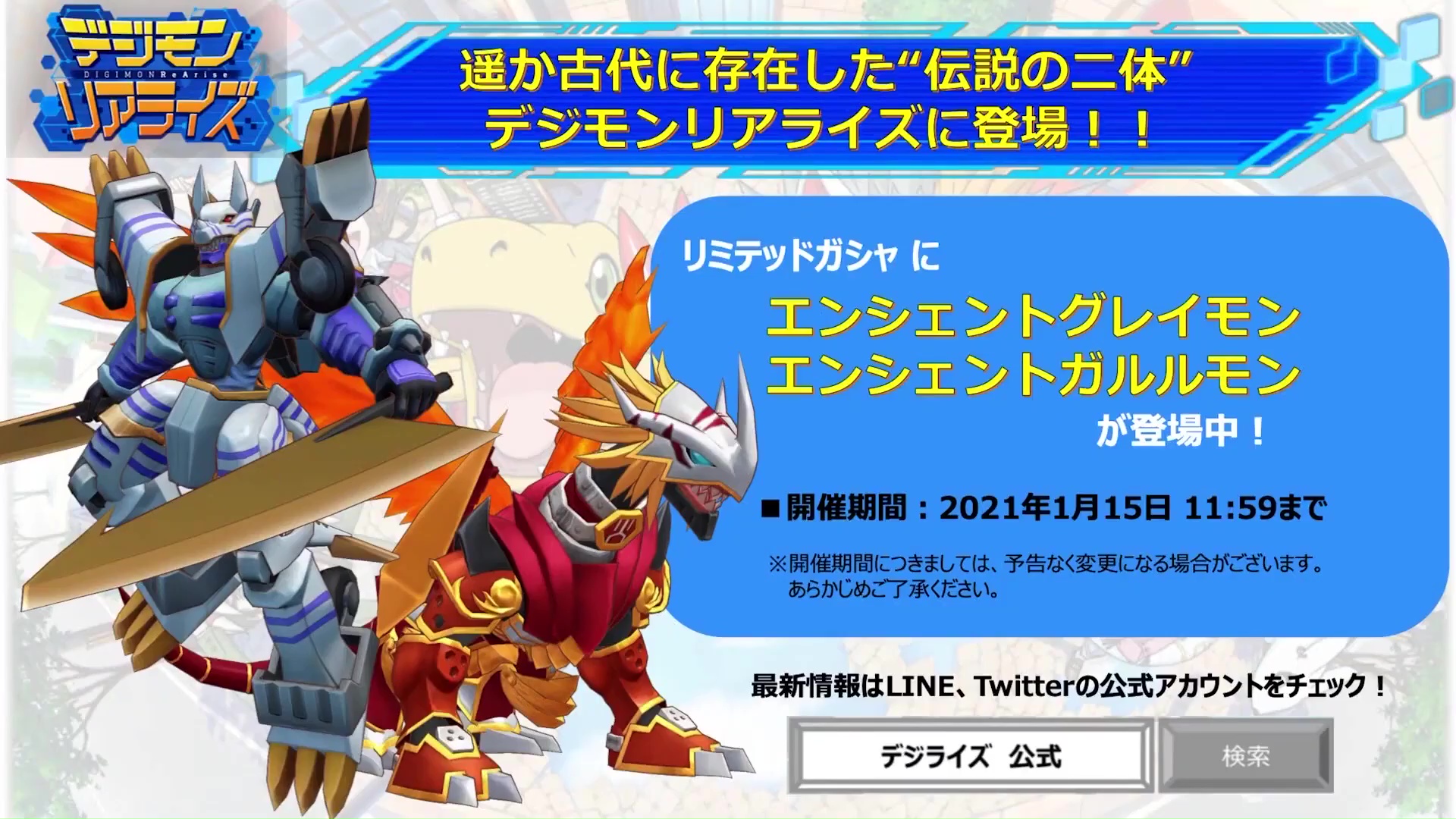 AncientGreymon and AncientGarurumon in Digimon ReArise.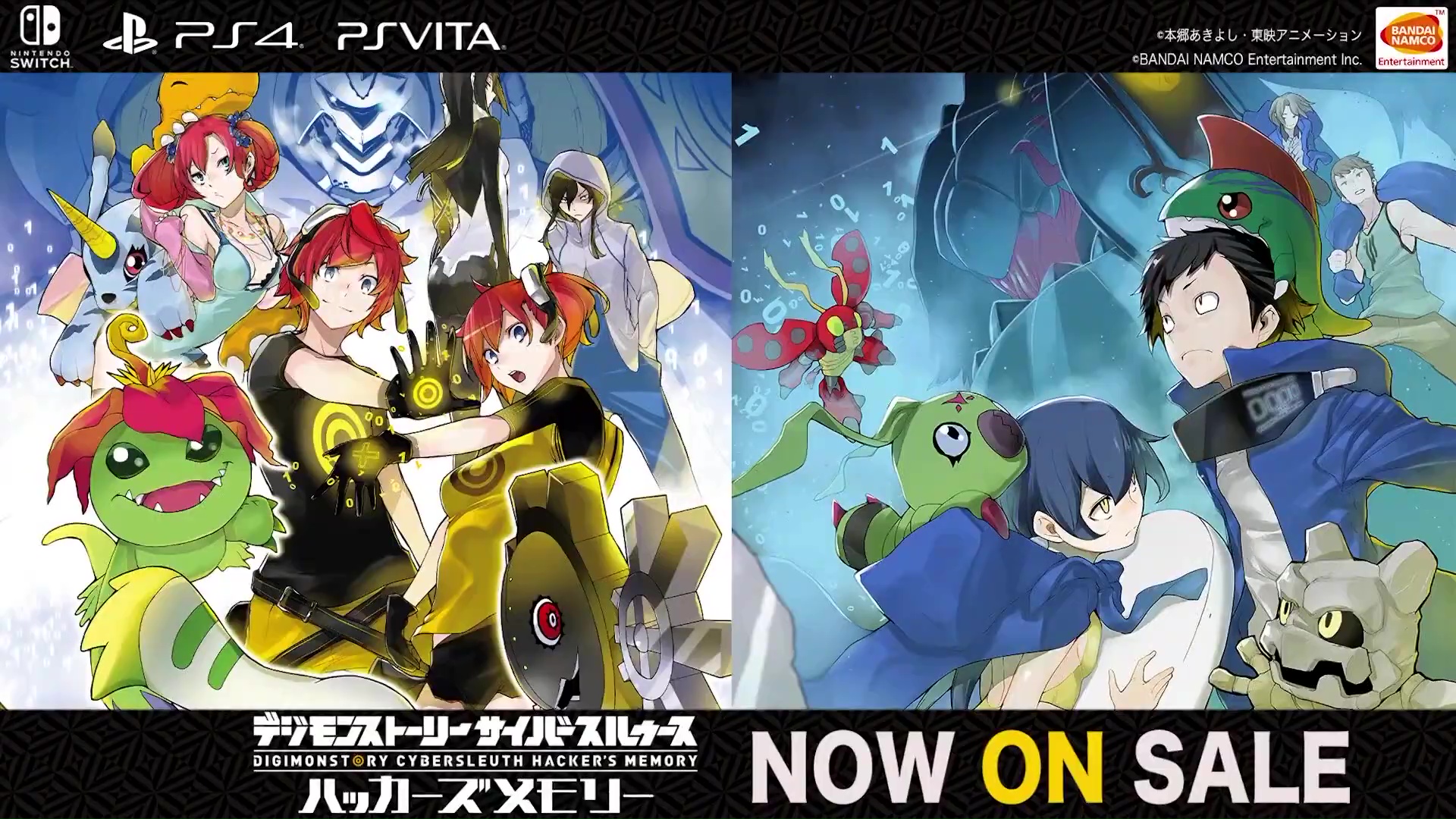 Cyber Sleuth and Hacker's Memory exist.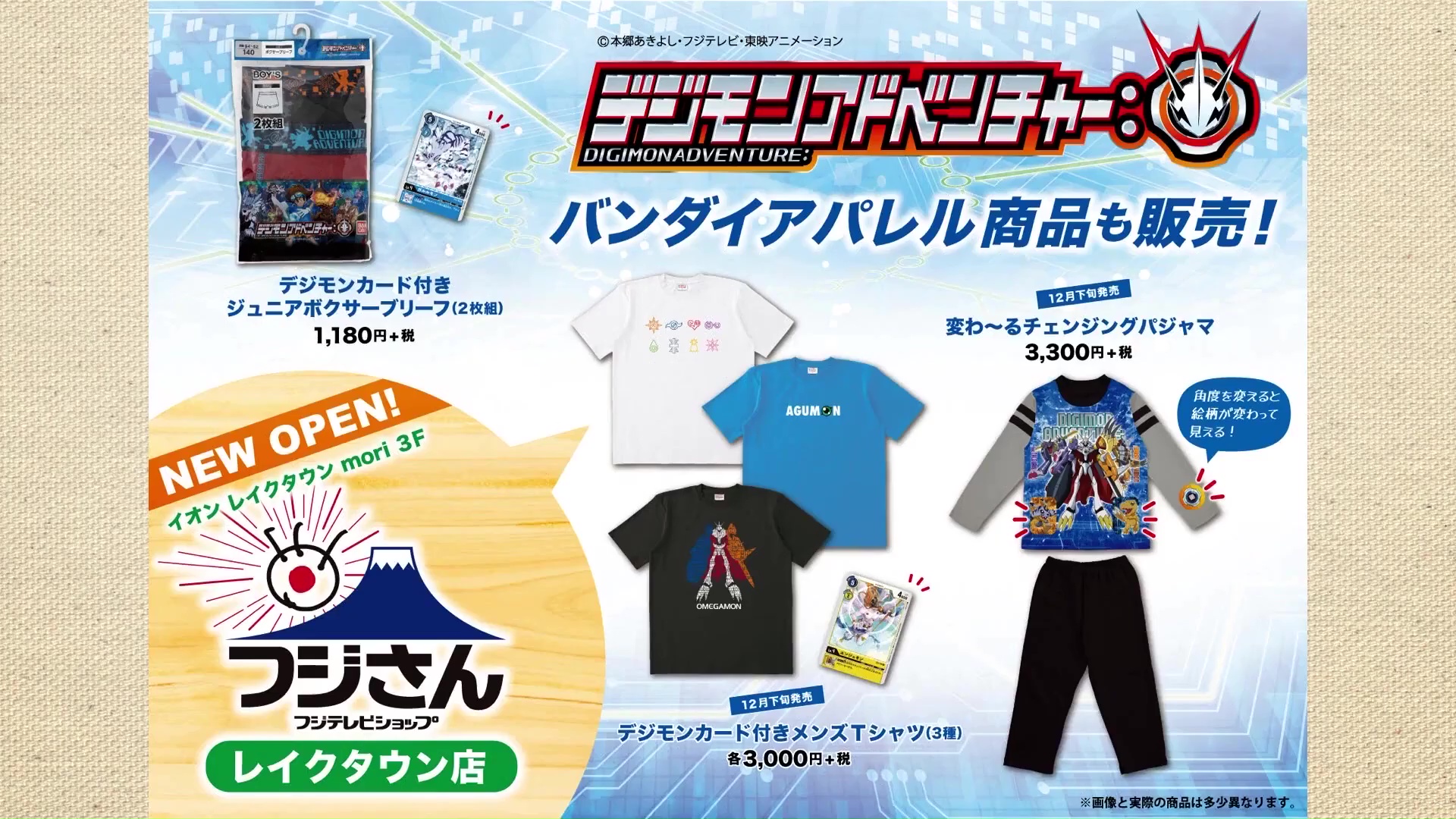 They are discussing the new Fuji shop that opened a couple weeks ago and what it will have stocked.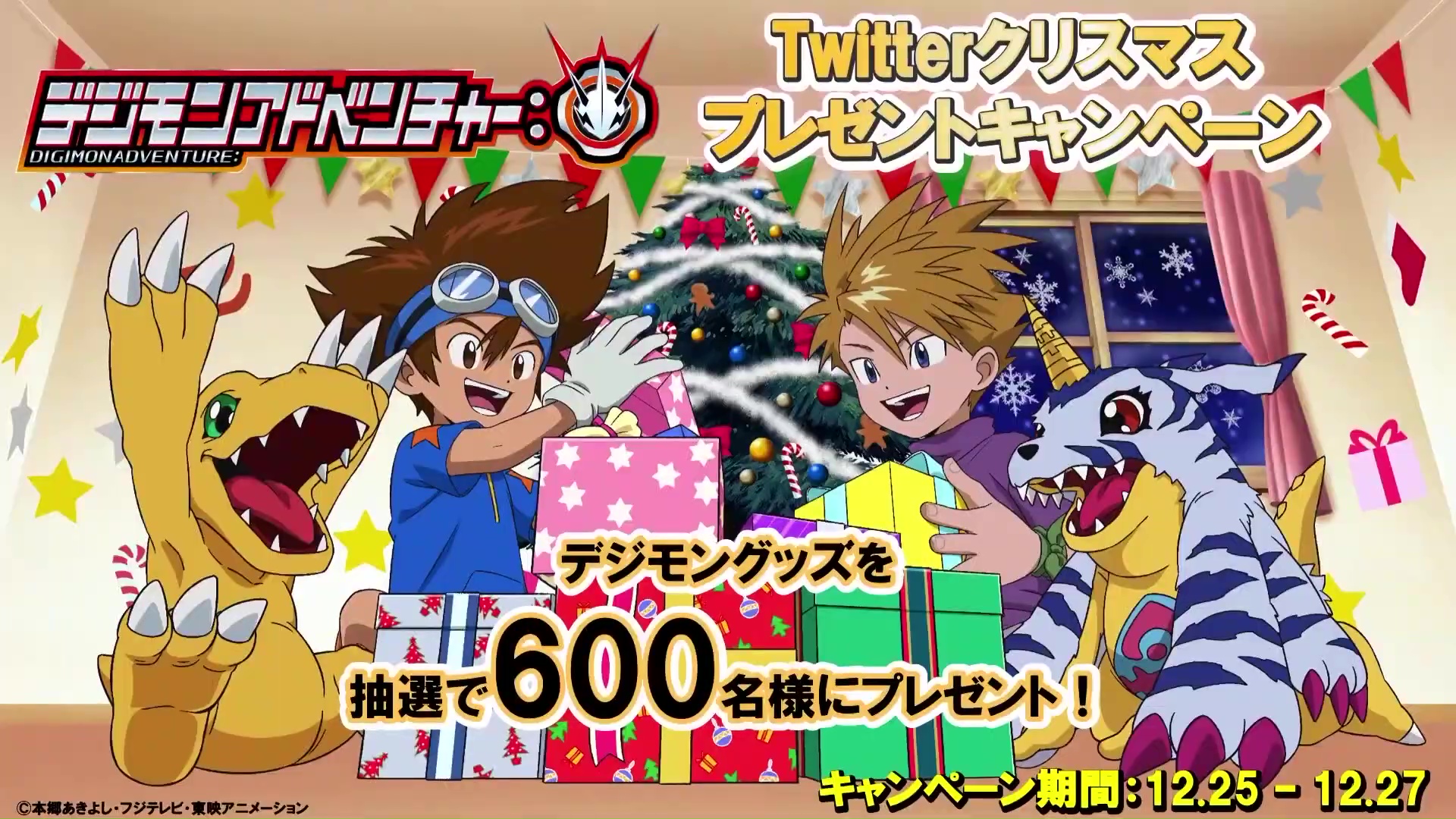 Going over the 3 day Christmas campaign happening next week with 600 winners.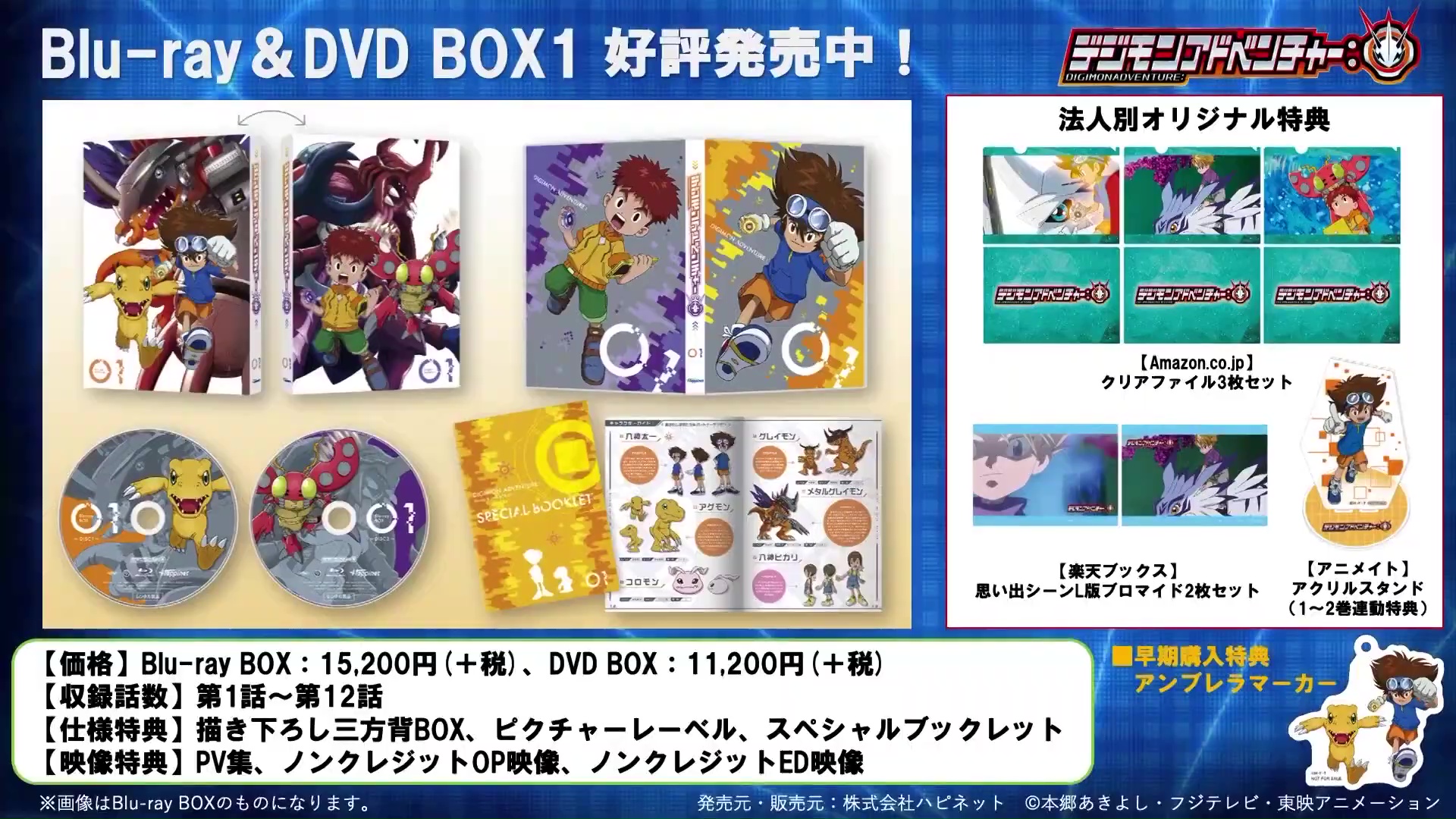 Digimon Adventure: BD/DD box 1 is being talked about.
The upcoming Adventure/02 Blu-ray box.
Matsuzawa points out she already bought all of Adventure and 02 on Blu-ray, and spent a lot more than this set will cost.
They finish by saying goodbye, and mentioning they are showing the 'Welcome to Digimon World' promo, since it's what inspired the development of the Vital Bracelet.
If you haven't seen the Welcome to Digimon World promo video before, it has easter eggs and bits from all through the franchise.
The stream archive is embedded above. Really recommend you watch it for yourself, as this one was rather packed with information.
Last edited: