Show User Social Media
Hide User Social Media
Joined

Sep 8, 2006
Messages

16,112
Halfway done!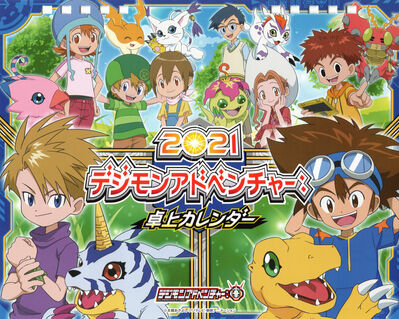 For Day 4 of Digimonukkah we're going with something small, but recent...
It's the 2021 Digimon Adventure: calendar
Scanning for the book wasn't done by me. It was done by
Vande
. I did my normal run of descreening this time, and some minor tweaking.
This is the calendar
that was announced
and went on sale a few months ago. It's just a nice basic calendar for 2021.
The front of the calendar (at the top) shows off all the various new artwork drawn for usage on the calendar.
Vande nicely (brutally? cruelly?) destroyed the calendars ring binding so proper scans of it could be had.
Each calendar page covers 2 months on the left side, with the character art being nice and large on the right...
The first four pages, covering January through August each feature one kid/Digimon pair:
Taichi and Agumon (January and February)
Yamato and Gabumon (March and April)
Sora and Piyomon (May and June)
Koushiro and Tentomon (July and August)
The last 2 pages feature 2 kid/Digimon pairs each:
Koushiro, Gomamon, Mimi, and Palmon (September and October)
Takeru, Patamon, Hikari, and Tailmon (November and December)
The back of the calendar acts mostly as a mini advertisement for those who might pick it up on a store shelf...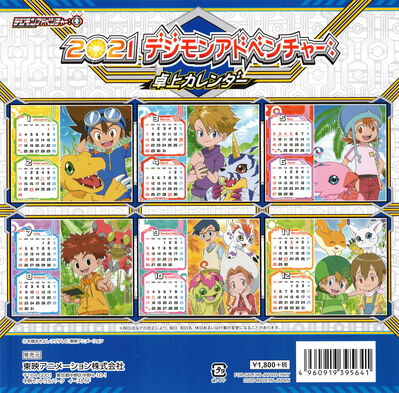 It features a look at all the inner pages for those trying to decide if they should get it or not
It's a basic, but nice, small calendar, with a fun collection of new character art. About what you would expect.
The Digimon Adventure: 2021 calendar is still available for 1,800 yen at CDJapan.
(affiliate link)
The images can all be found in the gallery.
Lots of Digimon stuff is coming out soon and supporting us via our
Patreon
or
donations
would be greatly appreciated so that we can do more breakdowns and improve the site. Feel free to join us in the
Discord
if you want to chat about the figure.
More to come...
Digimonukkah Archives:
Digimonukkah 2020:
Day 1- Digimon Adventure: OST Volume 1- Scans & Breakdown
Day 2- GEM Yamato & Garurumon Breakdown, Scans, and Photos
Day 3- Digimon Adventure tri. Best Hit Parade- Scans & Breakdown
Digimonukkah 2016:
Digimonukkah 2018:
Digimonukkah 2019: