Show User Social Media
Hide User Social Media
Joined

Sep 8, 2006
Messages

12,252
It's that time again!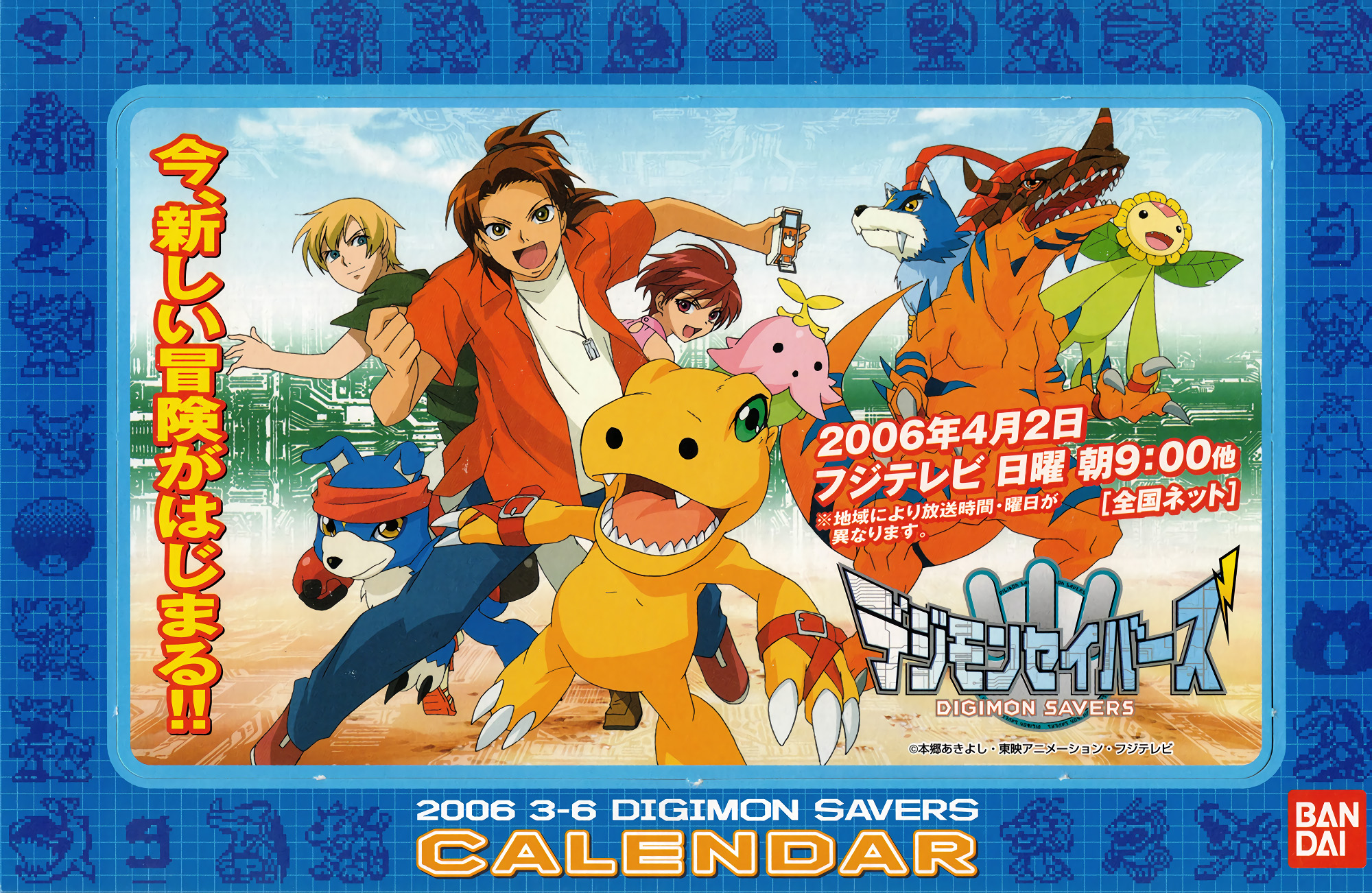 Digimonukkah is back again this year! And the gifts this year for everyone is a nice and wide selection that a number of people had a hand in helping out with.
For the first night thought we'd start off with something small, but interesting, especially for Digimon Savers fans who might never have seen it before...
It's a promotional calendar for Digimon Savers!
Scanning for the book wasn't done by me. It was done by
Vande
. I did my normal run of descreening this time, and also did some very (very) aggressive denoising based on various tests going back over half a year.
The calendar is 15ish year old cheap cardboard that wasn't necessary printed super high quality to begin with, but the attempt to denoise worked very well, with the only noticeable negatives being a bit of degradation of some of the background line elements, with the actual character art coming out pretty fantastically. At one point I wasn't going to use the denoised version, but a few different people who had a chance to look at both agreed it looked far better than the standard version.
The calendar itself actually pre-dates Digimon Savers beginning, and was some kind of promotional item it appears. There is no UPC code or anything to show that it was ever sold, so it was likely given away at stores, although we don't know for sure.
The front of the calendar, up at the top, shows well known key art of the characters, along with letting people know when the show would premiere. It also identifies the calendar as only being for March thru June. Around the border are sprites of various characters.
Vande hasn't pulled the thing apart, but based on how it looks, it appears you are meant to pop out the middle portion, to show the various calendar portions (may try and get some photos of what we can without destroying it and updating later.)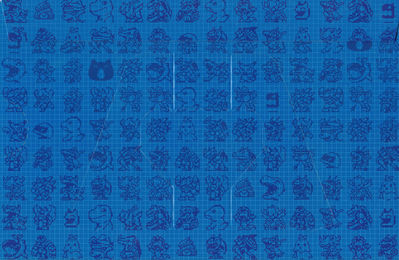 The back continues the use of sprites, and you'd be able to unfold where the cut lines are to use as a stand for the calendar.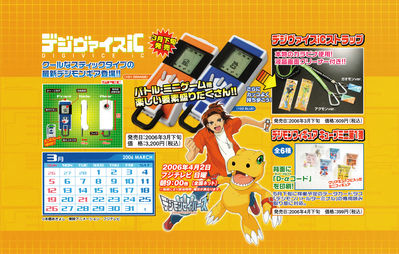 March shows off the Digivice iC, along with straps for it, and little figures that hadD-α codes on teh back to connect to the Battle terminal.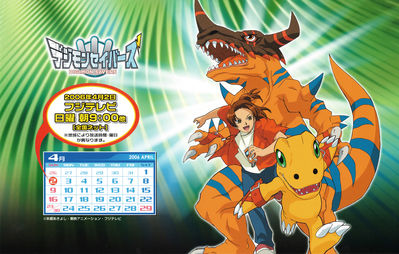 April skips any product previews since it's the month Savers premiered. This one stick with big character art of Masaru and Agumon and making sure you know when the show premiered.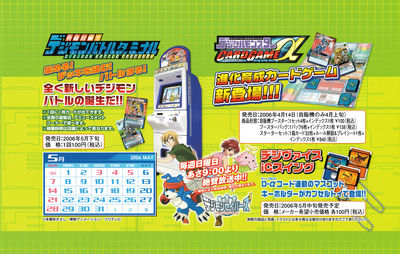 May has art of Touma, Yoshino, Gaomon, and Lalamon. It shows off the Battle Terminal, the new (at the time) Card Game Alpha, and small Digivice iC themed keychains that also had D-α codes on them.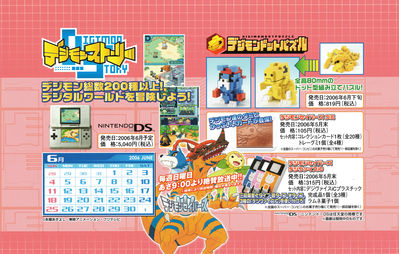 For June (the last month of the calendar) the artwork is of the lead Digimon's adult forms, with the biggest product shown being Digimon Story, which was coming out that month. They also showed off the 'Digimon Dot Puzzle' which was a Lego-style puzzle that was making a sprite design Digimon in 3d.
Underneath that they showed off collectors cards that came with candy (there were 20 types total), along with plastic Digivice iC's filled with ramune candy.
It's a neat little promotional item to show off Savers products before the show began, and a fun little start to Digimonukkah this year.
The images can all be found in the gallery.
Lots of Digimon stuff is coming out soon and supporting us via our
Patreon
or
donations
would be greatly appreciated so that we can do more breakdowns and improve the site. Feel free to join us in the
Discord
if you want to chat about the figure.
More to come...