Show User Social Media
Hide User Social Media
Joined

Sep 8, 2006
Messages

14,750
Digimon X3 & Artbook Pre-Order Info & Tease in MonMon Memo, Plus More Art & Profiles
A bit later than expected!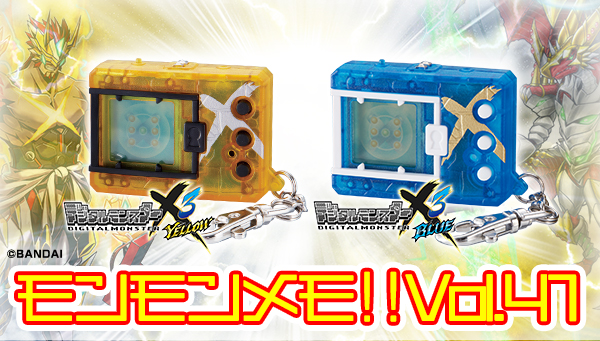 It's time for MonMon Memo 41
! This one is some basic details and teases for the Digimon X3 and new artbook since they are up for pre-order! Plus we have a bit more after!

Pre-orders for the Digital Monster X Version 3 Yellow and Blue
finally began last week!
It's a bit of an unusual pre-order schedule that is rocketing so you can enter the world of the X3 quickly (In fact, you can decide to pre-order after playing the X2!)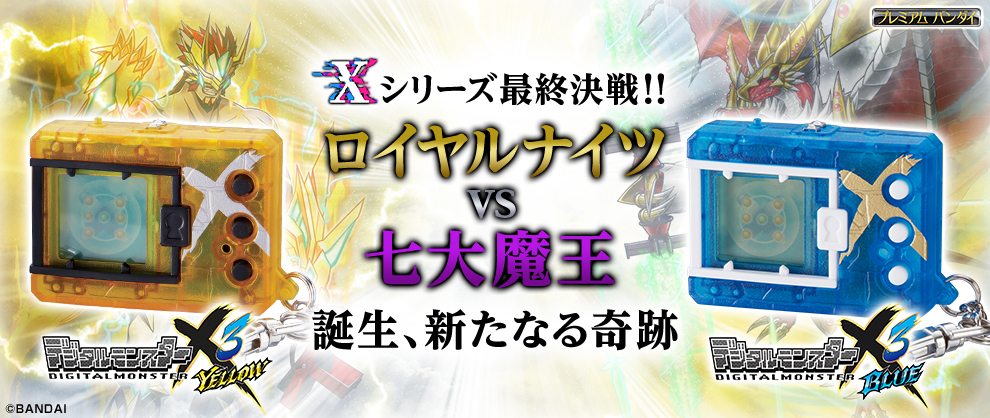 The main theme this time is the Royal Knights vs the Seven Great Demon Lords
The two powers finally clash and this event is the culmination of the X Series!
And what is this 'new miracle' that hasn't been revealed yet?
Actually... it's not an exaggeration to say that the 'new miracle' is the biggest feature of the X3... but we can't tell you for now!
Please look at the X3 pre-order page on November 25th for a follow up.
Until then, watch out for the newly released X-Antibody Digimon. X-Evolution is a fun point of the X series, but there have been some Digimon who have been waiting for it.
From now on, in addition to the designers of previous battlers, the creators from PLEX, the designers for various tokusatsu series, will participate!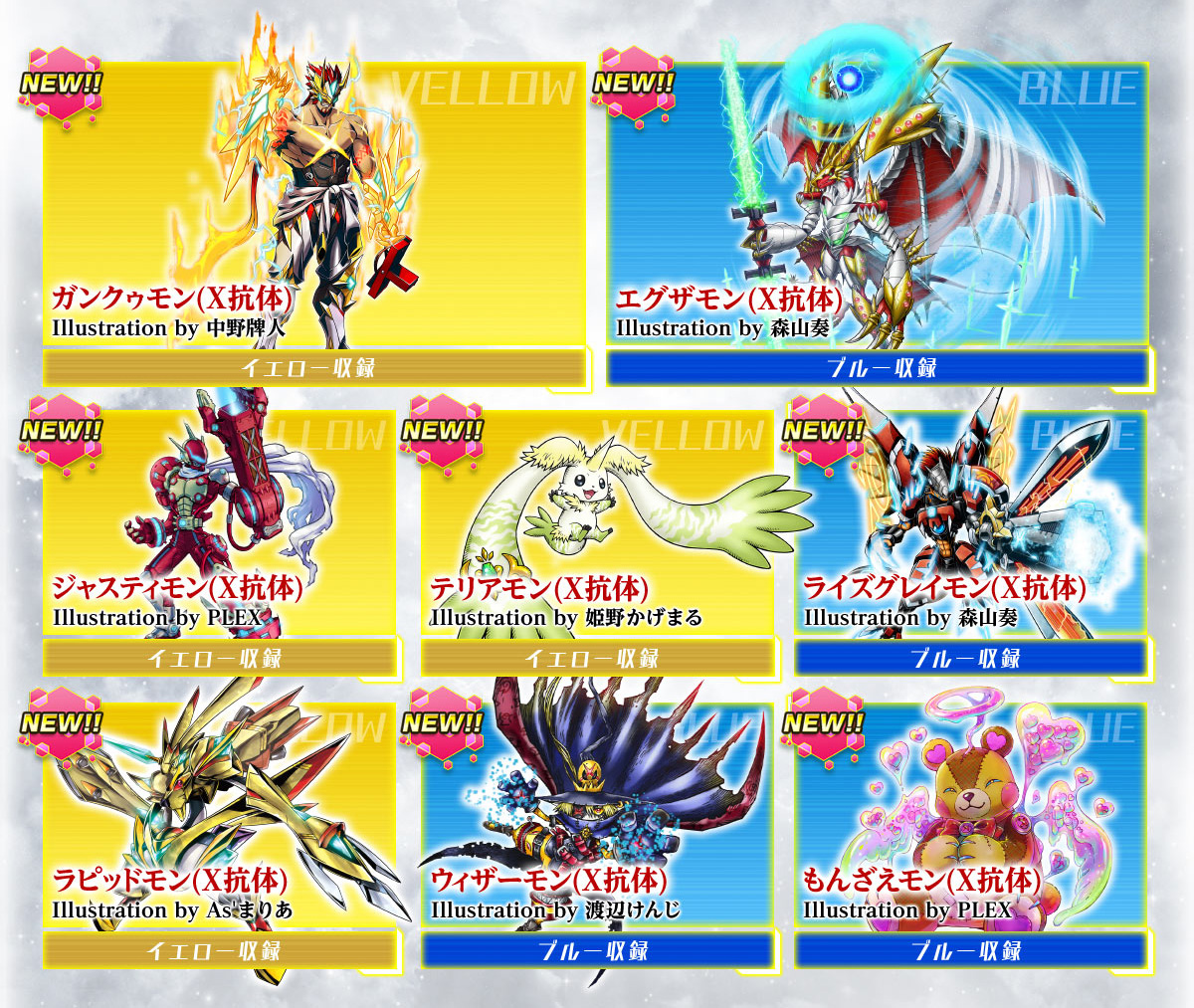 The possibilities have expanded for X-Evolution!
And... another long awaited bit of information was announced...
That is the release of
the Digital Monster Art Book Version X
!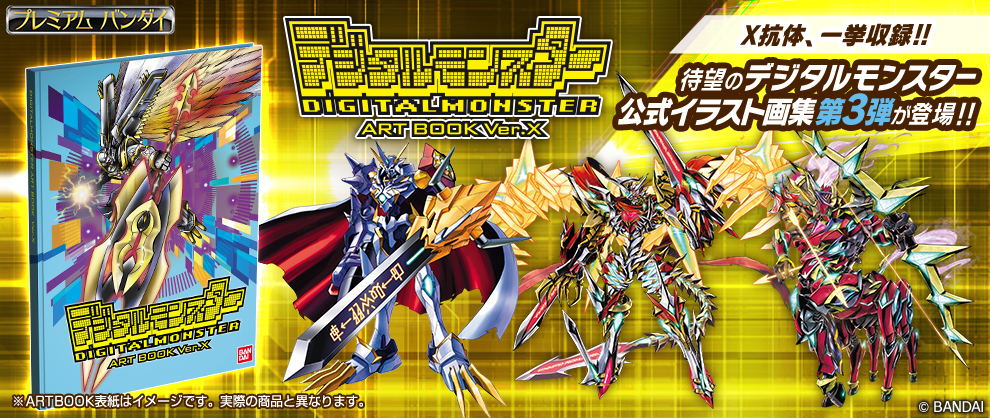 The biggest features to show off for now is the cover of Alphamon Ouryuken by Kenji Watanabe and the newly drawn oversized illustration of the final battle between the Royal Knights and Seven Great Demon Lords by Soh Moriyama!
It's an extravagant list of things!
The rough drawn of the final battle illustration was published super fast on the reservation page. Mr. Moriyama gives the image life and I'm looking forward to it.
Lastly,
Chronicle X
will be updated soon, with the next update scheduled for October 2nd.
They finish by saying seeya next time!
Plus on top of that we have some art and profiles from the Bandai Digimon Twitter!
First up for those...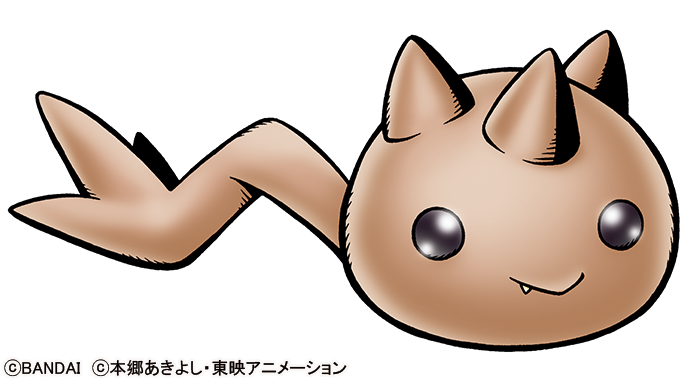 Higher resolution art of Cocomon and Chocomon
Plus...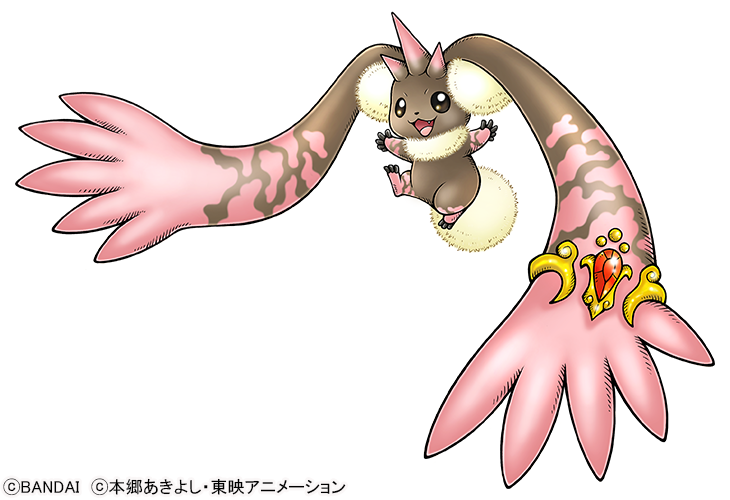 A quick translation of his
shortened Twitter profile
...
He has ear hair and his tail is lighter and more buoyant than air, which allows him to float on fluffy wind! It enjoys taking walks in the air with Terriermon!
Previous MonMon Memos have included:
Cold Mode
Copymon
New Virus Busters
New Nightmare Soldiers
Silver Blue Special Digi-Eggs
Silver Black Special Digi-Eggs, Plus ones in both!
Jogress Digimon
Password Digimon
Overview of the 20th Pendulum, Plus Enemies in Battle Mode
Kenji Watanabe Pendulum Interview
CSA Digivice tri. Memorial
Additional Digimon showing up in the Pendulum 20th 2nd Wave
RagnaLordmon, Jogress of the 20th Anniversary Legend Arms
Pendulum Art Book Sample Pages, Teasers, and Interview Details
Pendulum Art Book Update- Digimon Designer Round Table! Plus Shikishi Artwork
Introductions for the CSA Digivice 1999 and Terriermon Plush, plus X-Antibody Updates
CSA Digivice 1999 Details
RagnaLordmon and Finalized Wave 2 20th Pendulum Packaging
Pendulum Art Book Preview- Twitter, Armor Evos, Omegamon, Chronicle
Digimon in 2nd Wave of 20th Anniversary Pendulums & Art Book Preview
Digital Monster X and X-Antibody Teasers
Digital Monster X Booklet Details
Digital Monster X Digimon Info & CSA Digivice 1999 Booklet Details
Digital Monster X Map System Info
Digital Monster X Battle System Info
New X-Antibody (Finalized Diablomon X & Sakuyamon X) Digimon Artwork
Digital Monster X Training & Raising Features
The Digimon Lineup for the Digital Monster X & More Reveals
Digital Monster X Summary & Preview from MonMon Memo, plus more Digimon intros!
Digital Monster X Evolution Conditions from MonMon Memo!
The Movements of the Seven Great Demon Lords from MonMon Memo
Data from announcement of Digital Monster X Version 2!
Main Theme of Digimon X2 from MonMon Memo, plus Video Preview
Digimon X2 Lineup Introduction and Character Tease
Raising Information, Road to the Devil
Secret Digimon in Digimon X2 Revealed
The Not Yet Shown X-Antibody Digimon
Last Evolution Kizuna & Digimon X2 at DigiFes
Digimon X2 Booklet Preview
Digital Monster X Ver.3 Intro and Teases