Show User Social Media
Hide User Social Media
Joined

Sep 8, 2006
Messages

12,234
We have more pre-order bonus DLC for Next Order fans, and further details on prior DLC.
Next Order will have a handful of exclusive DLC based on where you buy the game from.
If you order from Amazon Japan you get an item that lets you get Omegamon Zwart.
If you order from a few different chains owned by Bic Camera (Bic, Sofmap, or Kojima) you'll get Chaos Dukemon.
If you order from Geo you get items that will let you get WarGreymon and MetalGarurumon (I'm unsure if these are in any way unique, or if it just lets you get them quicker than normal.)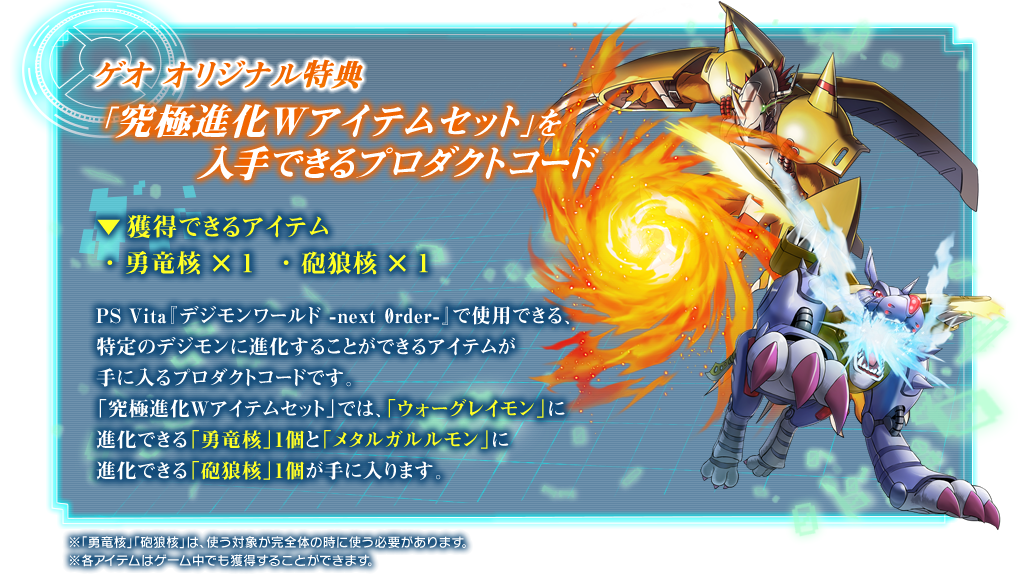 And because I realize I didn't update the news in the last thread...
The five pre-order Ultimate Digimon will be an item that will let you get Susanoomon, Imperialdramon Fighter Mode, Omegamon, Dukemon, and ShineGreymon (each of these being some of the most well known Digimon from the first 5 Digimon series.) During each play through you'll get a chance to choose and end up with one of the five Digimon (it appears that none of the five are actually unique, the item just lets you get to use the Digimon of your choice easier.)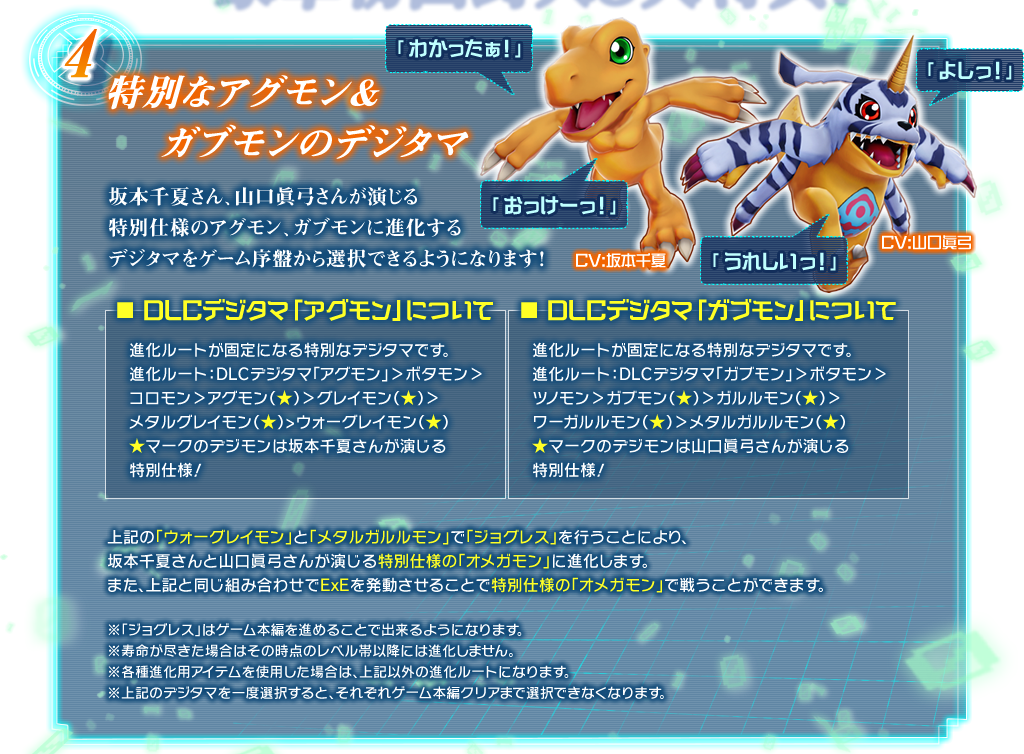 Also, the special pre-order version Agumon and Gabumon that are also included with pre-orders will be voiced by Chika Sakamoto and Mayumi Yamaguchi. They will also be able to combine into an Omegamon voiced by both. Both have locked in evolution lines that mirror what they get in Adventure. Interestingly though, each seem to skip one of their forms. Agumon's line skips MetalGreymon, and Gabumon skips Garurumon. Not 100% sure why that is (likely something to do with 1 more evolution line than the game expects or something like that.)
Thanks to Shinraisei for translation help.
This will be the new Next Order discussion thread.
Previous thread is here
.