Show User Social Media
Hide User Social Media
Joined

Sep 8, 2006
Messages

16,666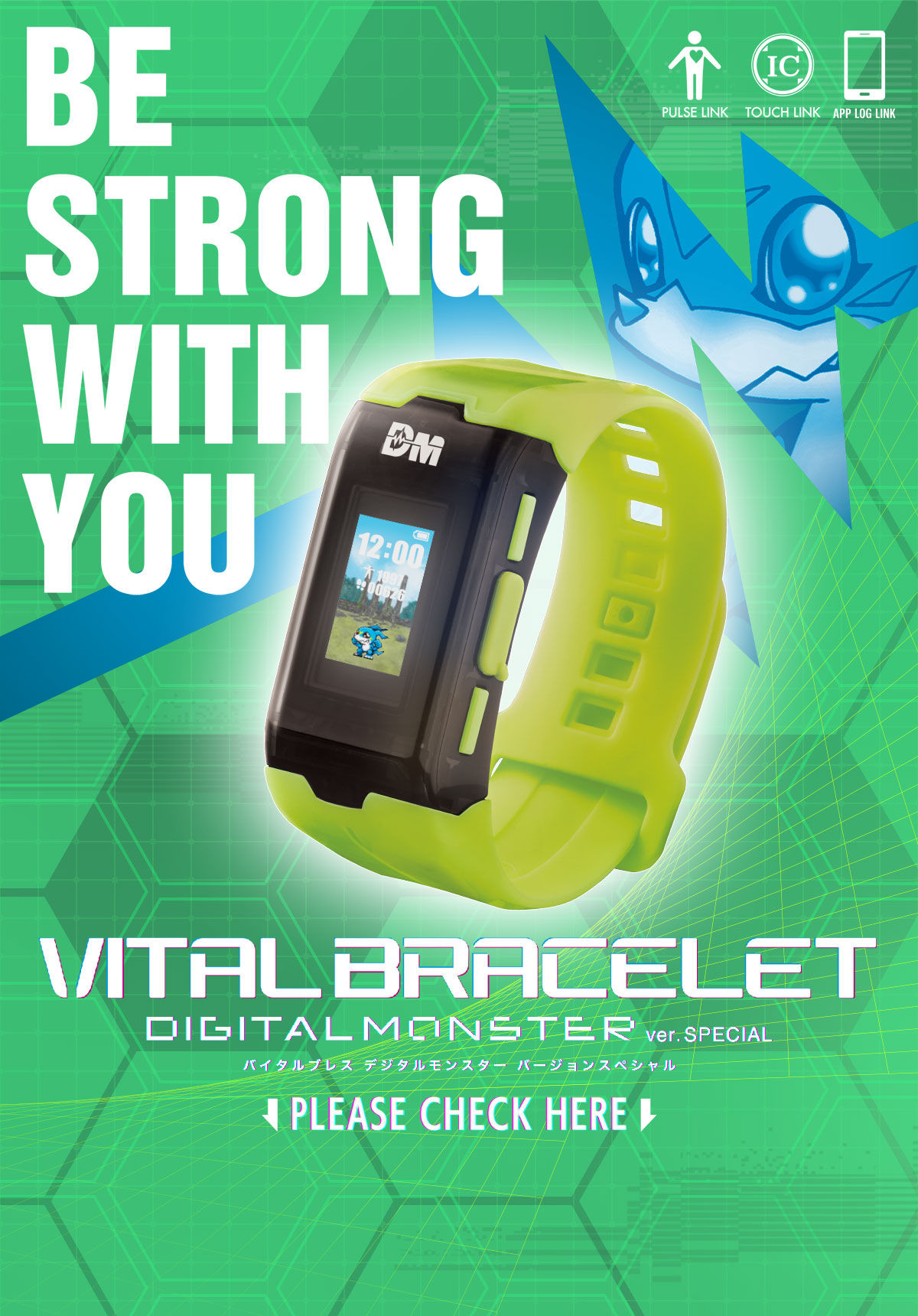 We're just a day until the Digimon Vital Bracelet officially goes up for pre-order (
although a number of places opened early
for standard models.)
For those holding out for the special version, we have a ton of images and details!
Also remember, DigiNavi is just a bit more than a day away, and will streamed, with English subtitles, with a featured subject being showing off the Vital Bracelet. Details can be found
here
.
​
Since the Vital Bracelet itself is identical minus the color elements, you can read about those details
here
.
That includes the different 'link' features of the Vital Bracelet, including detailed information about the Dim Cards (although since part of the special version is a unique Dim Card, we'll get into that later... well... not so much later...)
The Digimon Vital Bracelet version Special is exclusive to Premium Bandai. Although there is 'one' potential asterisk to that later on...
All of the 1st wave of Vital Bracelet's will come with the Impulse City Dim Card.
This adds the location and graphics to your Vital Bracelet, but most notably...
​
It gives you Pulsemon, the new character being introduced with the Vital Bracelet, along with the potential to unlock his evolutions! We get higher resolution art and a close look at the sprites for a few of them.
We also get a 'not quite complete' look at the evolution chart for the Impulse City Dim Card...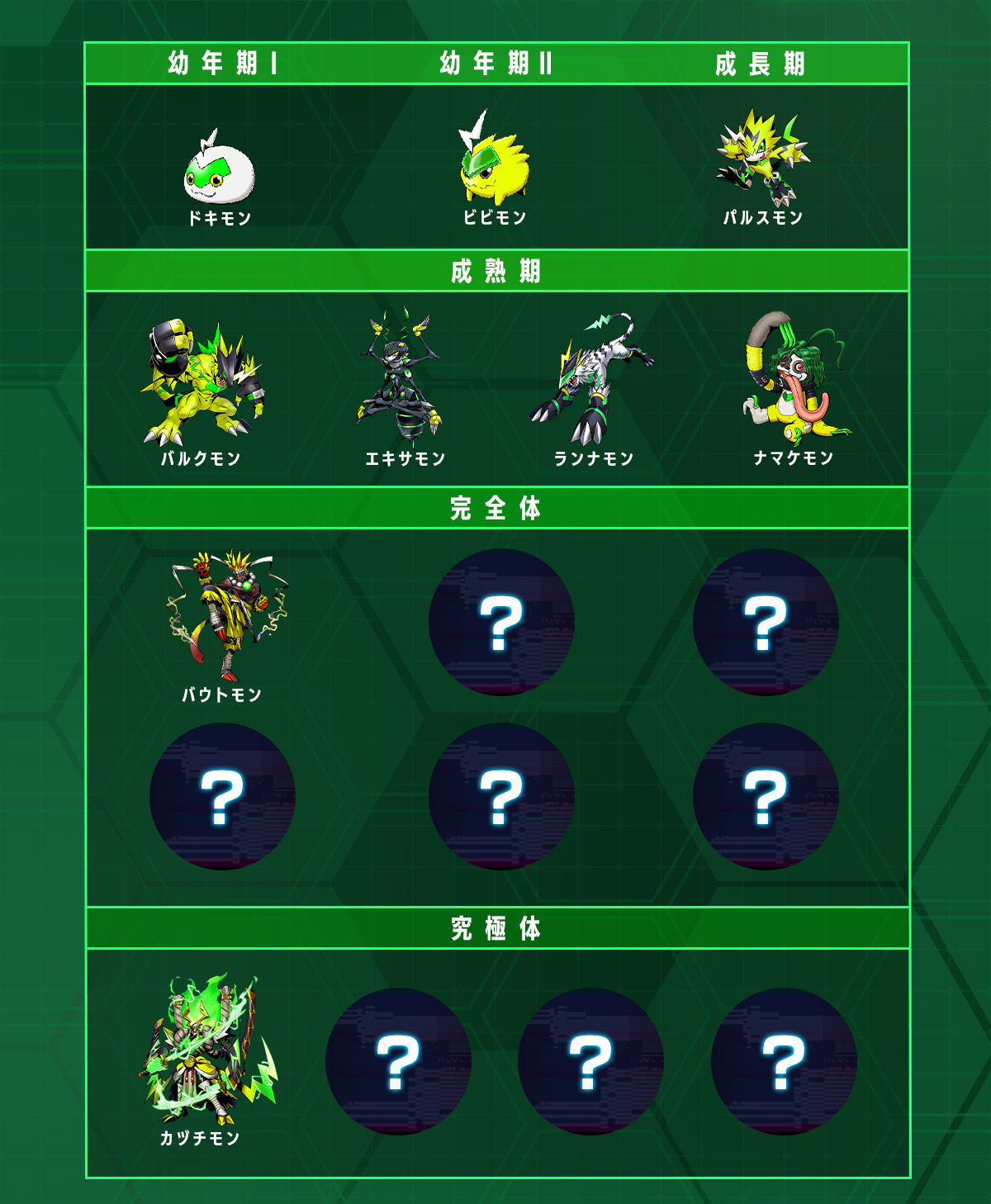 The chart shows his Baby 1, Baby 2, Child, 4 different Adult forms, and 1 each from Perfect and Ultimate. 5 more Perfecst and 3 more Ultimates are still to be revealed.
Now, Impulse City and Pulsemon will, as mentioned, be included with all 3 bracelets.
The special version is in high demand, not because it's neon green/yellow (which oddly feels like it matches Pulsemon), but because of what it comes with...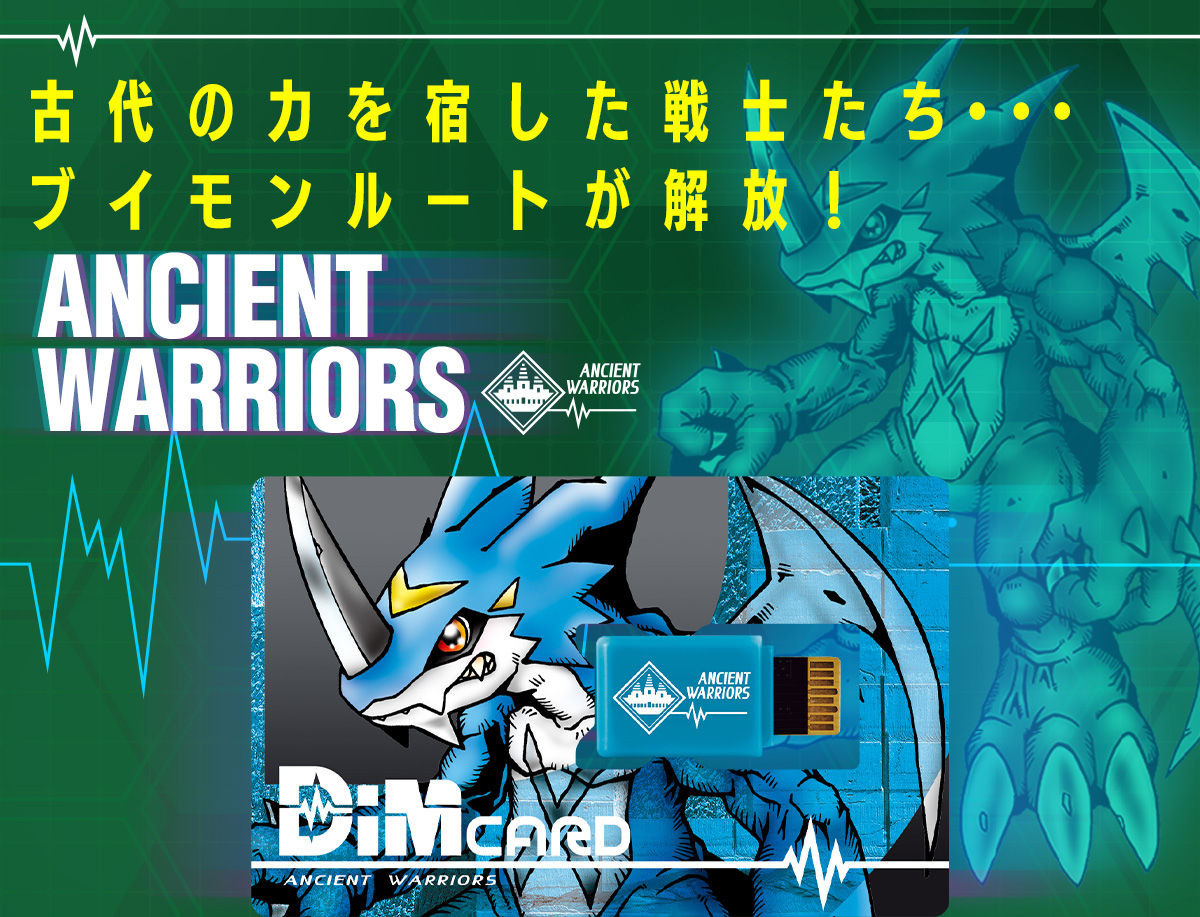 The Ancient Warriors Dim Card.
Like Impulse City, it includes locations and graphics for the band, but the big thing is...
​
It includes V-mon and various evolutions of his. They show off V-mon, XV-mon, Paildramon, and Imperialdramon (dragon mode), who are all among some of the most popular Digimon there are.
We get basic details for them,a long with looks at their new sprites in full color.
Plus...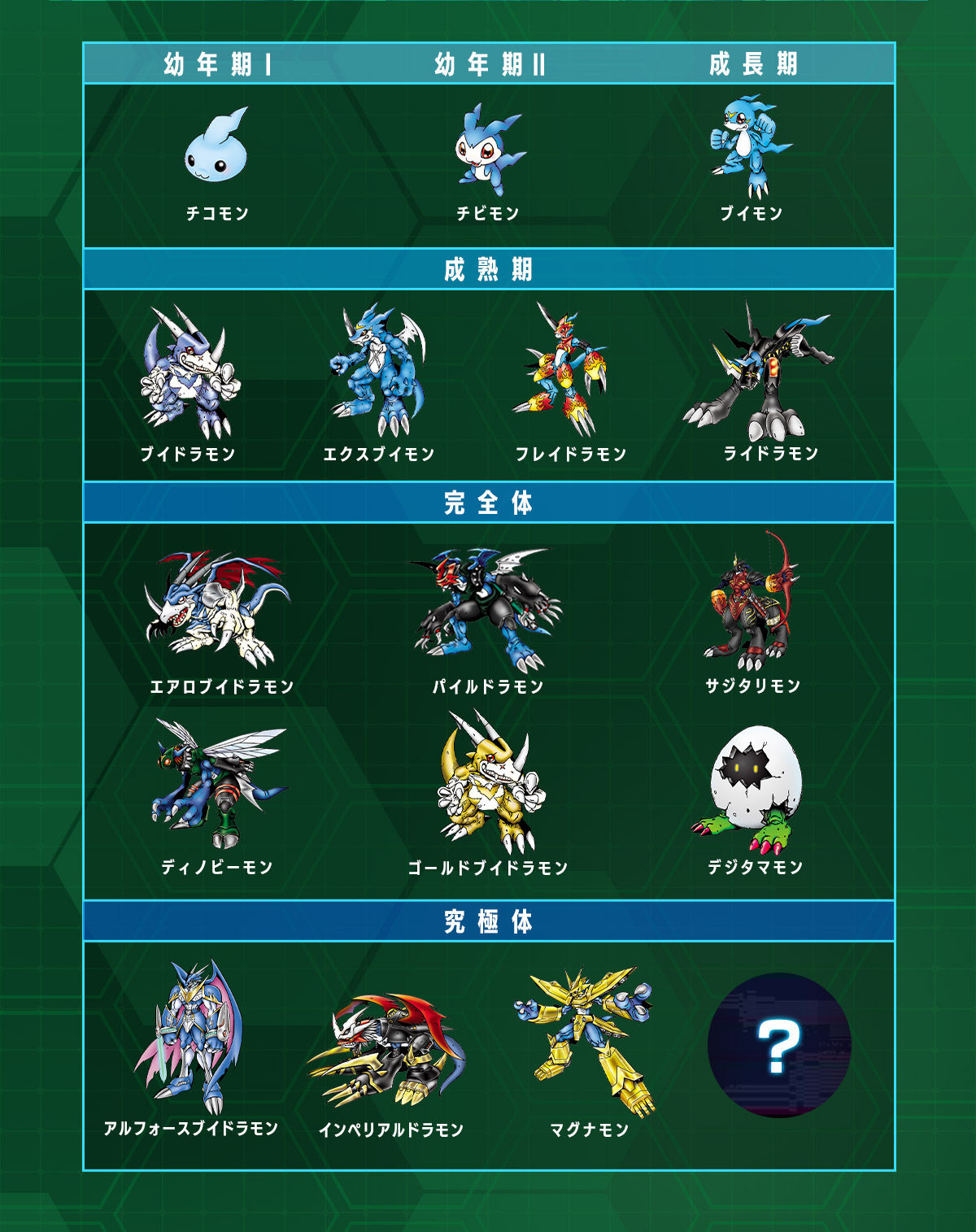 A near complete evolution chart with only one Ultimate being a mystery.
And the special version also includes some 'early buy' bonus items...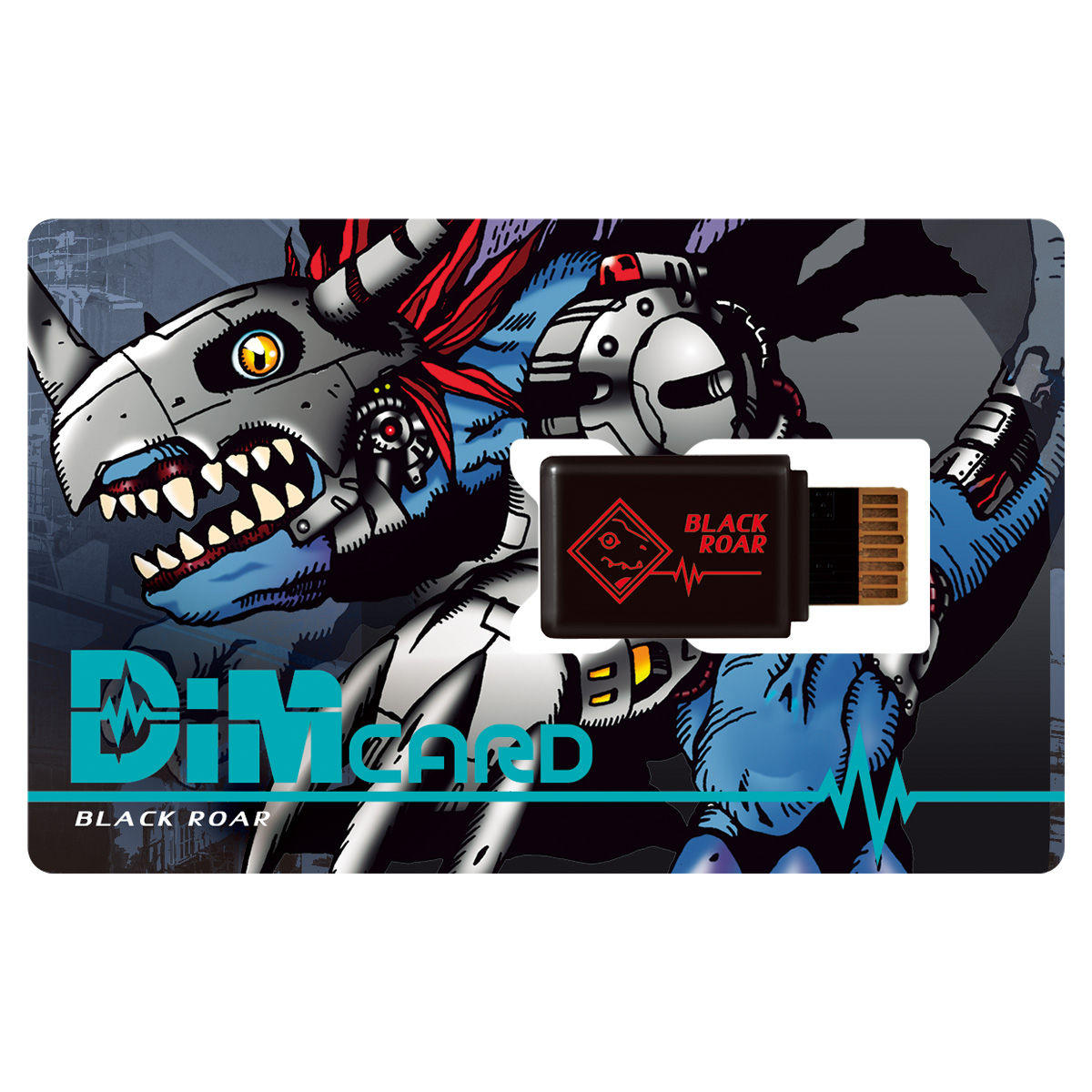 Black Roar Dim Card trial version is the main bonus item. This Dim Card lets you raise a Botamon all the way up to BlackWarGreymon.
It also includes a Digimon Card of Pulsemon (it doesn't specify if this is a collectors card, or a promo card for the Digimon Card Game) and a bonus flyer/poster.
These bonus items will also be available to early buyers of the standard versions in stores.
Pre-orders for the Digimon Vital Bracelet version Special are open at Premium Bandai
. It costs 7,260 yen and pre-orders close on February 12th. It ships in March.
Update- Pre-orders are open.
Update- Pre-orders for the version with the Black Roar Dim have stopped.
The special version can still be purchased without the Black Roar Dim Card at Premium Bandai.
All other details are the same
They note a number of things of interest to potential buyers:
Pre-orders for the special version may close early based on number of purchases.
Release date may be changed.
The early purchase benefits may run out, and once they do, they will not be available for buyers.
This product may be sold outside of Japan in an unspecified fashion.
You'll want to contact an intermediary to get these items sent to you. WtW is not affiliated with any, but here are a selection of intermediaries that have worked well for various WtWers and their friends in the past:
From Japan
Rider Proxy
Nippon-Yasan
The Bandai Premium store has also chosen to affiliate themselves/recommend a few potential shops to be used as intermediaries for non-Japanese buyers:
Buyee
From Japan
(this From Japan link shows various items that they waive commission fees for.)
Samurai Buyer
DEJapan
You'll want to provide your chosen intermediary with the link to the item. Just copy paste the link to the product pages for what you want and send them a message about it and they'll take care of it after they discuss pricing and their policies with you. The links embedded in the news article for the products are exactly what you'll need to send them.
Some of the intermediaries have a full storefront and may have the item listed, so you may want to check that first.
Last edited: