Show User Social Media
Hide User Social Media
Joined

Sep 8, 2006
Messages

12,538
It's early the 9th of June in Japan, so the toy show hasn't begun yet. But companies are starting to prepare things.
So we get our first good look at art from Digimon Universe: App Monsters since Toei decided to put up a
Twitter
.
Looks like they plan to use the term 'Appmon' as shorthand for the series since they are using it as the name of the Twitter (I'm still not sure if I wanna keep calling it Digimon Universe, or just go with App Monsters/Appmon myself...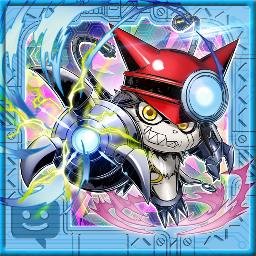 They've also told us when the series will begin. It'll start in October on TV Tokyo. (Edit- October 9th specifically. Edit Again- Another
source
reporting the 9th found by lucemonbr.)
The banner includes our first look at various characters, including our new goggleboy.
Hopefully we gets tons of new news the next few days.
Thanks to various users for making sure we saw this info.
Prior news thread for Digimon Universe is
here
. Feel free to continue discussions.
Update- Lots of new stuff, weeeee.
First up... a trailer for the new Cardass cards and their accompanying game machine.
From this we see quite a few details (which we will go into in a bit.)
We also have a proper poster image for the series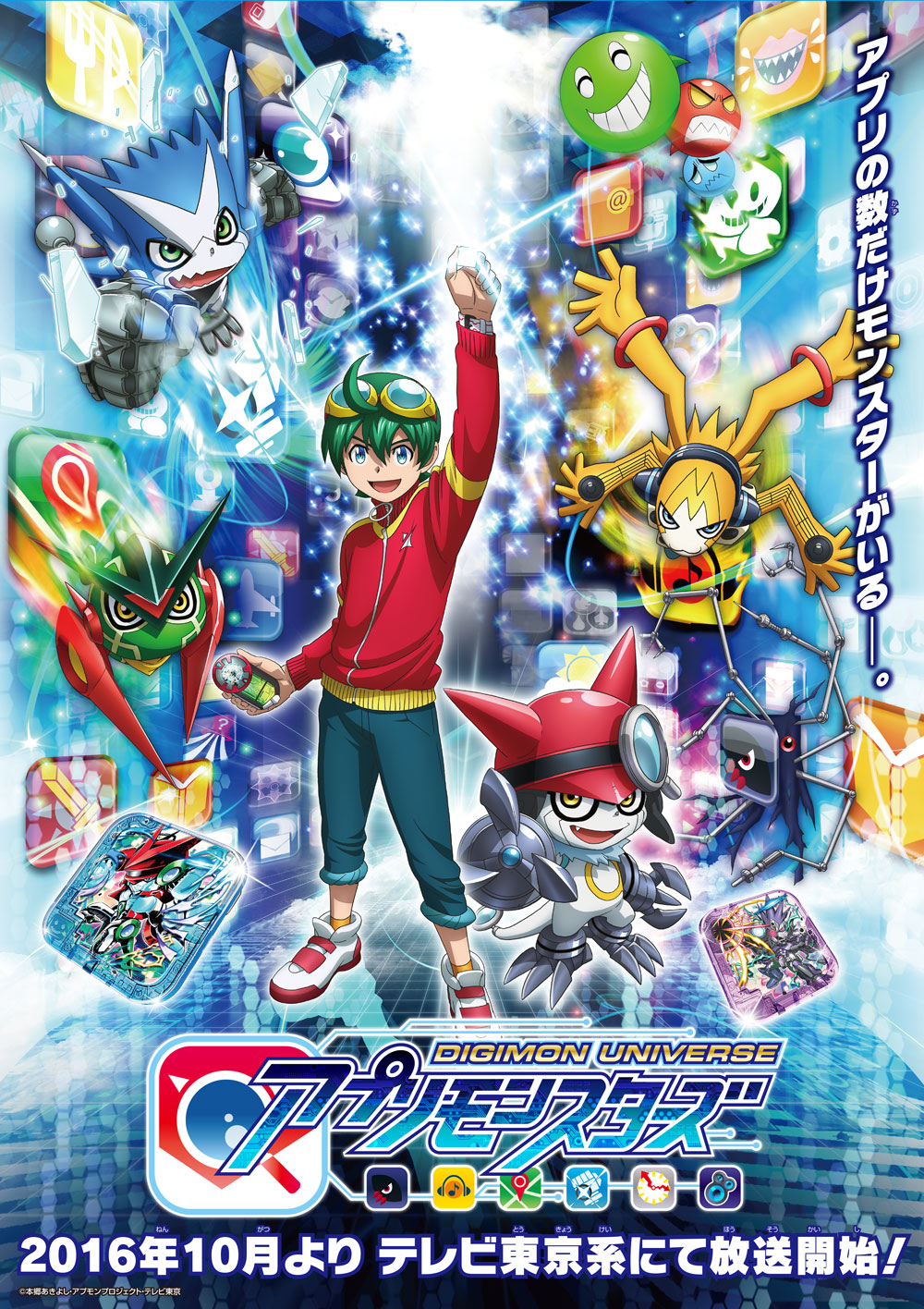 First up, the four monster names.
Our new red lead is named Gatchmon, the green one based on the map app is Navimon, Dokamon is the blue fellow, and the yellow one based on the music app is Musimon.
The combination of Gatchmon and Navimon is named DoGatchmon.
And of course, what everyone really wants...
A big franchise preview trailer with some animation and voices at the end!
As for some voices...
Our new lead goggleboy is named Shinkai (Shingai?) Haru. He is voiced by Yumi Uchiyama, who hasn't been in Digimon before, but who has to many credits to even list.
Gatchmon will be voiced by Kikuchi Kokoro. Digimon fans would know her as Chika from Savers and Sparrowmon from Xros.
The new digivice is called the Applidrive. It will be voiced by Takagi Wataru, who hasn't been in Digimon, but at times appears to be in everything else.
We also get our first look at some other kids, which also appears to suggest they'll be keeping the more traditional one kid/one Digimon pairing (since many of the Digimon we've seen appear to be paired with them.) This appears to be called an 'app pairing.' The kids call out the Digimon by putting in the appropriate 'app chip' into the Applidrive.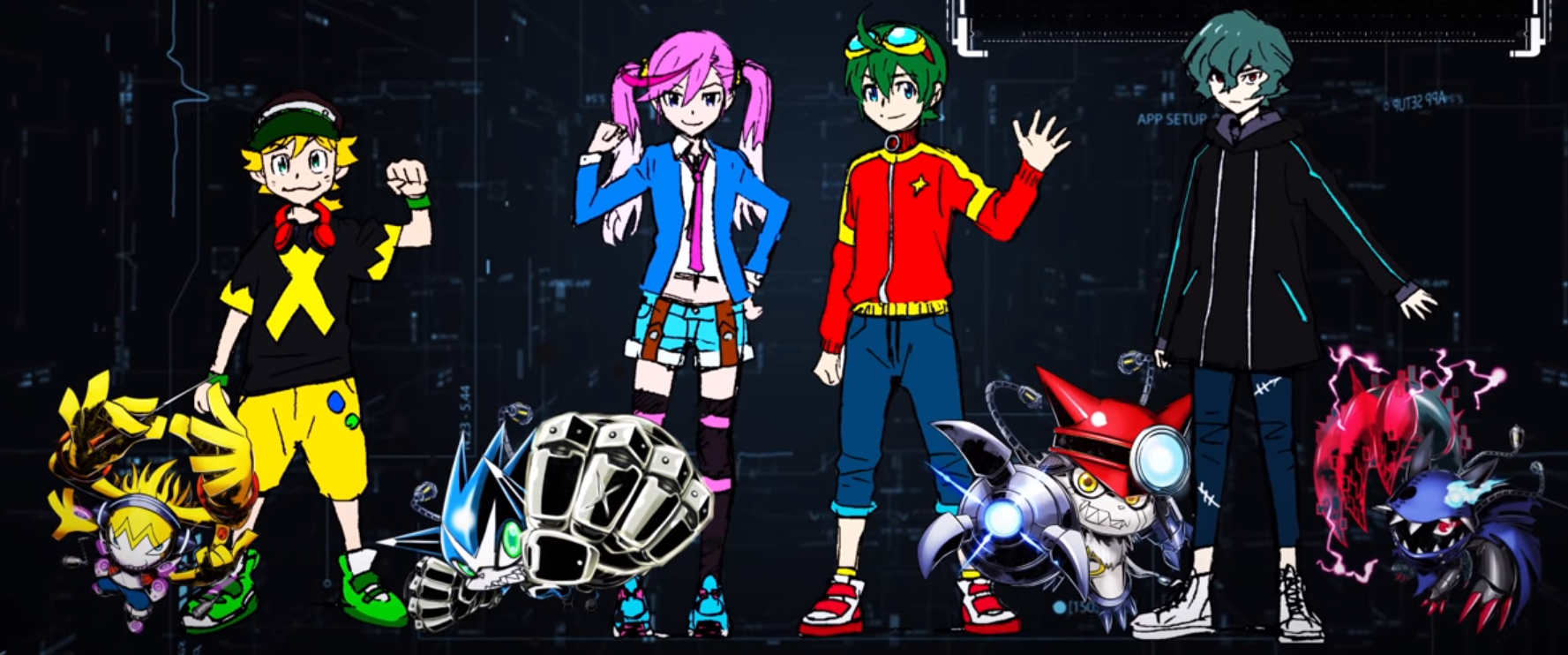 The new Digimon/Appmon on the far right is Hackmon.
The trailer gives loves of little details, confirming that Gatchmon is indeed a 'search' app Appmon as most people guessed, and also showing a power scale that has a long way to go (perhaps a vague hint that we might see more than just the new 'app fusion' system that allows Appmon to combine for battle?)
Update 2- Some further staff for the anime.
Series Director will be Gou Koga. Perhaps best known as the series director for DokiDoki Pretty Cure.
Series Composition will be Youichi Kato. Most notably the series composer for Yokai Watch.
The character designer is Kenichi Ohnuki. Probably most notable to us is that he did the character designs for Gundam Build Fighters.
Update Again- We have confirmation that Bandai will be making a 3DS game, but not to many details yet. They refer to it as a 'grand adventure' with a 'cyber arena' being added on a different date. Edit- It appears Cyber Arena may be a digital only title coming out this fall, with the proper 'grand adventure' 3DS game coming later.
They've also given one screenshot to Dengeki.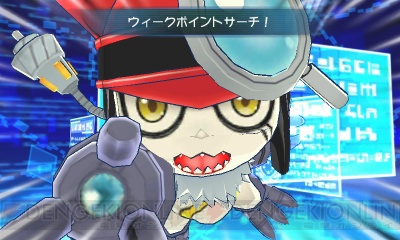 No release date yet.
Update Yet Again- Look at all these products...
Figures, a digivice, cards, all the stuff we like to see. Looks like Bandai is going to go hardcore for Digimon Universe: App Monsters.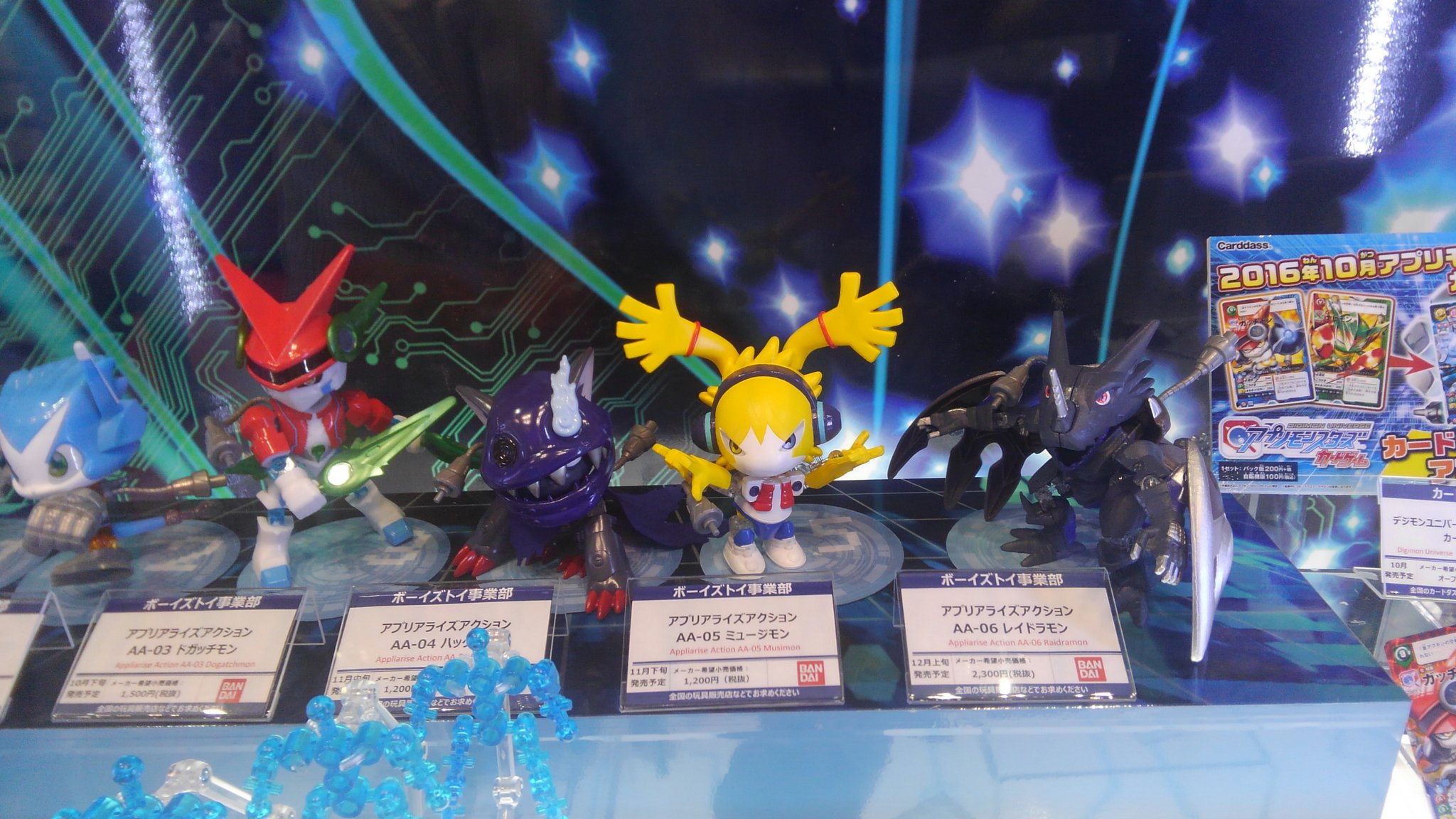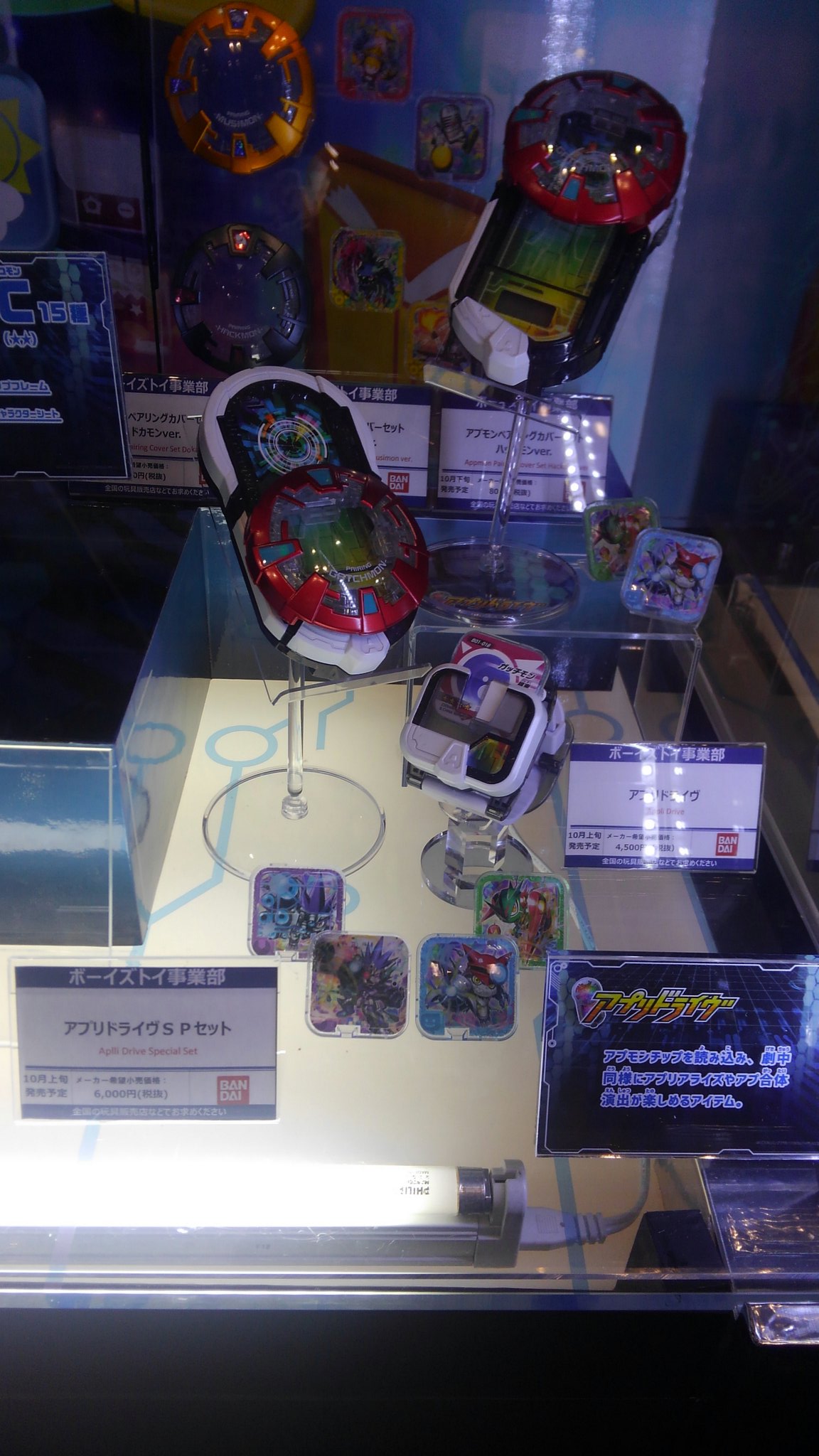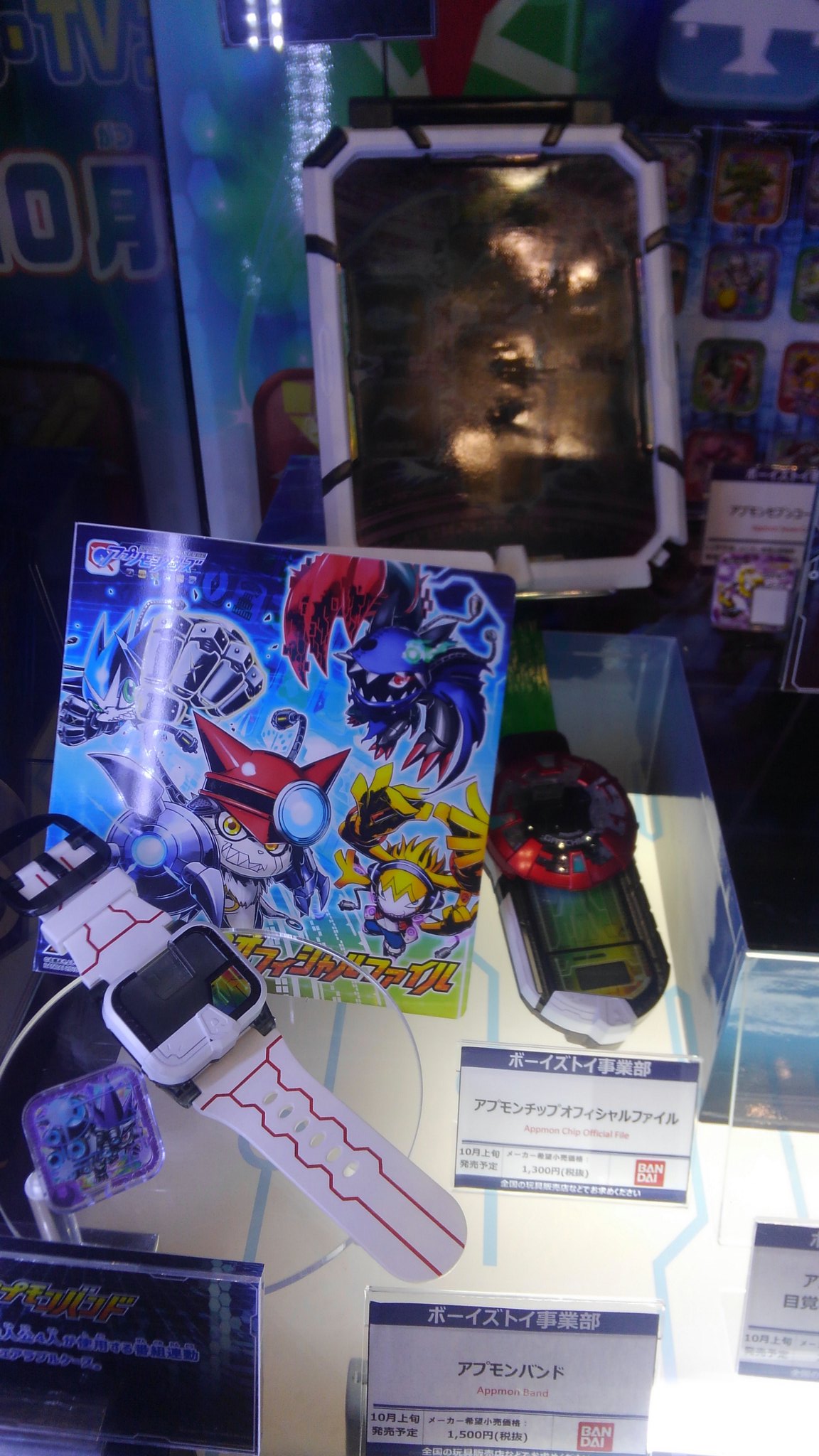 More updates to come I'm sure...
Yet another Update!- Wee more!
First up... a merchandise trailer!
The trailer shows off LOTS of products, and also terminology for the new series! We even see some of the 3DS game and smartphone app/game stuff. This fall is going to be packed with Digimon product in a way we haven't seen since the initial 4 shows.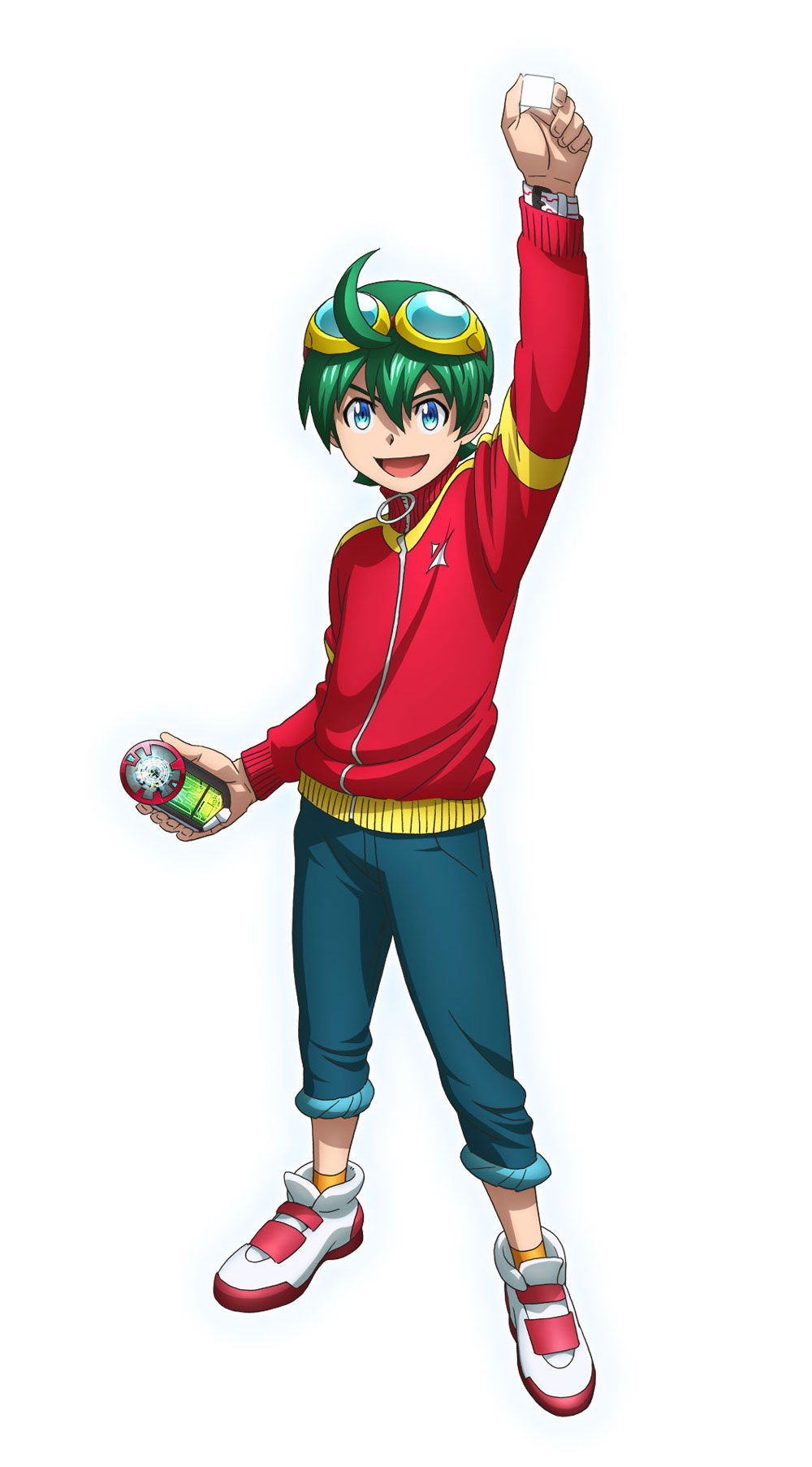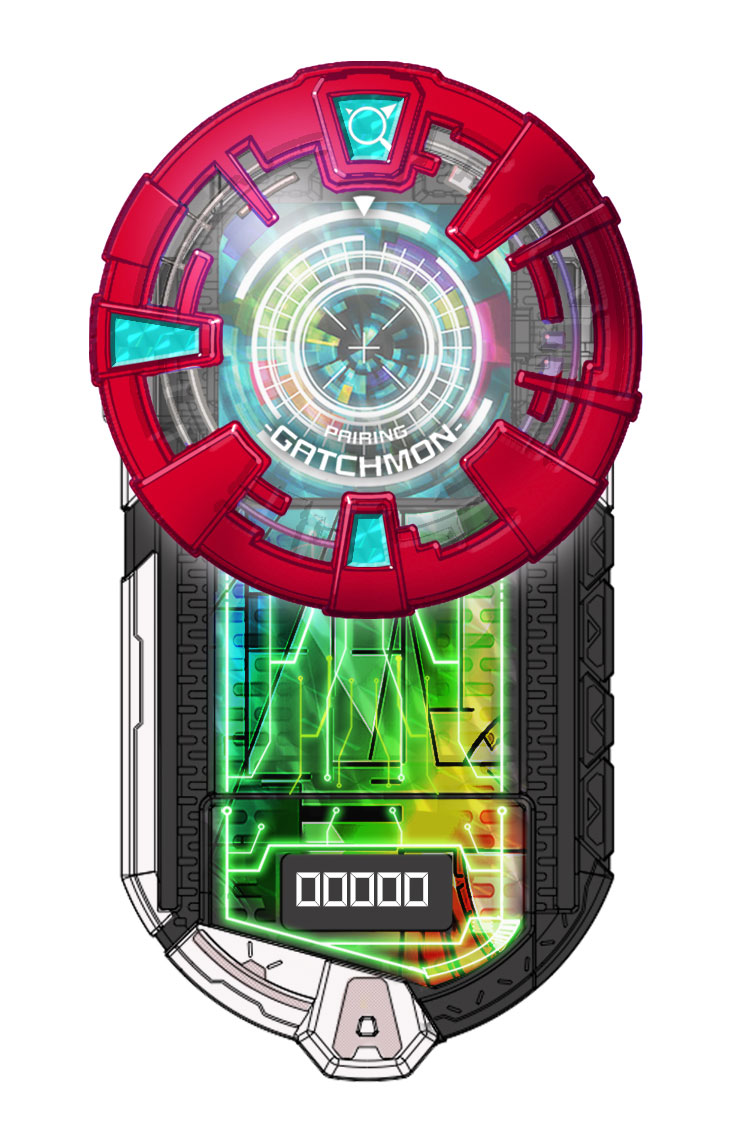 Then we have some super clean art of Haru, Gatchmon, and the Applidrive (which Toei seems to refer to as the 'AppDrive')
A few other images through the news post have been updated with cleaner and larger versions...
More to come surely...
Update- A plot description from
ANN
. Terms haven't been fixed or changed from what their translation uses.
Everyone in the world uses smartphone apps. But inside them lurks unknown creatures called "Appli Monsters," or "Appmon." The Appmon are AI lifeforms with the ability to think and act, and exist in the boundary between the human world and digital space to allow people and the system to interface and function. But in the vast sea of the internet, the "last boss AI" Leviathan takes control of the Appmon with a virus and begins hacking every system, thus starting to control the human world from the world of the net. The protagonist, Haru Shinkai, is led to acquire the Appli Drive, and uses it to materialize Gacchimon, a search app monster. What is the secret hidden within the Appli Drive? What is the mysterious field that exists between net world where the Appmon exist, and the real world? What is the "App Combine" that can combine two Appmons? What is Leviathan's true goal?
Update- Here are various links to various Appmon sites. Most of these we knew, but since many of them are now active instead of standby, linking to them again.
http://www.toei-anim.co.jp/tv/appmon/
http://www.b-boys.jp/apm/
http://www.carddass.com/dcdappmon/
http://www.carddass.com/apmcard/
http://appmon-game.bn-ent.net/
Update 200X- A few more things!
It appears in typing up everything I didn't type up that App Fusion is NOT the only way for a Appmon to increase their power.
An Appmon can plug into another Appmon via a process called App-Link. You can see, especially on the toys, that Appmon's have cables on their body. They can plug these cables into other Appmon to increase their power. The toys can mix and match pieces, so in the above product trailer, you see Gatchmon and Dokamon link into 'Gatchmon Plus Dokamon.' Various pieces of the Appmon figures can disconnect and reconnect (in the product trailer we actually see Gatchmon with Dokamon's gloves/fists at one point.)
Update- I put together a composite of some of the nice images the Cardass site used on it's border.
Great art of the Appmon.
Update- The official Appmon Youtube has uploaded the stage presentation they had at the toy show.