Show User Social Media
Hide User Social Media
Joined

Sep 8, 2006
Messages

13,988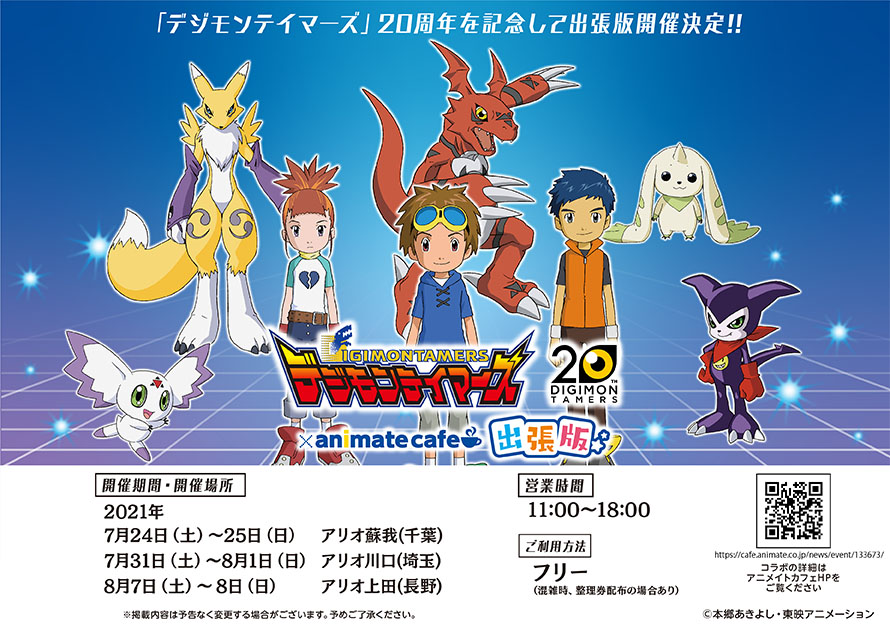 After being announced a few months ago
, the Tamers Kitchen Car was cancelled/postponed due to coronavirus.
They've just announced
(
2
) that it will in fact be held!
The new schedule is:
Ario Soga in Chiba, July 24th and 25th
Arioa Kawaguchi in Saitama, July 31st and August 1st
Ario Ueda in Nagano, August 7th and 8th
11am to 6pm at all the locations
On top of that, they've finally announced the lineup of food, drinks, and exclusive products.
The font type and size used means many of the tools I use worked iffy, so we'll see about better and more complete translations later, especially for the drink lineup... Update- Translation added.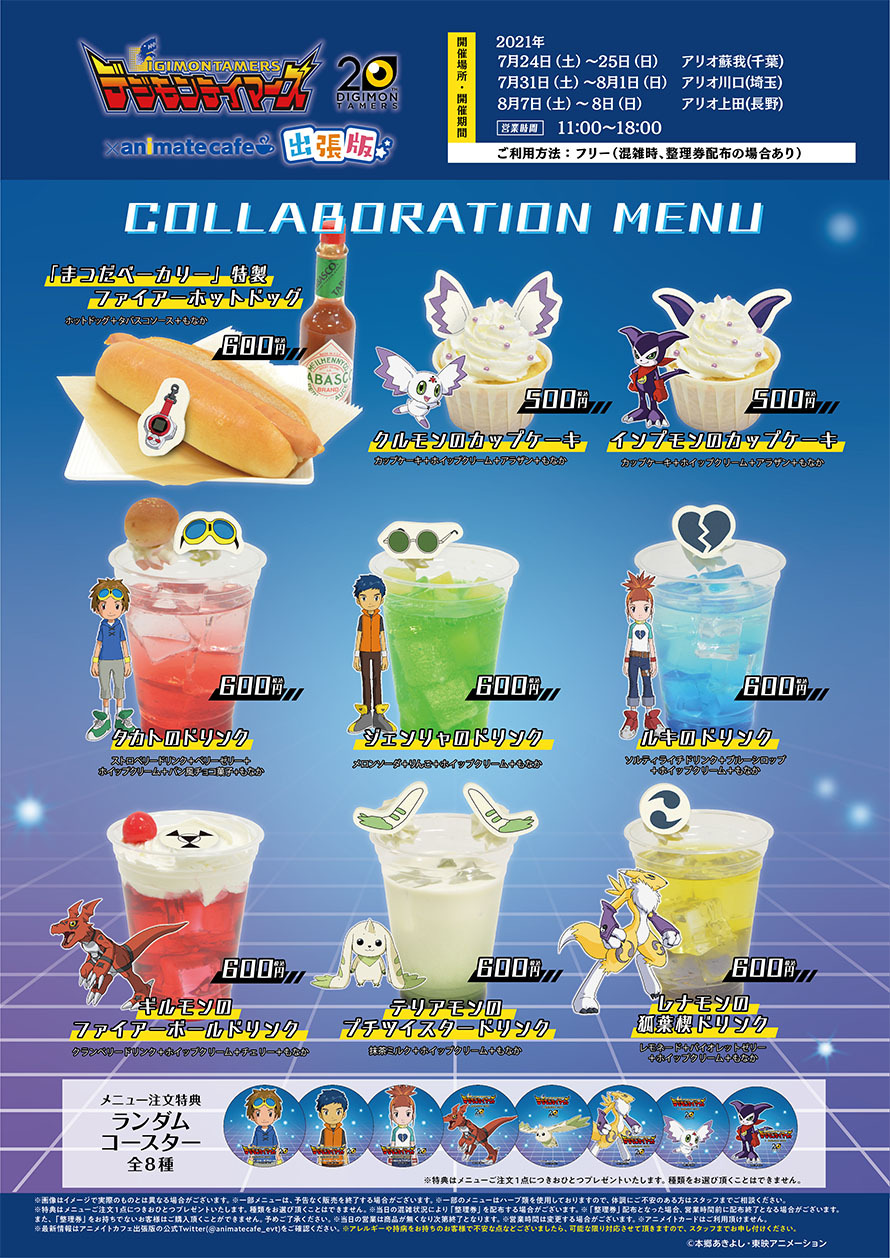 The food lineup is...
Matsuda Bakery Special Fire Hot Dog (600 yen): Hot Dog and Tabasco Sauce plus D-Arc Monaka
Culumon's Cupcake (500 yen): Cupcake with Whipped Cream and Silver Dragées plus Culumon Ears Monaka
Impmon's Cupcake (500 yen): Cupcake with Whipped Cream and Silver Dragées plus Impmon Horns Monaka
The collaboration Drinks are based on the 3 main partners and their Digimon. Each is 600 yen.
Takatos' Drink: Strawberry Drink with Berry Jelly and a Bread-Styled Chocolate Sweet plus Whipped Cream and a Goggles Monaka
Jianliang's Drink: Melon Soda with Apple plus Whipped Cream and Glasses Monaka
Ruki's Drink: Salty Lychee Drink with Blue Syrup plus Whipped Cream and a Broken Heart Monaka
Guilmon's Fireball Drink: Cranberry Drink plus Whipped Cream and a Cherry plus Digital Hazard Monaka
Terriermon's Petit Twister Drink: Matcha Milk plus Whipped Cream and Terriermon Ears Monaka
Renamon's Koyosetsu Drink: Lemonade and Violet Jelly plus Whipped Cream and a Tomoe Monaka
Each also comes with 1 of 8 coasters at random.
Then products!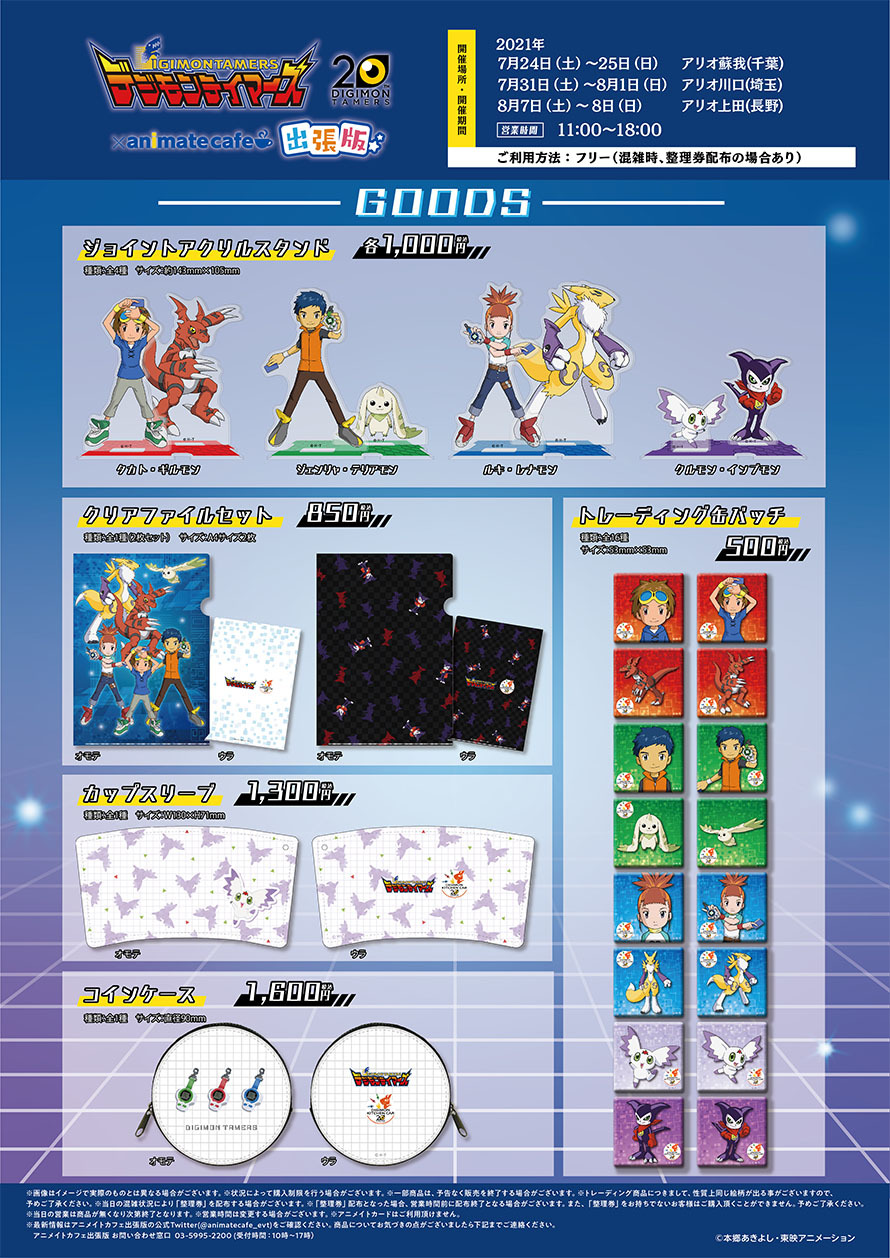 Acrylic Stands, 1000 yen each
A clear file set, 850 yen
Cup Sleeve, 1300 yen
Coin Purse, 1600 yen
Can badges (or magnets?)-0500 yen each
And last up, postcard bonus items...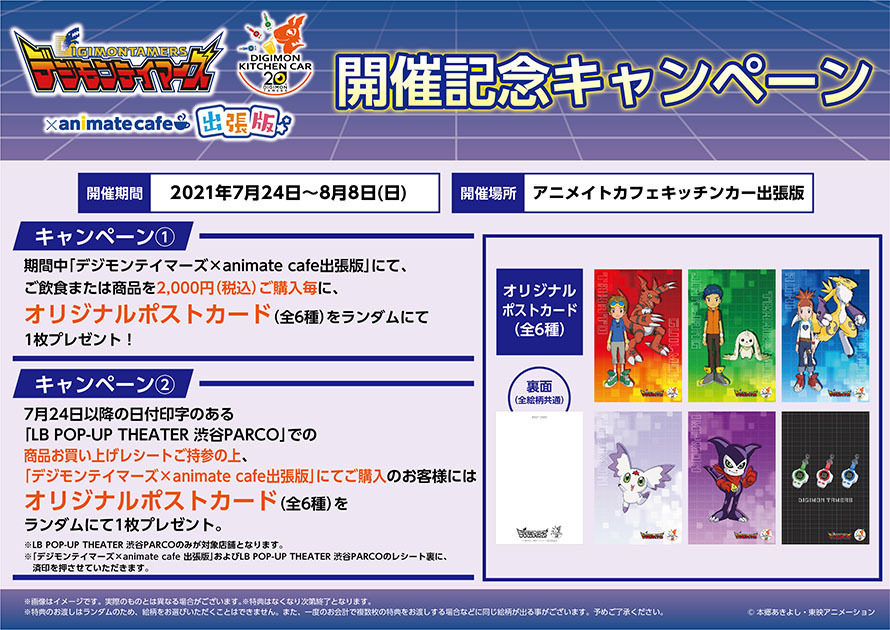 For every 2000 yen spent at the kitchen car, you'll get 1 of 6 postcards at random as a bonus.
Plus, if you go to the LB Pop-Up Theater in Shibuya, and bring your receipt to the kitchen car, you'll also get a random postcard.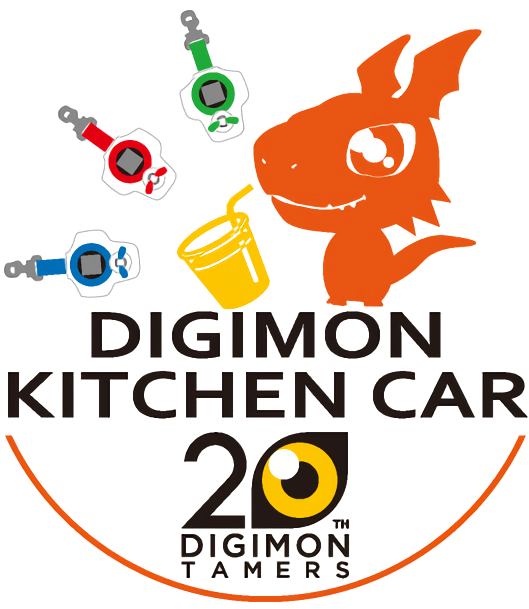 It's nice after the delays they could finally hold it.
Hopefully we can add proper translations later. Update- Menu translations added above. Thanks to the Golux.
We've currently pared down the list of intermediaries we list due to some places closing and others becoming iffy in their communication, calling into question their reliability. If you have any stories, positive or negative, about any intermediaries, DM me with them so we can figure out who might be worth adding (or re-adding), since these aren't affiliate links or anything, simply suggested ways to make it easier for fans to nab stuff.
You'll want to contact an intermediary to get these items sent to you. WtW is not affiliated with any, but here are a selection of intermediaries that have worked well for various WtWers and their friends in the past:
From Japan
Rider Proxy
Be aware many intermediaries do not carry items from specialty shops since they can't be ordered online. You will need to ask them and explain what you want very carefully (perhaps with a photo.) Some intermediaries will potentially still not be willing to get the item (or may only be willing to at great cost.) Realistically to get anything from the pop-up shop at a reasonable cost you'll have to find someone who is actually going and ask them to pick you up something.
Some of the intermediaries have a full store front and may have the item listed, so you may want to check that first.
Last edited: