Show User Social Media
Hide User Social Media
Joined

Sep 8, 2006
Messages

17,371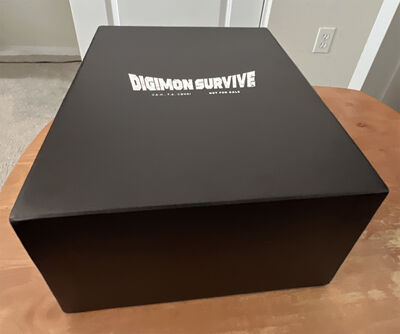 With only a week left until Digimon Survive is out, it was time for something a bit fun.
Bandai sent me a rather large box filled with Digimon Survive promotional merchandise.
I believe this makes up 'all' of the Digimon Survive gacha giveaway prizes from Anime Expo.
All the items were photographed with my phone during some limited free time a few days ago. Some photos are better than others. I did minor clean up, cropping, etc. The images are smaller copies which click through to large copies stored in our
gallery
.
The first thing didn't actually fit in the Digimon Survive case pictures above, and was packaged in the shipping box separately...
​
A Digimon Survive backpack. This one has multiple pockets, and seems decent enough, and is somewhat large.
Not sure when I'll use it, but good storage space.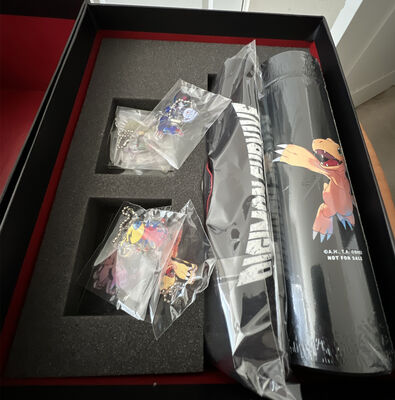 Once the box was open, various goodies were revealed.
​
The first item was a water bottle.
It has Agumon printed on one side, and the English Digimon Survive logo printed on the other.
It's a vacuum bottle, and seems to be pretty good quality. Opening it later, it has a steel strainer that snaps into place, to keep ice from falling out if you angle it to high, or to let you put in things to infuse your drink.
I have a few that I use that are a decent bit larger and had been thinking of getting a small one, and this one seems to be a pretty nice basic one.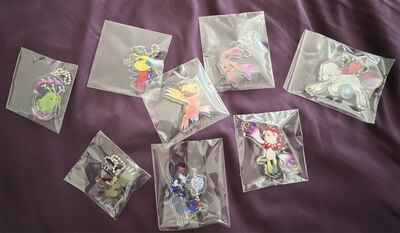 In the 2 pockets in the foam were 8 keychains, featuring the 8 partner Digimon from Survive, using their game profile artwork.
Basic but nice.
​
This somewhat rough cloth with a snap was next to the bottle, and it had a metal snap to keep closed.
Opened it showed...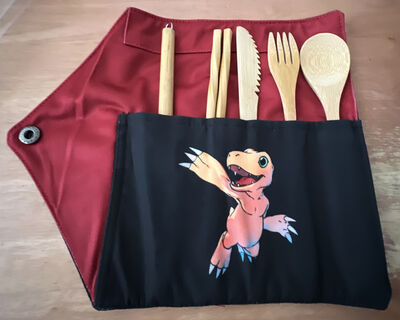 A utensil set. It has a full set of utensils made of wood, with the holder having art of Agumon.
The art is slightly tweaked from his Survive art to be printed on the cloth.
Not sure I'll ever use these, but they are kind of neat, and realistically meant to be paired with what was 'under' the foam holder that held everything else...

​
A bento box. It has some nice Survive branding, and is basic enough that you'd probably only want to use it when you can be careful carrying it, as it doesn't solidly seal or lock to hold in temperature (or the items). An interesting but basic bento box, but I'm guessing some people who got it will use it, and as long as they are careful with the foods they pick and carrying it, it'll work decently.
It's a fun batch of promotional items, and since they were given away at Anime Expo, more fun than some of the general giveaways you tend to see at events, so definitely would have been exciting to win one at the event.
Thanks to Bandai for sending over the set. It's really a nice little set, and a few of the items I'll be getting some use out of.
Just one week until Digimon Survive is out...
Digimon Survive is out July 28th in Japan and July 29th worldwide.
Digimon Survive can be pre-ordered at Amazon.com: (affiliate links)
Digimon Survive for Switch
Digimon Survive for PS4
Digimon Survive for Xbox One
The images can all be found in the gallery.
Lots of Digimon stuff is coming out soon and supporting us via our
Patreon
or
donations
would be greatly appreciated so that we can do more and improve the site. Feel free to join us in the
Discord
if you want to chat.