Show User Social Media
Hide User Social Media
Joined

Sep 8, 2006
Messages

12,705
Digimon Shop at LB Pop-Up Theater Product Info & Memorial Short Details & Screenshots
Pop-up shop product detail time!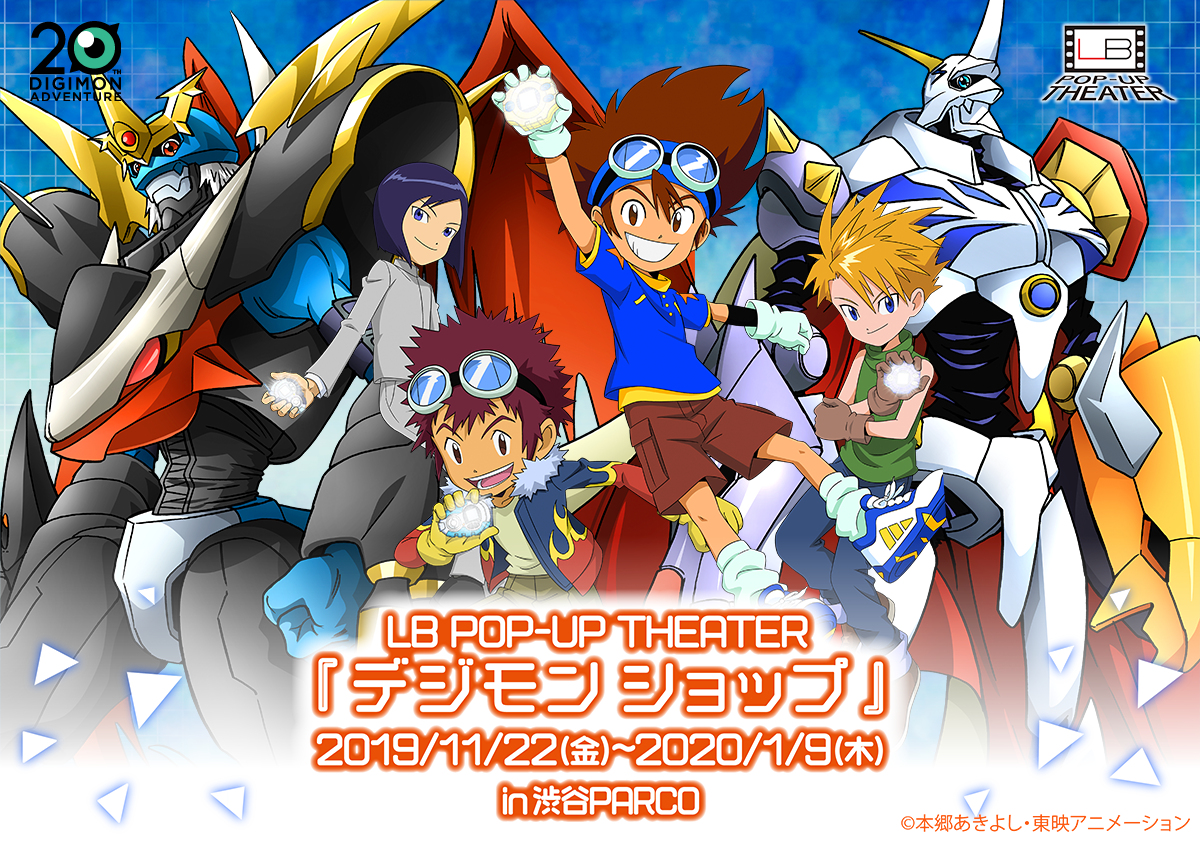 This is the 8th full Limited Base pop-up shop for Digimon (a few smaller ones, and other brands have been done also of course.)
This newest pop-up shop will be at the brand new Limited Base Pop-Up Theater at the Shibuya Parco
(on the 6th floor.)
Included at the shop will be a small theater that will show
the Memorial Shorts
. More details on that will be below the product info.
It will run November 22nd thru January 9th.
We have a bunch of items to go through, starting with items new and specific to this pop-up shop, including quite a bit of new artwork!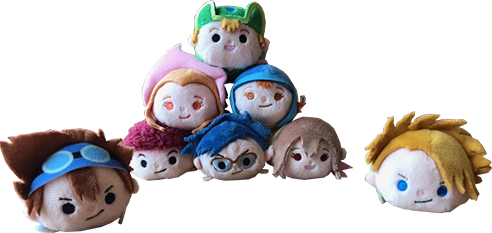 New otedama! The small bean bag characters return, this time designed after the Adventure chosen children! These are 650 yen each and come in 8 types.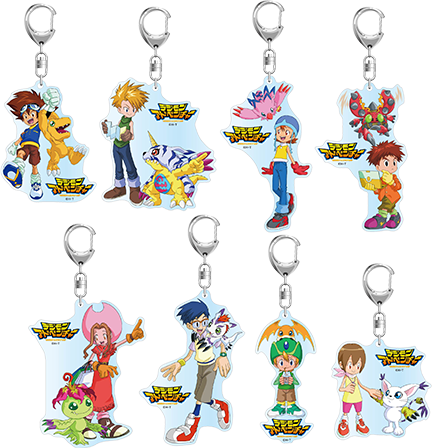 Adventure Acrylic keychains! Each of these features new art of a kid and their Digimon. They are 900 yen each and there are 8 types.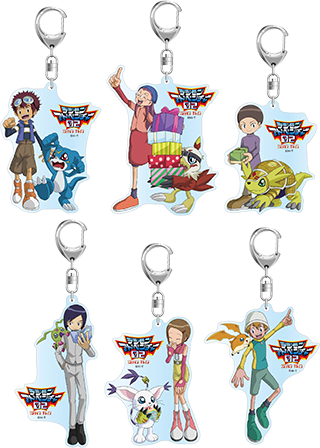 02 Acrylic keychains! Each of these features new art of a kid and their Digimon. They are 900 yen each and there are 6 types.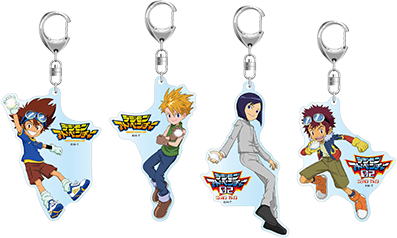 Acrylic keychains based on the key art of the pop-up shop! These are 900 yen each and there are 4 types.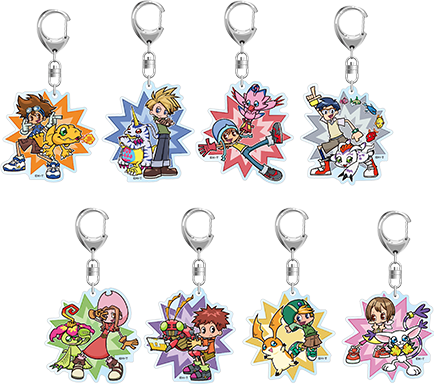 Acrylic keychain with new 'pop pattern' art of the kids and their Digimon that has a rather striking cartoony look to it. These are 900 yen each and there are 8 types.
Stick keychains featuring artwork from the 20th memorial artwork featuring the Digimon and their Ultimate form. These are 600 yen each, and there are 16 types.
Tag type keychains. These are pretty similiar to the stick keychains, but are shaped like the tags from Adventure. These are 700 yen each and there are 16 types.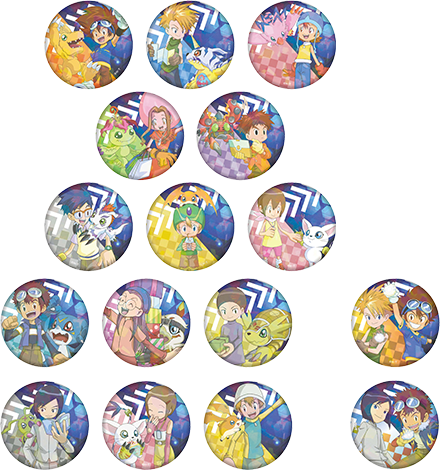 Holographic can badges featuring the new art of the Adventure and 02 kids, plus the shop key art. Each of these appears to be roughly 3 inches in diameter and costs 400 yen each. There are 16 of these and they are blindpacked.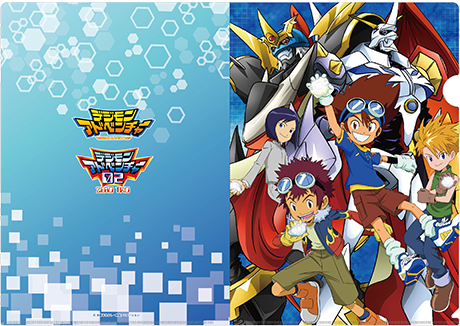 This clear file features the key art of the shop on one side, with both show logos and 2 digital motifs on the back for 400 yen.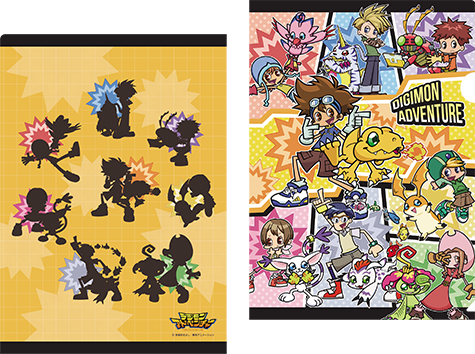 This clear file features the pop pattern art on both sides, with the front showing off the art, and the back having silhouettes. It costs 400 yen.
These travel stickers can be placed on your bag when you travel or anywhere you want them. They are 700 yen each and there are 12 of them.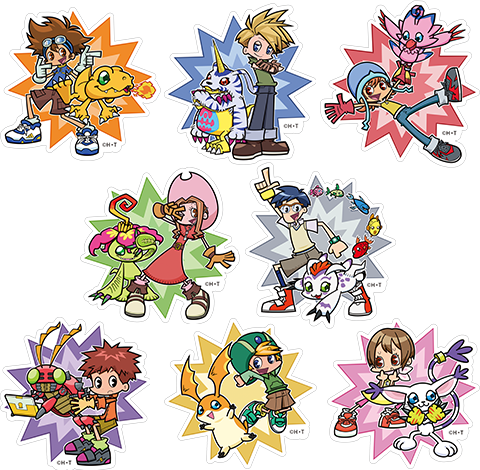 These die cut stickers feature the pop pattern artwork. Each is 600 yen and there are 8 of them.
The art on these acrylic de towers (dioramas basically) also appears to be new! There are 4 types and each is 2,300 yen.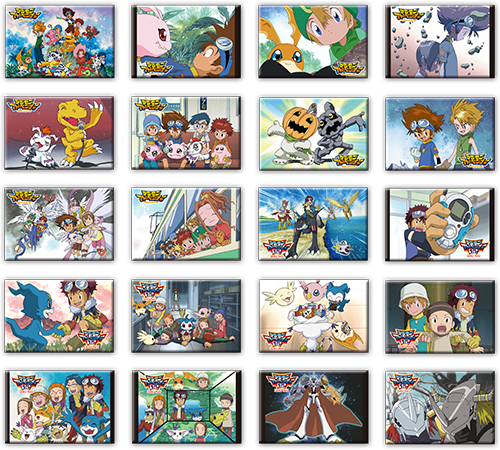 These memorial magnets feature a number of notable scenes from Adventure and 02. They are 700 yen each, there are 20 of them, and they are blindpacked.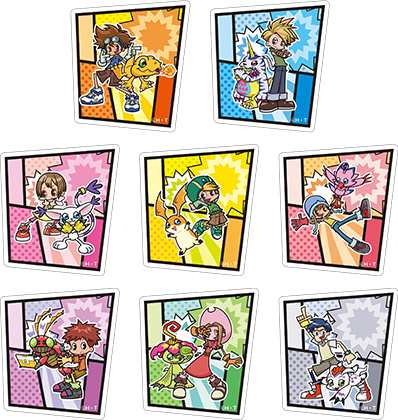 The pop pattern art appears on these acrylic magnets also! They are 600 yen each and there are 8 of them.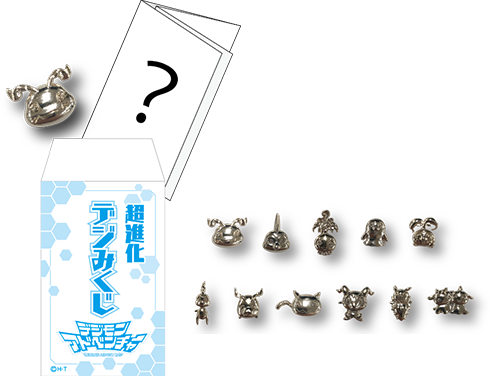 These 'digi fortune slips' not only contain little fortunes, but they have little figurines with them also. There are 12 of them, they are 600 yen each, and they are blindpacked.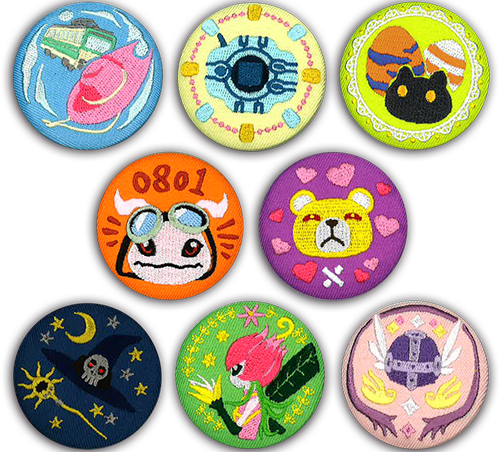 These embroidery patches will be a neat way to add some Digimon theming to outfits or bags, etc. There are 8 types that are blindpacked for 800 yen each.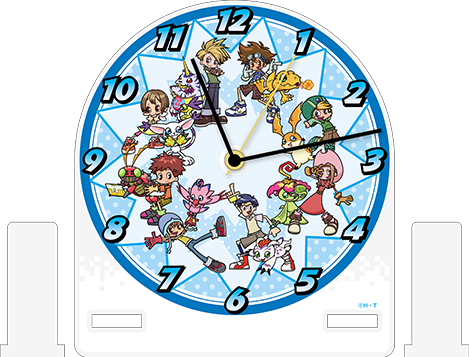 This deskside acrylic clock features the pop pattern artwork and costs 3,500 yen.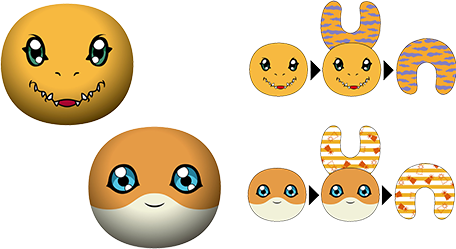 These are 2 way cushions. They can convert between cushion and neck pillow. They are 4,000 yen each and come in 2 types.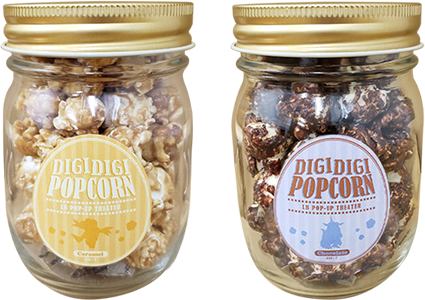 They have a theater attached, so that they sell popcorn isn't a huge surprise... DigiDigi Popcorn is popcorn that comes in small mason jars. It's 800 yen each and comes in Caramel (with Agumon) and Chocolate (with Gabumon.)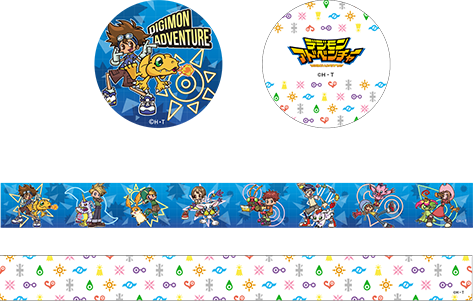 Character masking tape returns! This time one roll is the pop patten art, while the other is crest themed. Each is 600 yen.
Then we have a few returning items...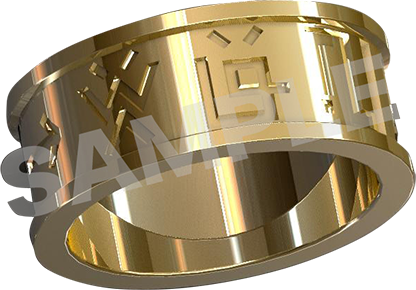 The holy ring returns again. It's 14,000 yen.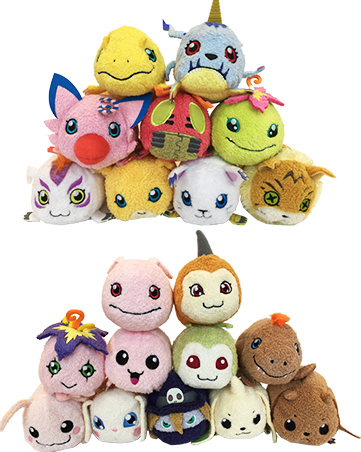 The Digimon otedama return also! These are 650 yen each. While they show both batches of prior otedama, only 15 total from these batches are returning for the new shop: Agumon, Gabumon, Patamon, Tailmon, Gomamon, Palmon, Tentomon, Piyomon, Koromon, Tanemon, Tsunomon, Tokomon, Pyocomon, Pukamon, and Mochimon.
On top of that are also 2 recent items being made available that use the stitches art.
This small cup holds 1.1 cups of liquid and costs 700 yen.
This small canister is about 3.7 inches tall with it's top off and costs 900 yen.
On top of that there is the Memorial Short screenings... they also give us a few screenshots of the first short, To Sora!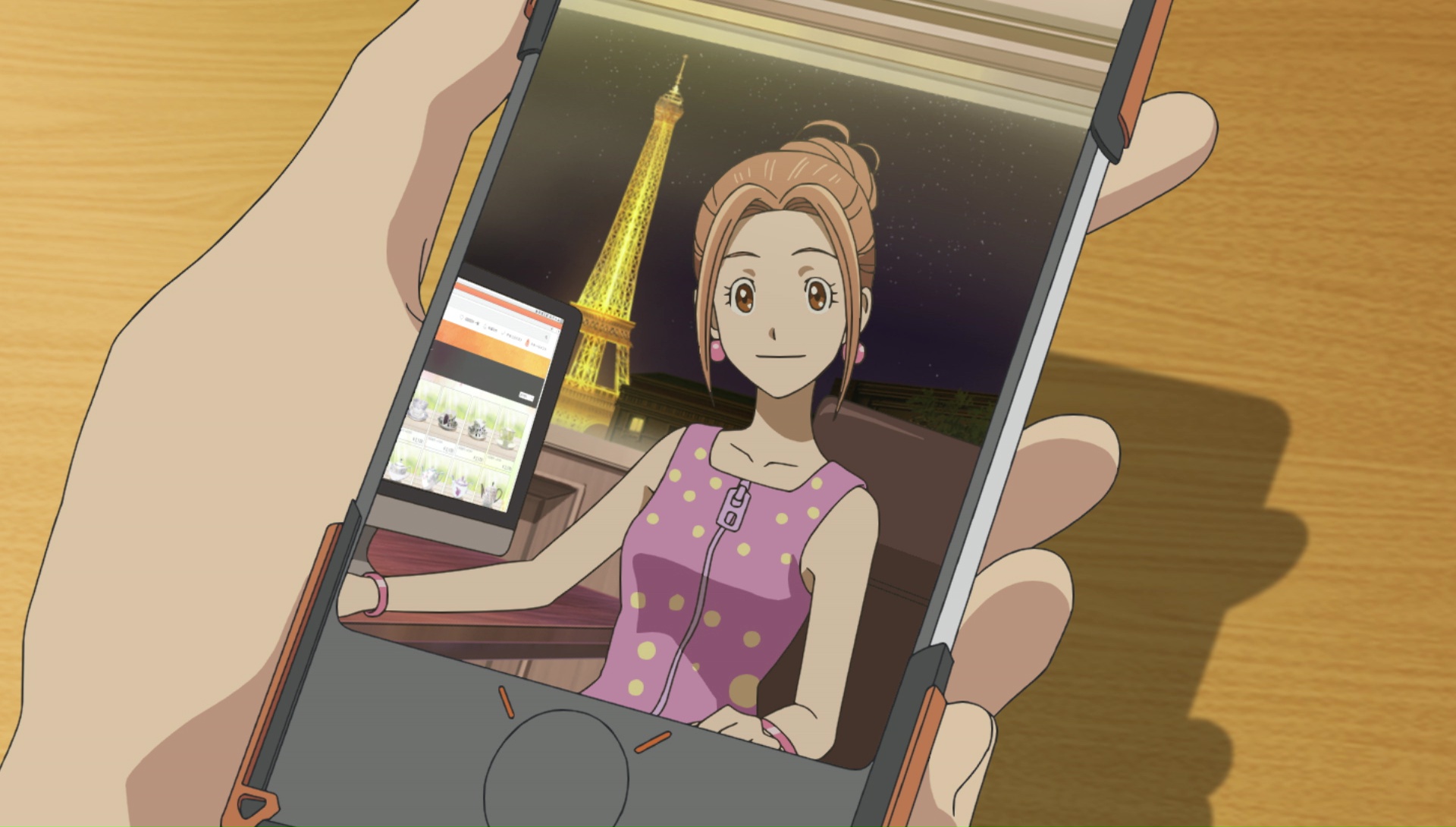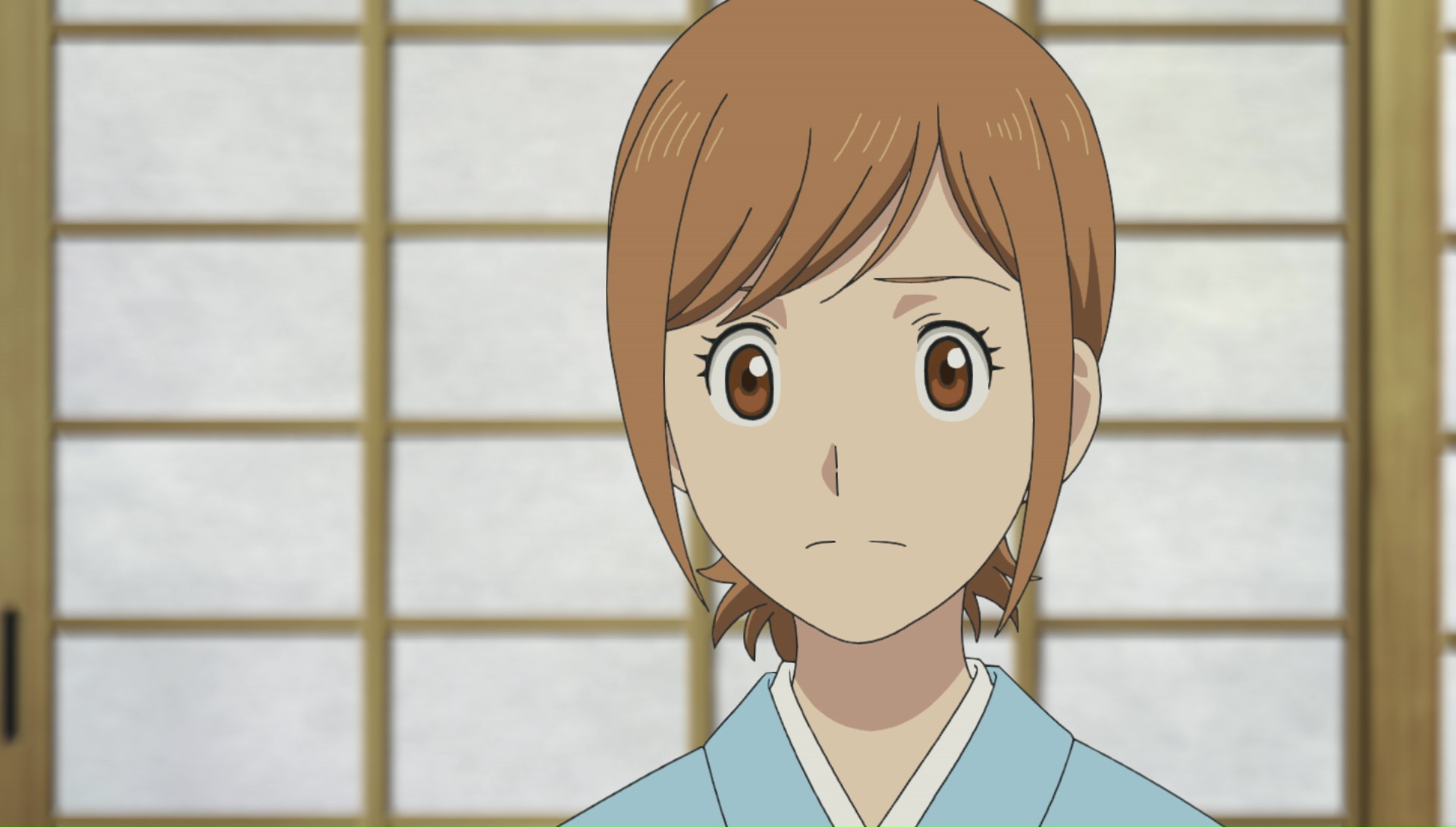 We've gotten
storyboards of the shorts
before (with the same shot of Mimi, with a slightly different smile) but I believe these our are first finished screenshots.
They also provide roughly the same description we have from when we got hte storyboards.
No mention is made of the other shorts and how they might be scheduled.
As for how to see it...
LB Pop-Up Theater will offer point cards. 1000 yen spent at the store gets you one point, and you can trade in 5 points to enter the small theater.
They note they expect it to be super crowded the first few days. Shop staff will make sure people are lined up properly, but they again expect it to be packed so you might not even be able to shop.
When there are free screenings the start time will be announced on
the Pop-Up Theater Twitter.
Historically they've announced more products later, so we will see what shows up over the next week as we get to the shop opening
We'll add more translated shop details as we can.
You'll want to contact an intermediary to get these items sent to you. WtW is not affiliated with any, but here are a selection of intermediaries that have worked well for various WtWers and their friends in the past:
From Japan
Rider Proxy
Nippon-Yasan
Be aware many intermediaries do not carry items from specialty shops since they can't be ordered online. You will need to ask them and explain what you want very carefully (perhaps with a photo.) Some intermediaries will potentially still not be willing to get the item (or may only be willing to at great cost.) Realistically to get anything from the pop-up shop at a reasonable cost you'll have to find someone who is actually going and ask them to pick you up something.
Some of the intermediaries have a full store front and may have the item listed, so you may want to check that first.