Show User Social Media
Hide User Social Media
Joined

Sep 8, 2006
Messages

13,988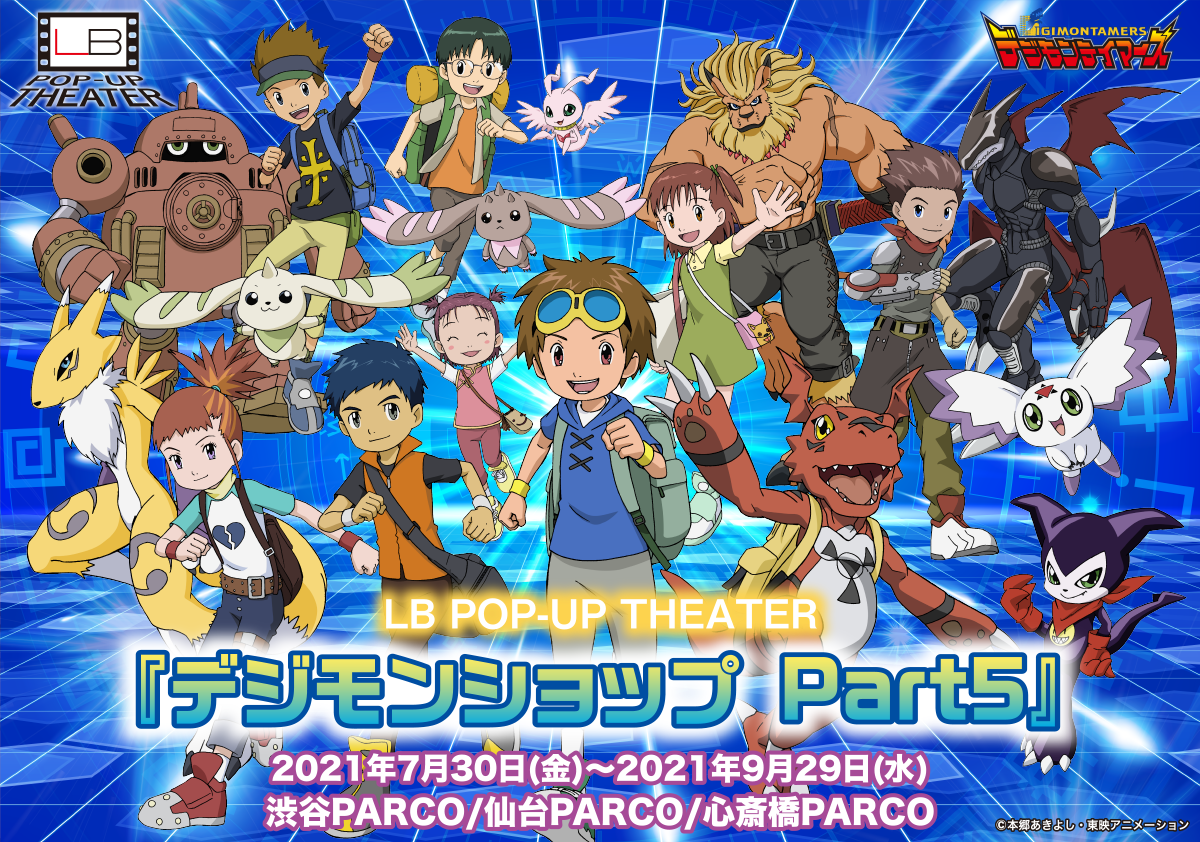 We found out about it a few days ago
, and it's just a couple weeks
from the newest Digimon pop-up shop
!
This is the 12th full Limited Base pop-up shop for Digimon (a few smaller ones, and other brands have been done also of course.)
The newest pop-up shop will be at the Limited Base Pop-Up Theater at:
the Shibuya Parco (on the 6th floor)
the Sendai Parco Main Building (on the 5th floor)
the Shinsaibashi Parco (6th floor)
The theme and key art are based on Digimon Tamers, along with a number of new Adventure items on top of it.
The shops will run July 30th through September 29th.
Included at the shop will be a small theater that will show the fifth memorial short. More details on that will be below the product info.
A few additional details:
More items will be announced later, and there will be various pre-existing Digimon products 'not' announced that will be at the store.
Update- Alternate keyart, more products, online sales, and more have been announced. Details can be found
here
.
Everything on the list so far is exclusive to Limited Base (possibly also Digimon Partners later), so lets get onto the products!
Limited Base exclusive can badges! There are both Adventure and Tamers sets. Each can badge is 440 yen.
There are 16 in the Adventure set, and they are randomly packed.
There are 18 in the Tamers set, they are also randomly packed. (The sets are specific to each, so you'd know which set you are buying from.)
Clear files! Each of these has the new artwork of the characters on the front, with the show logo on the back. Each is 440 yen.
These acrylic keychains feature all the new character artwork for the Adventure (16 total) and Tamer (18 total) characters. Each is 990 yen.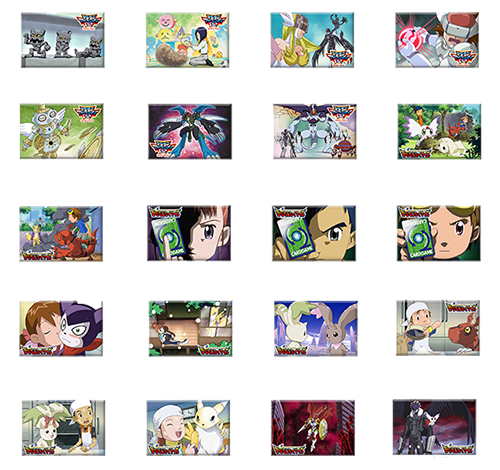 These fourth set of memorial magnets feature a number of notable scenes from 02 and Tamers. They are 770 yen each, there are 20 of them, and they are blindpacked.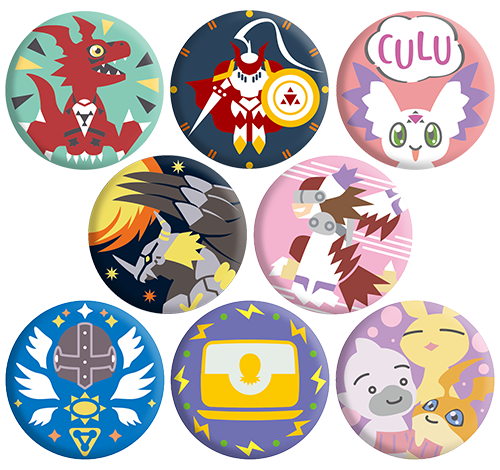 A 3rd set of the embroidery patches! There are 8 total, with 3 from Tamers, 2 from 02, 2 from Adventure, and 1 from Frontier. These are 880 yen each and are blindpacked.
These 5 new travel stickers are Tamers themed and cost 770 yen each.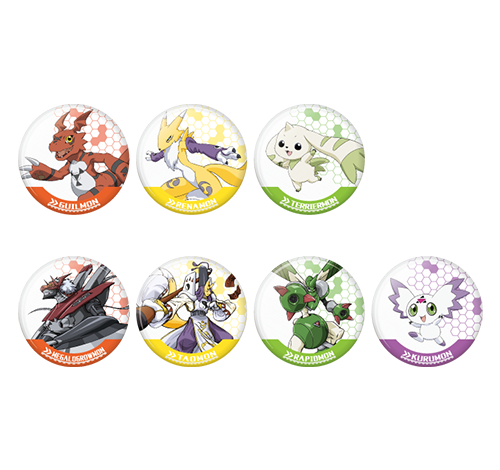 More Tamers can badges. The Tamers TD can badges feature the main trio at child and perfect stage, along with Culumon. These are 440 yen each, and are packed random.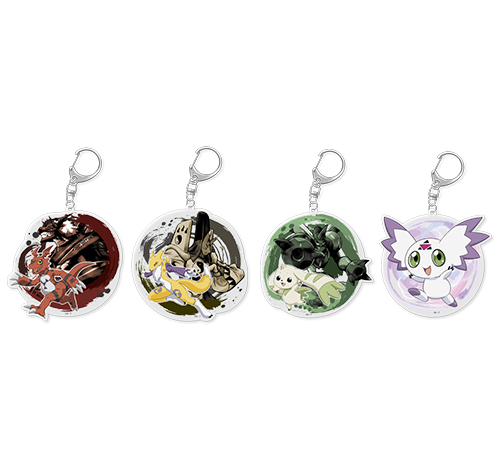 These acrylic keychains are 990 yen each. There are 4 of them.
A 3rd series of Acrylic de Towers, this time featuring the Tamers duos. Each is 2,530 yen.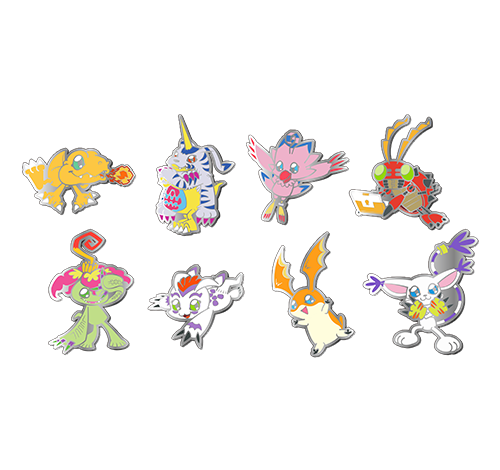 Digimon pin badges featuring the Adventure pop artwork we haven't seen in quite awhile. Each of these is 990 yen.
And one item with no photo at the moment...
The ever popular beanbag otedama characters return! These will be 515 yen, and the new designs this time will be: Omegamon, Greymon, Garurumon, Angemon, Angewomon, Ikkakumon, Birdramon, Togemon, Kabuterimon.
Plus 2 pop-up shop events have been announced...
The first is Gabumon will show up at the Shinsaibashi location on August 7th. They will do photo events at 1pm and 3pm that day, for 20 groups each time. It will be first come first serve via a ticketing system.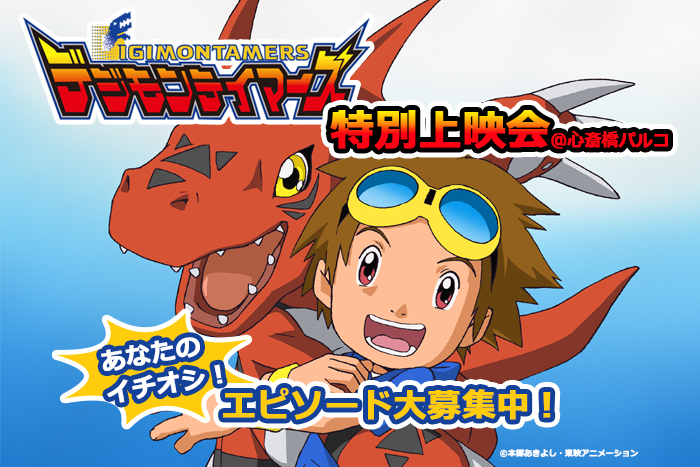 And then is a Digimon Tamers special screening event. To commemorate the reopening of Shinsaibashi store, they will do screenings of Digimon Tamers on August 9th and 15th.
Each day 3 episodes will be screened, twice, via a ticketing system. Each screening will be for 70 people.
Over at Digimon Partners
, they are asking what episodes should be shown. They are asking people to comment on the related post before the end of July 26th to help decide.
On top of that there is the Memorial Short screenings... this time they will be showing the fifthshort, The Shibuya-ish Heroic Saga of Pump and Gotsu!
This is the last of the shorts, and the only one that hadn't been shown in the Pop-Up Theater up until now (likely due to various event delays.)
As for how to see it...
LB Pop-Up Theater will offer point cards. 1000 yen spent at the store gets you one point, and you can trade in 5 points to enter the small theater.
They note they expect it to be super crowded the first few days. Shop staff will make sure people are lined up properly, but they again expect it to be packed so you might not even be able to shop. The shops may have specialty safety measures in place, which they will try and update the Limited Base with site.
When there are free screenings the start time will be announced on
the Pop-Up Theater Twitter.
It also wouldn't be a surprise if
the recently announced Tamers 20th promo cards
end up as a purchase bonus.
We'll add more translated shop details as we can.
We've currently pared down the list of intermediaries we list due to some places closing and others becoming iffy in their communication, calling into question their reliability. If you have any stories, positive or negative, about any intermediaries, DM me with them so we can figure out who might be worth adding (or re-adding), since these aren't affiliate links or anything, simply suggested ways to make it easier for fans to nab stuff.
You'll want to contact an intermediary to get these items sent to you. WtW is not affiliated with any, but here are a selection of intermediaries that have worked well for various WtWers and their friends in the past:
From Japan
Rider Proxy
Be aware many intermediaries do not carry items from specialty shops since they can't be ordered online. You will need to ask them and explain what you want very carefully (perhaps with a photo.) Some intermediaries will potentially still not be willing to get the item (or may only be willing to at great cost.) Realistically to get anything from the pop-up shop at a reasonable cost you'll have to find someone who is actually going and ask them to pick you up something.
Some of the intermediaries have a full store front and may have the item listed, so you may want to check that first.
Last edited: