Show User Social Media
Hide User Social Media
Joined

Sep 8, 2006
Messages

15,593
As expected...

The dubbed versions of Adventure (and 02), Tamers, and Frontier have been removed from Hulu,
as expected after they were listed as leaving
the service awhile ago.
Hulu is also the video provider for the free Yahoo View video service, which is closing later today.
(Various information below may be from the prior articles on this matter.)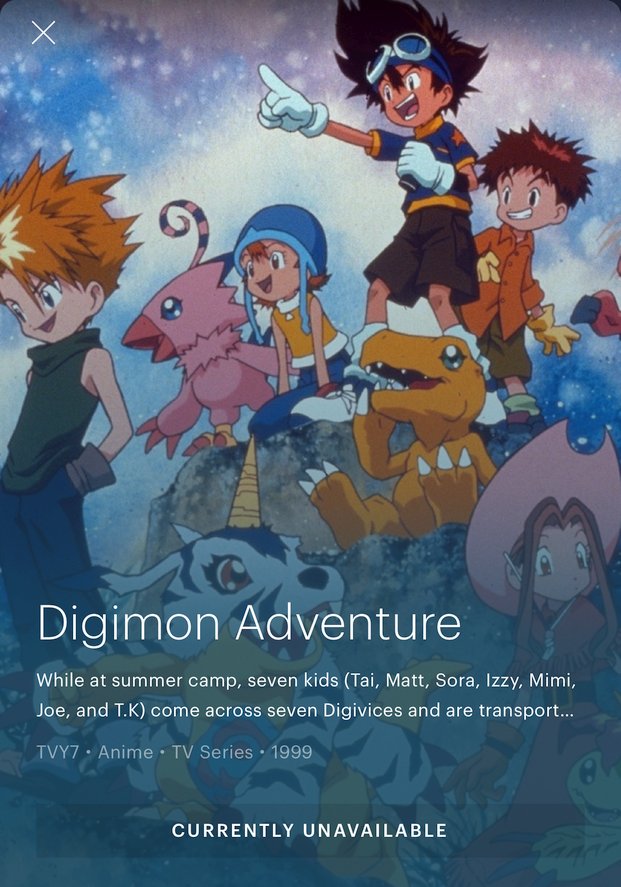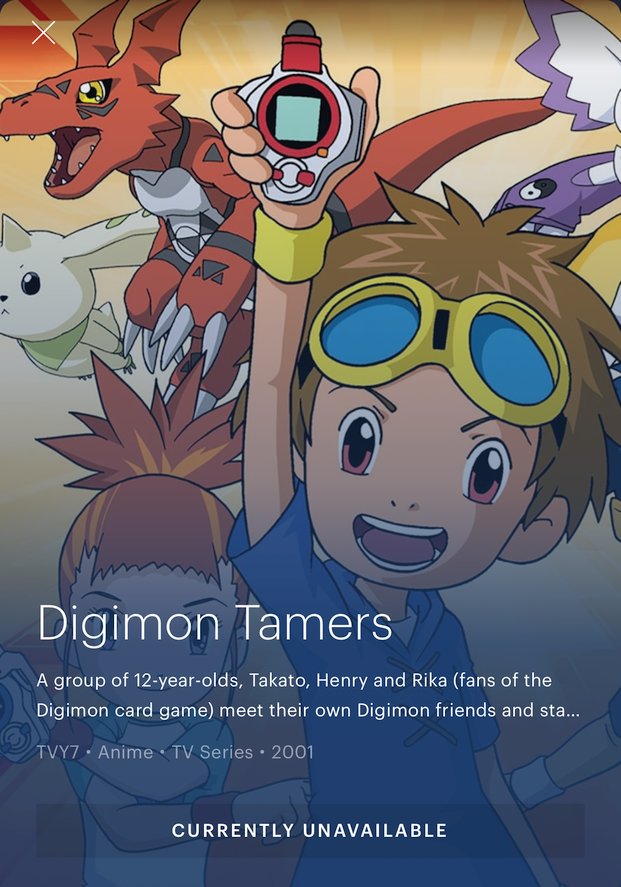 The pages all list the shows as unavailable.
In addition to Hulu, various places associated with ConTV (the video service owned by Cinedigm, the current video distributor for those seasons)
removed the show recently
, including ConTV itself.
With it vanishing off Cinedigm's own streaming service, one does have to wonder if this might be the end of their licensing of the series, in which case, what might be next?
At the moment, Starz still has them (minus Tamers, which it never had), and the few places that had Data Squad and Fusion still have them.
Previous information shows all of the Cinedigm associated DVDs going out of print except Adventure, 02, and Fusion, and for now those are still in stock at various places, along with the apparently discontinued ones, so if you want to nab the show, this might be a good time...
All the Digimon TV DVDs are still orderable at Amazon at the moment: (affiliate links)
Digimon Season 1 (Adventure)
Digimon Season 2 (Zero-Two)
Digimon Season 3 (Tamers)
Digimon Season 4 (Frontier)
Digimon Season 1 thru 4 Boxset
Digimon Data Squad
Digimon Fusion Season 1
Digimon Fusion Season 2
Thanks to a few people who sent this in.