Show User Social Media
Hide User Social Media
Joined

Sep 8, 2006
Messages

16,448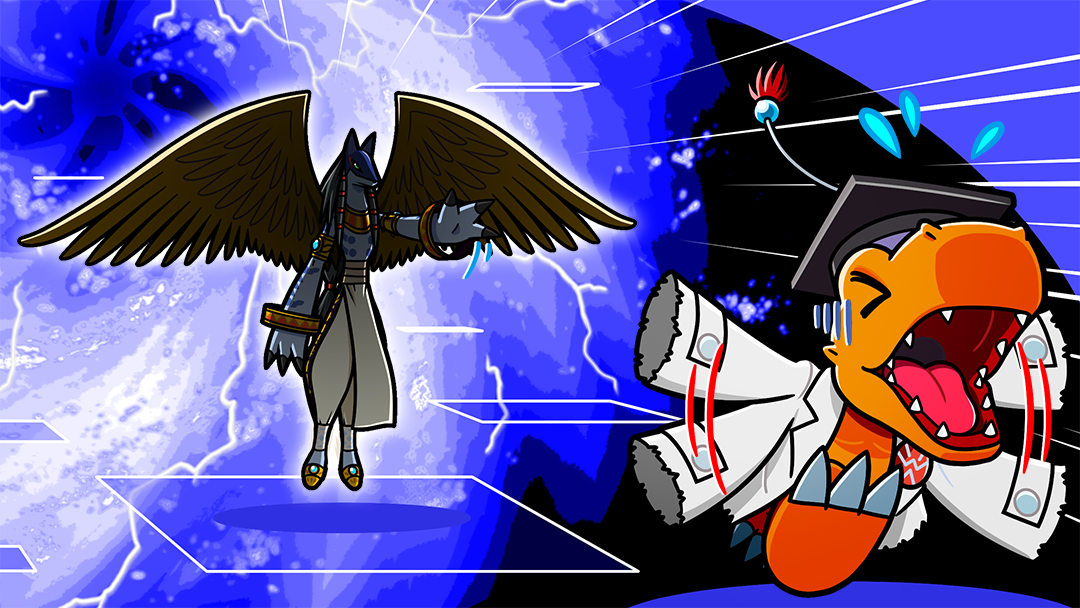 A new Digimon Profile has gone up on Digimon Web!
Digimon Profile #35
is an article that details information on the Dark Area and the Digimon you can find there.
The introduction from Agumon Hakase...
This time, we will introduce you to the "Dark Area," a hellish area that is also a stronghold of dark Digimon.
What is the "Dark Area"?
The data of Digimon that died in battle has to go somewhere, right? Anubismon safeguards and oversees this process. Data judged "good" is reincarnated into a Digi-Egg, while data judged to be "bad" is sent to wander in the Dark Area.
A deteriorated environment akin to a graveyard or hell for Digimon.
Some Digimon who committed evil deeds are sent to the Dark Area while still alive, and may transform into Fallen Angels or Demon Lord Digimon.
The normal Digital World, Digital World: Iliad, and others each have their own Dark Areas.
Each Dark Area is connected to a deepest layer known as Cocytus. There is only one Cocytus, an area shared by each and every Digital World.
The Guardian and Overseer of the Dark Area
Anubismon- Constantly monitors the Dark Area, acting as the judge of the Digital World.
Digimon Inhabiting the Dark Area
Digimon like Evilmon, Dracumon, Phascomon, Porcupamon. Some are there by choice, others by exile.
Typical Digimon that have been corrupted and fallen into the "Dark Area."
Digimon like Devimon, Deathmon, SkullSatamon. They fell into the Dark Area due to the evil they committed in the Digital World.
Digimon Who Make Cocytus Their Stronghold
GrandDracumon, Gulfmon. Just like the Seven Great Demon Lords, they've made Cocytus their base of operations. Each one is an incredibly powerful and exceptionally dangerous being.
Agumon Hakase finishes with...
Some Digimon like Astamon call the area their stomping grounds, while other Digimon like Voltobautamon were born from accumulated grudges. By nature, Digimon who reach the end of their lifespan leave behind the data composing themselves in Digi-Egg form and are reborn, so the Dark Area doesn't have much to do with them... Still, the fact remains that it's a dangerous place. You'd better be a stand-up 'mon in the Digital World, or get ready for a big fall!
Prior Digimon Profiles:
Introduction & First 5 Profiles
#6- Report on the Four Holy Beasts & their Subordinates
#7- Vehicle Digimon
#8- Knight Digimon
#9- How to Read the Digimon Encyclopedia
#10- The "Four Great Dragons" Digimon
#11- Levels
#12- Armor Level & Digimentals
#13- The Digital World's Super Alloy, Chrome Digizoid
#14- Hybrid Forms & Spirits
#15- The Three Great Angels and the Kernel
#16- Digimoji and Digicode
#17- How to Draw Gammamon
#18- Food Digimon
#19- Scary Digimon that Embody the Spirit of Halloween
#20- Digimon Types/Attributes
#21- Digimon Jogress/Fusion
#22- Digimon Rivalries
#23- Speedy Digimon
#24- Digimon with Dreams
#25- Digimon of the D-Brigade
#26- The Seven Great Demon Lords
#27- X-Program & X-Antibody
#28- Digimon Classifications
#29- Digimon in the Crack Team
Sukamon Profile #30- Sukamon and Digimon Poop- Fake Agumon Hakase Takes Over Digimon Profile for April 1st
#31- Digimon That Are Perfect for Flower Viewing
#32- The Other-Dimensional Digital World of Witchelny
#32- The Other-Dimensional Digital World of Witchelny
#33- The Fabled Legend-Arms Digimon
#34- The Enigmatic Digimon of the Olympos XII & Reference Book Updates