Show User Social Media
Hide User Social Media
Joined

Sep 8, 2006
Messages

16,413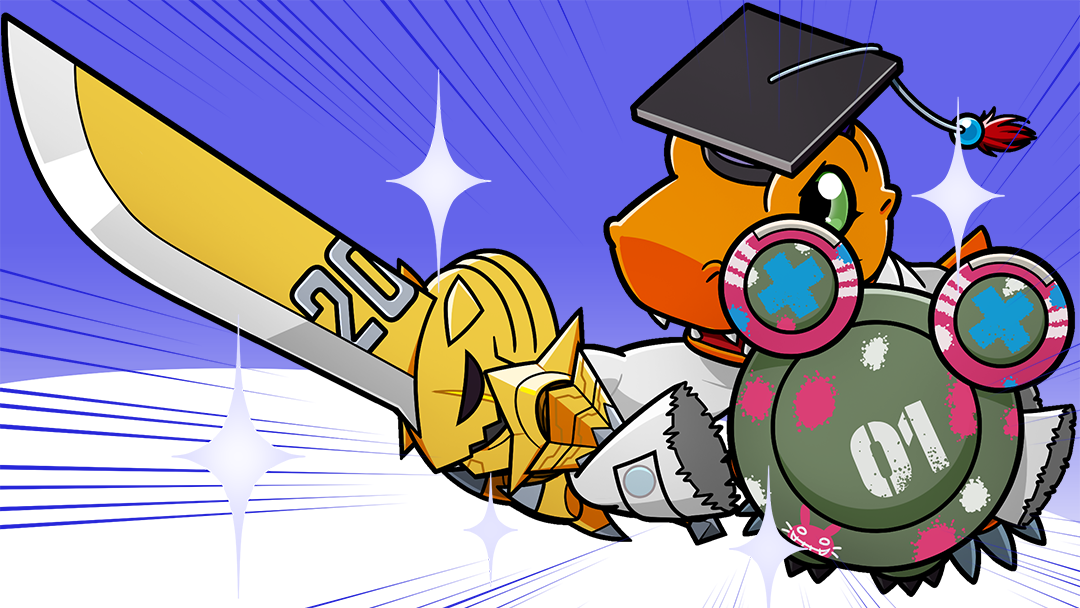 A new Digimon Profile has gone up on Digimon Web!
Digimon Profile #33
is an article that details information on the legendary group of Digimon known as the Legend-Arms.
The introduction from Agumon Hakase...
There are plenty of Digimon that wield weapons, but did you know there are some who can become weapons themselves? These Digimon are called the Legend-Arms. This time, we learn a bit about these walking weapons.
Story of the Legend-Arms
Digimon who can transform their bodies into weapons, these are the Legend-Arms, which lend says can save the world if in the hands of angels, or destroy it in the hands of a devil. At the moment, Zubamon, Ludomon, and Spadamon have been confirmed, along with evolutions, each of which can transform into their own weapons.
Zubamon and Evolutions
Zubamon, Zubaeagermon, Duramon, Durandamon.
They are weapon type Digimon, and can turn into a sword once they evolve into Zubamon onwards. When it evolves into Durandamon, it has a cutting edge sharp enough to cleave any barrier.
Sword Transformations- Zubamon & Durandamon
Ludomon and Evolutions
Ludomon, TiaLudomon, RaijiLudomon, Bryweludramon
They are armor type Digimon, and can turn into a shield once it evolves to Ludomon. By the time it evolves into Bryweludramon it becomes a shield of unparalleled hardness that stands undamaged in the face of any attack
Sword Transformations- Ludomon and Bryweludramon
​
Other Legend-Arms Digimon
Spadamon- Despite it's serious and hardworking personality, it succumbs to pressure from time to time. Spadamon's fighting skill is low, but once he becomes a spear, he shows his true value.
RagnaLordmon- This form is created when Durandamon and Bryweludramon Jogress. RagnaLordmon was supposedly created when these Digimon resonated with eachother, brought on by the awakening of an evil being in the Dark Area.
Agumon Hakase finishes with...
These amazing Digimon are strong enough on their own, but show their true worth as weapons in the hands of allies! And its not just swords and shields—you can bet your bottom dollar that there are other types of Legend-Arms out there, too! Oh, and some Digimon that turn into weapons for other reasons! Who'da thunk it?!
Prior Digimon Profiles:
Introduction & First 5 Profiles
#6- Report on the Four Holy Beasts & their Subordinates
#7- Vehicle Digimon
#8- Knight Digimon
#9- How to Read the Digimon Encyclopedia
#10- The "Four Great Dragons" Digimon
#11- Levels
#12- Armor Level & Digimentals
#13- The Digital World's Super Alloy, Chrome Digizoid
#14- Hybrid Forms & Spirits
#15- The Three Great Angels and the Kernel
#16- Digimoji and Digicode
#17- How to Draw Gammamon
#18- Food Digimon
#19- Scary Digimon that Embody the Spirit of Halloween
#20- Digimon Types/Attributes
#21- Digimon Jogress/Fusion
#22- Digimon Rivalries
#23- Speedy Digimon
#24- Digimon with Dreams
#25- Digimon of the D-Brigade
#26- The Seven Great Demon Lords
#27- X-Program & X-Antibody
#28- Digimon Classifications
#29- Digimon in the Crack Team
Sukamon Profile #30- Sukamon and Digimon Poop- Fake Agumon Hakase Takes Over Digimon Profile for April 1st
#31- Digimon That Are Perfect for Flower Viewing
#32- The Other-Dimensional Digital World of Witchelny