Show User Social Media
Hide User Social Media
Joined

Sep 8, 2006
Messages

16,411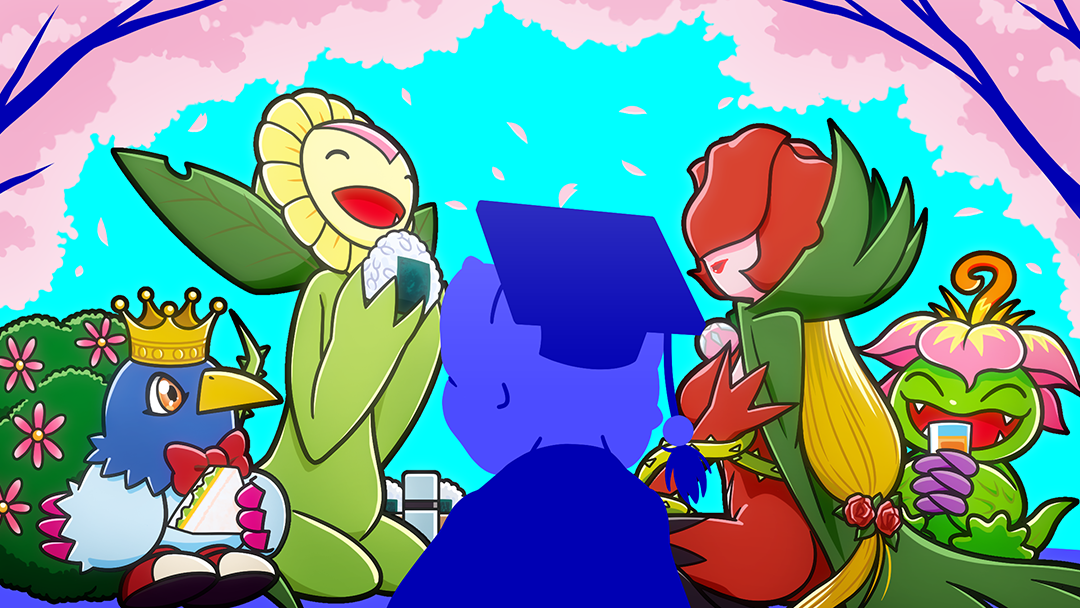 A new Digimon Profile has gone up on Digimon Web!
Digimon Profile #31
is a report on Digimon that are perfect for Hanami (Flower Viewing), more specifically... viewing cherry blossoms.
The introduction from Agumon Hakase...
April's here, and spring has sprung! The flowers are in bloom—perfect time for a flower-viewing party! That's why we figured we'd introduced a few members of the Digital World that would be right at home at such an event.
A List of Floral Digimon
Pyocomon- A large flower blooms on its head, and it uses its root-like appendages to move around.
Palmon- A tropical flower grows on its head, and it photosynthesizes during the day. Palmon buries its roots (which also serve as legs) in the earth to absorb nutrients.
Alraumon- A Digimon that accomplished a similar fornm to Palmon. The scent wafting from its head flower is pungent and disgusting.
Floramon- The entirety of its face is shaped like a flower, and it generally uses its petal-like shell as a helmet to protect its head.
Sunflowmon- Shaped like a sunflower, it gets a real energy boost when it's exposed to sunlight, making its attacks more powerful.
Blossomon- Shaped like a giant flower, it has countless tentacles growing from its body. Blossomon gets new petals with the turn of the seasons.
Delumon- Lush vegetation and blooming flowers grow from its back. Delumon has plantlike qualities, and cannot fly, despite being a Bird type.
Lilymon- Born from beautiful blooming flower petals, its head, wrists and other body parts are also shaped like petals.
Lilamon- A pure and innocent Digmon shaped like a lilac. Lilamon's leaves are toxic.
Toropiamon- It lives in jungles, taking in data from various plants and fruits to evolve. Toropiamon launches explosive pollen from the petals on its neck.
Rosemon- Shaped like a rose, it bears a jewel on its breast engraved with symbols of love and beauty.
Lotusmon- Shaped like a lotus, it has the ability to bestow peaceful dreams upon others—visions so sweet that one is able to forget all the cares of this world.
BloomLordmon- A kind-hearted knight that fights for nature. The flowers on BloomLordmon's shoulders allow it to absorb sunlight, which it stores as energy.
Rafflesimon- Said to be the grandest flower of the Digital World, it is only active for a few days, emitting an extravagant stench all the while.
Kabukimon- An Armor type with showy movements, large flowers blooming on its head and hands. It hates sunlight, but loves places that are brightly lit.
Digimon Who Make Flowers Bloom
Angewomon X- The X Antibody has amplified its holy power, and it pours its pure spirit into the elements, causing the ground to sprout and bloom flowers.
Venusmon- A Digimon that rules over love, its very existence causing gorgeous flowers to bloom in neglected soil.
Agumon Hakase finishes with...
There were a variety of Digimon: Some were purely beautiful, some had poison behind their beauty, and some were flowery. They will surely become more active in the coming season.
Prior Digimon Profiles:
Introduction & First 5 Profiles
#6- Report on the Four Holy Beasts & their Subordinates
#7- Vehicle Digimon
#8- Knight Digimon
#9- How to Read the Digimon Encyclopedia
#10- The "Four Great Dragons" Digimon
#11- Levels
#12- Armor Level & Digimentals
#13- The Digital World's Super Alloy, Chrome Digizoid
#14- Hybrid Forms & Spirits
#15- The Three Great Angels and the Kernel
#16- Digimoji and Digicode
#17- How to Draw Gammamon
#18- Food Digimon
#19- Scary Digimon that Embody the Spirit of Halloween
#20- Digimon Types/Attributes
#21- Digimon Jogress/Fusion
#22- Digimon Rivalries
#23- Speedy Digimon
#24- Digimon with Dreams
#25- Digimon of the D-Brigade
#26- The Seven Great Demon Lords
#27- X-Program & X-Antibody
#28- Digimon Classifications
#29- Digimon in the Crack Team
Sukamon Profile #30- Sukamon and Digimon Poop- Fake Agumon Hakase Takes Over Digimon Profile for April 1st