Show User Social Media
Hide User Social Media
Joined

Sep 8, 2006
Messages

17,421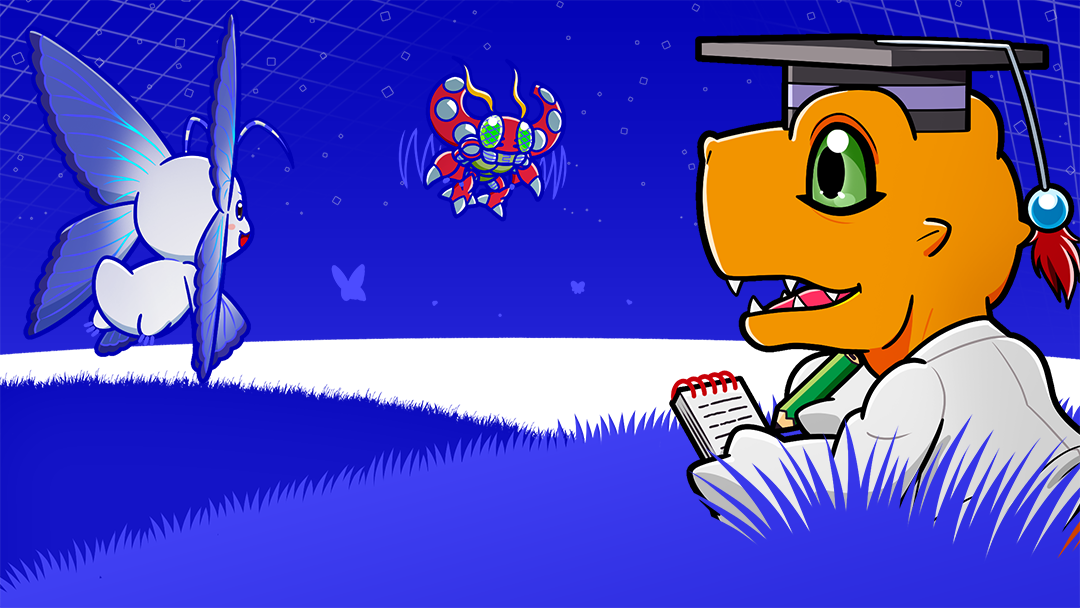 A new Digimon Profile has gone up on Digimon Web!
Digimon Profile #28
is a report on the various classification types of Digimon.
The introduction from Agumon Hakase...
Researchers have classified the Digimon living in the Digital World by type, habitat, and other various ecological elements. Let's take a closer look at how we classify them!
Nature Spirits
A group of Digimon inhabiting land rich in nature and desert zones. This group is comprised of primitive Digimon, with many of them having comparatively gentle personalities.
Examples- Tentomon, GaoGamon, Golemon, AtlurKabuterimon (Blue)
Wind Guardians
Those that live in forests and jungles, and Digimon that fly around in the sky. It is composed of birds and vegetations, and has many poisonous and temperamental Digimon, so its habitat belongs to the dangerous category even in the Digital World.
Examples- Piyomon, Kokatorimon, Parasaurmon, Jyureimon
Deep Savers
Digimon that inhabit the "Net Ocean" that occupies most of the Digital World. It seems that the temperament of Digimon that live in it varies greatly depending on the location such as shallow water, sea surface, and deep sea.
Examples- Gomamon, Sangomon, Whamon, MarineKimeramon
Metal Empire
Machine and Android Digimon who make their homes in railways, trash heaps, and various abandoned facilities. They expand their territory at an astounding pace, as if commanded by someone or something.
Examples- ToyAgumon, Junkmon, Andromon, Locomon
Nightmare Soldiers
Ghost type, Devil type, and other such Digimon that inhabit dark regions of the Folder Continent. These dark Digimon spread constant conflict in the region around a sinister castle, extending their influence.
Examples- Candmon, Ghostmon, Devimon, Witchmon
Virus Busters
Digimon with the might to oppose Virus types, lacking any real home to call their own. From those with holy power, to those who protect ruins, this category covers a diverse range of Digimon.
Examples- Tailmon, Angemon, Baluchimon, Mimicmon
Jungle Troopers
Those that inhabits forest areas and are mainly composed of Insect Digimon and Plant Digimon. It is said to be a group that evolves into a body shape adapted to its habitat and is sensitive to changes in the environment. Since the habitat partially overlaps with Nature Spirits and Wind Guardians, it coexists with Digimon classified into these two strains.
Examples- Kunemon, Stingmon, Shurimon, Rosemon
Dragon's Roar
A group of Dragon and Dinosaur Digimon with dragon data in their DigiCores. Digimon with dragon data tend to be powerful creatures, and tend to be both fierce and ferocious in nature. This group came into existence during a comparatively ancient era, and while it boasts a wide breadth of Digimon types, its numbers are few.
Examples- V-mon, Guilmon, GeoGreymon
Unknown
Those that are difficult to classify, a Digimon whose origin is not clear, or a Mutant system. It is thought that it evolves into an unknown type due to improper copying of genetic data during evolution. Severe changes in the habitat, poor habitat, and stressful digital data uptake seem to cause poor copying of genetic data.
Examples- Numemon, Sukamon, Vegimon, Nanimon
Agumon Hakase finishes with...
The Digital World still has unexplored continents, as well as the Dark Area. Plenty of Digimon must inhabit all those places, so that means there must be lots of new categories to discover, too!
Prior Digimon Profiles:
Introduction & First 5 Profiles
#6- Report on the Four Holy Beasts & their Subordinates
#7- Vehicle Digimon
#8- Knight Digimon
#9- How to Read the Digimon Encyclopedia
#10- The "Four Great Dragons" Digimon
#11- Levels
#12- Armor Level & Digimentals
#13- The Digital World's Super Alloy, Chrome Digizoid
#14- Hybrid Forms & Spirits
#15- The Three Great Angels and the Kernel
#16- Digimoji and Digicode
#17- How to Draw Gammamon
#18- Food Digimon
#19- Scary Digimon that Embody the Spirit of Halloween
#20- Digimon Types/Attributes
#21- Digimon Jogress/Fusion
#22- Digimon Rivalries
#23- Speedy Digimon
#24- Digimon with Dreams
#25- Digimon of the D-Brigade
#26- The Seven Great Demon Lords
#27- X-Program & X-Antibody