Show User Social Media
Hide User Social Media
Joined

Sep 8, 2006
Messages

16,417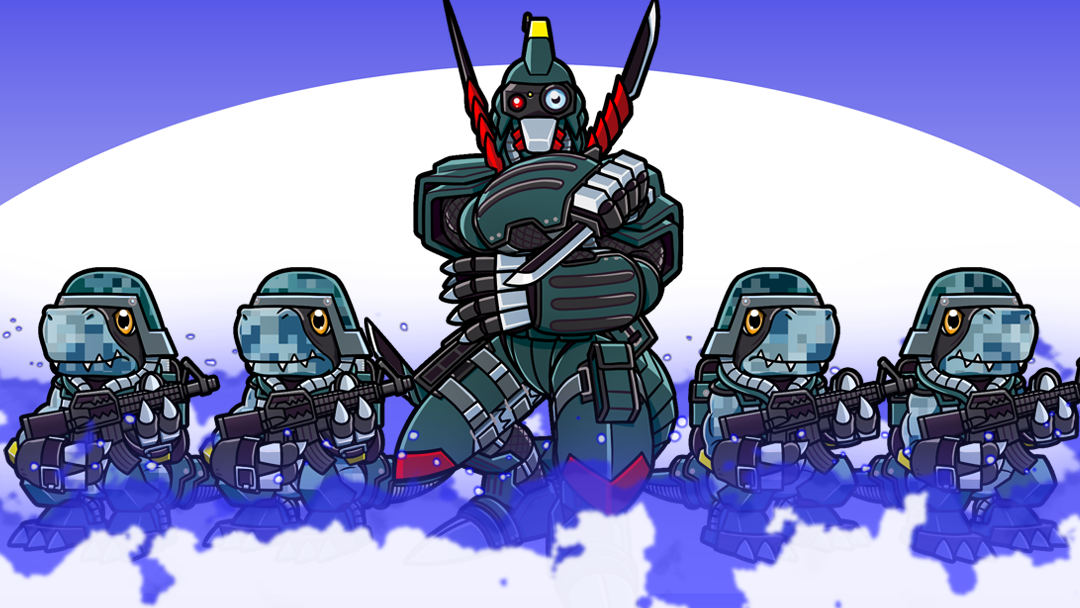 A new Digimon Profile has gone up on Digimon Web!
Digimon Profile #25
is a report on Digimon who are associated with the D-Brigade! And with it we get some social themed artwork of some of the best known D-Brigade members...
Agumon Hakase goes over the D-Brigade...
The introduction from Agumon Hakase...
I've heard a disturbing rumor. It seems the mysterious organization known as the 'D-Brigade' has been making shady moves lately. Let's bring the characteristics of this organization into the light, including its roster of Digimon!
The D-Brigade
A mechanized brigade composed of dragon-cyborg Digimon. This special forces unit is committed to missions that are kept secret at all cost. The organization's hierarchy is a mystery, as is whoever's calling the shots.
Some reports have been leaked regarding certain operations, such as those targeting codename "BAN-TYO" and that Ludomon once defended an area from the D-Brigade.
Known Digimon Members
Commandramon- Soldier of the D-Brigade. The special texture of Commandramon's skin lets it display any camouflage pattern.
Sealsdramon- Only 1 out of 100 Commandramon can pass the Selection-D test and evolve. He has the ability to stop targets using only his physical skills.
Tankdramon- It's mission is to surperss rioters, destroy raids, & it specialized in taking out large numbers of targets. It boasts an overwhelming amount of firepower.
Darkdramon- A Digimon assumed to be the D-Brigades final ultimate weapon for battle. It seems to have gone out of control after evolving, and its wheraabouts are not currently known.
Candidates that aim to join the D-Brigade
Bombmon- A Digimon with a bomb-shaped body. The fuse in its tail shortens from the moment it is born, but no one knows what will happen if the fuse went out, since it always evolves before then.
Missimon- From the moment it evolves, it ignites and takes flight, continuing to fly until it once again evolves. It is impossible for it to stop and stay in one place.
Agumon Hakase finishes with... It appears to be an organization that mainly takes part in special operations and assassinations, but the actual truth & details remains unknown. I'm sure we will find out more about the Digimon that belong to it in the future... I'll have to do some more research and— huh? Looks like someone is here.
Prior Digimon Profiles:
Introduction & First 5 Profiles
#6- Report on the Four Holy Beasts & their Subordinates
#7- Vehicle Digimon
#8- Knight Digimon
#9- How to Read the Digimon Encyclopedia
#10- The "Four Great Dragons" Digimon
#11- Levels
#12- Armor Level & Digimentals
#13- The Digital World's Super Alloy, Chrome Digizoid
#14- Hybrid Forms & Spirits
#15- The Three Great Angels and the Kernel
#16- Digimoji and Digicode
#17- How to Draw Gammamon
#18- Food Digimon
#19- Scary Digimon that Embody the Spirit of Halloween
#20- Digimon Types/Attributes
#21- Digimon Jogress/Fusion
#22- Digimon Rivalries
#23- Speedy Digimon
#24- Digimon with Dreams