Show User Social Media
Hide User Social Media
Joined

Sep 8, 2006
Messages

16,402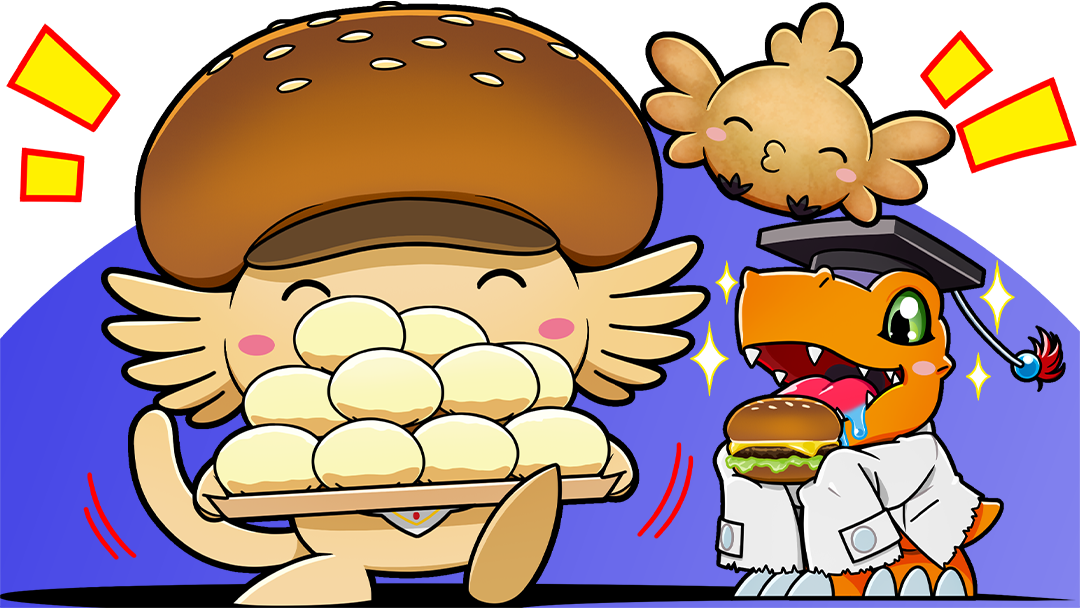 A new Digimon Profile has gone up on Digimon Web!
Digimon Profile #18
is a report on 'delectable food Digimon'
It explains basic information about various Digimon involving food, they introduce it as:
It's been getting colder here at Digi-Report HQ. That means autumn's on the way! They say your appetite grows as the temperature drops, y'know. So in honor of the incoming fall weather, we thought we'd introduce a few Digimon that'd make your mouth water!
They show off:
TorikaraBallmon, Burgermon, EbiBurgermon, Burgermon (Adult), Potamon, & Shortmon
"Any of these Digimon would make your tummy rumble before you know it. There are also non-Food type Digimon with connections to food."
Examples of 'food related' Digimon
Yakiimon, Jagamon, & Weddinmon
Agumon Hakase finishes with saying there are Digimon that incorporate the data of food, Digimon that give food, even Digimon that look to be food, it takes all kinds! There are more Digimon out there that will whet your appetite, the investigations are ongoing.
We also get reference book updates that tie into the new profile...
​
Shortmon
Weddinmon
Prior Digimon Profiles:
Introduction & First 5 Profiles
#6- Report on the Four Holy Beasts & their Subordinates
#7- Vehicle Digimon
#8- Knight Digimon
#9- How to Read the Digimon Encyclopedia
#10- The "Four Great Dragons" Digimon
#11- Levels
#12- Armor Level & Digimentals
#13- The Digital World's Super Alloy, Chrome Digizoid
#14- Hybrid Forms & Spirits
#15- The Three Great Angels and the Kernel
#16- Digimoji and Digicode
#17- How to Draw Gammamon
Last edited: