Show User Social Media
Hide User Social Media
Joined

Sep 8, 2006
Messages

16,917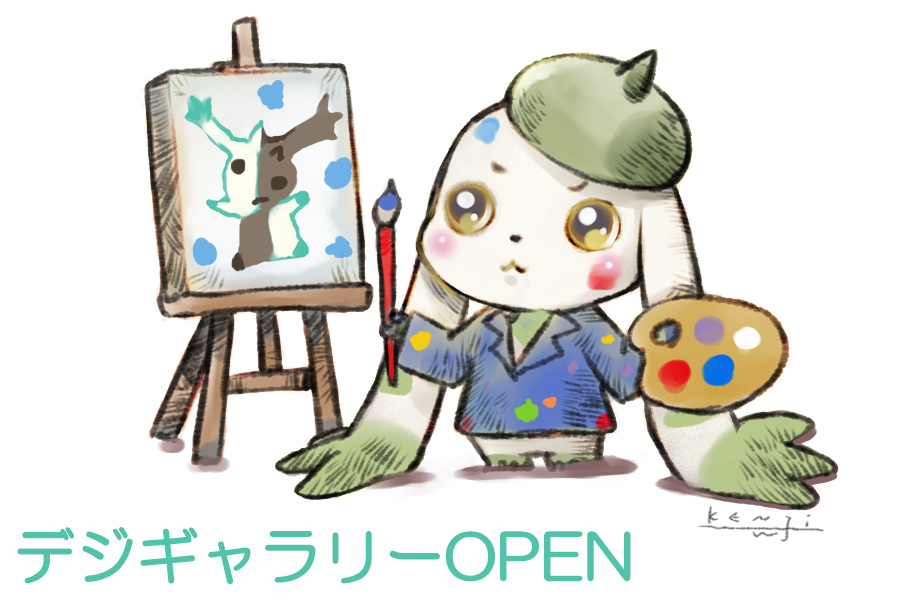 A few different Digimon Partner related updates today!
First up,
they've announced
the opening of
the DigiGallery
.
They describe it as: A dedicated section to post illustrations like "I drew that favorite scene" and "I like this pair" along with photos like "I went out with this plush today" and "I assembled a plastic model."
The partner staff member making the post notes they aren't good at drawing, they may post a photo.
To celebrate the opening Kenji Watanabe did new art. It's Terriermon drawing himself & Lopmon.
In addition,
they've announced
the opening of
the Digimon Partner Shop
.
The shop will have items exclusive to Digimon Partners, along with items from the LB Theater Pop-Up Shops, along with other merchandise.
Various items from previous pop-up shops can be found at
the view all items part of the shop
: the partner handtowels, acrylic mascot sticks, travel stickers, chopsticks, and various of the Digimon Otedama plush (which have always been quite popular whenever they have shown up.)
We won't be going over items we've seen before, just the new ones, but they are worth looking for if you've had trouble nabbing things from the LB shops before.
The new items are... (Some of these are pre-orders, so seemingly simply show out of stock until they are ready to order.)

​
A Digimon Partners acrylic keychain
for 715 yen. It will be on sale in the middle of June.
​
A Digimon Partners long sleeved shirt
with Agumon, V-mon, and Guilmon on it for 4,400 yen. It comes in white and black, and in medium and large.
Sizes are in cm:
Medium- Length 69, Width 52, Shoulder Width 45, Sleeve 62
Large- Length 73, Width 55, Shoulder Width 48, Sleeve 63
​
Eco bags. The
blue bag is medium sized
and costs 1,650 yen, while
the small bag is orange
and costs 1,430 yen.
Bag sizes are in mm:
Medium- Width 390, Height 520, Depth 210. When stored is 150 x 150.
Small- Width 300, Height 430, Depth 170. When stored is 120 x 120.
​
A selection of towels...
The sports towel
is 1,650 yen.
The bath towel
is 3,960 yen.
The face towel
is 770 yen.
Towel sizes are in mm:
Sports- Width 850, Height 350
Bath- Width 1200, Height 600
Face- Width 350, Height 350
​
A Digimon Partners logo shirt
for 3,520 yen. It comes in white and black, and in medium and large.
Sizes are in cm:
Medium- Length 68, Width 45.5, Shoulder Width 45.5, Sleeve 19.5
Large- Length 71, Width 48, Shoulder Width 48, Sleeve 20.5
​
Stained glass bag charms. Both
Agumon
and
Gabumon
will be available in early July for 1,100 yen each.


​
Character face cushions. Each of these are 3,850 yen and come in
Culumon
,
Patamon
, and
Terriermon
designs. They will be available in early July.
The size of each plush is in mm. All include the ears in their measurements Terriermon also includes the horn in measurements:
Culumon- Width 620, Height 340, Depth 100
Patamon- Width 700, Height 310, Depth 100
Terriermon- Width 450, Height 550, Depth 230


​
And last up are crest charms
. There are 9 designs, 8 crests and 1 'secret' design. They are 550 yen each and will be available in mid-July. It appears these will be random (they aren't up to order yet, so it's possible they'll add a selector closer to the date.)
Nice that there is an official gallery at the site, plus some merchandise for people who like Digimon Partners (along with a way to get some other merchandise.)
Thanks to shin for the heads up.
The store does not ship outside of Japan, so...
If you want to import it...
We've currently pared down the list of intermediaries we list due to some places closing and others becoming iffy in their communication, calling into question their reliability. If you have any stories, positive or negative, about any intermediaries, DM me with them so we can figure out who might be worth adding (or re-adding), since these aren't affiliate links or anything, simply suggested ways to make it easier for fans to nab stuff.
You'll want to contact an intermediary to get these items sent to you. WtW is not affiliated with any, but here are a selection of intermediaries that have worked well for various WtWers and their friends in the past:
From Japan
Rider Proxy
You'll want to provide your chosen intermediary with the link to the item. Just copy paste the link to the product pages for what you want and send them a message about it and they'll take care of it after they discuss pricing and their policies with you. The links embedded in the news article for the products are exactly what you'll need to send them.
Some of the intermediaries have a full storefront and may have the item listed, so you may want to check that first.