Show User Social Media
Hide User Social Media
Joined

Sep 8, 2006
Messages

16,625
Been waiting to post these...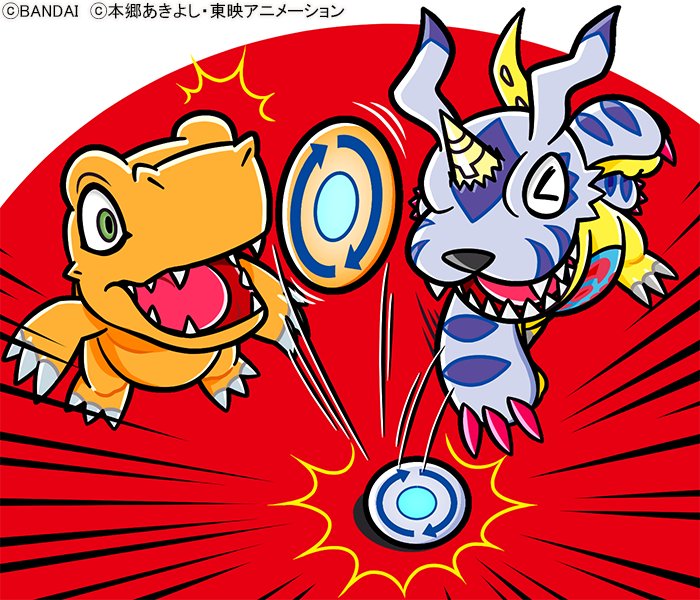 When the
Bandai Digimon Twitter
started posting a stack of anime themed New Year's 'game' images (activities kids and others might do on New Year's in Japan) it seemed like it'd be fun to wait and post them all at once, even if it took a week and a half for them to all show up.
These are all by Soh Moriyama, as the Digimon social media art has generally been, and the theme isn't just New Year's activities, but going thru the history of the Digimon anime, which make it extra fun!
We're including short basic descriptions of the activities, but not going into deep detail on them, but feel free to look up more about them if you want.
The first
, at the top, using Digimon Adventure, is Agumon and Gabumon playing Menko, basically a type of pog/card type game. The Adventure card would also be the tri. card, which doesn't get it's own as it's generally used as a brand extension of Adventure (in the same way that the show tie in films don't get images.)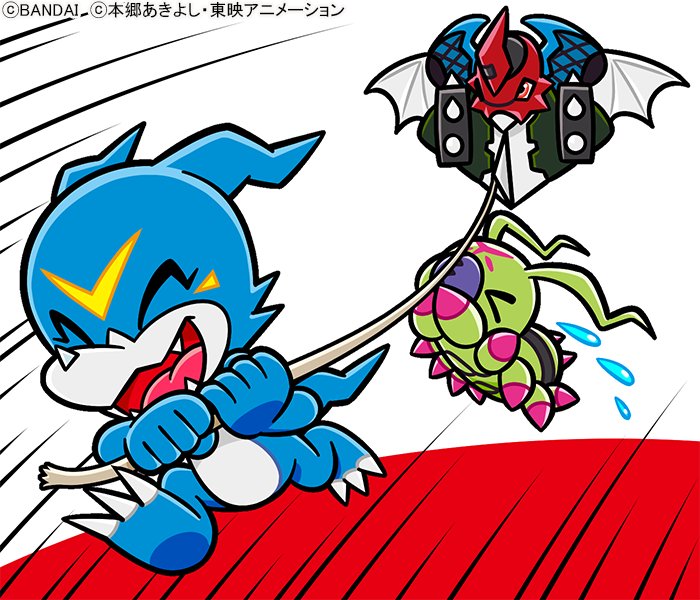 The second
, using Digimon Adventure 02, is V-mon and Wormmon playing with a kite that's themed after Paildramon!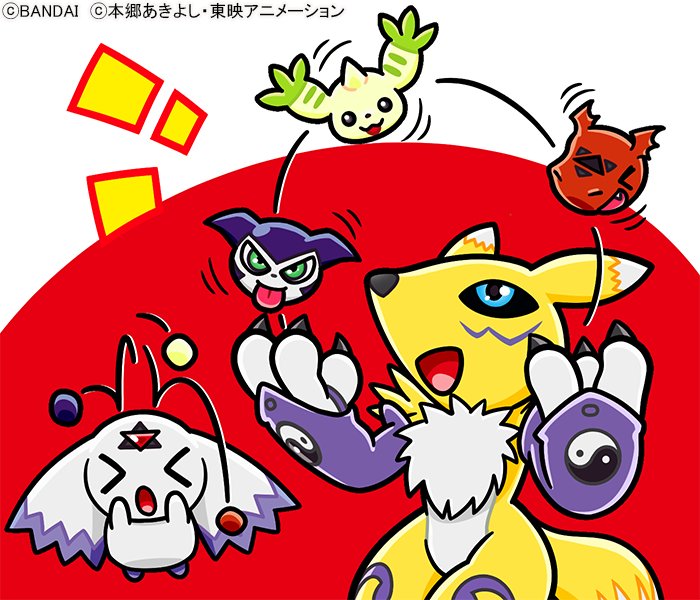 Next up
, using Digimon Tamers, is Renamon and Culumon playing Otedama, think beanbag juggling or jacks, with some familiar looking beanbags...
At the halfway point
we get Digimon Frontier, with Agnimon and Wolfmon playing Hanetsuki, which is similiar to badminton.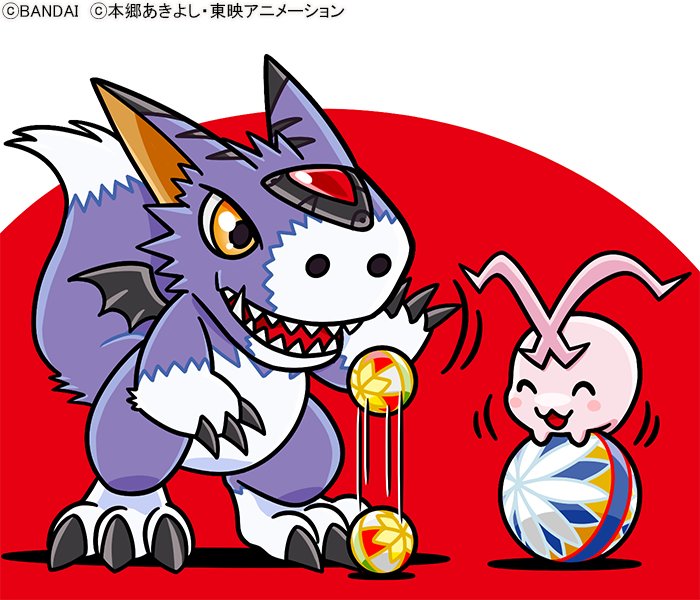 Then we get a bit of a surprise
with X-Evolution! Dorumon and Tokomon X-Evolution are playing temari, a handball game.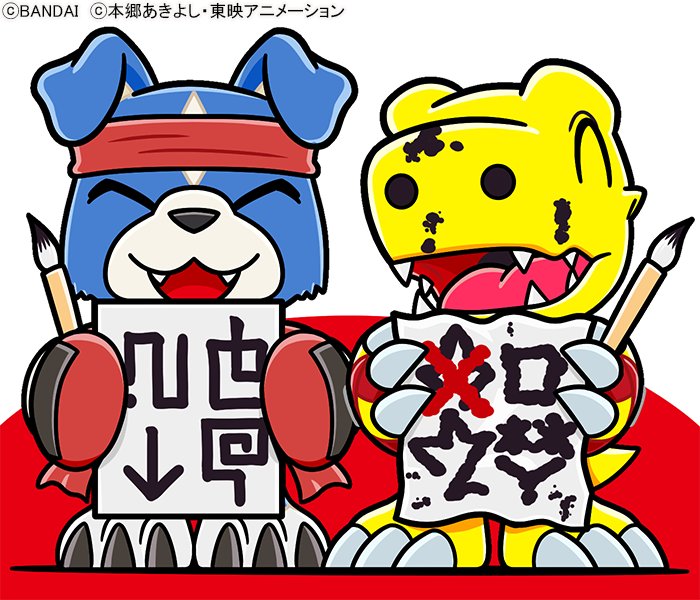 A bit of a calmer activity
for Digimon Savers! Agumon and Gaomon are doing kakizome, the first calligraphy of the year, which generally has to do with what someone finds favorable or important. Agumon has written aniki and Gaomon has written master, although Agumon has had some problems...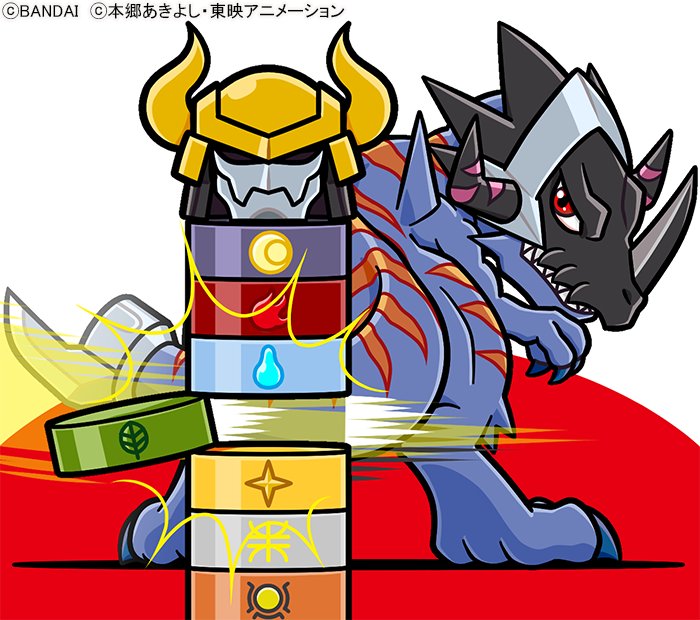 We're almost done
and here is Xros Wars! Greymon is playing daruma otoshi. You use a small hammer (or in Greymon's case his tail) to hit the color pieces without letting the head piece fall. The head piece is DarkKnightmon, and all the color pieces have the symbols of the Death Generals on them. Hunters doesn't get it's own card, as Hunters is treated as a third arc to Xros rather than it's own show.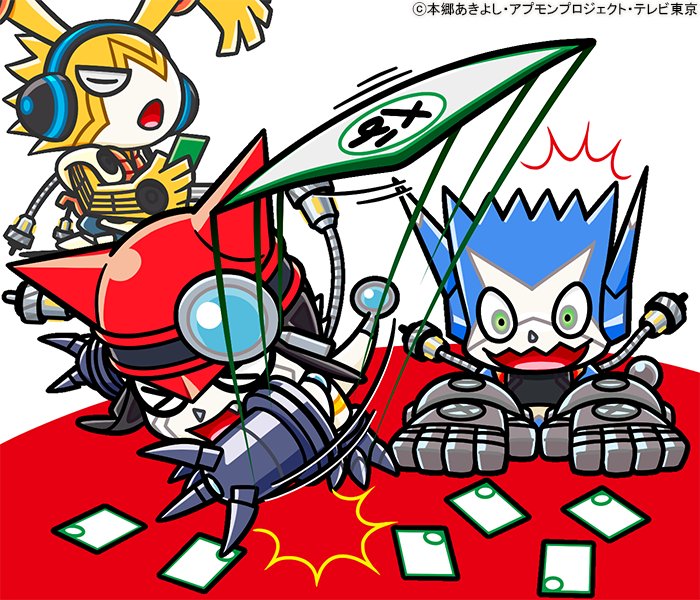 And last up
is Appmon! Gatchmon, Dokamon, and Musimon are playing karuta, a card game based on grabbing certain cards before your opponent.
It's a fantastic set of 8 images posted over a week and a half to celebrate the new year! Going over the entire history of the Digimon anime gives a wide range of fun characters and activities to see!
Update- And we have a surprise 9th image!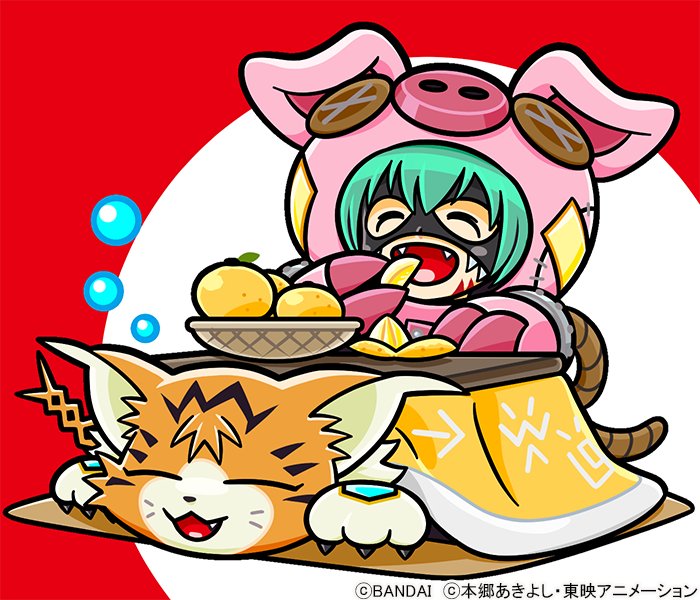 A post New Year's play image
featuring tri. and Hunters, who didn't get New Year's play images! Meicoomon from tri. has fallen asleep under the warm kotatsu while Cho·Hakkaimon from Hunters is resting at the kotatsu while eating citrus fruit.