Show User Social Media
Hide User Social Media
Joined

Sep 8, 2006
Messages

17,369
The set is out, and after a day of fighting with a few different scanners I got the stuff scanned and can now write about it.
First thing I gotta do is thank the people who donated so we could get the movie set. Hopefully we get donations and I can do this again when the Adventure BD-Box comes out in two months.
After the scans of the packaging itself I'll get to each movie. I won't be reviewing the movies, but will have a few screencaps of each and give my opinion on the job done on the film in the box.
I scanned everything at 1600dpi (the second time around... when I'm less drained I'll explain all the issues, which led to me using a scanner that I haven't touched in almost a decade.) I edited it all minorly, made it a size that was more viewable, saved it, then jpg compressed it all. I'll be throwing up more high resolution stuff and PNGs later (want to get it up now without to much of a hit on the server.)
The screencaps themselves will all be lossless PNGs from moment one.
I'll embed the JPGs but not the screencaps themselves because they are very large.
First up we have the paper slipcover that covered part of the box.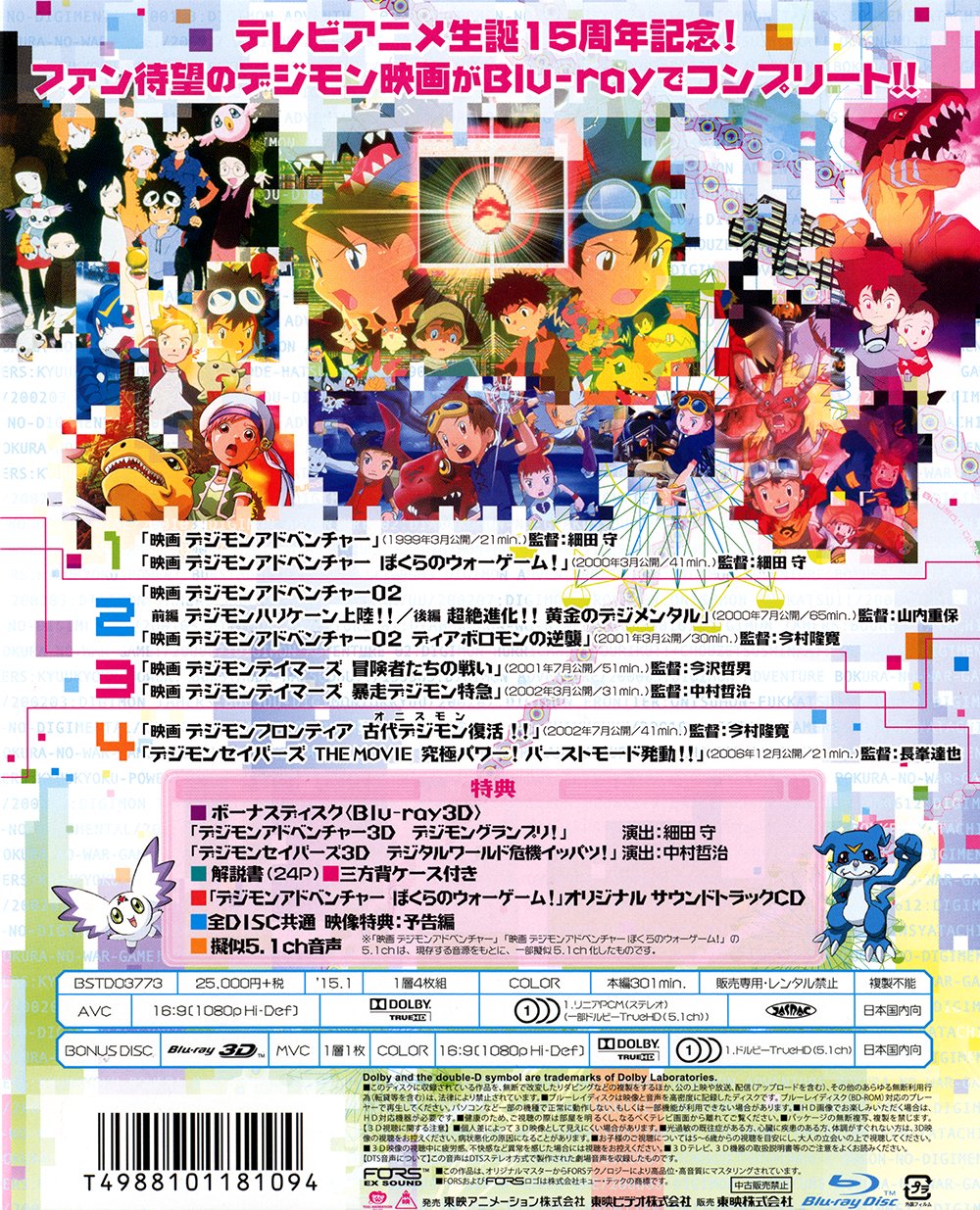 It was so large I had to scan the back piece separately. This is where you get all the details so potential buyers know what it is they are buying, without messing up the visual theme they want the box to have (it's not stuck on with glue or tape, so when you unwrap the plastic it just falls right off.)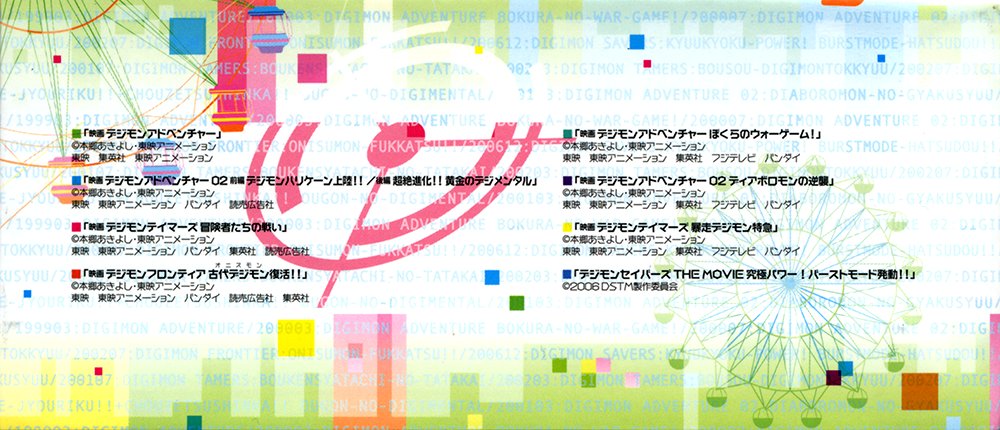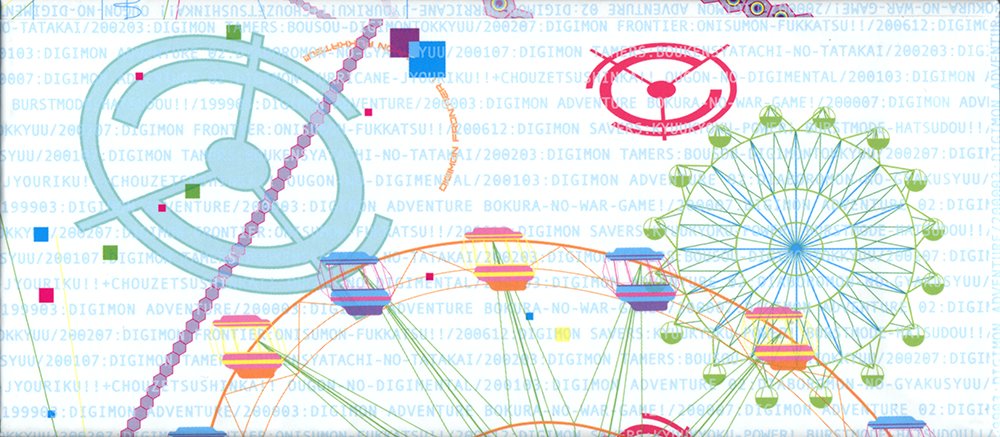 All 5 sides of the box itself. The design is based on the design of virtual representation of the internet from movies 2 and 4.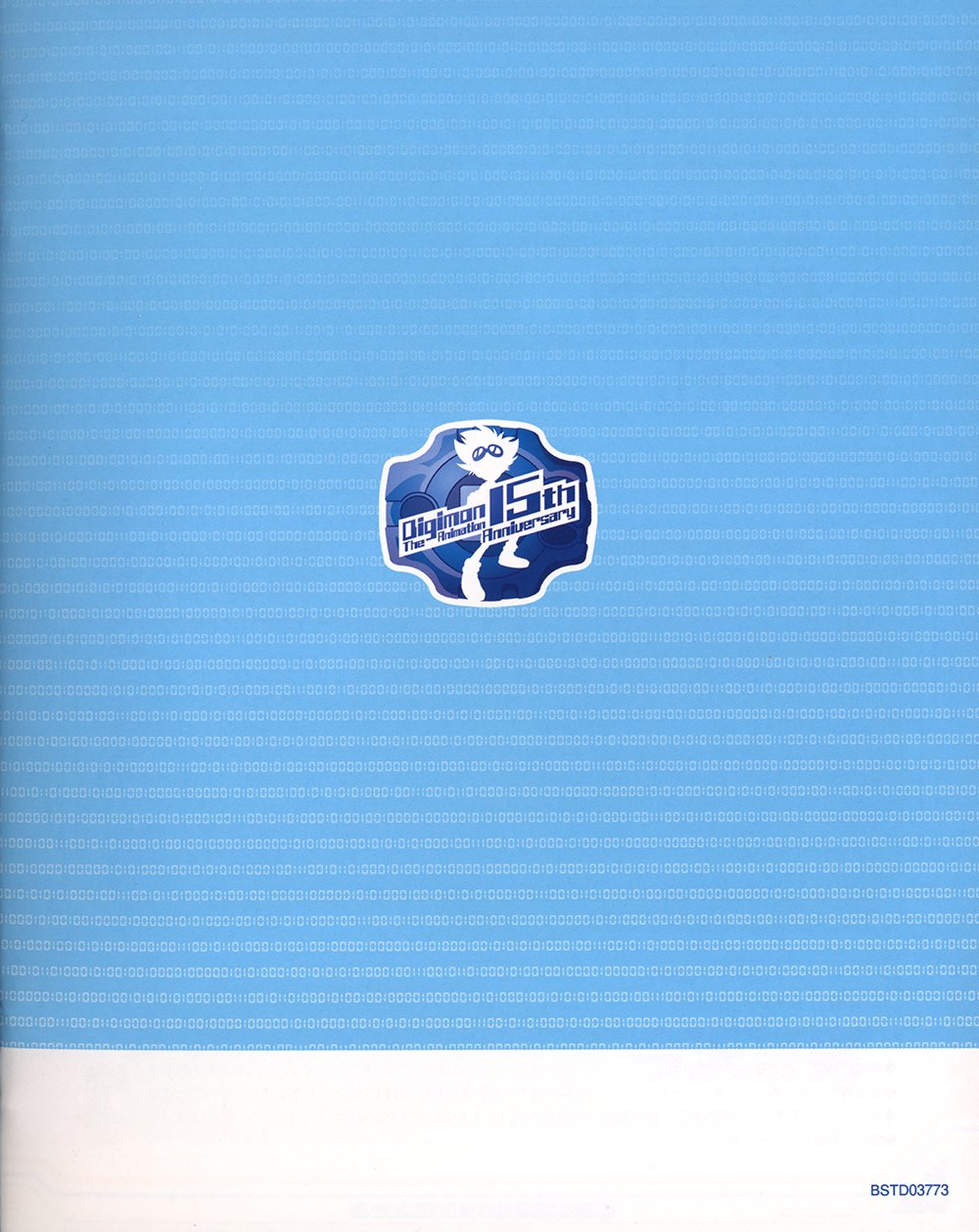 The front and back of the short booklet that comes with it. Haven't scanned the booklet because I was concentrating on getting all the new stuff and screencaps done. The booklet itself just has 2 pages of information on each film that is taken from previously available sources. Nothing new that I could tell.
Each cover, disc, and menu uses previously available poster imagery for the 2 films on each disk. I won't comment on them much because we've all seen the art on them many times (if there is a detail in the text you want to know about please ask, I'm sure someone in the thread who can read Japanese will comment on it for you.)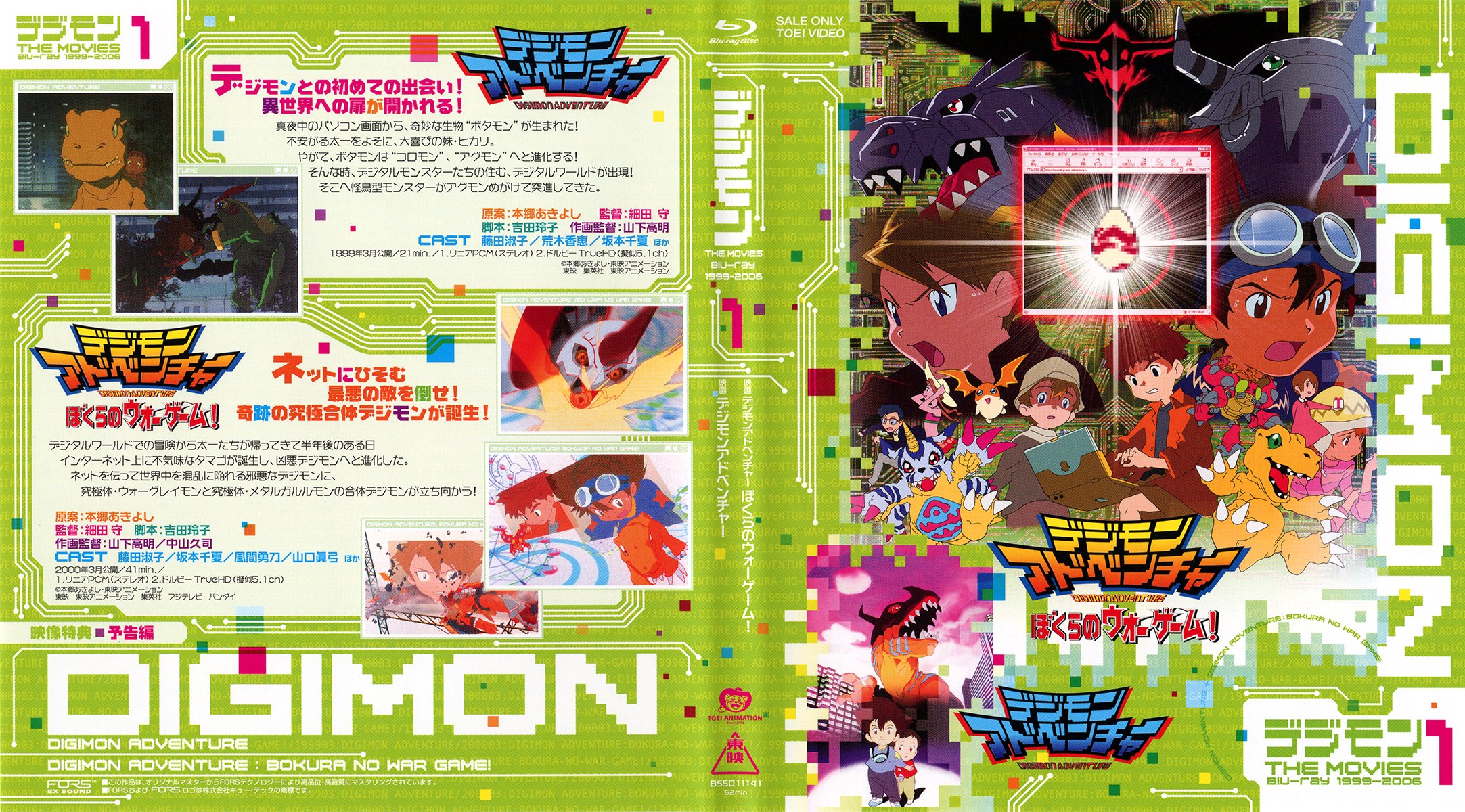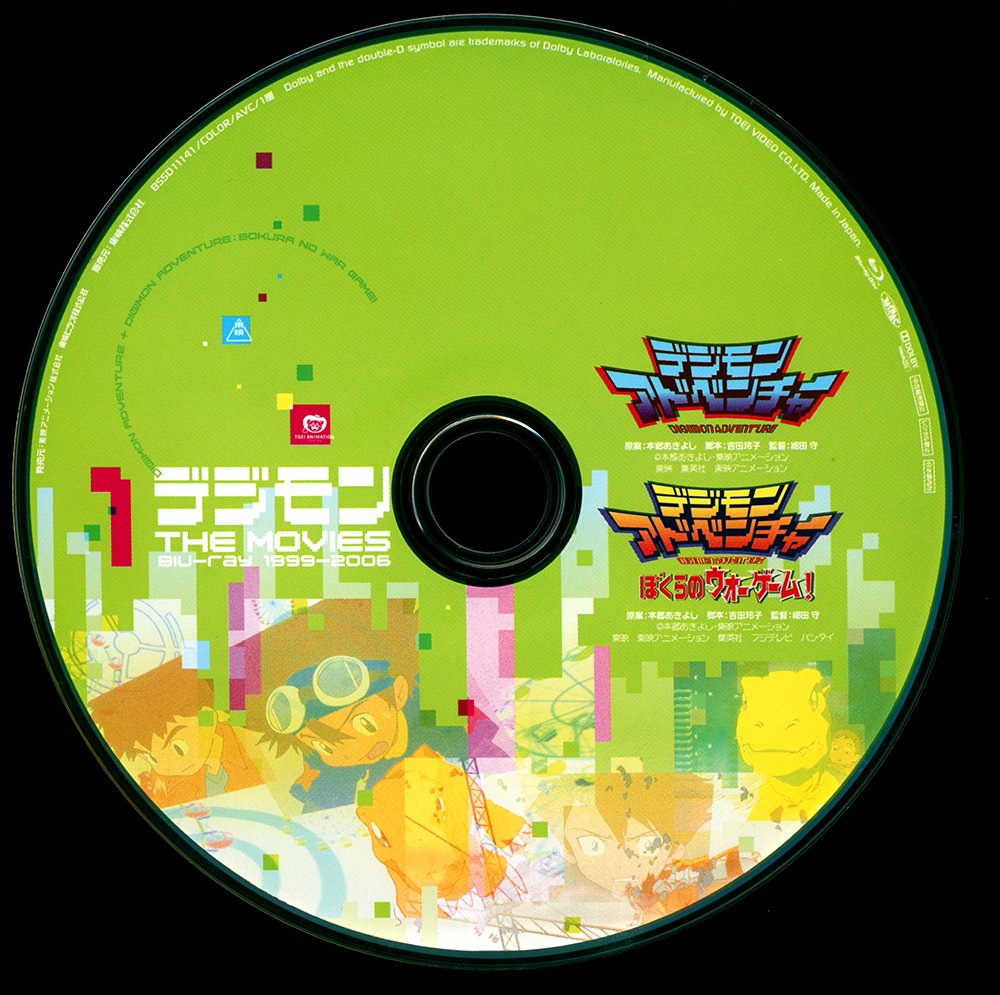 http://images.withthewill.net/adventure_menu.png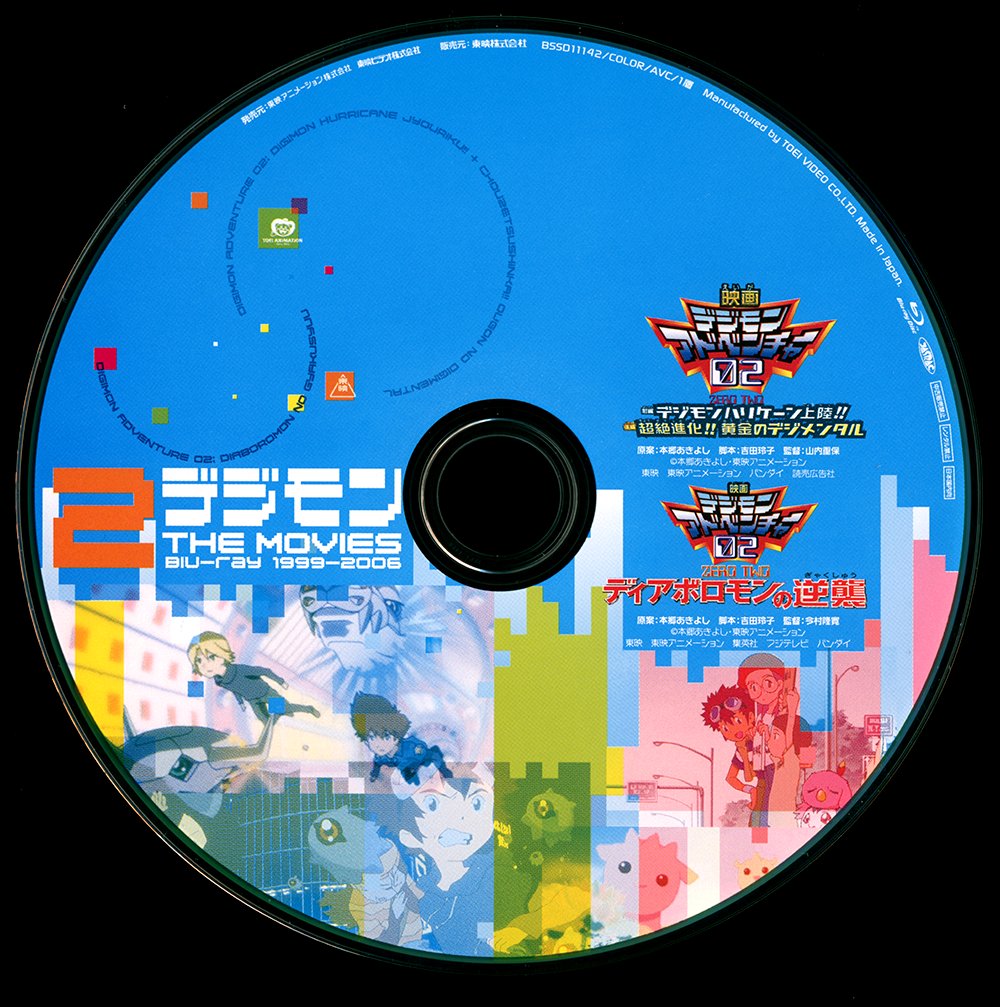 http://images.withthewill.net/02_menu.png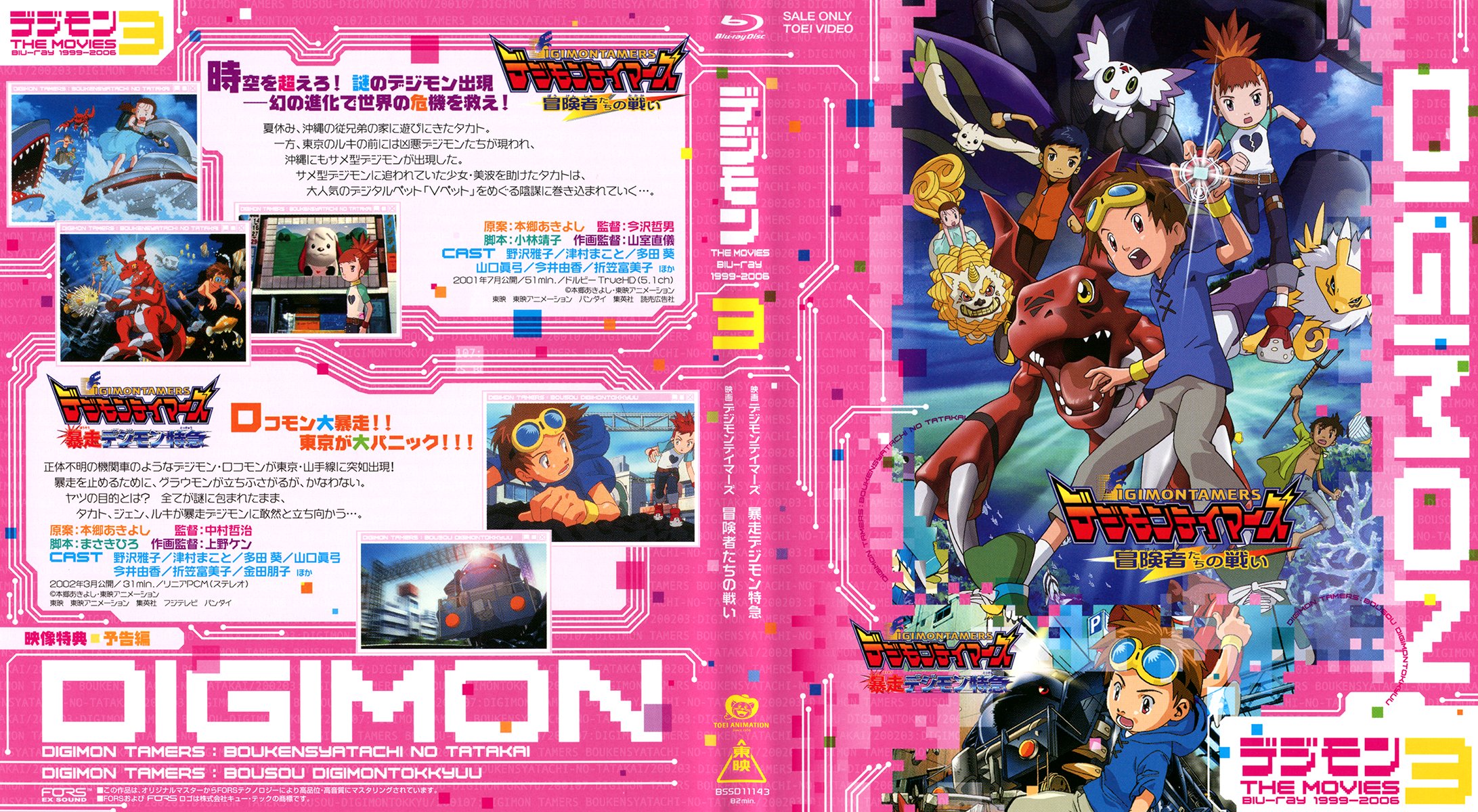 http://images.withthewill.net/tamers_menu.png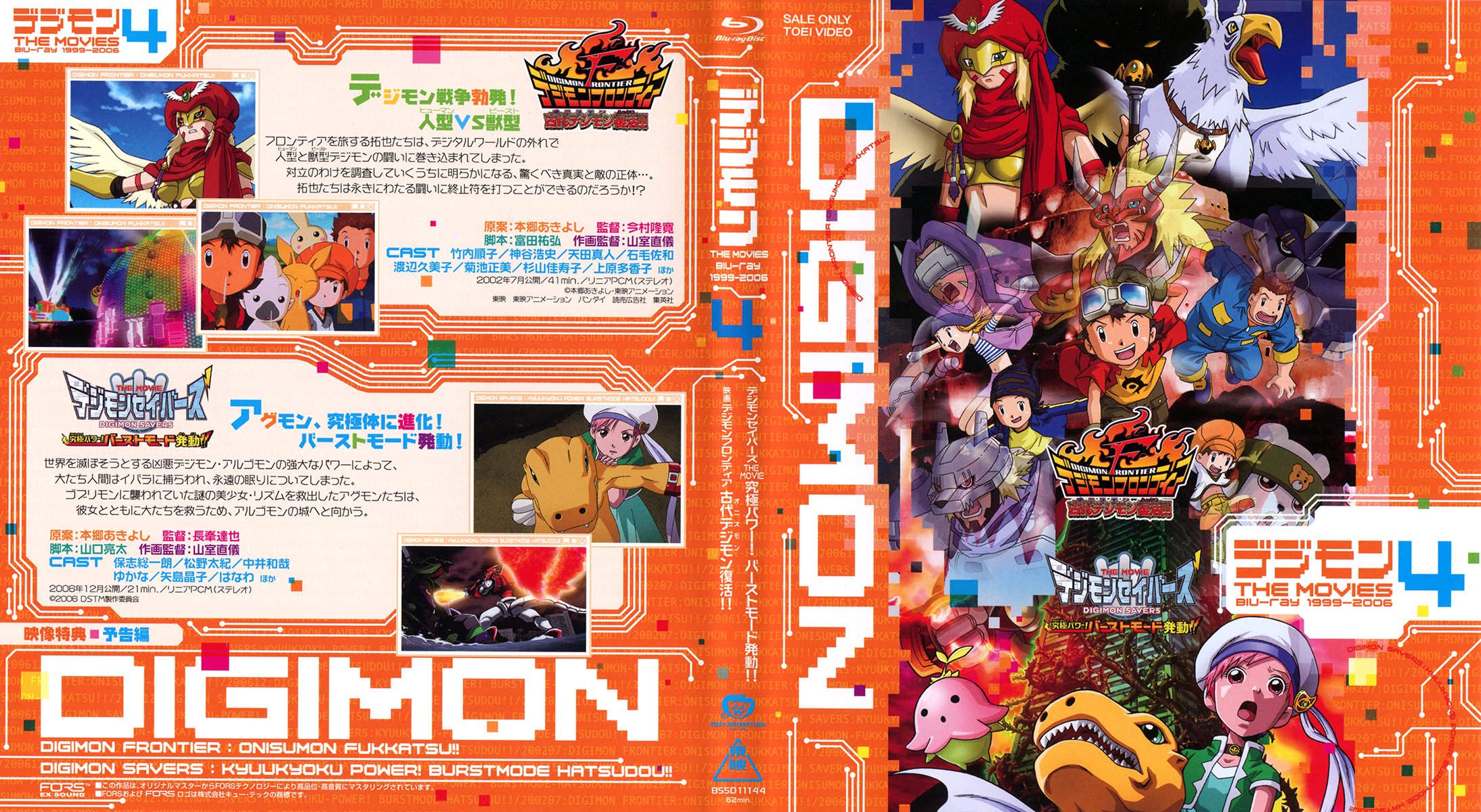 http://images.withthewill.net/frontier_savers_menu.png
http://images.withthewill.net/bonus_menu.png
The bonus Blu-ray with the shorts has a menu on boot up to select 2d or 3d. None of my displays are 3d, but emulating one in Blu-ray software popped up a menu that looked identical (minus that I assume if you are actually watching it in 3d that the menu has some sort of popup effect.)
The bonus CD has a holofoil type label, so it didn't scan particularly well, but I did my best to clean it up in Photoshop.
On to the movies!
Overall I feel positive, neutral, and negative all at once regarding the visual quality of the Blu-rays in general.
It appears for each film Toei used a pre-existing telecine scan with minimal clean-up or alteration done. These were likely done as the films first came out, and were downscaled to make the previous DVDs. They were likely done in 1080i. That in itself isn't completely a bad thing, properly done 1080i can often have the separate fields put back together to make a native 1080p picture. I mostly bring it up to explain just how old these film scans are.
Edit- Movies 1 and 2 definitely are new masters, leaving the original text as is, but wanted to add this in to make clear I called it wrong when I originally looked at them all quickly. Likely a combination of being overcritical, not having seen them look like this before, and not pulling out DVDs for comparison. Also a good lesson to sometimes take a step back rather than looking at it from a foot away going 'ehhhh... does this look right?'
Each movie I'd generally say is the best it's every looked, which is the positive.
The negative is of course, with a modern film scan and cleanup and processing they could have looked so much better (especially early digipaint scenes that show up once in awhile that nowadays would be scaled up much cleaner.)
The neutral is of course... it's Toei... is anyone really shocked they went almost as minimal as can be?
Most of the movies have a single old letterboxed commercial for the film that aired on TV. Previous DVDs weren't stuffed with extras, but there were some things that could have been included (a few interviews and other promotional ads for the films.)
I didn't sit through each entire film for this. I went to random scenes in each film to get an idea how the film looked in motion, and give my thoughts below based on both how it looks in motion, and double checking what I believe I saw in motion with the screencaps I've posted.
I've taken 3 screencaps for each theatrical film.
http://images.withthewill.net/adventure_1_1.png
http://images.withthewill.net/adventure_1_2.png
http://images.withthewill.net/adventure_1_3.png
The first Adventure movie fares rather well. Colors look generally rich, and we can see some good detail. Not perfect, but rather nice.
http://images.withthewill.net/adventure_2_1.png
http://images.withthewill.net/adventure_2_2.png
http://images.withthewill.net/adventure_2_3.png
Bokura no War Game also fares pretty decently. Minus the lower resolution digipaint items (the first screencap has some good examples of this with the computer equipment. Of course, those digipaint assets are long since gone, but it feels like some sort of filter could have been done to those specific things to look a touch less choppy (sitting back from the screen will certainly help for scenes like that.)
Hosada's signature red/orange outline suffers a bit here since compression for the color red has gotten much better than it used to be (although reds can still confound video people from time to time. I recall reading this is why they wanted to use as much blue as possible on Optimus Prime in the live action films, so they could avoid dealing with it.)
Taichi and Yamato entering the internet still keep the no outline ephemeral otherworldly look, and it's nice to see the effect holds up so well.
http://images.withthewill.net/02_1_1.png
http://images.withthewill.net/02_1_2.png
http://images.withthewill.net/02_1_3.png
Never been the biggest fan of the third movie and it's very long title, but it feels like this one was treated especially poor. The slight haloing around some objects in the picture, along with the overall 'smearyness' to the lines makes me wonder if this film was just upscaled off lower resolution assets. Not every scene feels this way, but a few have a very 'Q-Tec' feel to them (like Sora in the first screencap.)
http://images.withthewill.net/02_2_1.png
http://images.withthewill.net/02_2_2.png
http://images.withthewill.net/02_2_3.png
Diablomon Strikes Back looks a bit better. The film has always had a very soft look to it and this continues on the Blu-ray. The shot of Miyako looks a bit smeary, but that could be artistic based on the weird angle the shot is doing. The film in general continues the trend that the Blu-rays have had of 'its better than it ever looked before... but it's not great.' This is perhaps the one that makes me think the most that they used old telecines... the framing on this one is signicantly off compared to the others (Except movie 3, which had it also, although not quite as much) and this was always an issue with the original DVD of this movie. Worth mentioning that while the framing is still off, it does look quite a bit better than the old DVD (some minor correction done for the Blu-ray perhaps.)
http://images.withthewill.net/tamers_1_1.png
http://images.withthewill.net/tamers_1_2.png
http://images.withthewill.net/tamers_1_3.png
First Tamers movie has some haloing around the linework, but no smearyness this time... Not much to say about this one, it's 'eh'
http://images.withthewill.net/tamers_2_1.png
http://images.withthewill.net/tamers_2_2.png
http://images.withthewill.net/tamers_2_3.png
This one looks better than the first Tamers movie. Still not great, but looking better. I think part of it is that the color pallette in this film feels a touch bolder than the last few movies, so it just pushes past the 'alright' quality to just sort of look better.
http://images.withthewill.net/frontier_1.png
http://images.withthewill.net/frontier_2.png
http://images.withthewill.net/frontier_3.png
And it's time for Frontier to swing in and finally be the champion of the Digimon franchise with a proper remaster! Nope... just kidding. Again, we have one that looks alright... a lot of haloing around linework (perhaps an ancient sharpening filter to try and make the animation look sharper on the big screen?)
I wish there was at least one of these that just looked amazing... with that we come to the end of the original batch of Digimon films, because Digimon went on a break after Frontier. A few years later though Digimon came back with Digimon Savers, and that got a movie...
http://images.withthewill.net/savers_1.png
http://images.withthewill.net/savers_2.png
http://images.withthewill.net/savers_3.png
And swing and a miss for the newest Digimon movie. Somehow the Savers movie actually seems to look the worse. The film overall has a sort of dirty look to it... I'm not sure if it was upscaled and done poorly... it doesn't really look like an upscale to me, it just doesn't look good. More haloing... the most recent Digimon movie doesn't look great, but again... I'd say it's the best the movie has ever looked visually.
And we finish off with the bonus disk which has the 2 theme park short films (2 caps of each here.)
http://images.withthewill.net/bonus_1_1.png
http://images.withthewill.net/bonus_1_2.png
http://images.withthewill.net/bonus_2_1.png
http://images.withthewill.net/bonus_2_2.png
So OF COURSE... these look pretty good. I honestly expected these to look alright at best, especially the Adventure one, which is pretty old for a CGI ride movie. Neither is pristine, but both look pretty good. Ironic that the bonus stuff probably looks the best...
Overall none of the movies really look great, minus the first and the second (minus a few digipaint issues). I tend to be pickier with video than most people, but I'd be surprised if someone sat through the entire set with no complaints. I have little doubt that these are the best the movies have ever looked on home video, but it's disappointing because they could look so much better.
Let me know what you think, ask any questions you have, request screenshots of specific scenes, etc. and feel free to discuss the set. If you got the set, let us know what you think. Did I hit the nail on the head, or do you think I'm completely wrong? (It's been a long day to put this together quickly... if I've missed anything feel free to point it out also.)
Honestly, it's not a terrible set... and I've seen far worse. For the era most of these films come from from Toei it's roughly what was expected... but Digimon deserves better... if only because they could have done better without much trouble.
Update- Sales Information has come in (thanks
ANN
!) In it's initial week (the week counts as January 5th thru 11th, the set came out the 9th) the movie BD-Box sold 5,190 copies which puts it at number 2 on the Blu-ray charts (behind Frozen, which is just destroying all other animation in Japan.) Some notable releases coming out the same week that it beat are: Slam Dunk Collection 4, Black Bullet Volume 7, and the first Blu-ray box of Kamen Rider Kabuto.
Last edited by a moderator: