Show User Social Media
Hide User Social Media
Joined

Sep 8, 2006
Messages

17,421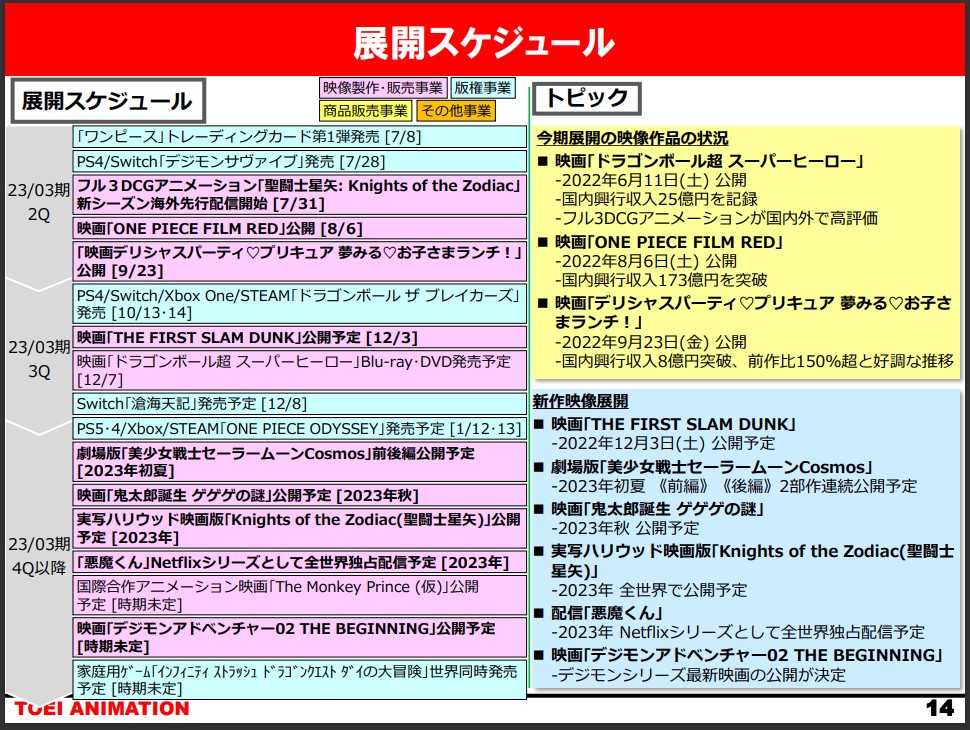 A few Digimon mentions in
a new Toei fiscal report
. This covers the fiscal half-year from April 2022 through September 2022.
They note that content (Blu-ray/DVD) sales decreased overall They ascribe to this good sales of Blu-ray and DVD from titles in the Magical Doremi and Digimon Adventure series the prior fiscal year.
Overseas copyright got a significant increase due to merchandise. The franchises noted as being the cause of this were Dragon Ball, One Piece, and Digimon Adventure.
There was also a mention that rights sales for app games in China were performing well.
Only a few things of note in the fiscal calendar.
Survive was mentioned as having coming out.
Digimon Adventure 02: The Beginning was listed in the future section with the release period stated as 'undecided'.
A text overview
of the period notes Digimon a few times:
Ghost Game is mentioned in the section listing their currently running shows with no other mention.
Adventure is brought up again regarding the same element before, that without new titles like it and Doremi Blu-ray/DVD sales were down.
Adventure is brought up again in the overseas copyright business, specifically mentioning strong merchandising, resulting in a significant increase in revenue.
This, and
related financial documents
show that continuing the general trend we've seen in the last few of these, the brand is doing well, and is a major part of business for Toei. Licensing for the brand outside of Japan even has it outpacing various other franchises in those segments that tend to do well for Toei such as Sailor Moon for example. (The prior part of this small section is functionally a copy paste, as it generally applies.) In short, the brand is doing very well.