Show User Social Media
Hide User Social Media
Joined

Sep 8, 2006
Messages

17,396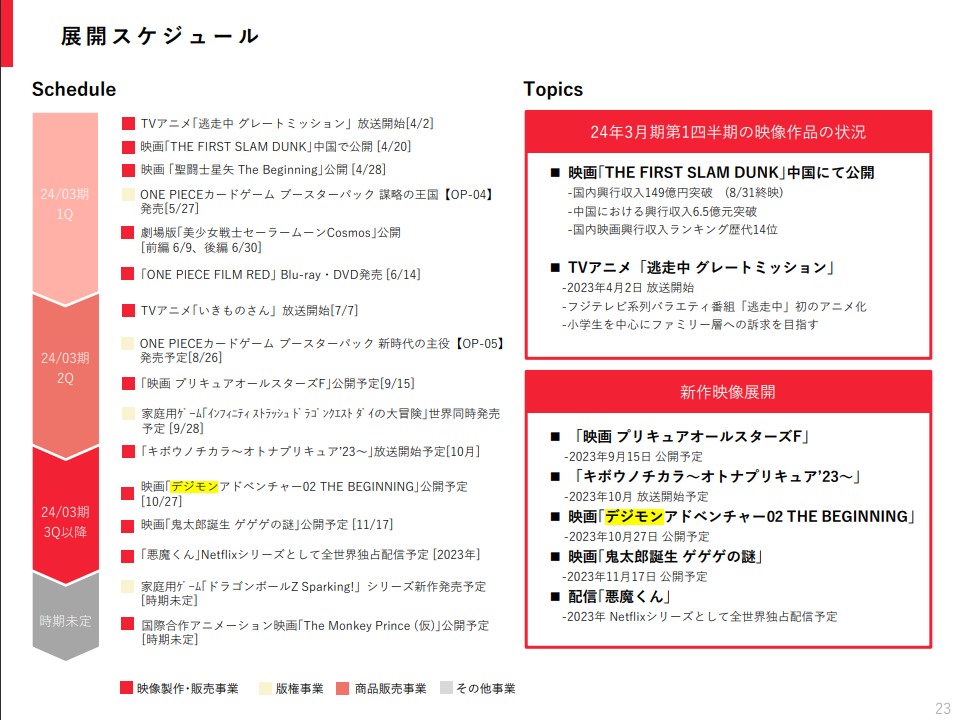 A few Digimon mentions in
a new Toei fiscal report
. This covers the First Quarter Period for Fiscal 2024.
Digimon mentions overall are light in the document, as you'd expect with no ongoing anime (the report period begins April 1st, 2023, days after Ghost Game ended.)
The only mention overall in the report itself is 3 mentions of Digimon Adventure 02: The Beginning
This, and
related financial documents
show that continuing the general trend we've seen in the last few of these, the brand is doing well, and is a major part of business for Toei. Licensing for the brand outside of Japan even has it outpacing various other franchises in those segments that tend to do well for Toei, such as Sailor Moon for example. (The prior part of this small section is functionally a copy paste, as it generally still applies.)
For the quarter, which was minimal after Ghost Game ended, it doesn't appear much, as you'd expect (and with international releases of other franchises, a number bumped up.)
Even with a fiscal quarter without much happening (waiting for the movie, etc.) Digimon still appears to be in the top 5 for Toei in that quarter due to Overseas Licensing dollars.
Various fiscal reports last year cited Digimon as the 4th largest brand for Toei, with a movement to 3rd as the year moved on, we'll see where future reports shake out. For the quarter it's definitely dipped, but that was expected with the end of an ongoing anime (along with big releases around the world for Slam Dunk and other brands.) For the prior fiscal year Digimon had moved from 4th to 3rd overall, and with a big movie coming out soon, it'll be interesting to see where it ends up next.
The next fiscal period ends shortly before the movie comes out, and we expect a roughly similar look there.