Show User Social Media
Hide User Social Media
Joined

Sep 8, 2006
Messages

13,988
This is the 9th full Limited Base pop-up shop for Digimon (a few smaller ones, and other brands have been done also of course.)
This newest pop-up shop will be at the Limited Base Pop-Up Theater at the Shibuya Parco
(on the 6th floor.)
Included at the shop will be a small theater that will show
the second memorial short
. More details on that will be below the product info.
It will run February 21st thru April 16th.
But this time it'll be a bit different than the last one was, as the LB Pop-Up Theater won't be the only Limited Base stuff running the new pop-up shop...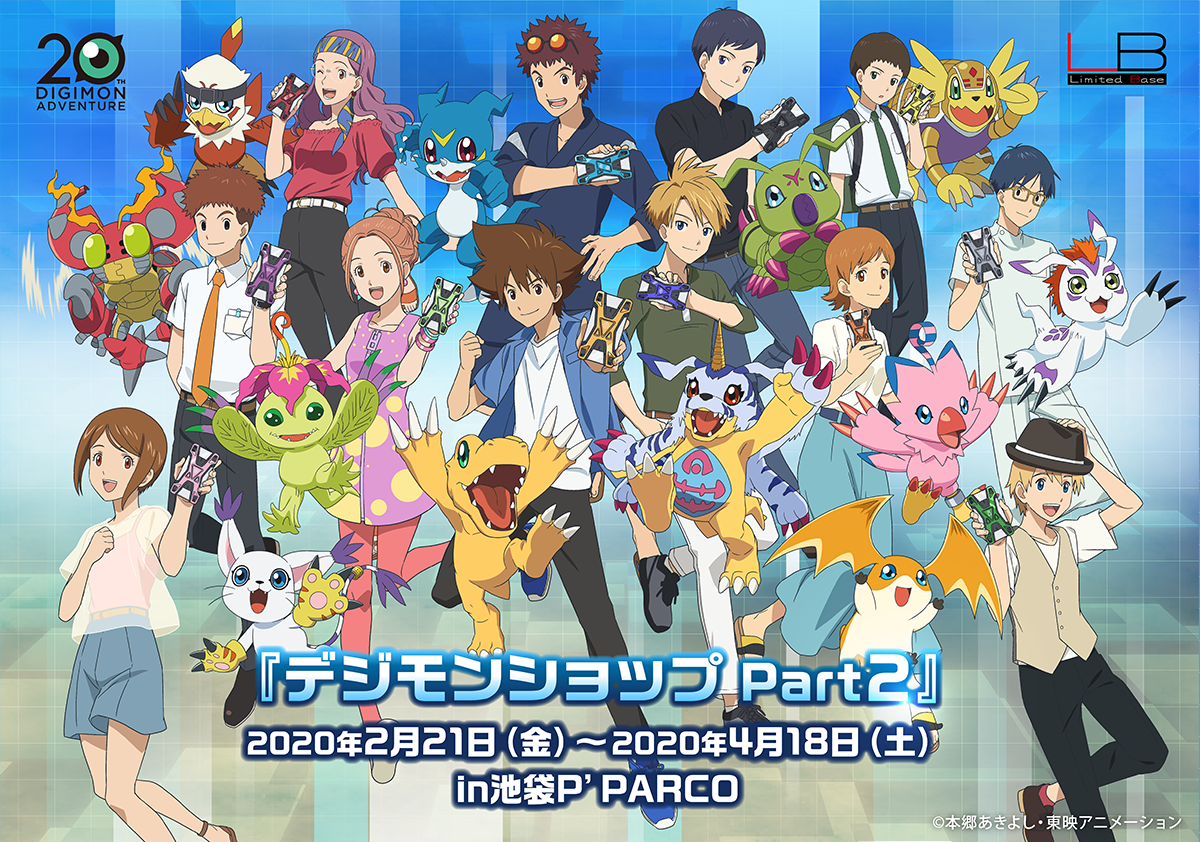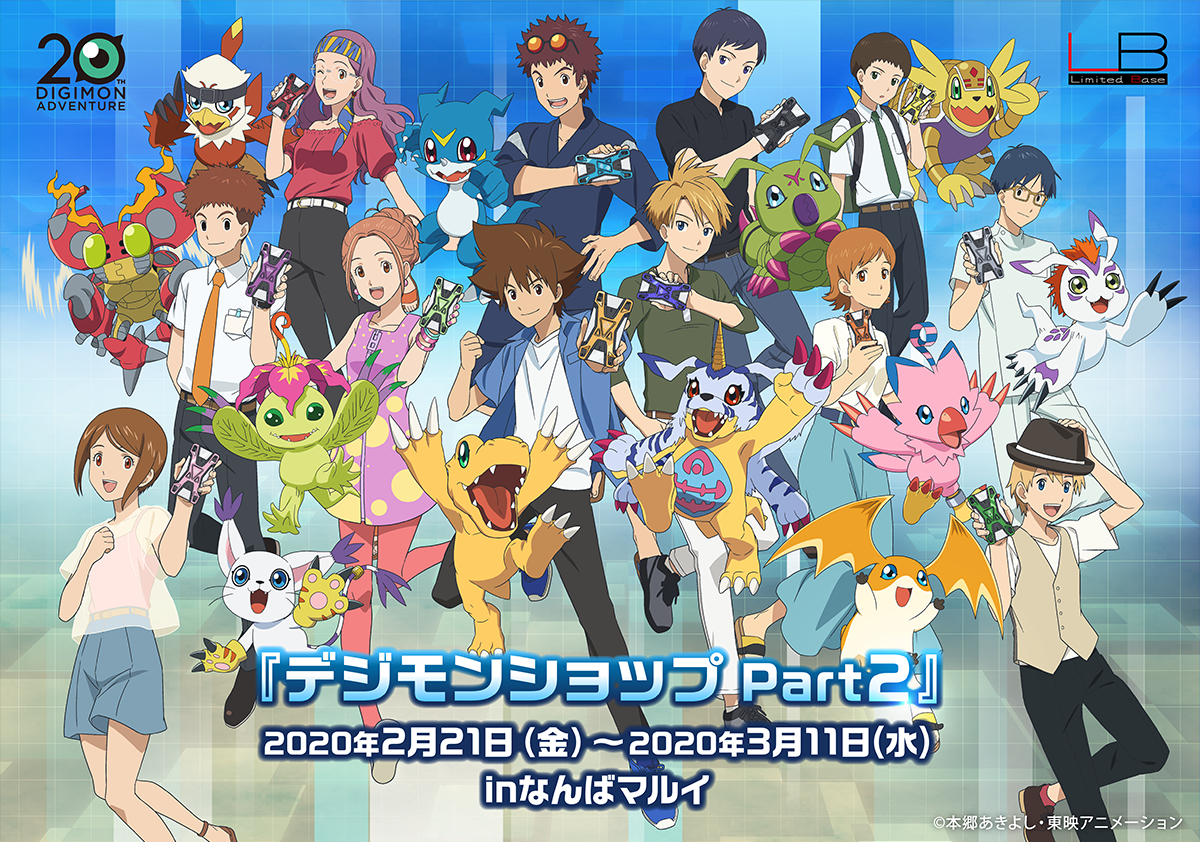 It will also be at the 2 normal Limited Base stores!
It will be at the
Limited Base in the Namba Marui shopping cente
r (7th Floor), in Osaka., February 21st thru March 11th.
It will be at the
Limited Based in the Ikebukuro P-Parco
(3rd floor), in Ikebukuro, February 21st thru April 18th.
These 2 shops will not have screenings of the short at the stores, but those who buy will still get a change to see them (details below.)
We have a bunch of items to go through, all of which are exclusive to the new pop-up stores.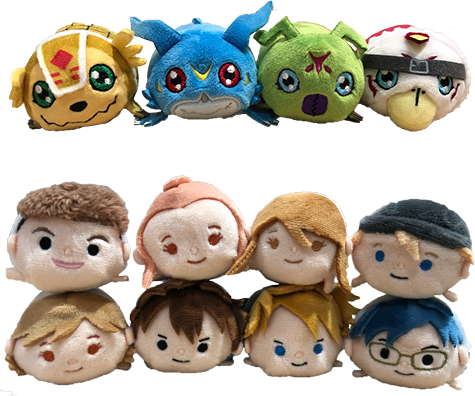 New otedama! The small bean bag characters return, this time designed after the chosen children as they appear in Kizuna, along with the 02 partners!! These are 650 yen each and come in 12 types.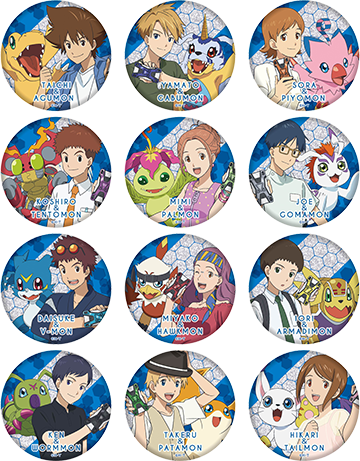 Glittering (holographic?) can badges featuring the new art of the characters as they appear in Kizuna from the shop key art. These are 400 yen each. There are 12 of these and they are blindpacked.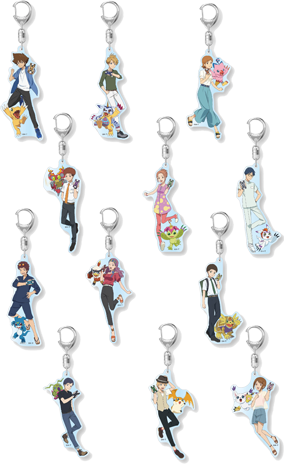 Acrylic keychains based on the key art of the pop-up shop! These are 900 yen each and there are 12 types.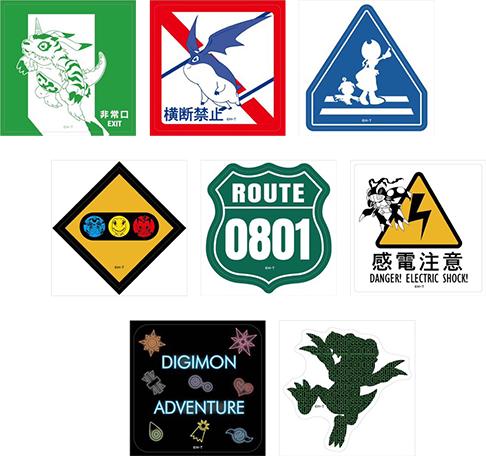 These travel stickers can be placed on your bag when you travel or anywhere you want them. They are 700 yen each and there are 8 of them.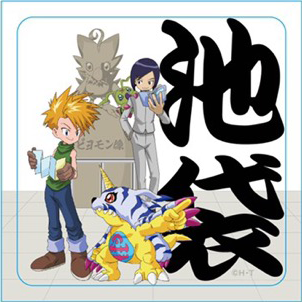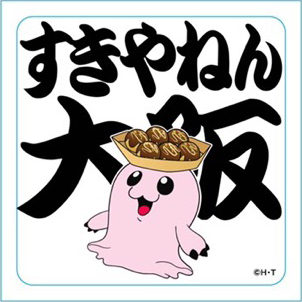 These 'local stickers' each feature a local themed activity or item and Digimon characters. Each will be exclusive to the single store it's at. Each is 700 yen and will be available beginning February 29th.
Left image is Shibuya, middle is Ikebukuro, and right is Osaka.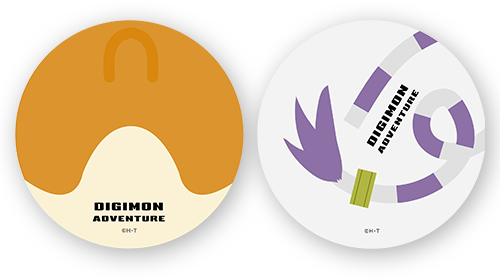 These coasters are labeled as being water absorbent and are themed after the backsides of Patamon and Tailmon. Each is 1,000 yen.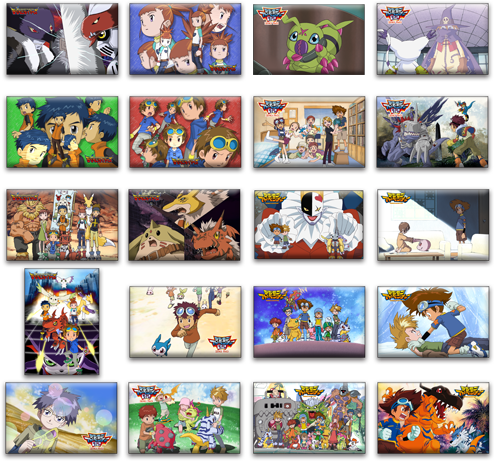 These (second set of) memorial magnets feature a number of notable scenes from Adventure, 02, and Tamers. They are 700 yen each, there are 20 of them, and they are blindpacked.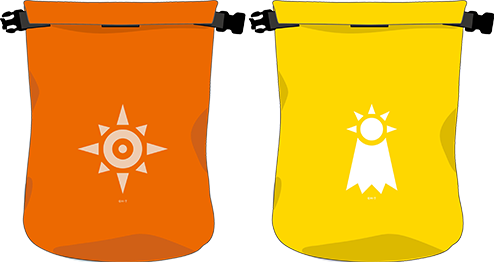 These 2 pouches feature the crests of Courage and Hope and are labled as 'drip proof'. Each is 3,200 yen.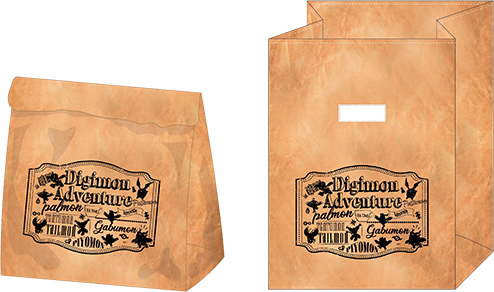 This lunch bag is themed after a brown sack lunch and features silhouettes and name printings of the Digimon from Digimon Adventure. It also helps keep the items inside cool. It costs 2,500 yen.
It's a Patamon themed backpack! It costs 5,500 yen.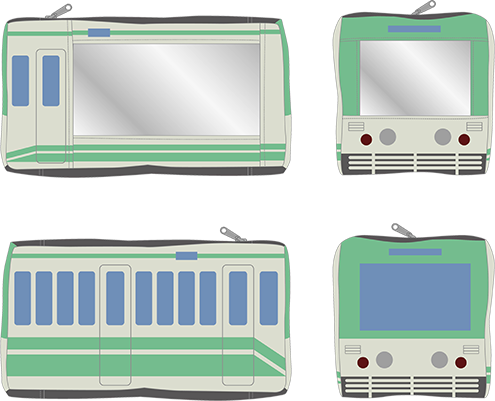 This pouch is themed after the familiar visual of the traincar from Adventure. It costs 2,200 yen.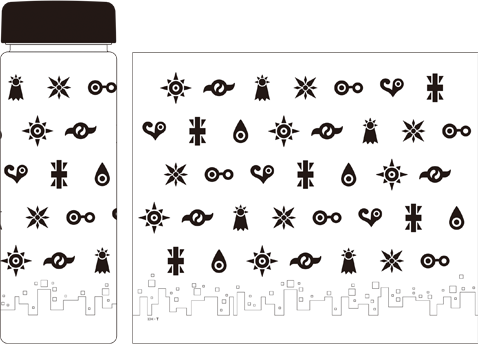 This clear plastic water bottle has a design with all the crests on it, along with a digital motif near the bottom. It costs 1,500 yen,.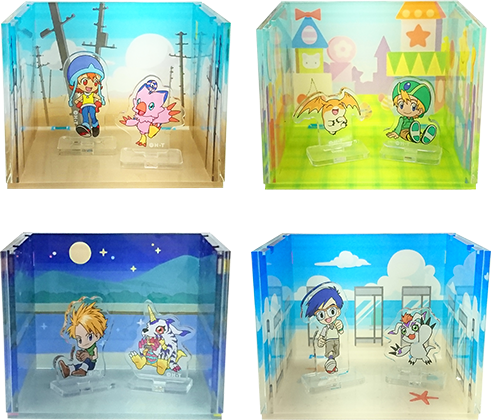 This second set of acrylic de towers (dioramas basically) are new and follow up the ones from the prior pop-up store.! There are 4 types and each is 2,300 yen.
They have also confirmed there will be more items that aren't listed online at the moment (as they generally have in the past.)
2 bonus things at the shops...
While supplies last, showing your Kizuna ticket stub gets you a free postcard featuring the pop-up shop key art.
Also, going back a bit... last year
they did a promotion at various train stations
where you could find out your Digimon partner...
they also teased something special
for people who posted their result to social media with the hashtag #デジモン0801, and it turns out that was for these pop-up shops!
Those who go to the pop-up store and show their social media post from back then will get 1 of 4 metallic postcards at random for free while supplies last. They will give you one for each of your social media accounts you posted to.
On top of that there is the Memorial Short screenings... this time they will be showing the second short, Hole in the Heart!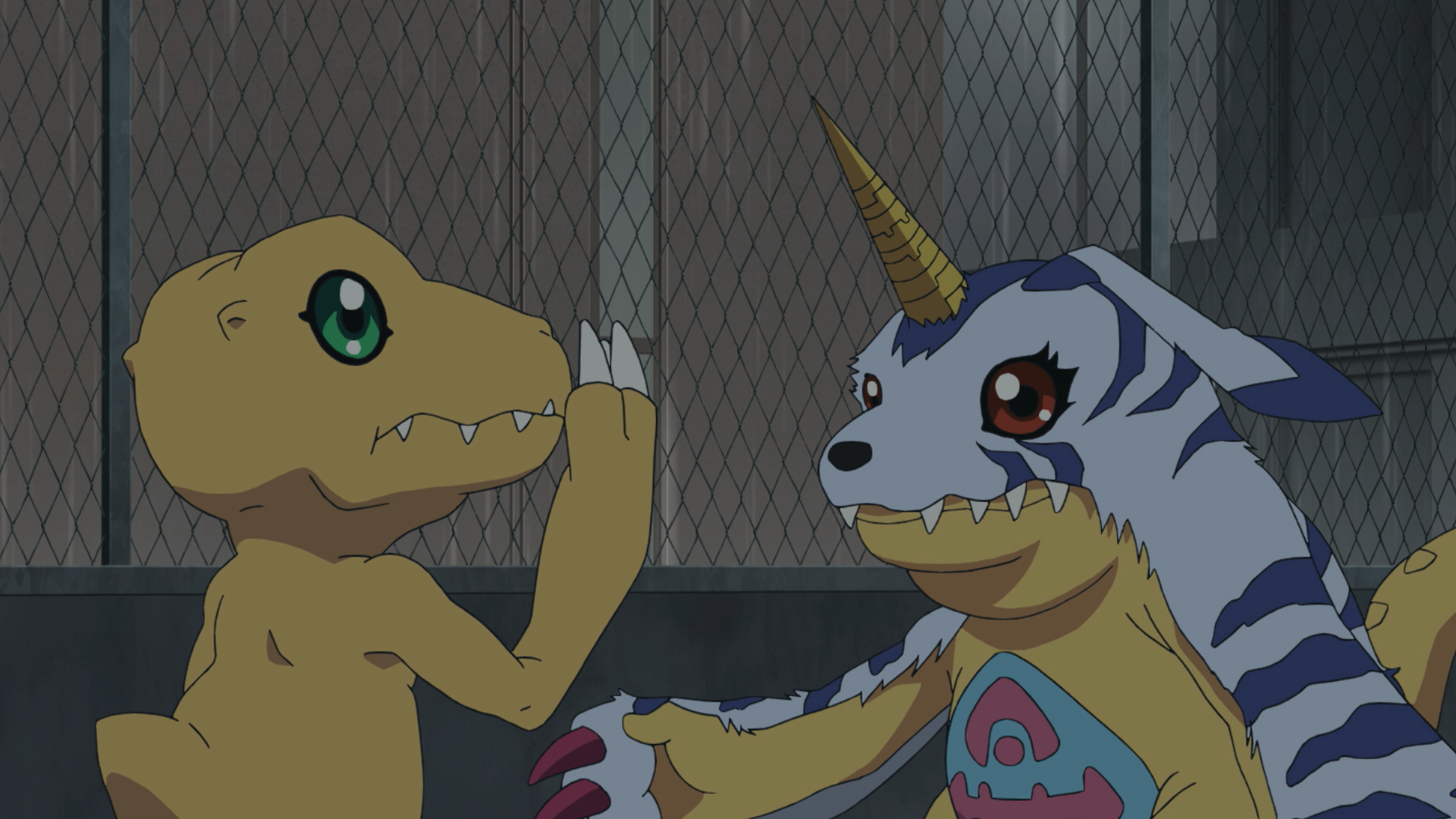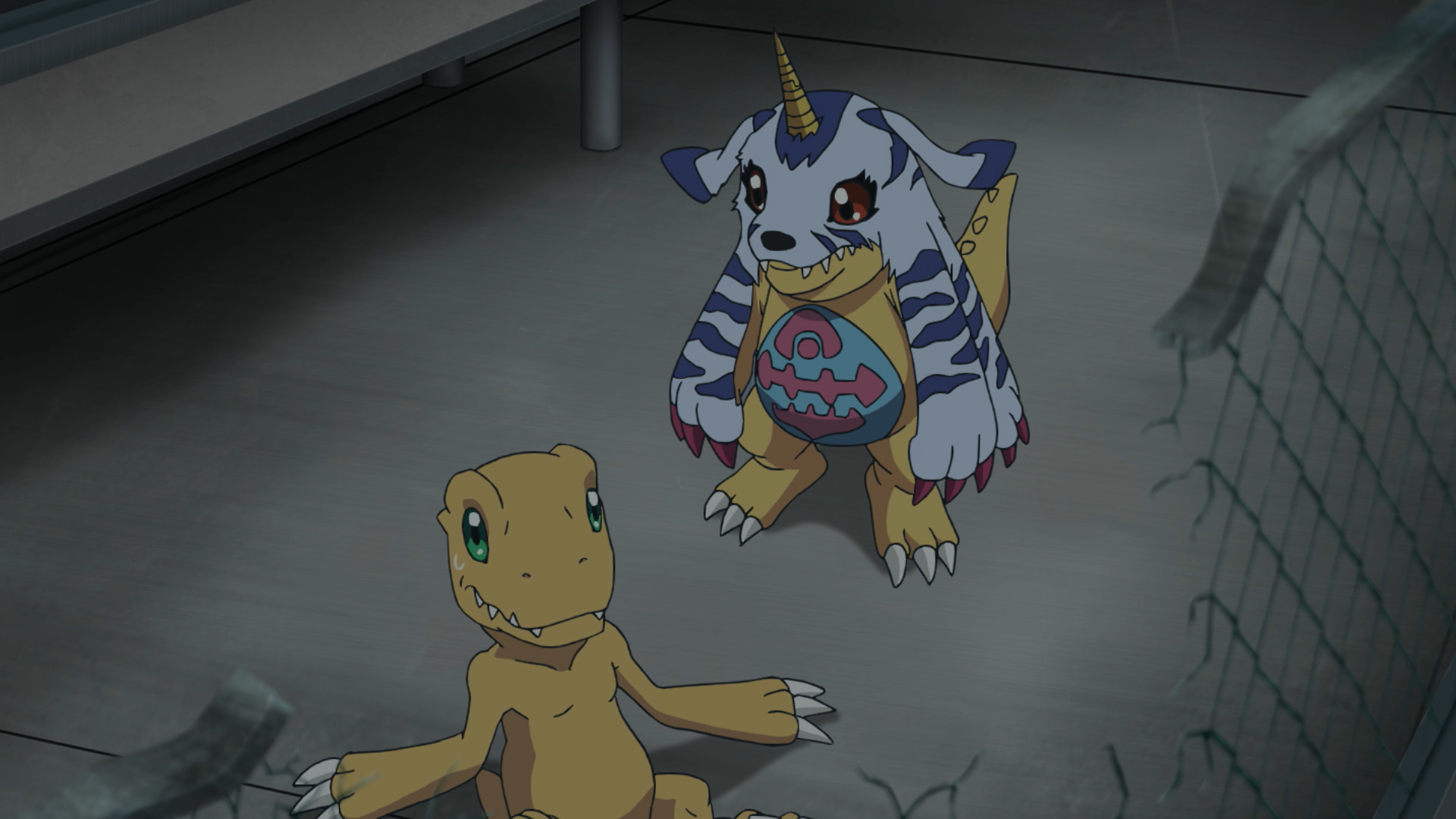 This short has Agumon and Gabumon discussing part of what is happening 'during' the movie and happens at the same time as a roughly similar scene in the movie (likely Taichi and Yamato.)
As for how to see it...
LB Pop-Up Theater will offer point cards. 1000 yen spent at the store gets you one point, and you can trade in 5 points to enter the small theater.
They note they expect it to be super crowded the first few days. Shop staff will make sure people are lined up properly, but they again expect it to be packed so you might not even be able to shop.
For those who purchased items from the normal Limited Base stores in Osaka and Ikebukuro, if you bring you receipt for 5,000 yen or more from either of those shops, the LB Pop-Up Theater will take that for entry.
When there are free screenings the start time will be announced on
the Pop-Up Theater Twitter.
We'll add more translated shop details as we can.
You'll want to contact an intermediary to get these items sent to you. WtW is not affiliated with any, but here are a selection of intermediaries that have worked well for various WtWers and their friends in the past:
From Japan
Rider Proxy
Nippon-Yasan
Be aware many intermediaries do not carry items from specialty shops since they can't be ordered online. You will need to ask them and explain what you want very carefully (perhaps with a photo.) Some intermediaries will potentially still not be willing to get the item (or may only be willing to at great cost.) Realistically to get anything from the pop-up shop at a reasonable cost you'll have to find someone who is actually going and ask them to pick you up something.
Some of the intermediaries have a full store front and may have the item listed, so you may want to check that first.
Update- The above has been entirely rewritten to add the product listings and details.
Last edited: