Show User Social Media
Hide User Social Media
Joined

Sep 8, 2006
Messages

17,404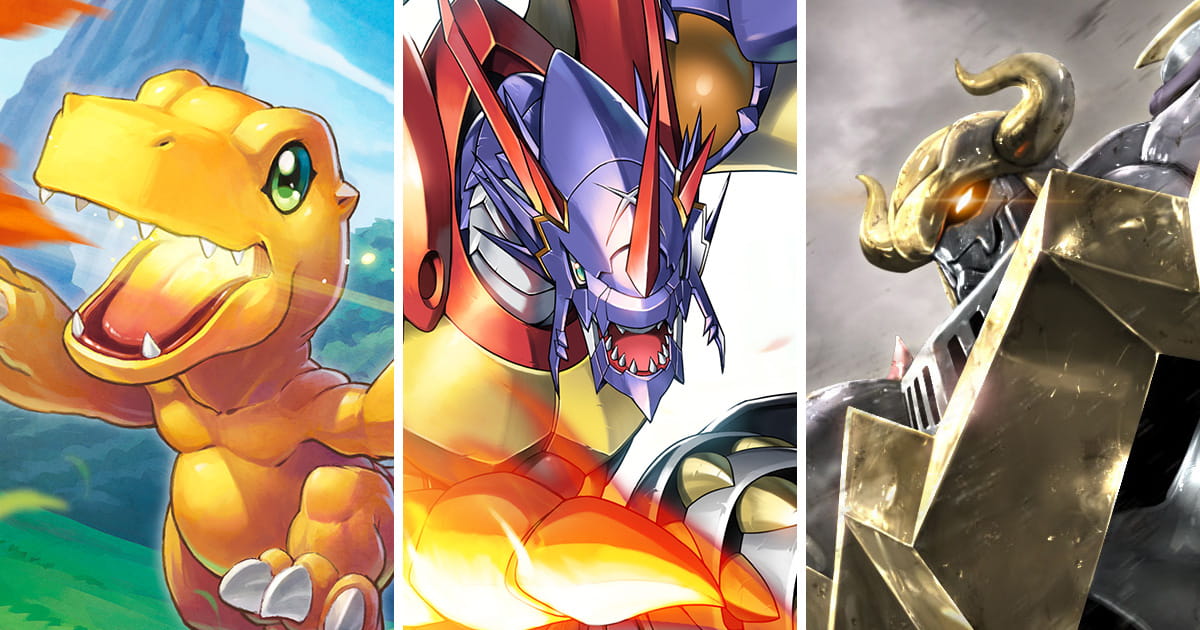 The new Digimon Journal has gone up, and we get a new Digimon Highlights!
Each Digimon highlights features 3 Digimon and includes:
Various art displayed at a decent resolution (not amazing, but decent), including some art never before seen clean or at good resolutions before.
A text profile, giving information on appearances and the character.
A list of Main Appearances
Showing off a card from the Card Game featuring them.
A link to their reference book entry.
At the end of the Journal, each Digimon gets a high resolution zoom in of some of their art, framed for use as an avatar whether square or circle.
The translations for these at a glance are decent, not quite as choppy as some of Digimon Profile was, although there are mixes of terminology.
For our coverage of these, we'll paste in text information as is, with some cleanup, along with the various art.
Digimon Journal 5
features Digimon Highlights: Agumon, Arresterdramon: Superior Mode, & DarkKnightmon
​
Agumon
The face of Digimon ever since its appearance in the original Digimon Ver. 1 LCD game, making waves front-and-center in anime, games, manga, and all other Digimon media. A top class Digimon across all these genres, it has inspired a number of variants such as Agumon Hakase, Agumon (Black), ClearAgumon and ToyAgumon.
Agumon has also made regular appearances in video games, such as the recent Digimon Survive. Both the TV anime Digimon Data Squad and manga Digimon Next would see redesigns of the character. Even with this bevy of appearances, the most recognizable has to be within the Digimon Adventure series.
Agumon spent many years as partner to series protagonist Taichi Yagami, and the 2020 movie Digimon Adventure: Last Evolution Kizuna would see the first time an Ultimate Digimon would take on the Agumon moniker: Agumon (Bond of Bravery). The valiant sight of Agumon expending its last strength to fight with friends and comrades moved many a viewer to tears.
Main Appearances
Digital Monster Ver. 1
Digimon Adventure series
Digimon World series
Digimon Story series
Digimon Survive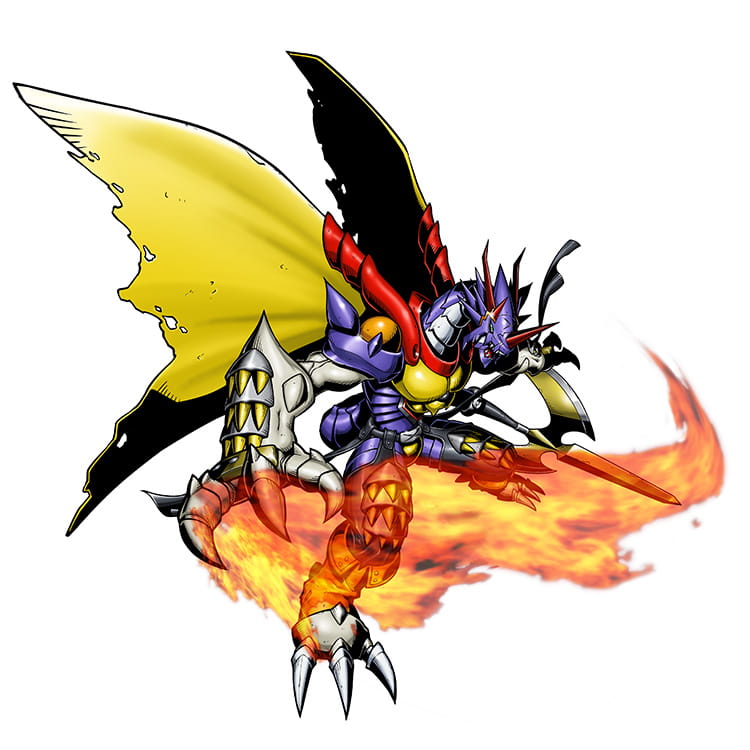 Arresterdramon: Superior Mode
In Digimon Xros Wars: The Young Hunters Who Leapt Through Time, the TV anime broadcast in Japan between October 2011 and March 2012, protagonist Tagiru Akashi's partner Digimon Gumdramon would evolve into Arresterdramon.
From there, it ended up fighting Quartzmon, the last boss who appeared while it was chasing after MetallifeKuwagamon. Responding to the feelings of the endangered Tagiru, Arresterdramon evolved into Arresterdramon: Superior Mode to protect its partner. The Kinkoji that once kept its power in check now bestowed further strength upon Arresterdramon.
There also exists a version of Arresterdramon: Superior Mode that DigiXrosed with Brave Snatcher, a weapon born from the right arm of Lord Bagra, the Bagramon who fought tooth and nail against Xros Heart during the events of Digimon Xros Wars.
Main Appearances
Digimon Xros Wars: The Young Hunters Who Leapt Through Time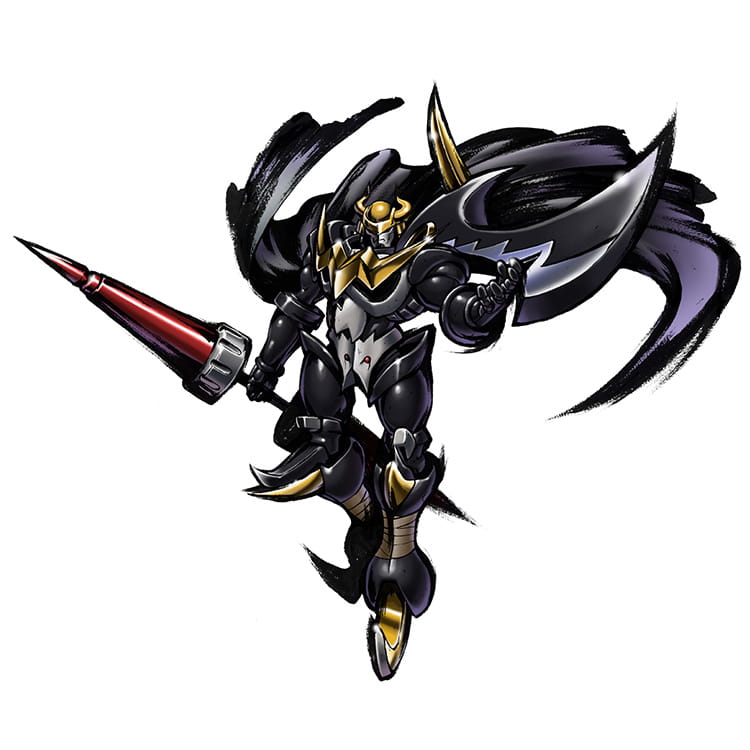 DarkKnightmon
First appearing in the TV anime Digimon Xros Wars, this Digimon was affiliated with Twilight, an army led by Nene Amano. The DigiXros of SkullKnightmon and DeadlyAxemon, DarkKnightmon was actually the younger brother of the Bagramon known as Lord Bagra. It conspired behind the scenes to revive the Darkness Loader—a device allowing Forced DigiXros—in order to succeed its brother as the Digimon emperor.
From taking Nene's younger brother Yuu as a hostage, to tricking Yuu into joining the Twilight Army as its general, its evil deeds are too numerous to count.
In contrast to the manga, the anime version of DarkKnightmon has its body taken over by Bagramon during a Forced DigiXros, effectively dying.
In the manga, it is protected by Bagramon when Argomon tries to take it down. The death of its brother caused a change of heart. Its body turned white, and SkullKnightmon (White) would go on to journey with Luminamon and others in the final chapter.
DarkKnightmon also makes an appearance in the Digimon Adventure: anime, as a character pursuing the Chosen Children. Its plan to revive Millenniummon ends up thwarted at the last minute. Afterward it regained its memory, helping WarGreymon and MetalGarurumon evolve into Omegamon. As such, DarkKnightmon served as more than a mere antagonist.
Main Appearances
Digimon Xros Wars series
Digimon Adventure:
Digimon Xros Wars Digimon Mini DarkKnightmon Black
Digimon Ghost Game
And the avatars for them...
Pairing up Agumon with a couple of well known Xros Wars Digimon makes more a fun update.
More to come!
The final Digimon Profile, the predecessor to Journal, can be found
here
. It includes an index of all Profiles.
Digimon Journal 1 through 3
- Alphamon, Dorugoramon, Gammamon, Beelzebumon, BelleStarmon, Clockmon, WarGreymon, Shoutmon x4, & Ginryumon
Digimon Journal 4
- ULForceV-dramon, Ragnamon, & Angoramon