Show User Social Media
Hide User Social Media
Joined

Sep 8, 2006
Messages

13,002
New V-Jump time! And this time it hasn't been completely mined for info before we get images!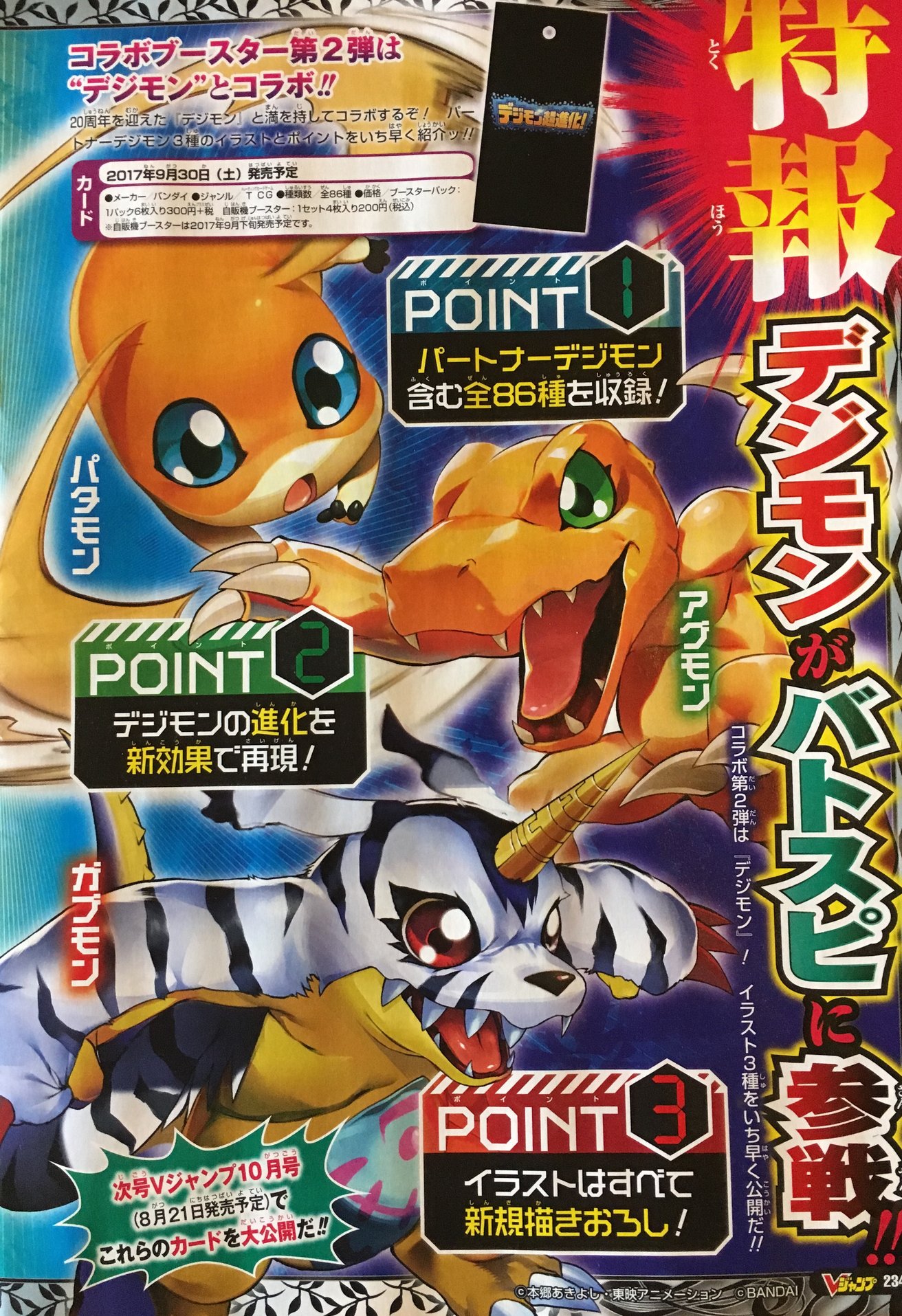 Some good stuff in this issue (September), lots of clarifications and updates to previous things.
There may be Appmon spoilers down below at the bottom... so watch out...
First up are details of the upcoming appearance of Digimon in the Battle Spirits card game:
86 different Digimon will appear (including partner Digimon.) We get previews of some of the art. We've seen the Agumon image before, but I don't think we've seen the others.
Cards will have new effects to emulate evolution.
All the artwork on the cards will be new.
They will reveal a number of cards in the next issue of V-Jump
Update- Some further (non V-Jump) info from what looks like a sales sheet, image provided by Monox.
The evolution will use a (newer?) Battle Spirits feature called 'advent' to represent evolution.
All normal cards will feature new art that fits the Battle Spirits style. Less clear are details about a group of 'parallel' cards that they mention the art will be more 'Digimon style' (they don't mention if these cards will specifically be new art or not.)
This will be the first time XXR rarity cards will appear in a crossover/collaboration set.
Next up is some Appmon!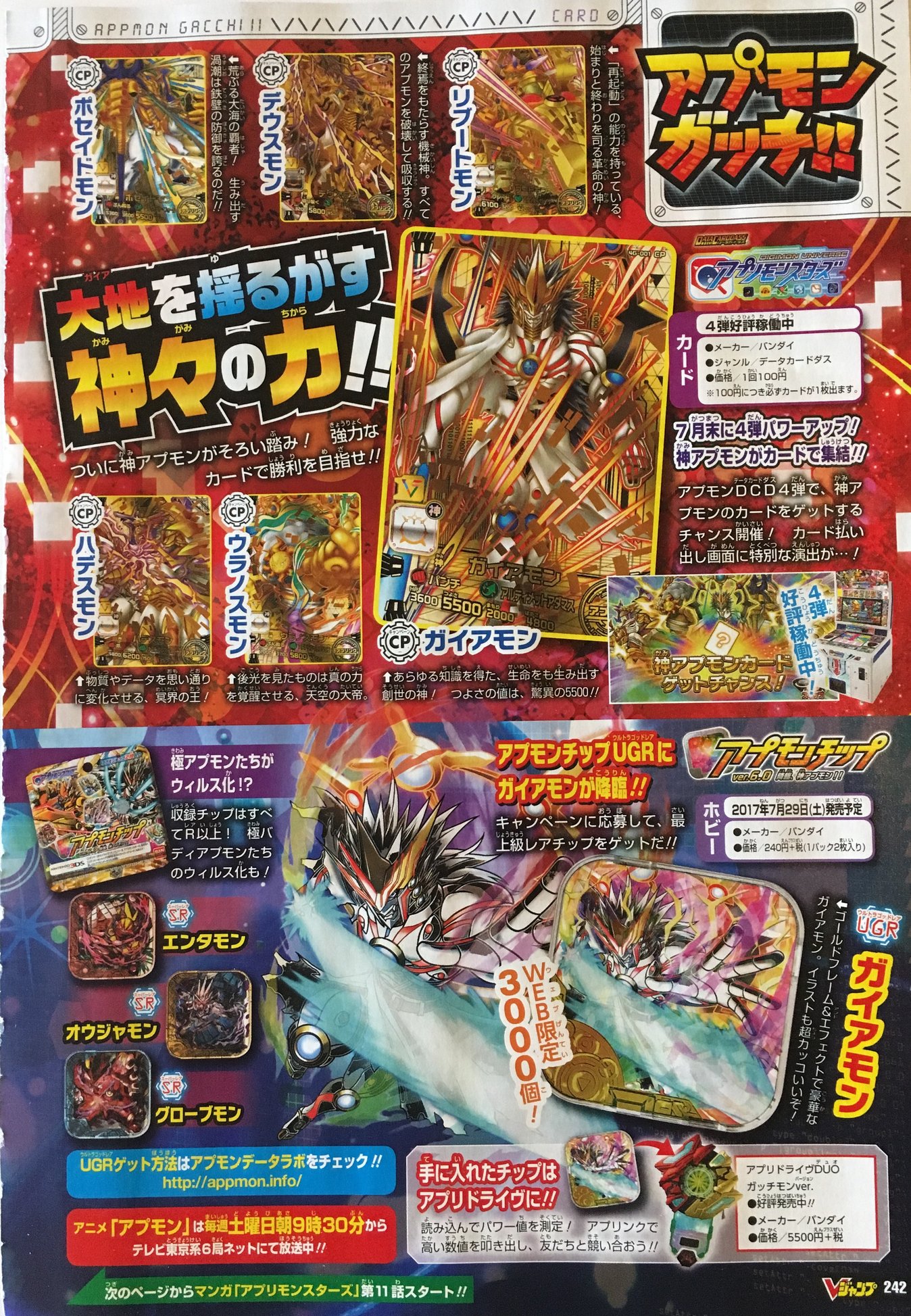 First up for the Data Carddass game... the fourth DCD set, at the end of July, will allow God grade Appmon to be got.
Then we get some Appmon chip details...
All the chips in the next set will be rarity R or higher.
A new UGR chip of Gaiamon will also be released .
We get some good images of both.
Then some tri. stuff....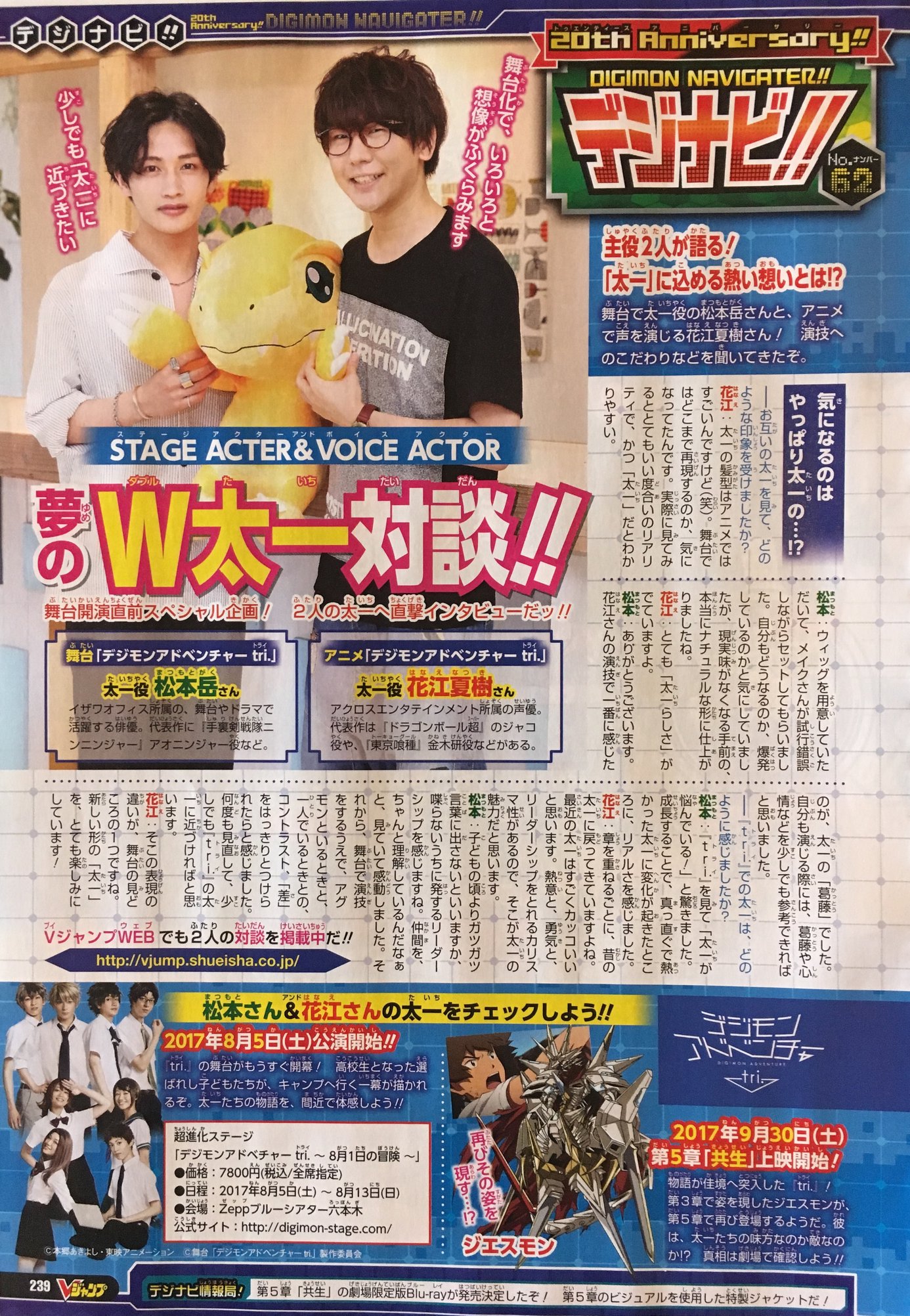 An interview with Hanae and Matsumoto regarding both of them being Taichi. (Chunks of this same interview appear in various places. Unfortunately garm simply doesn't have the time to translate this at the moment.)
Various basic stage play details are included, and we get a look at nice art of Jesmon from tri. Part 5.
Time for more Hacker's Memory also!
A number of new details...
First is some new Hacker's Memory characters:
Mysterious Hacker: K - A mysterious man donning a mask, he proposes to the protagonist that they should cooperate. What exactly is his motive..!?
Returning from Cyber Sleuth is... Former executive of Zaxon: Jimmy KEN - Who is also active in a visual-kei band. A hacker that tries to act cool.
and his Digimon, Boltmon: An Ultimate level Digimon whose insides were mechanically modified.
Various Game Modes: Ranking Battle, Event Battle (battles that can be done for a limited time), Free Rule Battle (for playing with friends), Coin Shop (for buying accessories to put on your Digimon; you get coins as you battle online.)
Update- Some official English materials for the above from Bandai Europe. Thanks to
Gematsu
.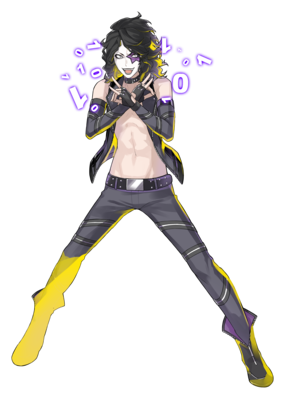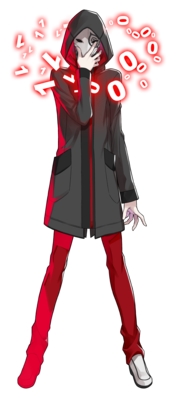 Jimmy Ken & K
Hackers in the Digital World are divided into groups with different objectives. Some of them will cooperate, other ones will fight against each other in order to destroy the dimensional barriers and invade the real world. For example, the largest hacker group named "Zaxon" will strongly fight to protect the Digital World.
But one member, Jimmy Ken, is unsatisfied with the management of the group so he decided to create his own group called "Demons."

Confusion reigns in the Digital World especially with this mysterious hacker named K who wants to chase the criminal who is hunting for your account.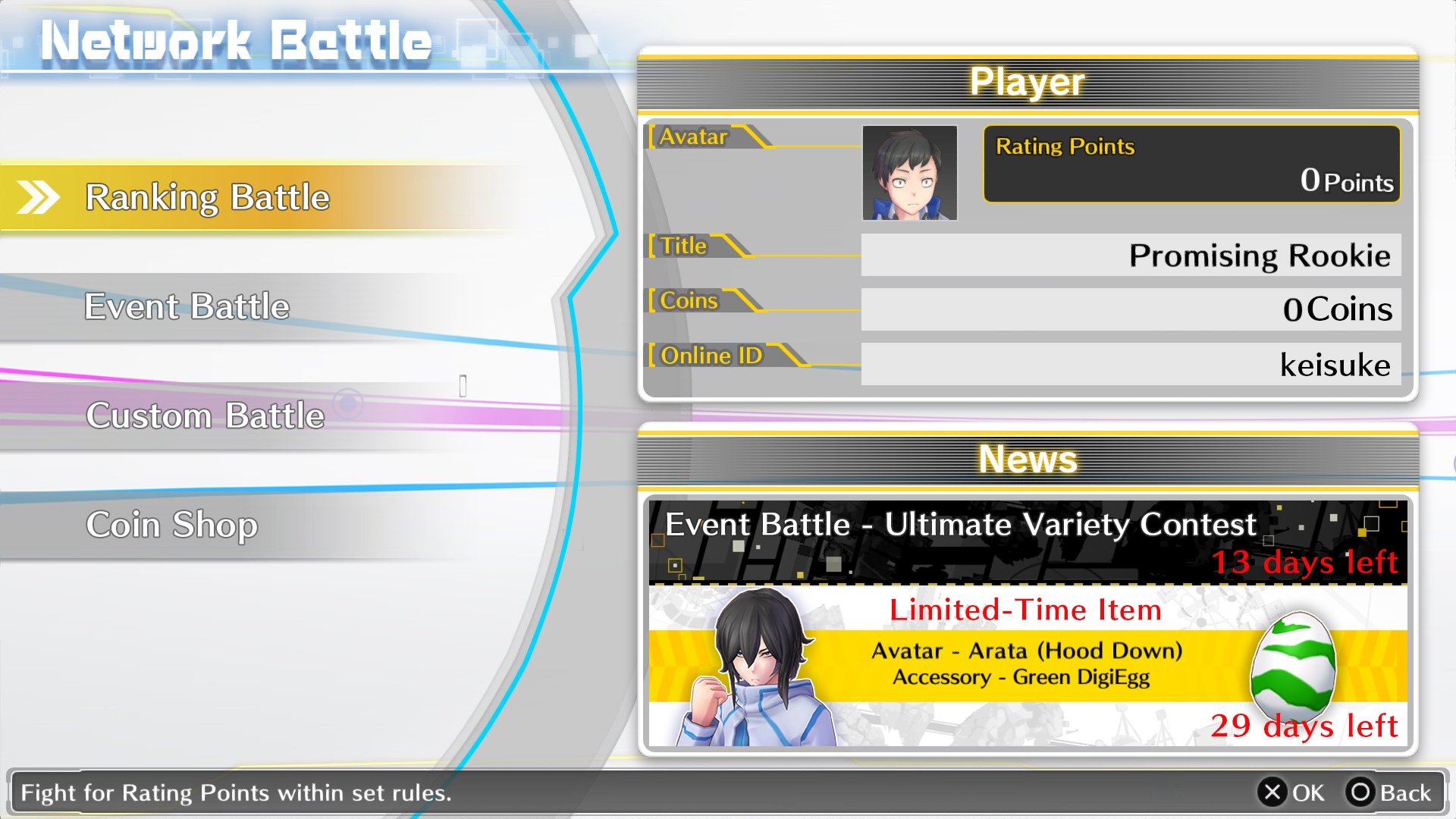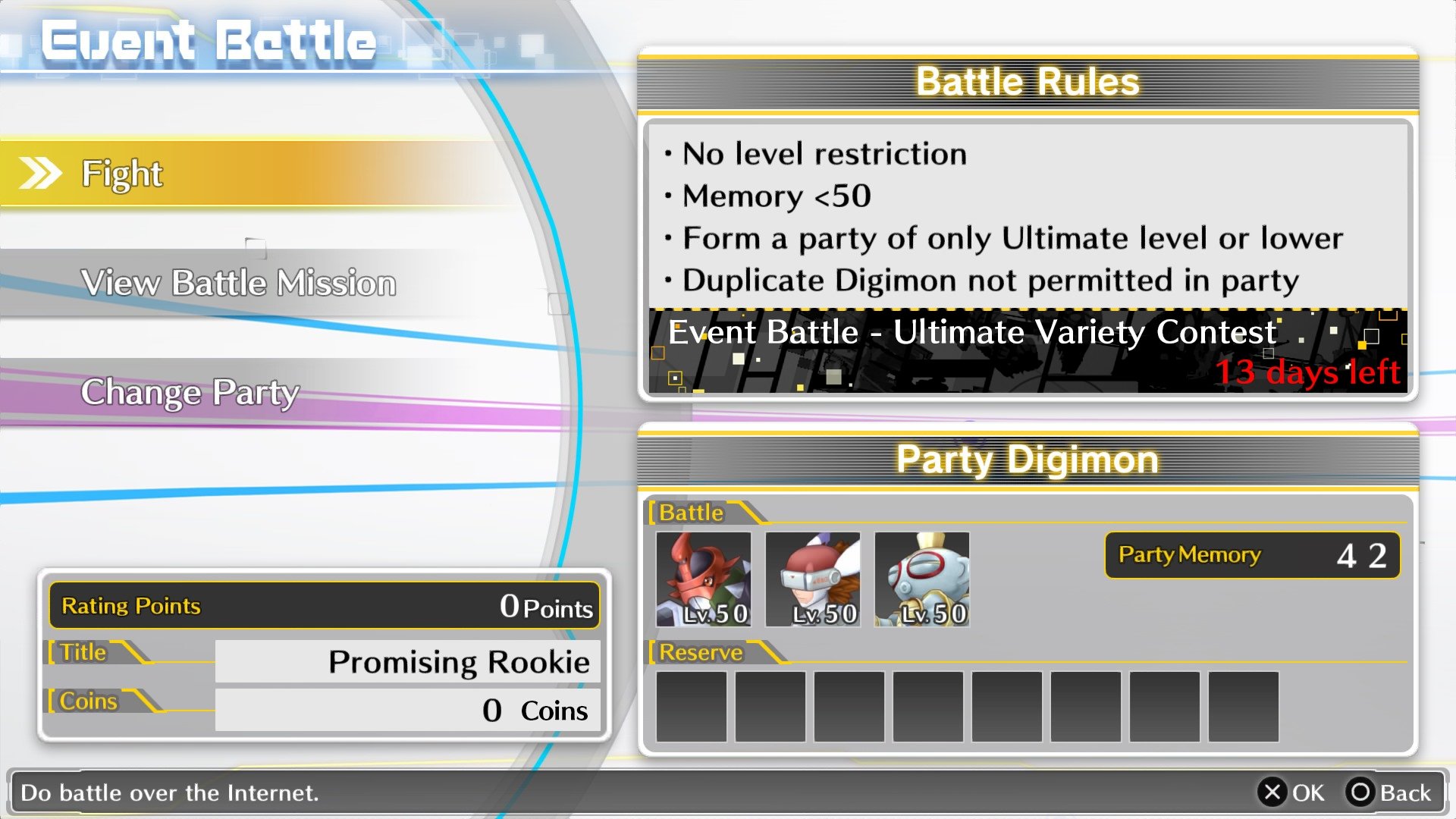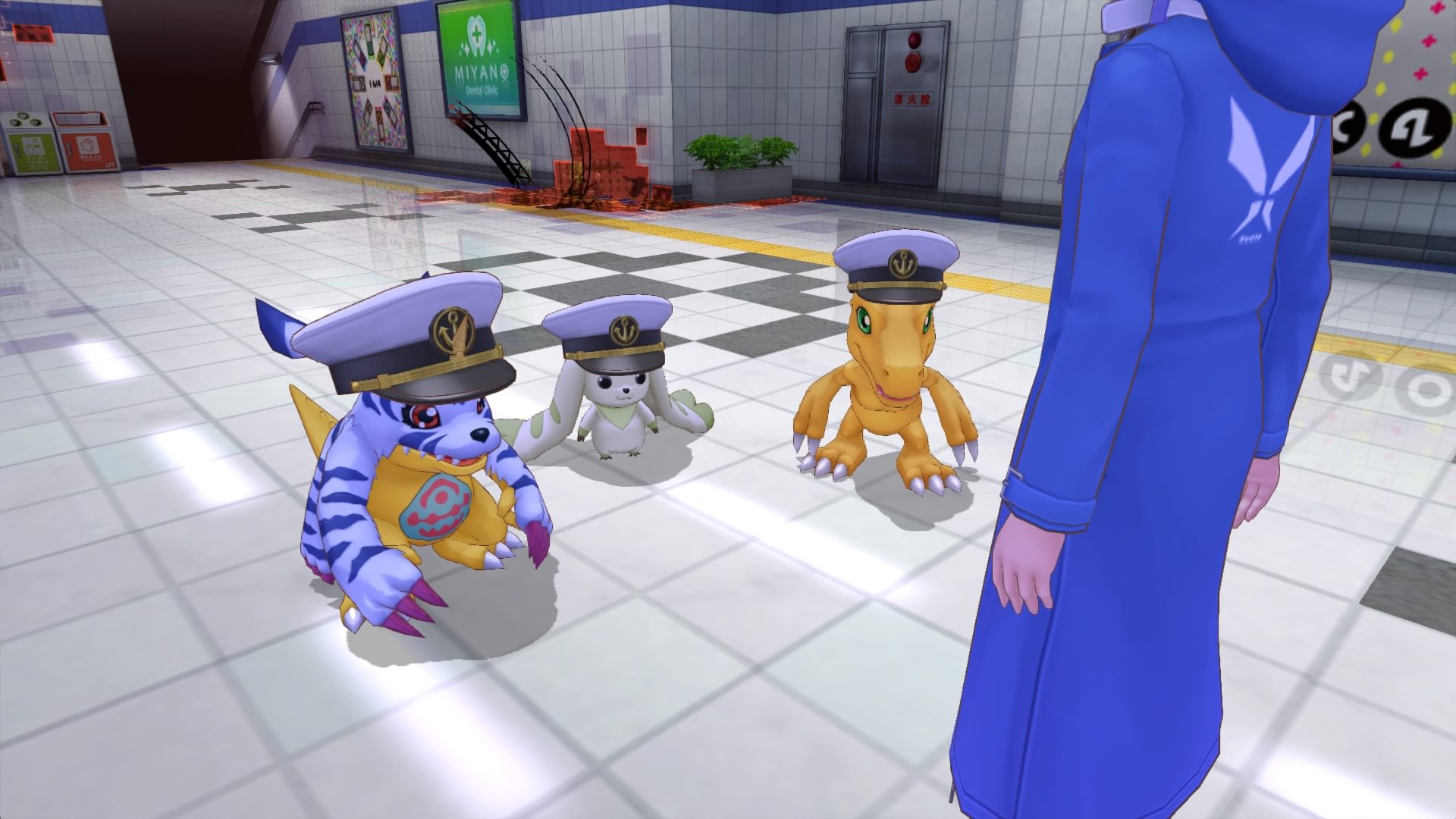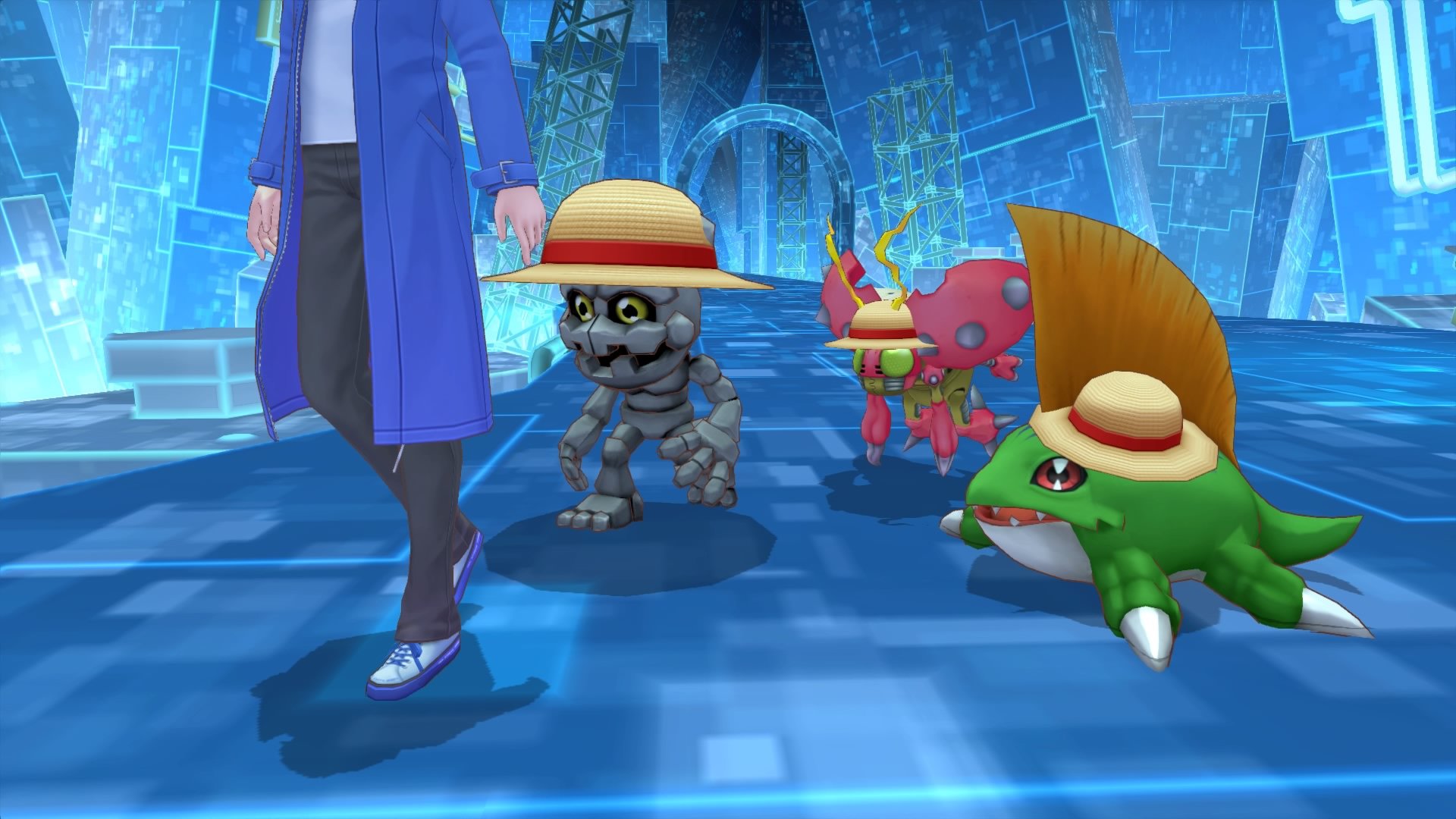 Various Details Regarding Battles
Network Battles: In Digimon Story: Cyber Sleuth Hacker's Memory players will be able to battle against each other with the Digimon they have trained. The Network Battle experience has been enhanced with a Rank Battle mode with pre-determined rules and rating points.

Rules for Event Battle will change every 2 weeks. This special mode won't affect players' score and they will be rewarded with items.

In the Free Rule Battle, players will be able to create a room with its own rules and invite up to 8 friends.

The coins earned from the Rank and Event Battle modes can be used in the Coin Shop to purchase accessories to equip your Digimon or change the appearance of your character in the online mode.
And we finish the update with high res art of the Digimon wearing hat items.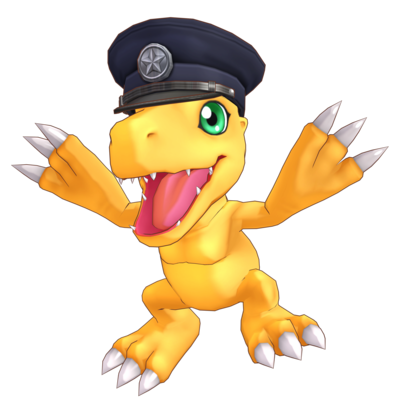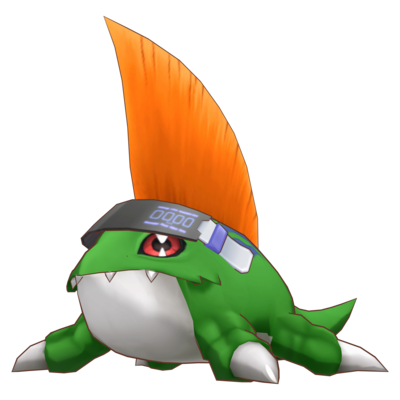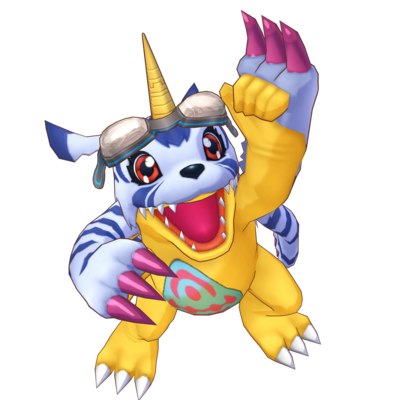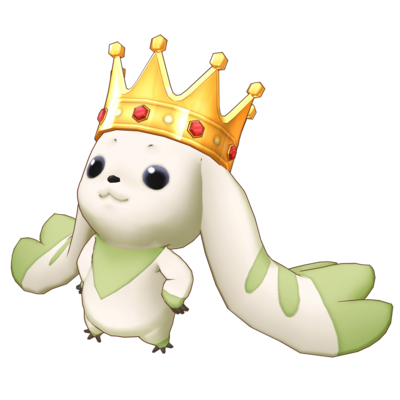 Terriermon clearly knows what's going on. This is a golden age of Digimon. (To say nothing of the trio in the screenshot above on their journey to become king of the pirates.)
The last page is product info!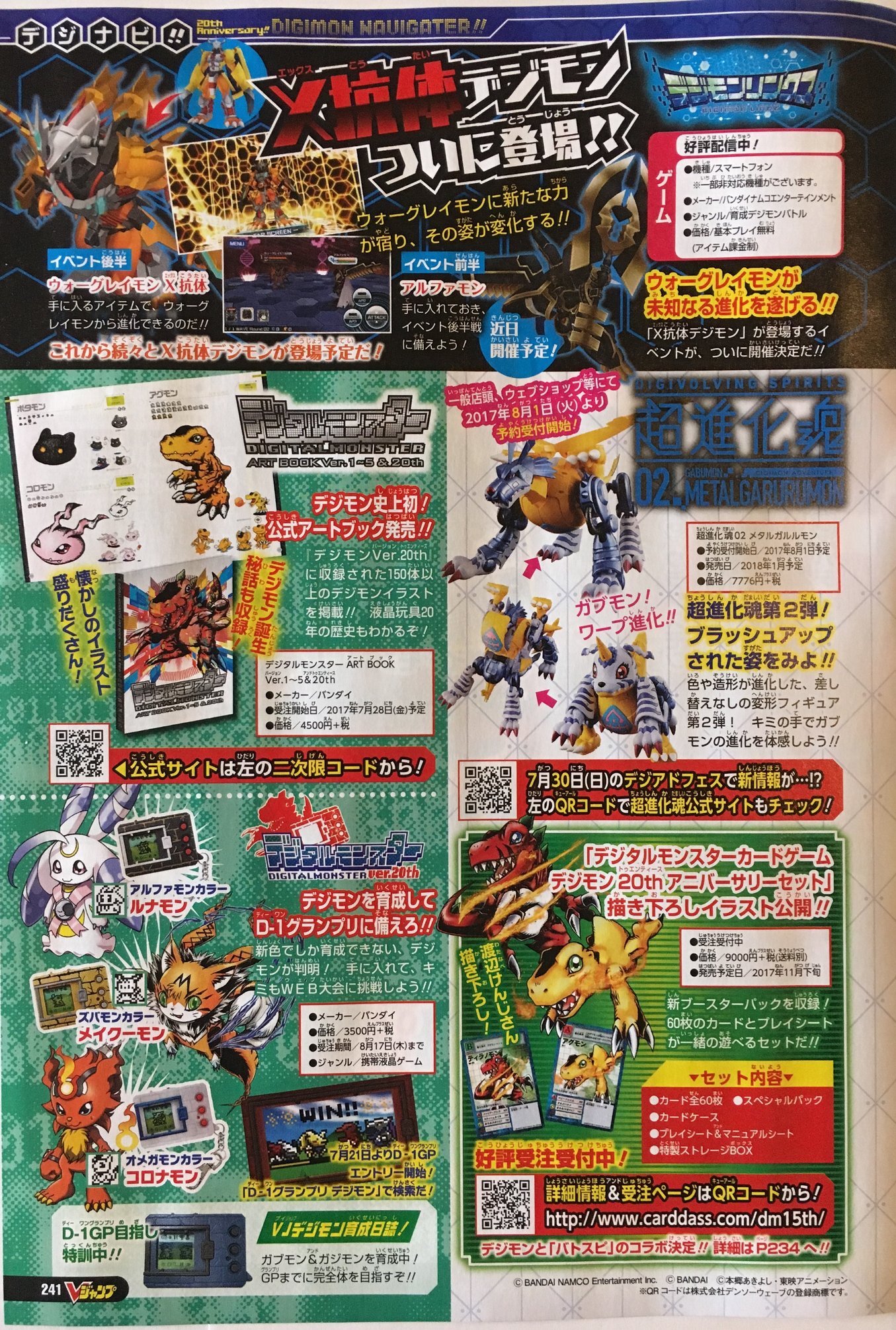 For Linkz they bring up how X-Antibody Digimon are finally appearing.
We also get some additional details about some upcoming products... (much of this we knew, just listing it here for those who may have missed it.)
First up, the V-Pet artbook is still scheduled to go up for pre-order on July 28th for 4500 yen.
The 20th V-Pet details appears to be all stuff we've seen previously but we do have something NOT from V-Jump regarding the V-Pets...
With D-1 registration beginning in Japan tomorrow, the
Digimon Twitter
has revealed the prize for the winner of the D-1 Grand Prix...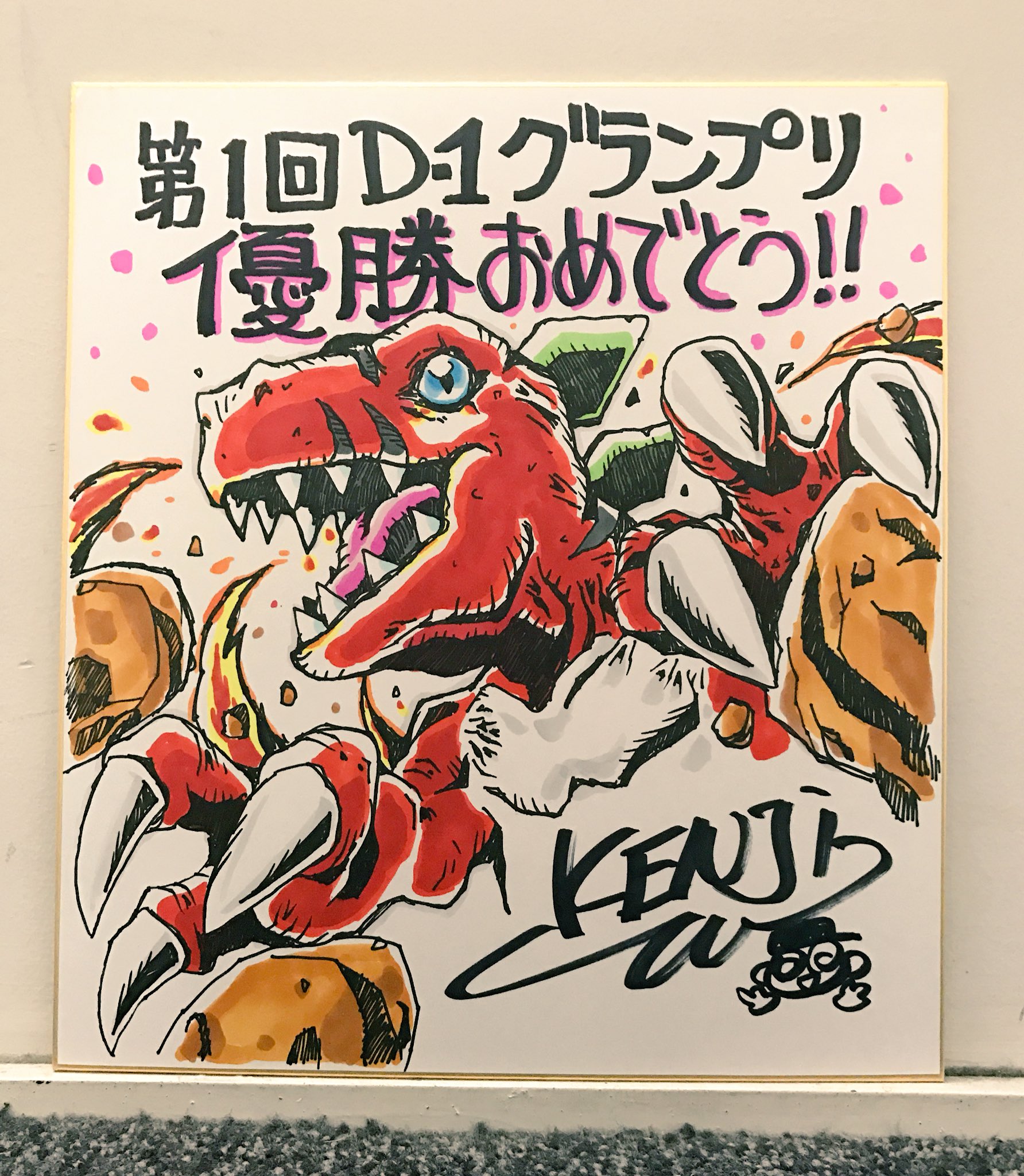 A shikishi of Tyranomon by Kenji Watanabe.
Update-A prize update.

In addition to the prize for first place, they've updated with a prize that will be given to other high scorers/performers (they don't exactly qualify what that means though.)
The prize for these other high ranking players will be a print of a different Tyranomon shikishi by Kenji Watanabe.
They also go over ordering details for the second Digivolving Spirits figure, MetalGarurumon.
Pre-ordering will begin on August 1st, 2017 and they still plan for it to come out in January 2018.
It will cost 7776 yen.
And for the upcoming 20th card set they show off cards featuring new Kenji Watanabe art of Agumon and Tyranomon. We first saw this art recently, but weren't sure where they planned to use it exactly (even if being on cards seemed obviously.)
Not to much exciting in this issue, mostly clarifications and a few additional small details.
Oh wait... there is one more thing... Appmon fans might want to turn away if they want to avoid spoilers... but then I did warn you up above... (although I'm not sure how spoilery the image itself is...)
From the newest chapter of the Appmon manga...
In and of itself the image isn't super spoilery without context... and there is only one line of text...
It's possible this won't apply to the anime... but who knows 'shrugs'
Thanks to ukyou for the V-Jump images and garm for the translated bits.