Show User Social Media
Hide User Social Media
Joined

Sep 8, 2006
Messages

17,396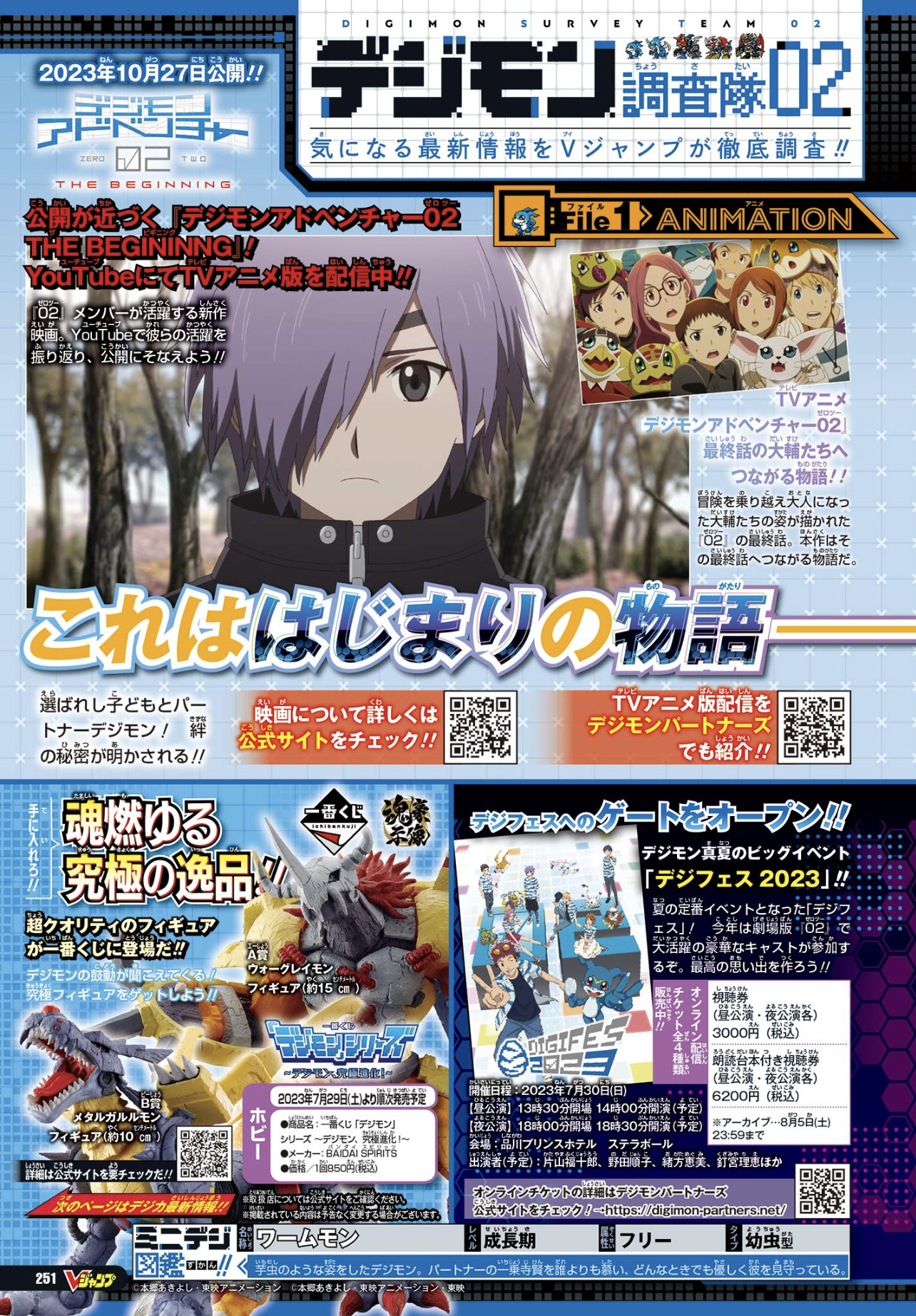 It's time for all the new Digimon content from the September 2023 cover dated issue of V-Jump!
We start off with a page with a basic preview for 02: The Beginning, mentioning it being a follow-up to the TV show, promos, etc.
They also go over DigiFes and the Ichiban Kuji product lottery.
Then we get card game previews for EX-05. The first page is dedicated to the Holy Beasts. We got previews of them a few days ago.
The previews came at abnormal times for card game previews, as they actually went up at the times that match the positions of the cardinal directions that each beast is associated with.
And since we have the 4 beasts, we now get a preview of Huanglongmon.
Also from EX-05 we see the Tamer cards once again, along with a few new previews...
Loyalty Deeper than the Sea- This card features new art, but is named and styled after a card from the original card game. The interesting touch on this one is, it appears to be the same scene as in the original card, but the perspective has been swapped.
Then we get to see a MetalGarurumon X parallel card, in the style of the original card game. This features a new symbol, seemingly intended for when a card has 2 parallel cards in the same set, a double star.
Previous previews for Booster Set EX-05 Animal Colosseum:
Packaging
MetalGarurumon X, Coronamon, Lunamon, Koh & Sayo, Sayo & Koh, & Aquilamon
Baihumon Ace
Xuanwumon Ace
Qinglongmon Ace & Zhuqiaomon Ace
Tokomon & Elecmon
Mercurymon
Booster Set EX-05 Animal Colosseum is out August 25th, 2023.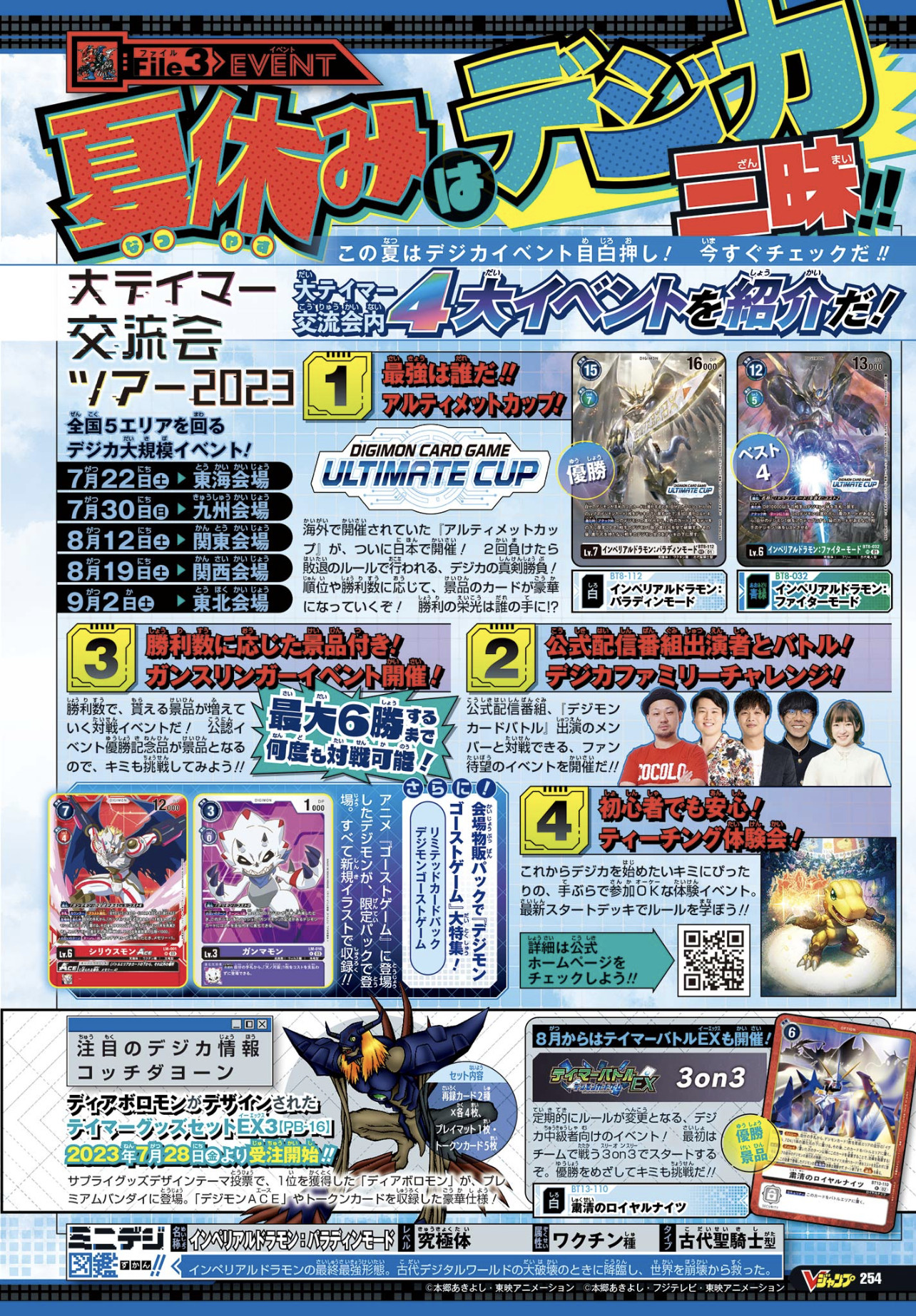 Then we get a few more card updates...
Ultimate Cup and Big Tamer Exchange Meeting scheduling and prize cards are shown off.
They point out that people can play against Card Battle family members at the events.
Side events with Gunslinger rules.
There will be training events for newer players.
EX events are upcoming with 3on3 rules where you can get a parallel option card they've shown off before.
Tamer Goods Set EX3 (PB-16) will go up to pre-order on July 28th. It's themed after Diablomon, who won a poll for who should get a card game accessory kit.
The Diablomon products it will include are:
2 parallel cards, 4 of each
1 play mat
5 token cards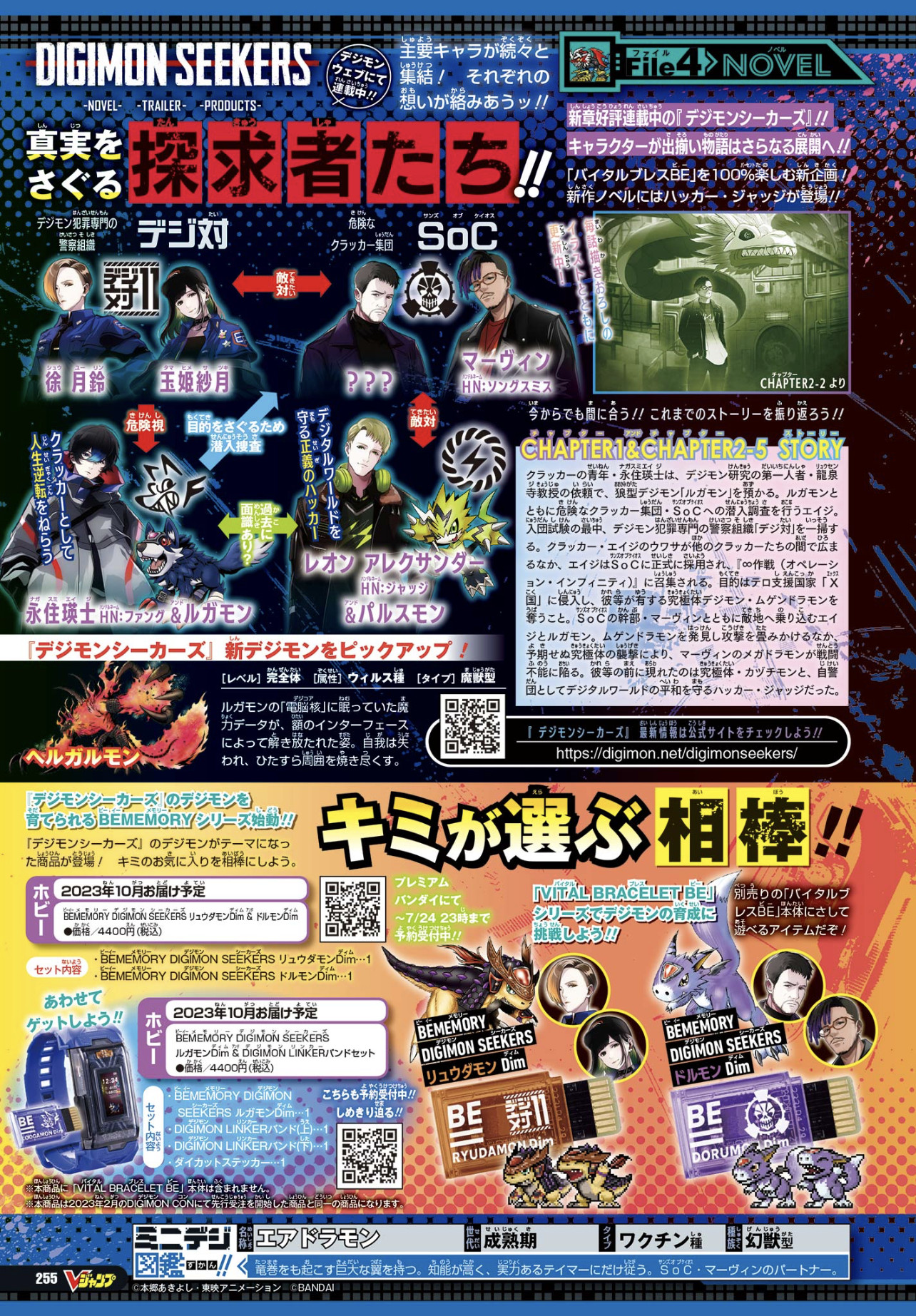 The last page focuses on Seekers...
We get a mini chart for the connections between the characters, along with some plot synopsis stuff teasing the next chapter segment.
We get a mini profile for Helloogarmon.
And it finishes off with the Vital Bracelet BE stuff that's available to pre-order.
Plenty for them to go over this month, with quite a bit being held back with news upcoming shortly.