Show User Social Media
Hide User Social Media
Joined

Sep 8, 2006
Messages

17,404
It's time for all the new Digimon content from the May2021 cover dated issue of V-Jump!
We may update with more translations and stuff later based on time.
First up is a card game spread featuring
Starter Decks 7 & 8, Dukemon & ULForceV-dramon
!
The main focus of the spread is showing off the card lists for the starter decks, and previewing a few parallel cards that are included, along with the cards of the Digimon featured in the sets.
At the bottom left we also get a preview of all 6 upcoming 'delay' promo cards (
announced at DigiNavi
), 1 for each main color in the card game.
Card lists for the Starter Decks (thanks to SparkGold for some help):
ST-7 Dukemon:
| | | | |
| --- | --- | --- | --- |
| Gigimon​ | Monodramon​ | Agumon​ | Guilmon​ |
| Piyomon​ | Growmon​ | GeoGreymon​ | DarkTyranomon​ |
| Groundramon​ | RiseGreymon​ | MegaloGrowmon​ | Dukemon​ |
| ShineGreymon​ | Royal Saber​ | Atomic Blaster​ | Gaia Force​ |
ST-8 ULForceV-dramon:
| | | | |
| --- | --- | --- | --- |
| Chibimon | Elecmon | Gabumon | Dracomon |
| V-mon | V-dramon | Coredramon | Gorimon |
| Monzaemon | Wingdramon | AeroV-dramon | Slayerdramon |
| ULForceV-dramon | Hammer Spark | ULForce Saber | V-Wing Blade |
We have 2 photo versions of the spread, and are including both.
Update- A closeup of the Dukemon card, along with the 6 delay promo cards...
We have clean card images for Booster Set 5 Battle of Omega, plus Tamer Battle Pack 4, 4th Scene Vote, & Vital Bracelet Pack-In Cards.

We also just got our first details & images for

Booster Set 6 Double Diamond & the Dukemon & ULForceV-dramon starter decks and pre-orders are u

p!

Plus we have the first details

for the 1 year anniversary of the card game, including a number of fun things!

And images from previous Digimon Card Game releases:

Starter Decks 1, 2, and 3, and first 10 promo cards Booster Set 1 New Evolution Booster Set 2 Ultimate Power V-Tamer Promo Cards Purple/Black Promo Set Tamer Battle Pack 1 and Tamer Battle Winner's Card Booster Set 3 Union Impact Starter Decks 4, 5, & 6, plus Tamer Battle Pack 2 & winner's Card 2, & 1st 2 scene vote cards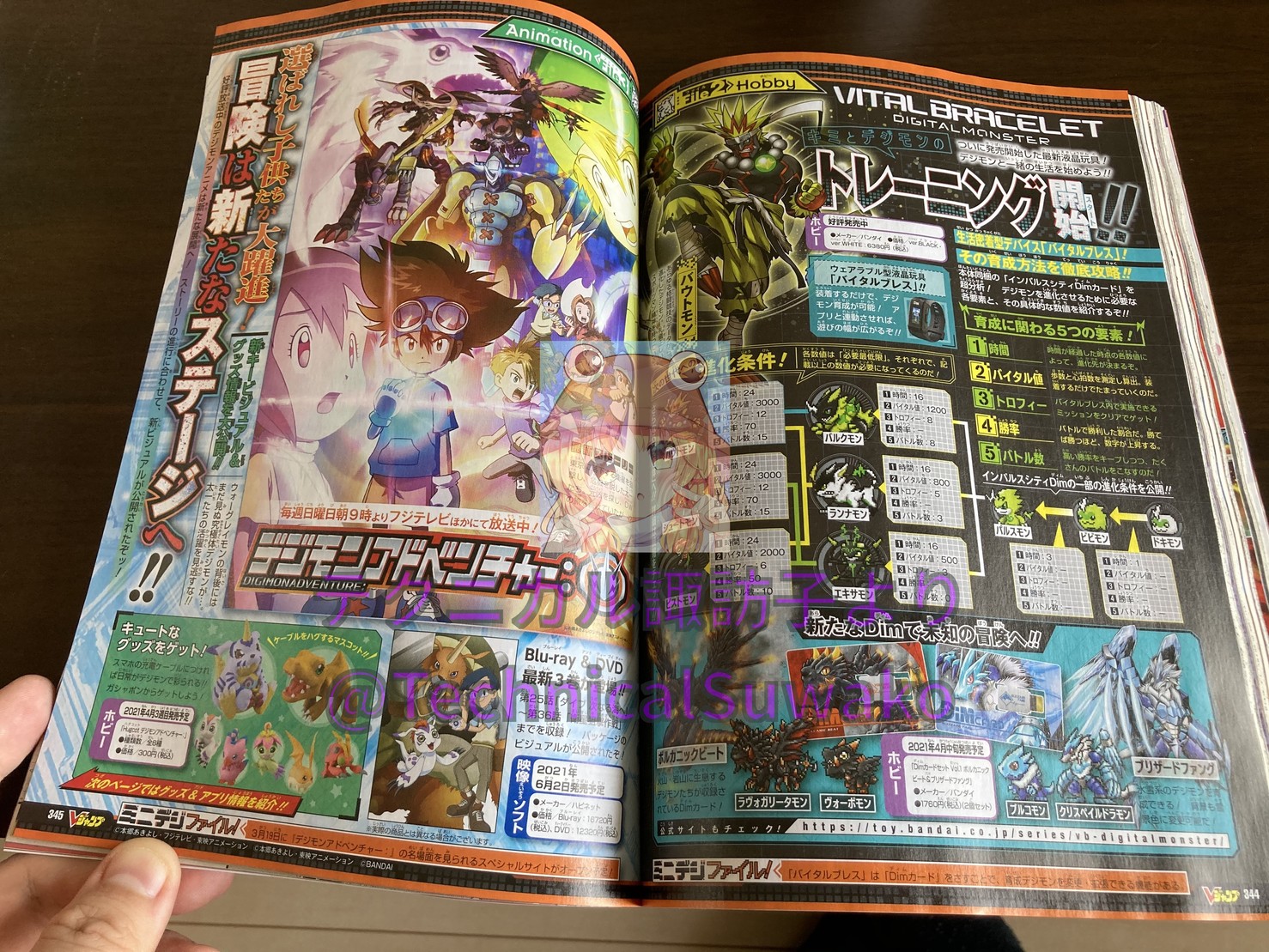 The second spread starts with the Vital Bracelet. It begins showing off various evolution paths for Pulsemon, along with what you have to do to make them happen, along with showing off some of the signature Digimon from the Volcanic Beat & Blizzard Fang.
The other half of the spread has a heavy focus on the new Adventure: key art. With the show coming back this weekend from a one week hiatus, hopefully we get a nice digital version soon.
On top of that we also get a look at the packaging for Blu-ray and DVD volume 3. The side they show off features Jou, Gomamon, and Zudomon (we first saw it at
DigiNavi
.)
The third box will be released on Blu-ray and DVD on June 2nd, 2021. Pre-orders are open for the third box at CDJapan: (affiliate links)
Digimon Adventure: Blu-ray Box 3
Digimon Adventuer: DVD Box 3
This section finishes by showing off the Hugcot cable holders once again.
The last main page shows off...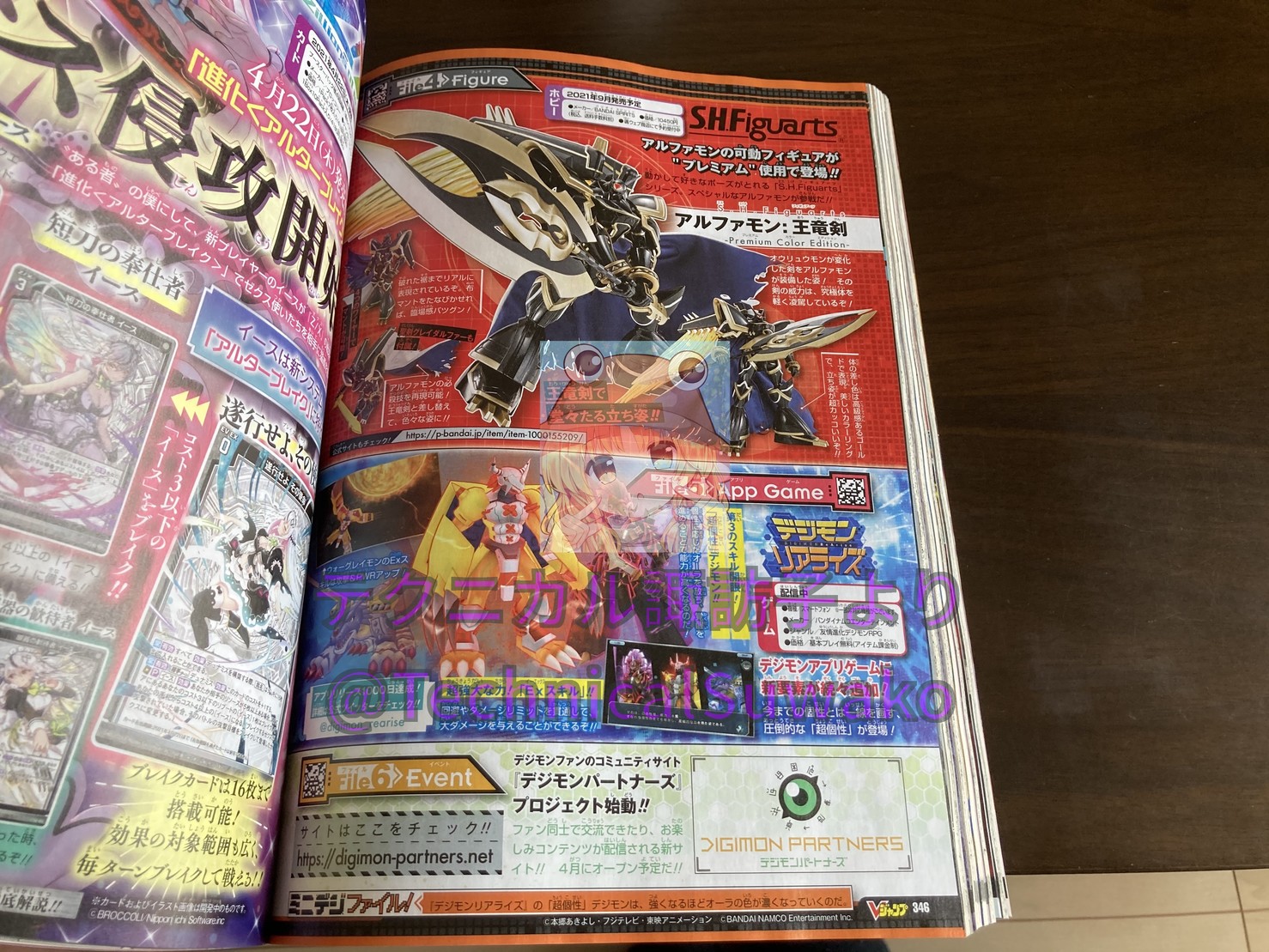 SF Figuarts Alphamon Ouryuken Premium Color Edition gets a big portion of the page, which makes sense
since it's up to pre-order right now
.
After that ReArise is shown off up with upcoming story content featuring WarGreymon, MetalGarurumon, and Gaioumon.
It finishes showing off Digimon Partners, the upcoming official community site that opens in April.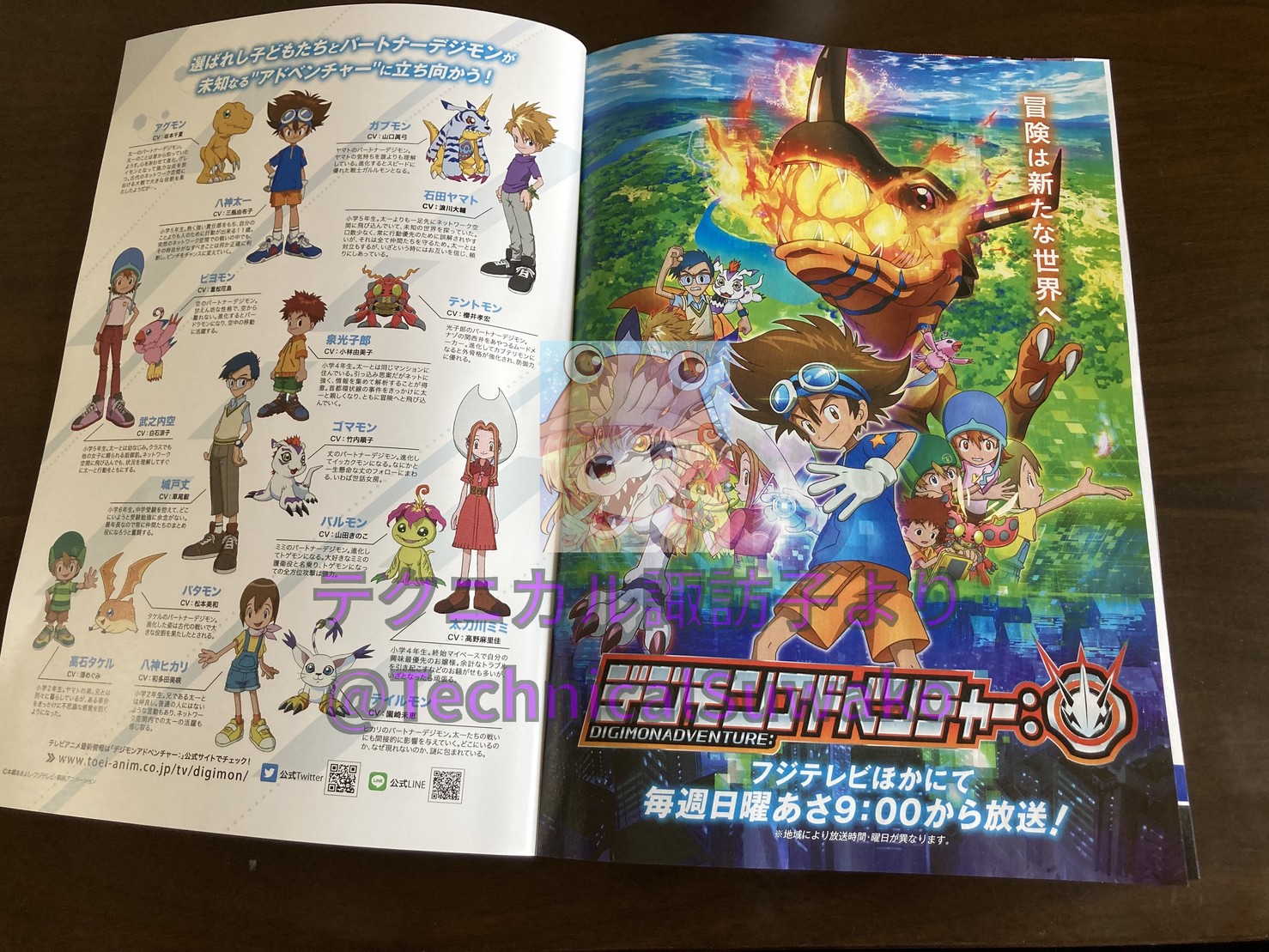 The last bit is the Digimon Adventure: promotional spread we often see.
The new starter decks and promo card are nice to see, plus the Vital Bracelet, Adventure:, ReArise, and that figure!
Thanks to
Technical Suwako
for the images, and
Digicaplayer
(
2
) (
3
) for the heads up on the other card image from a baidu user.