Show User Social Media
Hide User Social Media
Joined

Sep 8, 2006
Messages

16,452
Even more to go over!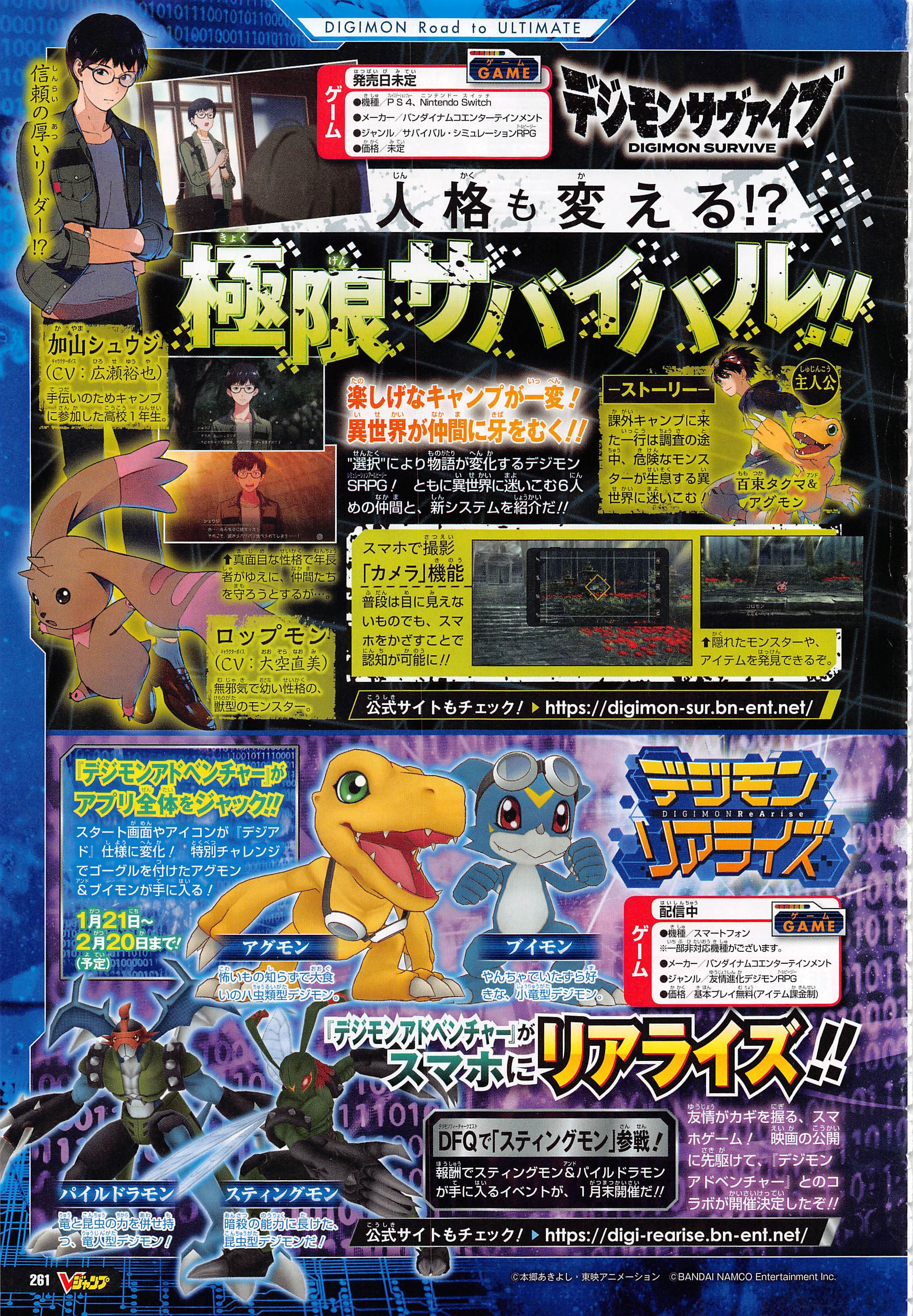 This is one of the bigger V-Jumps in recent memory.
On top of the new stuff,
we've added translations for all the new Digimon Adventure: anime and card game content here
.
For the rest of this issue...
Survive has a few things...
We get introduced to another pair of characters!
Shuji Kayama, voiced Yuya Hirose (Yuta from SSSS.Gridman)
Shuuji- A highly trustworthy leader?!
He is the oldest with a serious-minded personality, but when he tries to protect his friends...
Lopmon, voiced by Naomi Ozora (Satania in Gabriel Dropout, Chieri Ogata in Cinderella Girls, and Chika in Cyber Sleuth)
Lopmon: A beast monster with an innocent, young-like personality.
It also goes over how using your smartphone camera will allow you to see things you can't otherwise see.
There is also some teaser text that basically says nothing minus 'Change characters!' with no clarification beyond that.
Digimon Survive can currently be pre-ordered at Amazon.com: (affiliate links)
Digimon Survive for PS4
Digimon Survive for Switch
Digimon Survive for Xbox One
Survive is currently scheduled for 2020.
ReArise also shows off Agumon and V-mon with Taichi style goggles, along with Stingmon and Paildramon.
Next up is a page for Kizuna.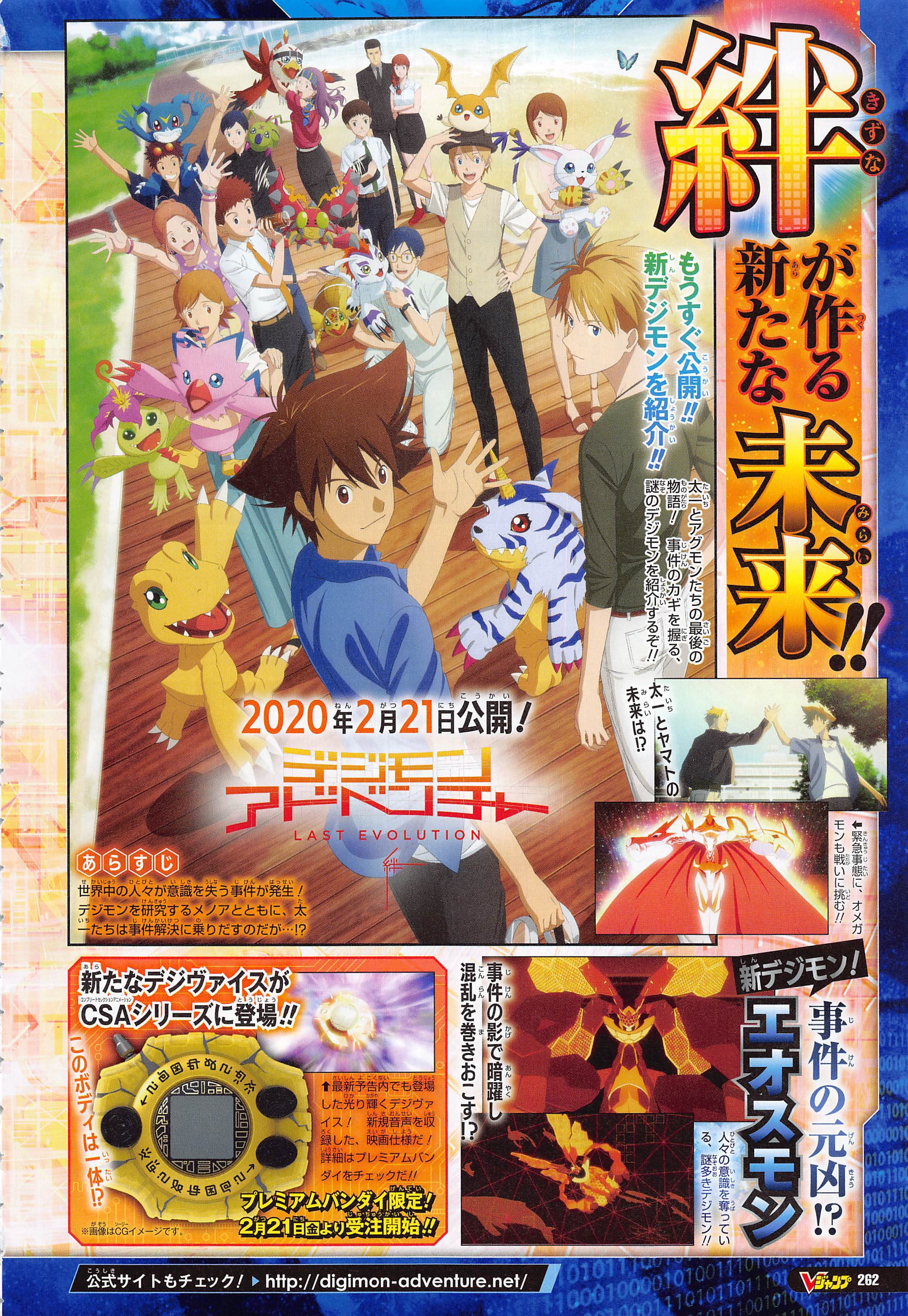 A new future created by Kizuna (bonds)!!
This is Taichi, Agumon, and the gang's last story! We will be introducing the mysterious Digimon that holds the key!!

Eosmon: A new Digimon! The cause of the incidents?! A mysterious Digimon stealing people's consciousness! It acts behind the scenes and causes disturbances!
Summary of movie: People all over the world are losing consciousness! With Menoa, who researches Digimon, Taichi and the others set out to solve the case, but...?!
What is Taichi and Yamato's future?!
Even Omegamon takes up battle in this emergency situation!
The new Digivice will appear in the CSA (Complete Selection Animation) series!

The glowing Digivice that appeared in the latest promotional video! It comes with new voice recordings, made just like the movie! For more info, check the Premium Bandai webpage!

Only available at Premium Bandai! Pre-orders to be taken beginning February 21!
The CSA mold is back for this new Digivice, showing off it glowing and cracking and has a nice look to it (and it's gone back to the tri. style antennae instead of the '99' one.
And then last up....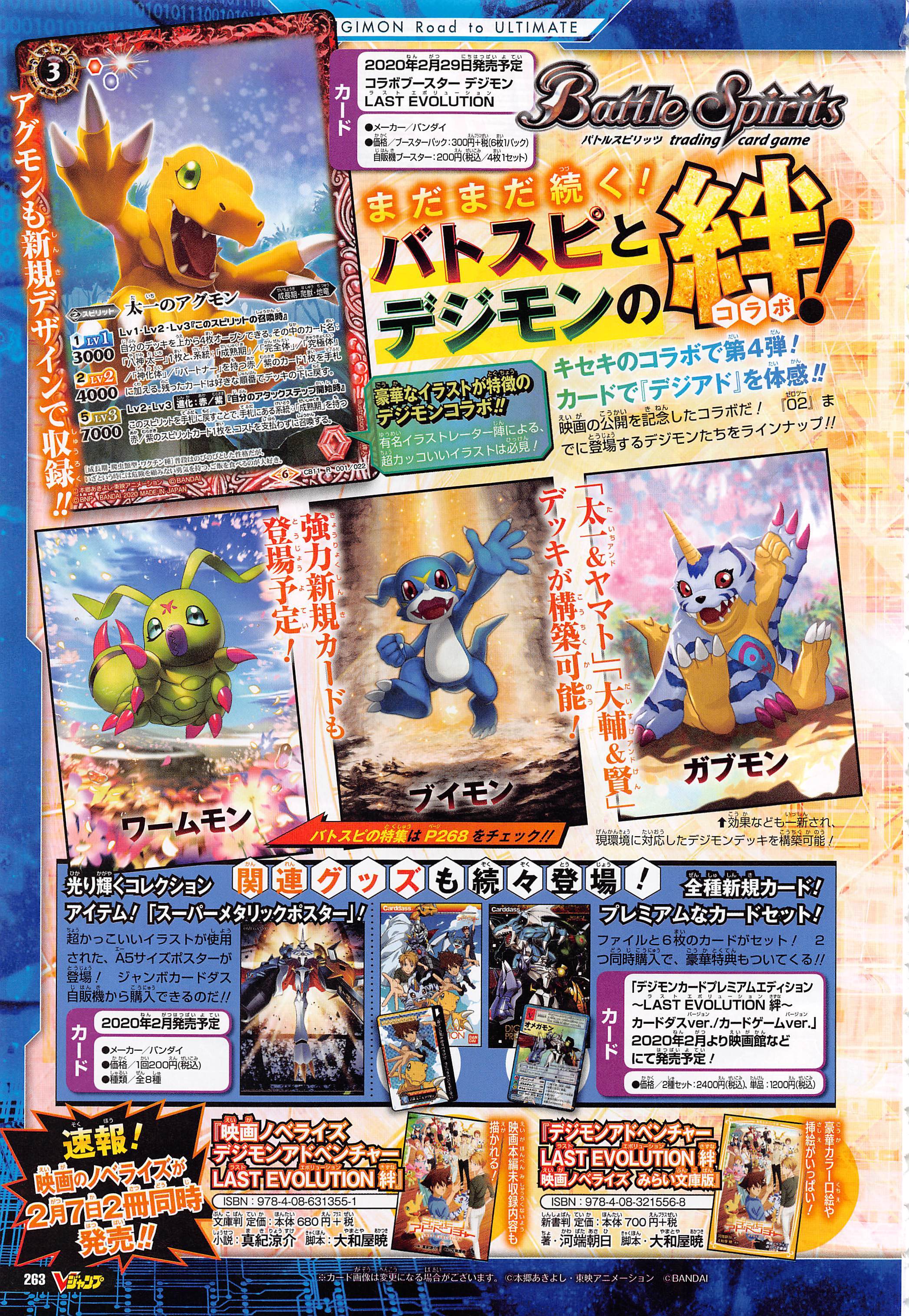 A look at a few other products...
The "Collab Booster Digimon LAST EVOLUTION" pack is planned to be sold Feb 29, 2020.

The booster pack is 300 yen + tax (6 cards in one pack), while the booster sold in vending machines is 200 yen (4 cards in one set)

The cards will come with elaborate illustrations drawn by famous illustrators. It's a collaboration to commemorate the movie's opening, and includes Digimon that appear in "02." You'd be able to make decks pertaining to "Taichi & Yamato" and/or "Daisuke & Ken." There are plans to make new powerful cards in the future.
Update-
V-Jump has posted a correction on their website
regarding the image of the Agumon card. The image of the card had an error.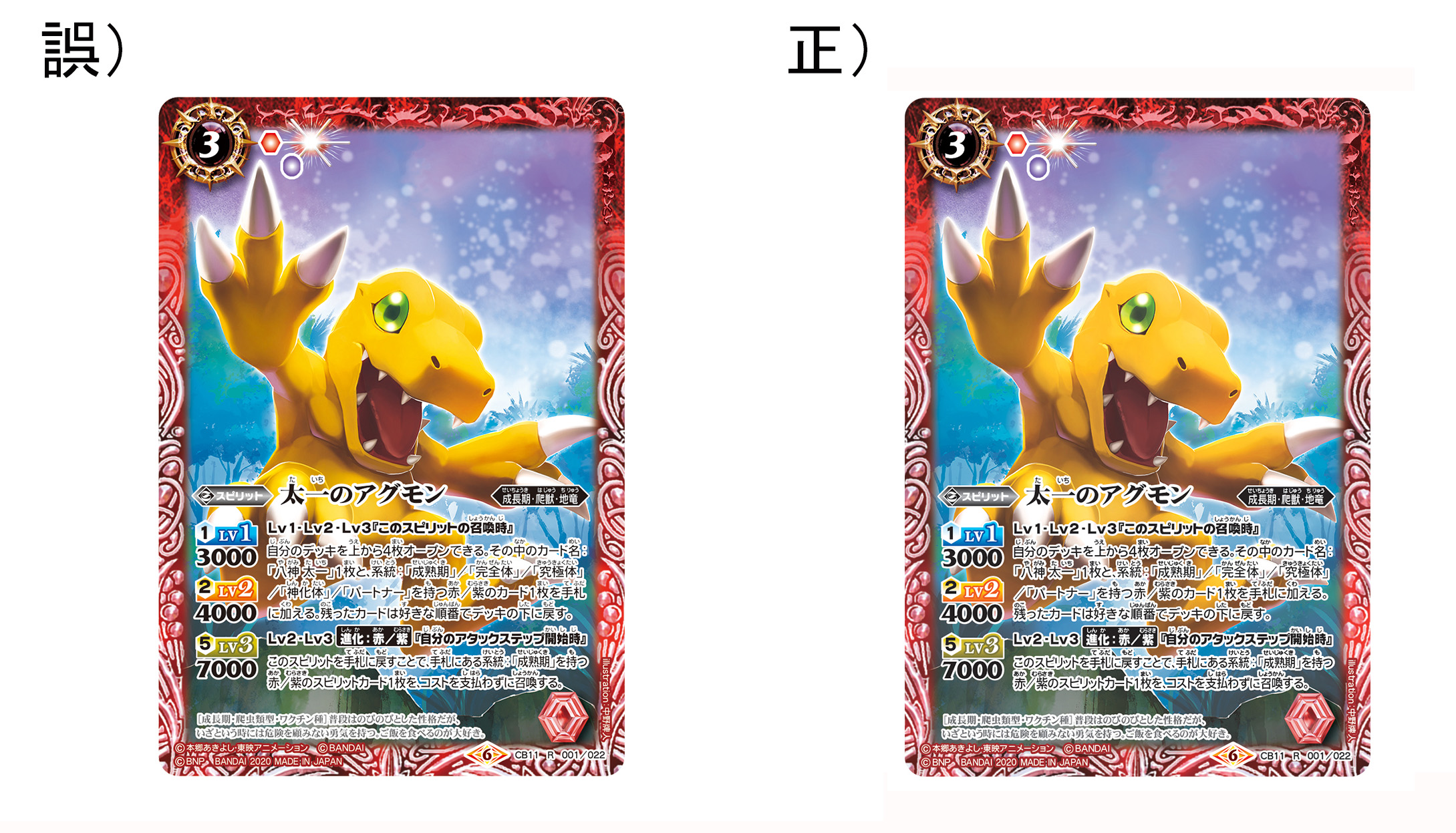 The left is as shown in the magazine, the right is the corrected image. The image they posted has been reformatted for easier side by side viewing.
"Super Metallic Poster" as a collector's item. It's an A5 size poster with a "super cool illustration" that you can purchase from a Jumbo Carddass vending machine. Planned to be available Feb 2020, at 200 yen each. There are 8 types in total.
And the Digimon Card Premium Edition gets a new release!
--"Digimon Card Premium Edition ~Last Evolution Kizuna~ Carddass ver/ Card game ver.
Premium card sets with all new cards! The card sets come with 6 cards and a file. One set has a file with Taichi, Yamato, Daisuke, and their Digimon; the other set has Omegamon, V-mon, and Stingmon. If you buy both sets at the same time, you'll receive a special bonus item (unknown). Planned to be sold Feb 2020 at movie theaters. Each set is 1200 yen, both sets are 2400 yen.
The information about the novels at the bottom is details we already know.
And as mentioned above, the major V-Jump content this month was
the new Digimon Adventure: anime and card game content, which is all here
.
Lots of stuff this month!
Thanks to onkei for translations. The source for the images appears to be Tsurugi (not our Tsurugi, I think...)