Show User Social Media
Hide User Social Media
Joined

Sep 8, 2006
Messages

17,421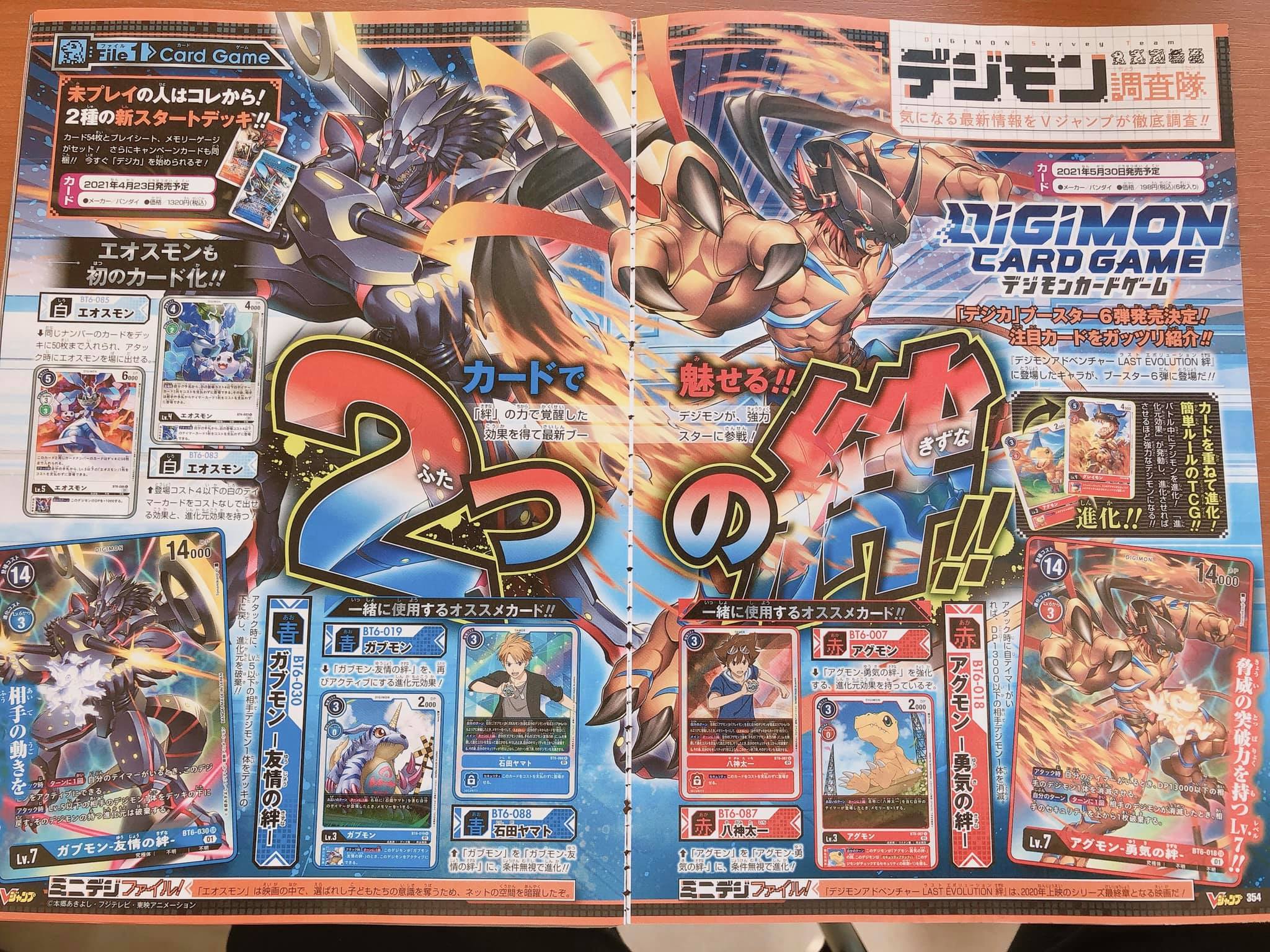 It's time for all the new Digimon content from the June 2021 cover dated issue of V-Jump!
We may update with more translations and stuff later based on time.
Update- Added new and better images of the spreads.
First up is a card game spread featuring Booster Set 6 Double Diamond!
Booset Set 6 has a large focus on Kizuna, so we get a number of previews from there.
We have some zoom ins from a few different sources of the cards, all of which are based on characters from Kizuna.
The cards we get previews of are: Agumon Bonds of Courage, Agumon, Taichi, Gabumon Bonds of Friendship, Gabumon, Yamato, and Eosmon (Adult) and Eosmon (Perfect).
They all have really nice art, with Taichi and Yamato being in the art style shown off for the film (also making the first apperance of the original versions of Taichi and Yamato in the card game.) In addition, both Eosmon cards show a new baby Digimon (based on the design, a baby form for Morphomon. It looks similar to Pupumon, but has a few slight differences. Of course, it might just 'be' Pupumon with some artistic flair.)
With just a month to go, we expect a ton more previews for Booster Set 6 soon!
Previous Card previews for Booster Set 6:
Sistermon Blanc & Sistermon Noir
Titamon
Dynasmon
Existing card images and info:
We have clean card images for Starter Decks 7 & 8, plus Delay Promos, Tamers Battle Pack 5, 1st Anniversary Promos, & Pulsemon.

We also just got our first details & images for

Booster Set 6 Double Diamond & the Dukemon! Plus we have the first details

for the 1 year anniversary of the card game, including a number of fun things!

And images from previous Digimon Card Game releases:

Starter Decks 1, 2, and 3, and first 10 promo cards Booster Set 1 New Evolution Booster Set 2 Ultimate Power V-Tamer Promo Cards Purple/Black Promo Set Tamer Battle Pack 1 and Tamer Battle Winner's Card Booster Set 3 Union Impact Starter Decks 4, 5, & 6, plus Tamer Battle Pack 2 & winner's Card 2, & 1st 2 scene vote cards Booster Set 4 Great Legend, Tamer Battle Pack 3, 3rd Scene Vote, Dark Digimon Promo Pack, & Apparel Cards Booster Set 5 Battle of Omega, plus Tamer Battle Pack 4, 4th Scene Vote, & Vital Bracelet Pack-In Cards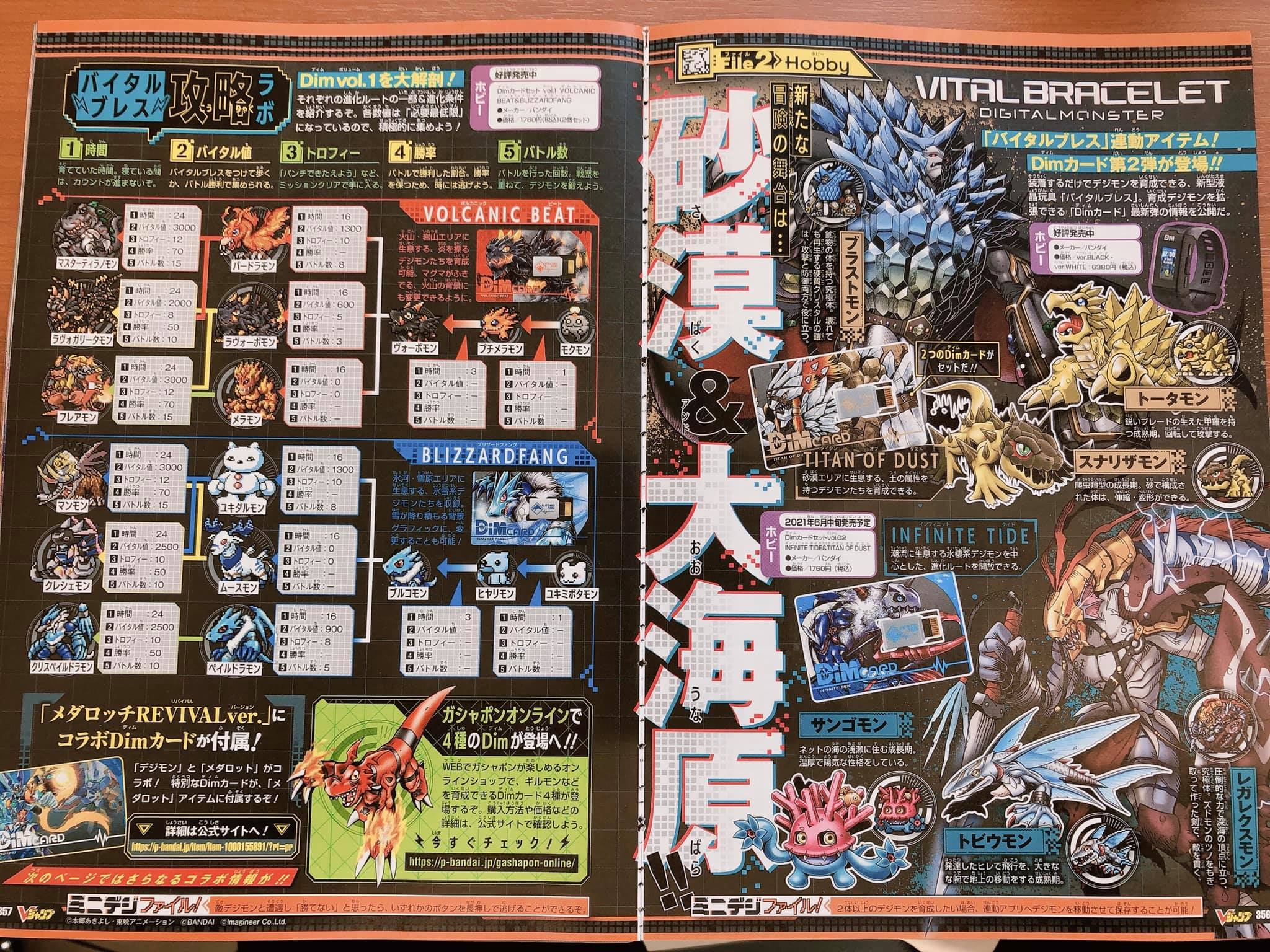 The 2nd spread shows off the Vital Bracelet. The right side shows off Digimon from Titan of Dust and Infinite Tide, the Dim Card set that is out in a few months. Nothing wildly surprising from these, but still showing off a number of new sprites for Digimon that people will no doubt be happy to get an early look at.
The left side shows off Volcano Beat and Blizzard Fang, both of which just came out.
Then at the bottom they show off the Medabots Dim card.
What they show off is the details of it coming with the Medawatch
, not
the upcoming 'separate' release
, which we expect details on soon.
They also have a small bit regarding the Dim Cards GP series,
which was recently announced as ended
. The decision to end it seemingly came so quickly that they weren't able to swap out the content in V-Jump.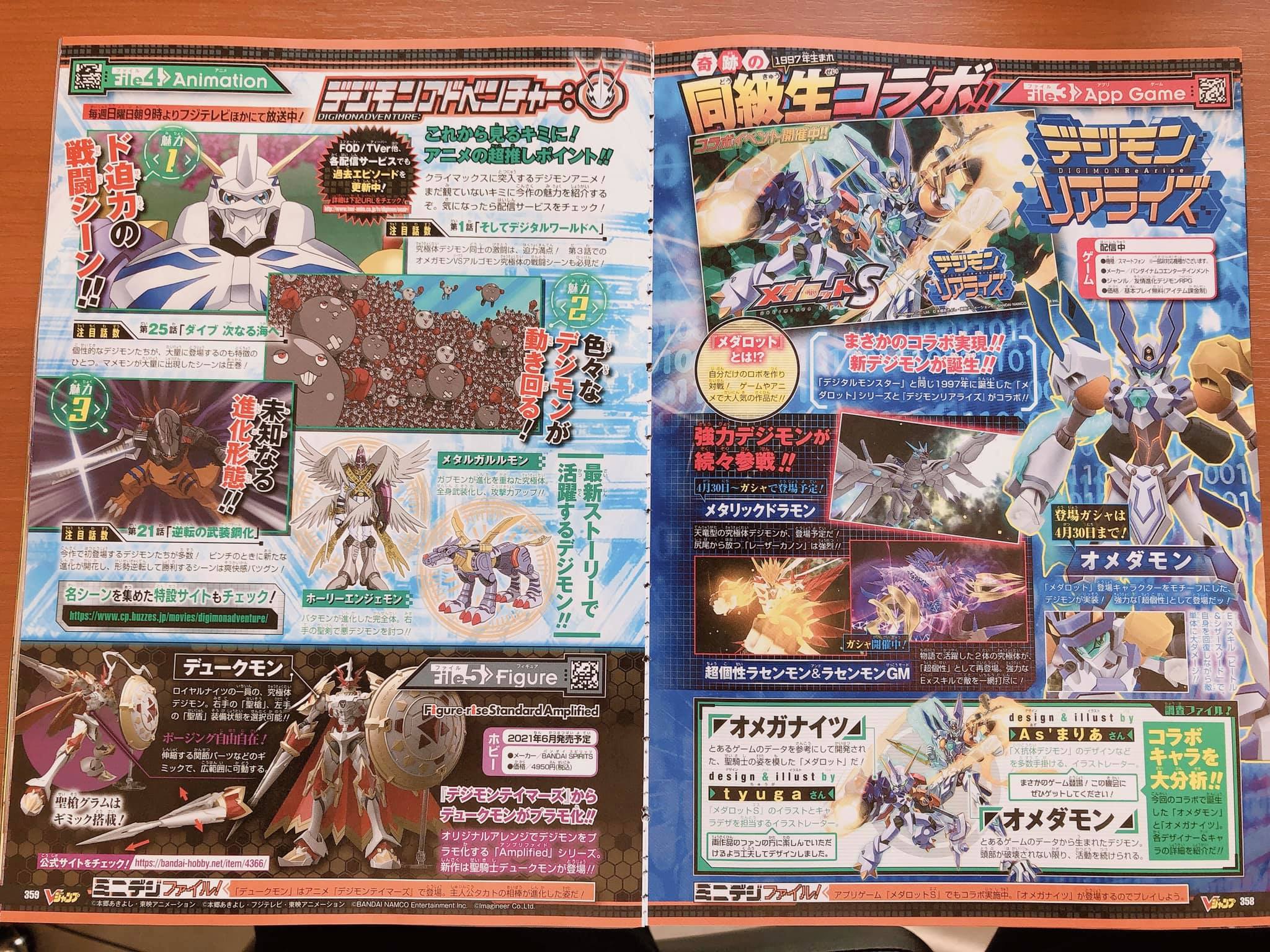 The final spread goes over a few different things, but not too much news...
First up, we see the Medabots collaboration with Digimon, which ends shortly in ReArise.
Also interesting is showing off Metallicdramon, so it appears Jazamon and his evos are coming to the game shortly. Fans of Links will no doubt be happy to see him show up once again.
The section for Adventure: goes over various bits in the series up through now, while also showing off the artwork for MetalGarurumon and HolyAngemon, both upcoming in the series.
At the end of the Digimon section is a preview of
the upcoming Dukemon model kit.
Thanks to
Technical Suwako
,
digicaplayer
, and
DigimonTCG02
for the images.
Update- Thanks to
IxLovexDigimon
for the new images.
Update- The original images we had of the 3 different spreads.
Last edited: