Show User Social Media
Hide User Social Media
Joined

Sep 8, 2006
Messages

13,211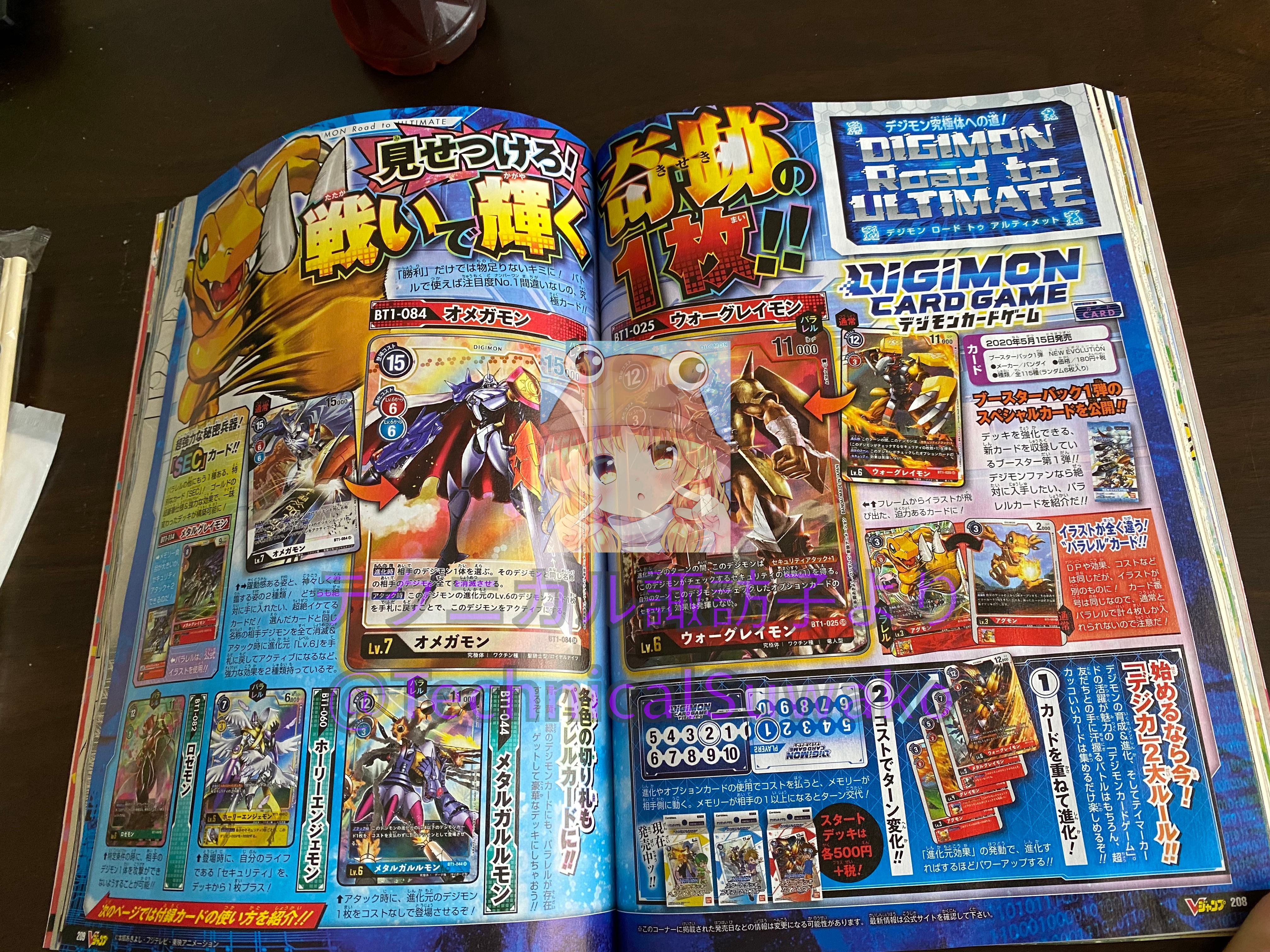 After some early previews of the Digimon content in the July 2020 issue of V-Jump we finally have all of it to look at (minus the manga chapter itself, which we won't be posting.)
We'll add additional translations where needed later, but it appears this issue is 'mostly' straightforward since the bigger things we knew about.
First up is the Digimon Card Game.
We get a 2 spread spread going over Booster Set 1, which just came out last week. There is a heavy focus on the parallel cards. There is also a small section at the bottom showing some basic card game elements and the starter decks which came out awhile ago.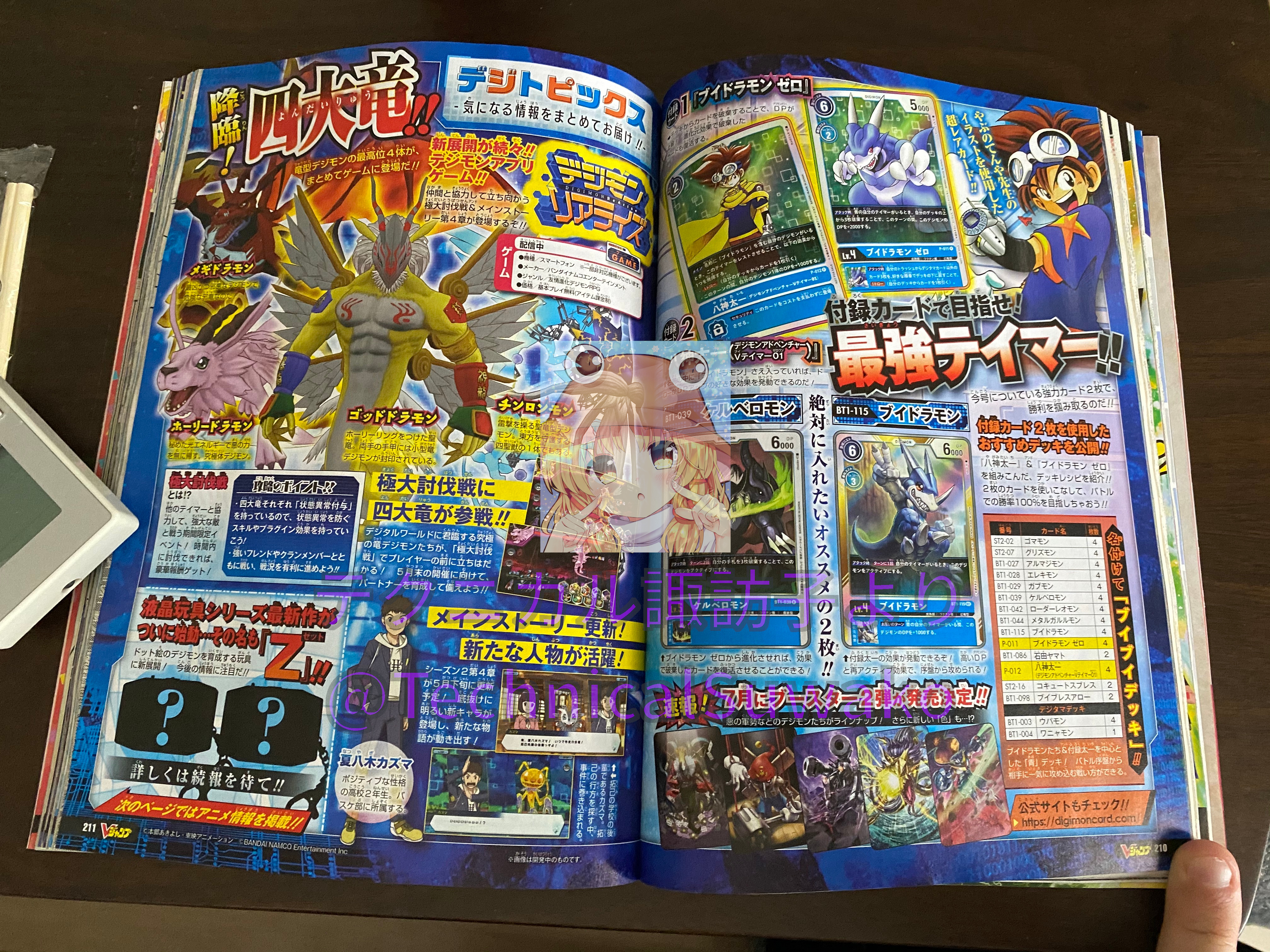 Next up we get a bit more card game content, focused around the Taichi and Zeromaru promo cards that came with the issue, and a preview of Booster Set 2. We already went over these in detail since this page was released a few days early.
You can find those details here
.
The next page shows off a preview of new ReArise content. We get to see a number of familiar Digimon like Goddramon, Holydramon, etc. along with a preview of game story content.
At the bottom left of the page is the teaser for the new Z series V-Pet
we found out about a few days ago
.
There actually isn't really any new information here we weren't aware of. The only new detail is that the silhouette of the new V-Pets looks to be of a Digimon Pendulum, so... reusing the 20th Pendulum shell for the new one the same way the 20th V-Pet shell was used for the X series V-Pets?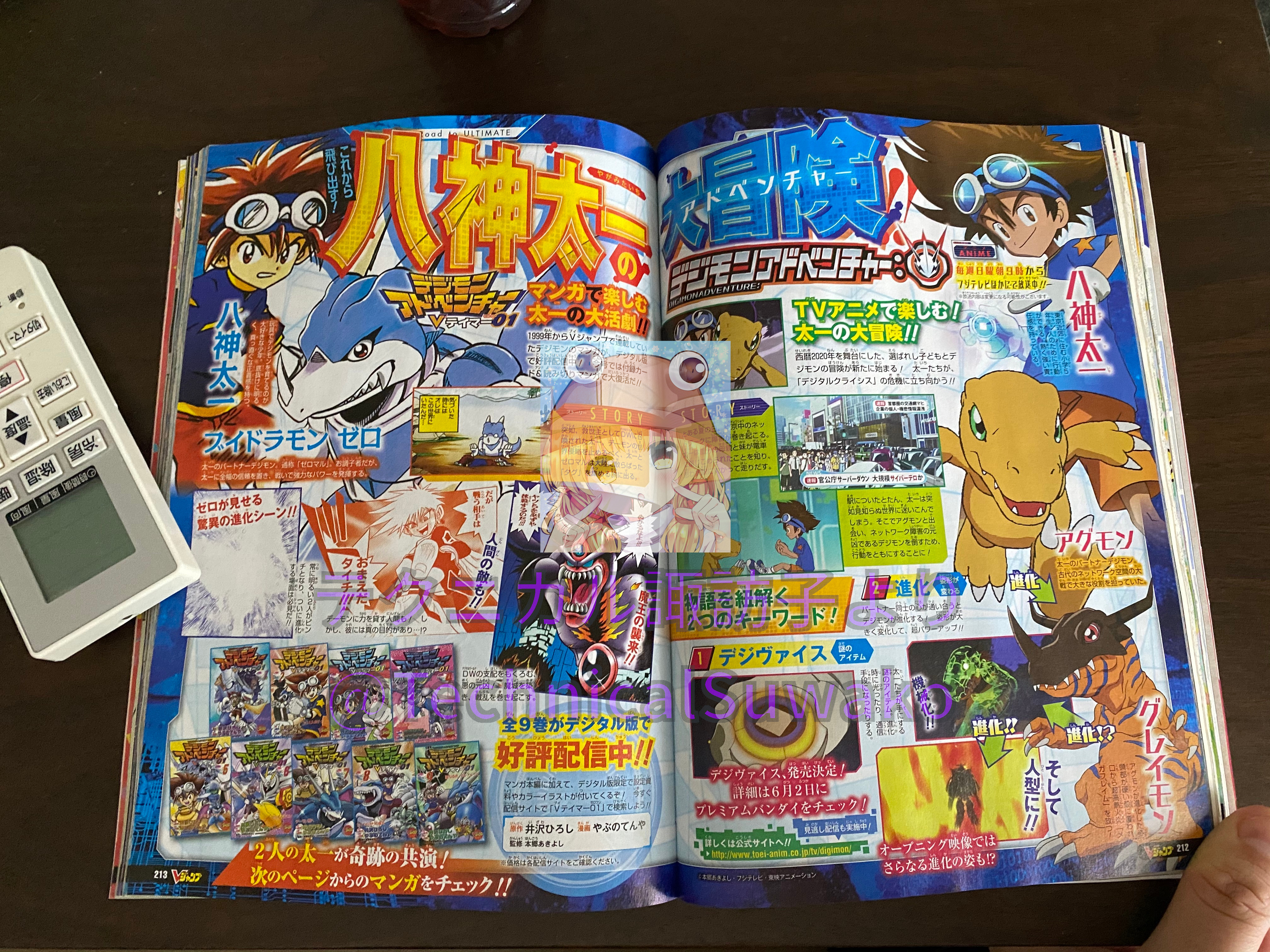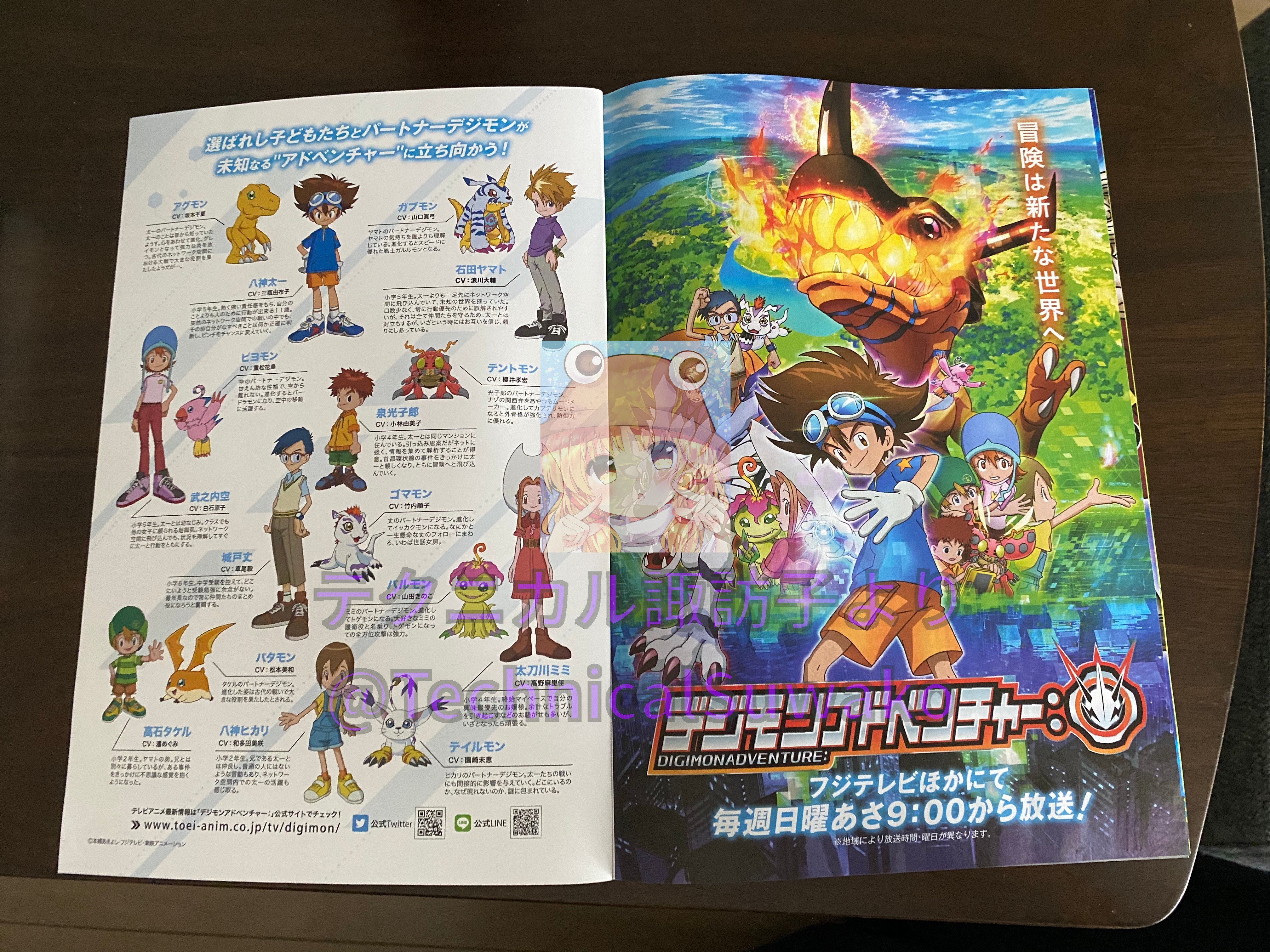 Then we get an anime and manga spread.
The anime section looks to be some basics about Digimon Adventure:, likely to keep it fresh in the mind while it's on hiatus.
The upcoming June 2nd pre-order of the Digivice: is also mentioned.
The opposite page is an introduction to V-Tamer, along with pointing out all 9 volumes are currently available.
We also get a repeat of the Adventure: promotional flier turned into a spread, as we've seen a few other times in the past.
And for the end of the content...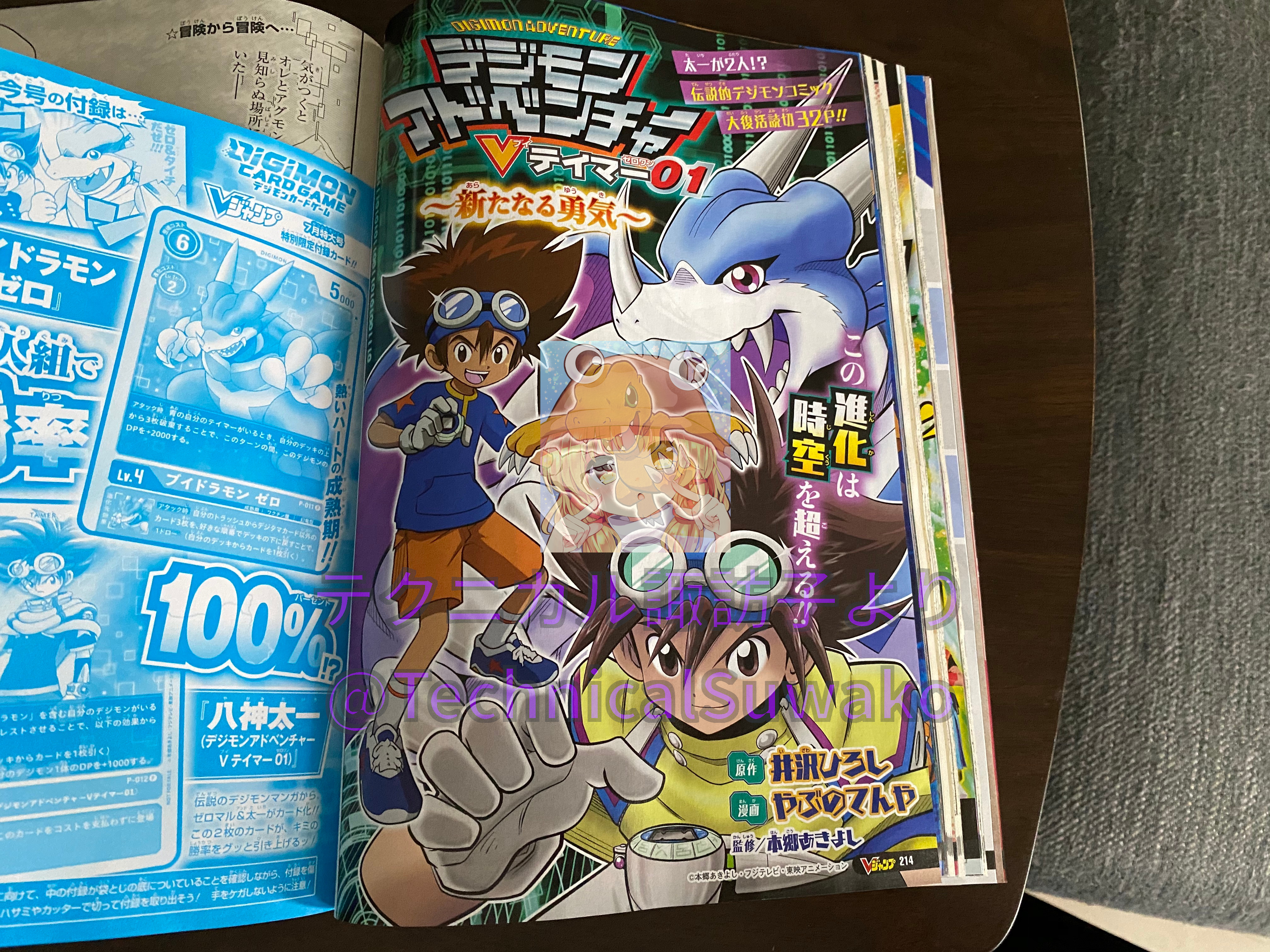 The manga begins, with a full color coversheet, and inbetween the pages you can see the protective paper insert that holds both promo cards.
We have a clean version of the coversheet
here
. You can also find nice big versions of the cards
here
.
A bunch of Digimon stuff this time, with the big things being news of a new V-Pet, and a nice stack of fun V-Tamer stuff!
And while not quite content, one more image...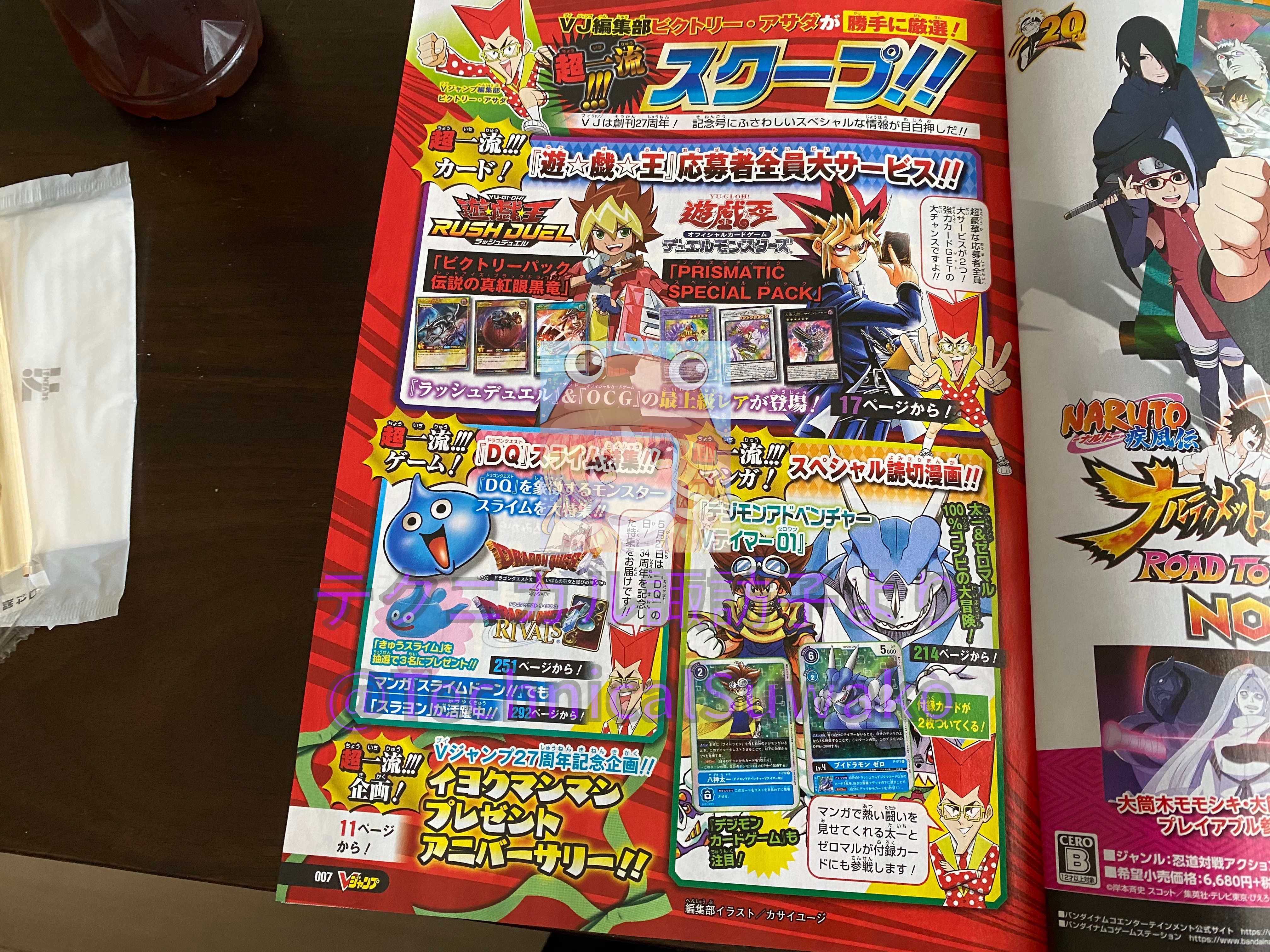 From earlier in the issue, them showing where various special things in the magazine are, which includes the V-Tamer promo cards.
Thanks to
TechnicalSuwako
for the images.