Show User Social Media
Hide User Social Media
Joined

Sep 8, 2006
Messages

16,887
It's time for all the new Digimon content from the July 2021 cover dated issue of V-Jump!
We may update with more translations and stuff later based on time.
This month overall is rather straightforward. We already have 2 different sources for this month, so are just included all the images we have.
First up is a card game spread featuring Booster Set 6 Double Diamond! This one mostly goes over some strategy and deck suggestions, and at a glance doesn't appear to have anything we haven't seen.
Booster Set 6 Double Diamond is scheduled for release on May 28th.
Previous Card previews for Booster Set 6:
Sistermon Blanc & Sistermon Noir Titamon Dynasmon Kizuna Character Cards from V-Jump Gankoomon Pulsemon Packaging Preview, plus box topper Chaosmon: Valdur Arm Parallel Card Mojyamon, Shoutmon, Mamemon, Arbormon, Babmon, SkullGreymon, Grave Memory Booster, & Takeru and Hikari Flamon & Strabimon Machmon Bulkmon Kinkakumon & Ginkakumon ModokiBetamon Hackmon, plus Higher Resolution Packaging & Updated Looks at Agumon, Gabumon, Pulsemon, & Sistermon Noir and Blanc Jesmon Petaldramon Gundramon Reinforce Memory Boost Tamer Sora & Mimi & Magazine Previews of Bibimon and Parallel Cards of Agumon Bonds of Courage & Gabumon Bonds of Friendship Morphomon & Magazine 1st Look at Eosmon Ultimate plus more Agumon Tamer Menoa Taichi, Yamato, Eosmon Adult, & Parallel Cards of Agumon Bonds of Courage & Gabumon Bonds of Friendship Eosmon (Ultimate) Qinglongmon & More Majiramon Gewaltschwarmer MagnaKidmon Wizarmon Chikurimon Impmon BelleStarmon Alphamon & More Special Anniversary Parallel Omegamon
The second spread has a focus on upcoming Dim Cards for the Vital Bracelet.
The right side shows off various Digimon that will be in
Volume 0.5, which contains Mad Black Roar and True Shadow Howl
.
The left side goes over some evolution tree elements of Dim Cards Volume 2, which contains Infinite Tide and Titan of Dust. We get to see some new sprites, and a few details a bit early.
At the bottom they also go over the new battle features in the app.
Then we get a spread to celebrate the 20th Anniversary of Digimon Tamers!
The right side goes over 'charm points' for the series, while the left side goes over various upcoming anniversary things we knew about (
The GraffArts products
(
2
),
new plushes
,
the Dukemon amplified model kit
, and
the rerelease of Dukemon Crimson Mode GEM figure
.)
At the bottom corner is a small mention of DigiFes,
which we just got a bunch of info for
.
The last of the 'active' V-Jump content begins with ReArise. It shows off the Kizuna duo, Algomon, plus a Piyomon related event starting today in Japan.
And it ends with Adventure:, going over Millenniumon and the upcoming Blu-ray and DVD box 3.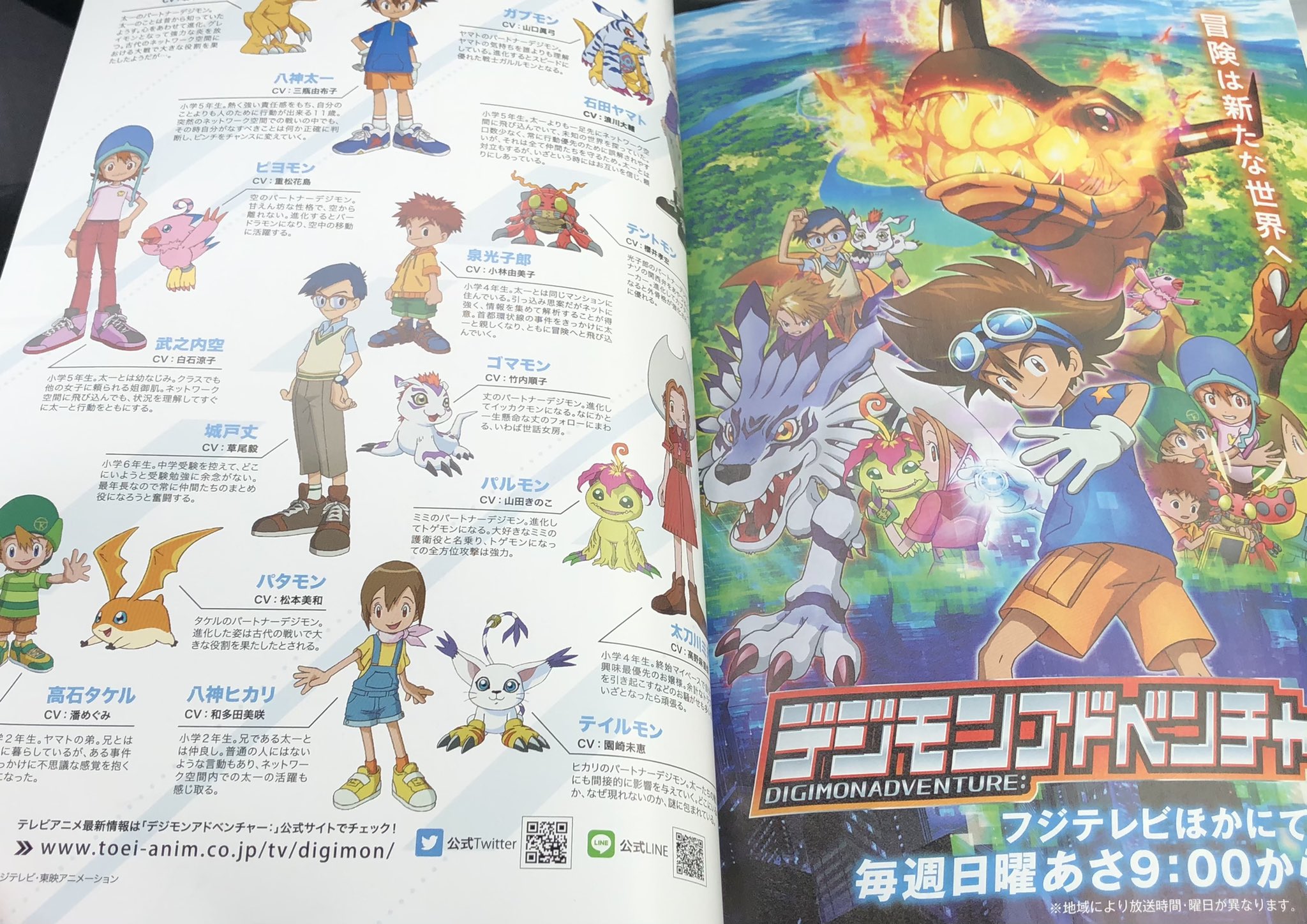 And of course, the Adventure: promotional spread.
Thanks to
Technical Suwako
and an unknown user for the images.