Show User Social Media
Hide User Social Media
Joined

Sep 8, 2006
Messages

16,448
It's time for all the new Digimon content from the July 2022 cover dated issue of V-Jump!
The first three pages go over Booster Set 10, which is out in just a few days.
The first page has a focus on various Ghost Game elements of the set, with the main focus being Ruli and Angoramon.
Second is Shoutmon themed elements with Shoutmon King Version being the main focus.
Last up is a page focusing on various Jesmon related bits.
We have all
the clean standard cards from Booster Set 10
, which is out on May 27th.
Then we get a spread for Digimon Survive, which is just 2 months away! Much of the Survive details was covered by
early info
we got, along with
press assets from the other day.
We do get a new character detailed though! The Professor. He's an associate professor who teaches forklore at a university. He looks at forklore from unique perspectives and has written a dissertation on the manner.
The Professor is played by Kazuhiro Yamaji, in his first Digimon role. Yamaji is a well known actor, but for just a handful of roles... Kei in Kamen Rider Blade, Cid in various FF7 related media, the Japanese voice of Wolverine in the live action films and the 9th Doctor in Doctor Who, G in Street Fighter, and Makoto in the Yakuza games.
A lottery to win Digimon Survive is also being run in tandem with another magazine. 300 copies total, 150 PS4 and 150 Switch, will be given away to those who fill out a postcard, attach the entry marker from the magazine (an Adventure screencap.)
A spread for the Digimon Frontier 20th anniversary!
It starts off with the Frontier 20th anniversary key art, along with a basic overview of the series, mentioning that the episodes were being put on Youtube temporarily for those in Japan to celebrate.
It also features a mention that while various Frontier collaboration/events are currently going on, more are planned.
The second page gives us our first look at the Frontier Graffart artwork for those products. Each human kid is featured, along with the human spirit Digimon. Various items from the series are also there, most noticeable the D-Scanners (upgraded for Takuya and Kouji, standard for everyone else.) Plus Bokomon and Neemon!
The Graffart products will show up in July and August.
It also shows off the current
Limited Base event
.
The Frontier section ends with a big chunk of a page for Dim Card Set EX3, with the main focus being on showing the sprites of KaiserGreymon, MagnaGarurumon, & Susanoomon.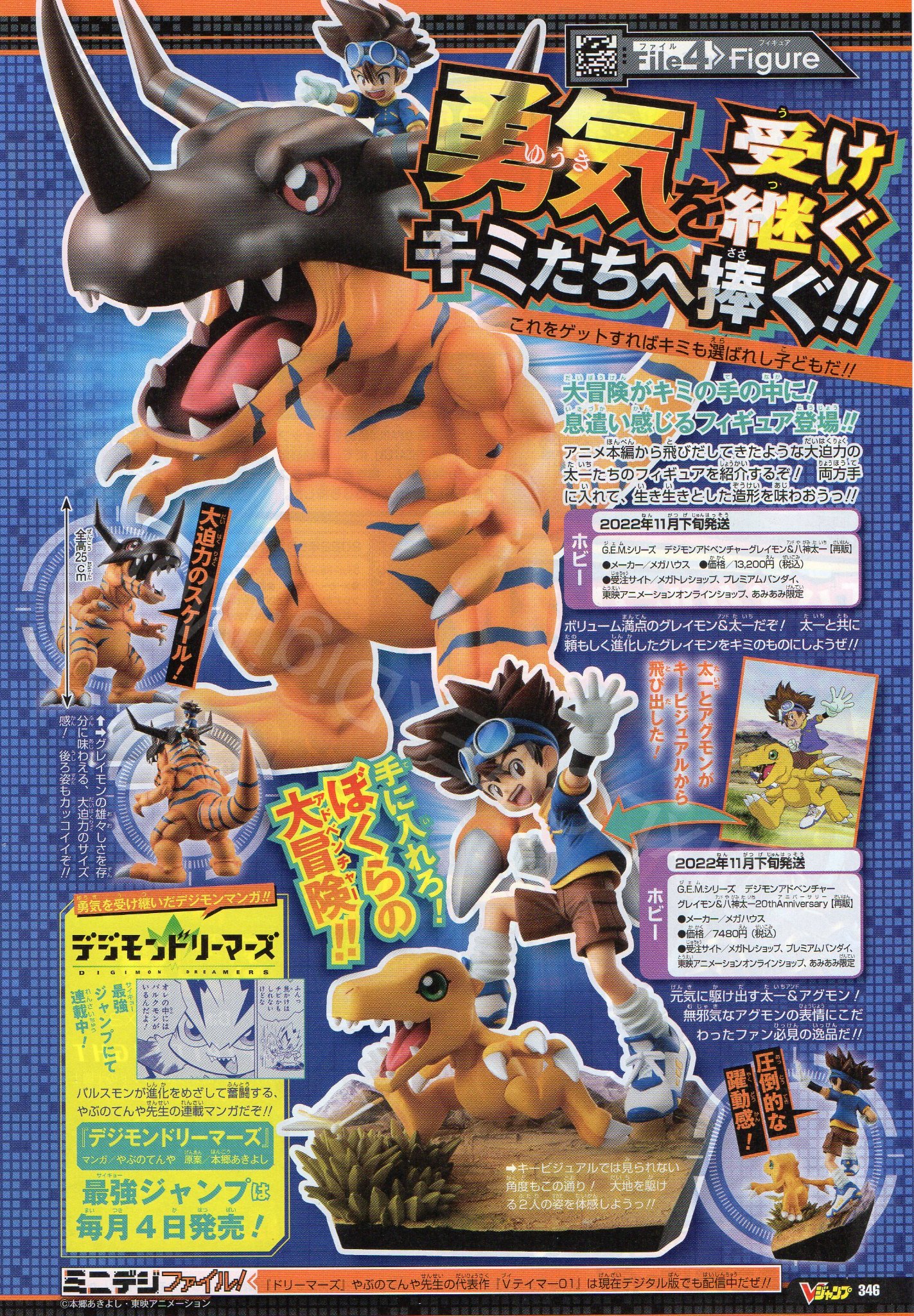 And we finish off with showing off the Digimon Adventure GEM rereleases:
Taichi & Greymon
Taichi & Agumon 20th Anniversary
And at the bottom corner we end with a mention of Digimon Dreamers being published in sister-magazine Saikyo Jump.
A fun V-Jump this month, lots of card stuff, a nice spread for Survive (slightly hampered that we knew most of it already), a really nice Frontier spread, and finishing off with some figure rereleases.
Thanks to
IxLovexDigimon
for the images.