Show User Social Media
Hide User Social Media
Joined

Sep 8, 2006
Messages

17,404
It's time for all the new Digimon content from the December 2021 cover dated issue of V-Jump!
We start off with a page dedicated to Hiro, Gammamon, and BetelGammamon.
There is a reverse page that clearly has some interview or Q&A content, but we don't have an image of that page for now. Update- Alternate has it.
Then Booster Set 8 gets a large section starts off with Ghost Game...
​
A spread dedicated to a stack of Gammamon related cards from the upcoming Booster Set. They have a small aside near the bottom of the 2nd page showing off the recent Saikyo Jump promo card.
Then the main focus for Booster Set 8...
Adventure 02!
We get previews of Fighter Mode, a Daisuke & Ken dual tamer card, plus a stack of well loved evolutions from 02- Fladramon, Lighdramon, Shurimon, & Silphymon.
All are dual color cards. Really nice all around. Some nice references built into the cards (Silphymon being in the midst of their evo sequence is especially fun.)
Previous previews for Booster Set 8 New Hero:
Packaging & Zhuqiaomon
Vital Bracelet time!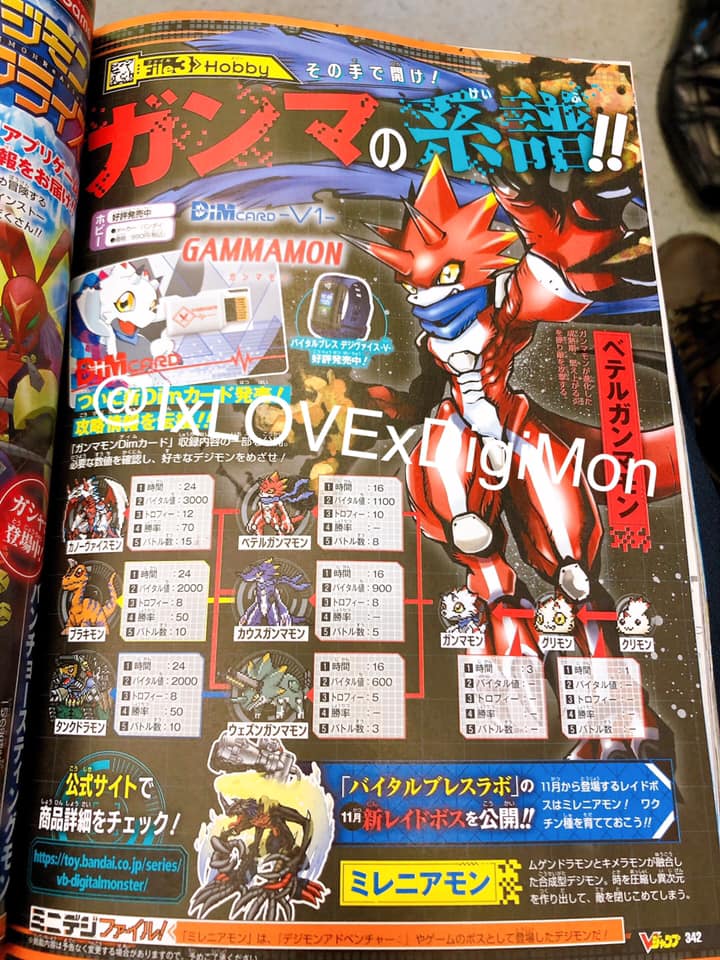 Evolution details for various forms on the Gammamon Dim Card, plus a reveal of Millenniumon as a raid boss in November.
We continue on with mobile game time!
ReArise shows off some story details, and a few fun upcoming Digimon that will show up in events.
Plus the alternate for both Vital Bracelet and ReArise pages.
And last up...
A look at the upcoming Omegamon X Amplified and Magnamon Figure-rise Model Kits!
Plus the 'The Digimon' Ghost Game figures!
Lots of Ghost Game and cards this month. The art previews as always are a highlight.
Thanks to
IxLovexDigimon
for the images.
Update- A few people sent in higher resolution versions of the card pages. They are from the same source photo, just larger and without a watermark, so we've just swapped them out.
Update- Thanks to
TechnicalSuwako
for the alternate images.
Last edited: